With the new Update just around the corner, miHoYo has just released a live stream for it, announcing the new events and character banners that will be available. It appears to be quite promising, just like every prior update. If you missed it or are too slow to watch it all, we've put up a handy rundown of what's new in the latest update just for you!
Genshin Impact Version 2.3 banners:
---
Rerun Banners:
We will just have a rerun banner for the current version. But there's a catch: there will be two rerun banners. Yes, you read that correctly: two! In the Genshin Impact 2.3 Version, Albedo, the 5-star Geo sword wielder, and Eula, the 5-star Cryo claymore wielder, are set to return. However, the pity system for both of them is not the same as it was previously. Both of the character banners will share pity; which means if you summon 50 times on the Albedo Banner, that 50 summons will also reflect on the Eula banner. These will be the first banners to appear. So those who want both the characters, we are praying that you win 50/50 both times and bring home your favorite characters.
Along with the familiar faces that will be returning, two new characters will be joining your team. Arataki Itto and Gorou will come together in the second banner of the Genshin Impact 2.3 Version Update.
Arataki Itto: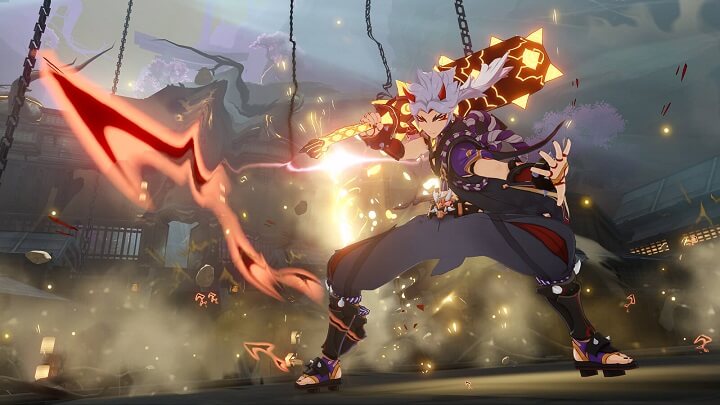 Arataki Itto is a new 5-star character to be introduced as a playable character in the game. He has the Geo Vision and wields Claymore as his weapon of choice. He was announced by Genshin's Official Twitter last month itself and had the players hyped for him to officially come to the game. Itto is part oni and is the leader of the Arataki gang. His gameplay is based around the Defense stat. Itto is a DPS unit with an elemental burst that deals a lot of Geo damage when followed up with standard attacks. He also has a unique passive exploration talent that allows him to gain bonus wood resources when chopping trees, so he'll be useful if you need to farm for furniture.
Gorou: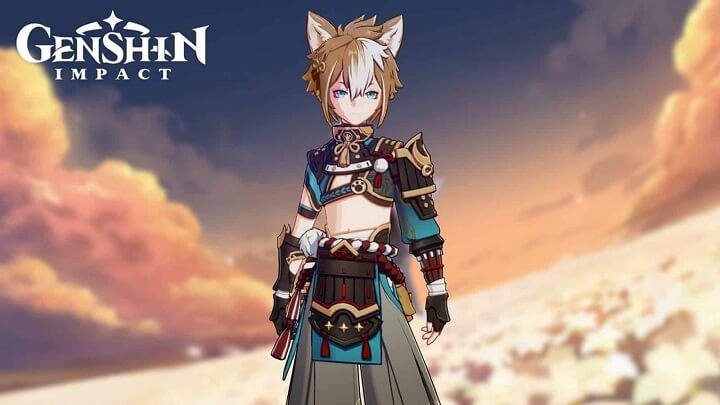 Gorou is the new 4-star character who was already introduced to us during the Inazuma update of the game. He is also a Geo Vision bearer with the bow as his weapon of choice. He is a part of the Inazuman resistance who was against Baal's vision hunt decree. Gorou is deemed to be extremely loyal and reliable according to Kaedehara Kazuha. His reliability reflects on the gameplay as he acts in the role of support when on the field. He is perfect if you want to go with an all Geo team. Like Klee for Monstadt and Qiqi and Yanfei for Liyue, Gorou's passive talent allows him to detect the Inazuma's speciality resources on the map.
New weapons coming in the Genshin Impact 2.3 Version:
---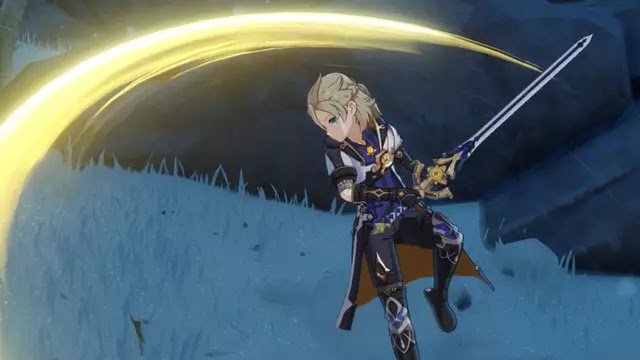 The first new 5-star weapon to come in the new update is called "Redhorn Stonethresher." It has the Crit Damage sub stat and is perfect for defense-based characters like Noelle and Itto since it increases defense by 28%. Not just that, it also increases Normal and Charged Attack damage by 40% of Def. So if you want to make a perfect Itto or Noelle, this would be the absolute perfect weapon for you to summon.

The second weapon is called "Cinnabar Spindle" and will be available for free. You can claim the weapon by playing one of the events in the new version and this is the weapon perfectly fitted for Albedo. It has a defense sub-stat and increases the Elemental skill damage by 40%, and the effect will be triggered no more than 1.5s and will be cleared 0.1s after the Elemental Skill deals the damage.
New Artifact Sets in the Genshin Impact 2.3 Update:
---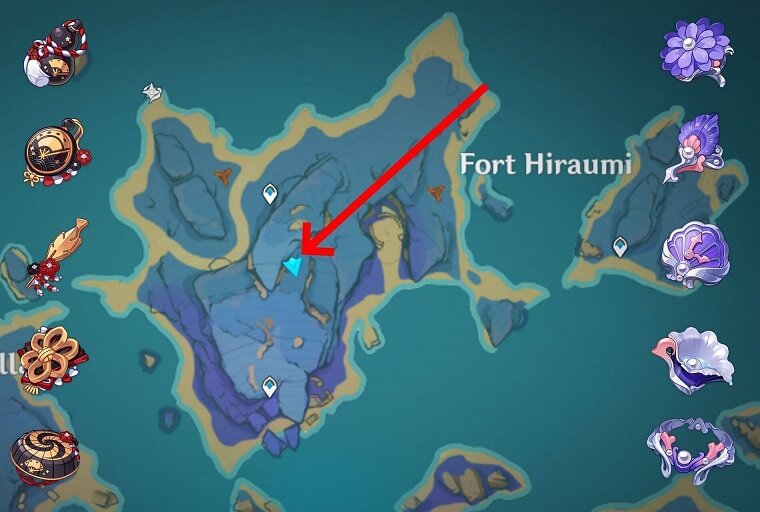 There will be 2 new Artifact Sets that will be added to the game - "Ocean-Hued Clam" and "Husk of Opulent Dream." They both will be available in the new domain that will be located on Serai Island of Inazuma.

Ocean-Hued Clam is a healing-based artifact set. It would be perfect for a healing build, especially if you have Kokomi or will get Gorou in the future (It is to be noted that Gorou can only heal at C4.)

Husk of Opulent Dream is a defense-based artifact set. It is said to be BiS Set for Arataki Itto, Noelle, and Albedo.
New Events in the Genshin Impact 2.3 Update:
---
In the live stream, five major events were highlighted, which will be included in the next update. These are the following: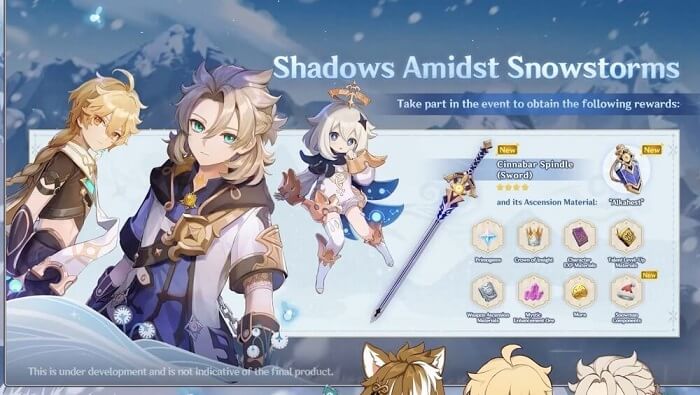 Shadows Amidst Snowstorms: If you've watched the trailer for the new update, you can definitely see the new interesting plot coming along. This event is based around that exact plot with a bunch of sub-events- Building a Puffy Snowman, Agility Training, Combat Training, and Tracker Training. Building a Puffy Snowmen event makes you do as the title state, build a snowman and you can earn the Cinnabar Spindle after finishing this event. Agility training involves you going from one point to another in a specific amount of time and collecting insignias along the way. Combat training entails beating enemies in a set amount of time while using various buffs. The final one entails the melting of crystal piles. You can also get Cinnabar Spindle ascension material, Alkahest, Primogems, and other materials from this event.
Bantan Sango Case Files: The Warrior Dog: A stealth-based event where all the animals in Inazuma have mysteriously gone missing and it is up to us to get them all back! You will have to avoid Canine Bunshin while doing so, and a special item, Ubiquity Net is provided to you to help distract them. You can get Primogems, Level Up Materials, and more from this event.
Energy Amplifier Fruition: Older players must already know of this event, it happened in a recent patch. Players can go to Mutation Stones and destroy them as well as adjacent enemies in Energy Amplifier Fruition, which is similar to Energy Amplifier Initiation. You can earn Primogems, EXP Materials, and much more. The Fractured Fruit items can then be used to aid them on their journey across the Deceitful Domain. Before entering this domain, players can change the settings, which will impact their reward output.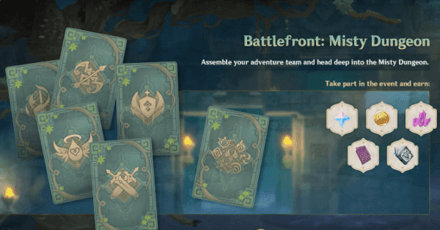 Misty Dungeon: Realm of Light: Another returning event, where players have to make way through many dungeon trials, solve puzzles and find their way to the final boss. This event always includes a bunch of trial characters, and this version will include a set of new ones. You can earn Primogems, Mora, and much more.
Marvelous Merchandise: Liben is back to exchange the normal materials available for Primogems and Exp materials.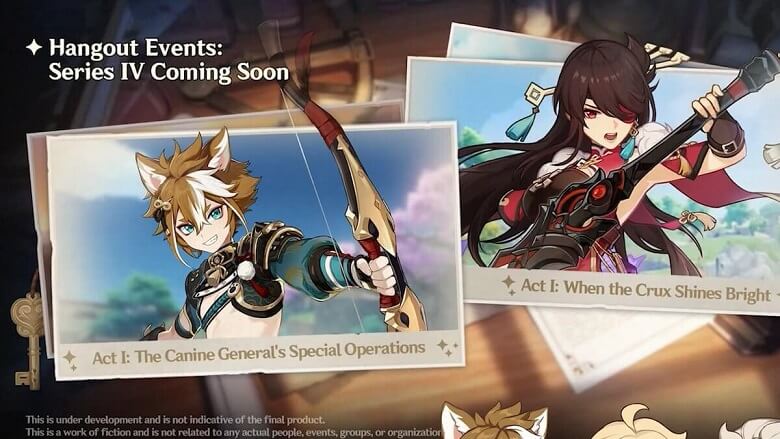 New Hangout Events: More exciting Hangout events with Beidou and Gorou will be available from the 2.3 Update.
New Bosses in the Genshin Impact 2.3 Update:
---
There are two new bosses that you will encounter in the update: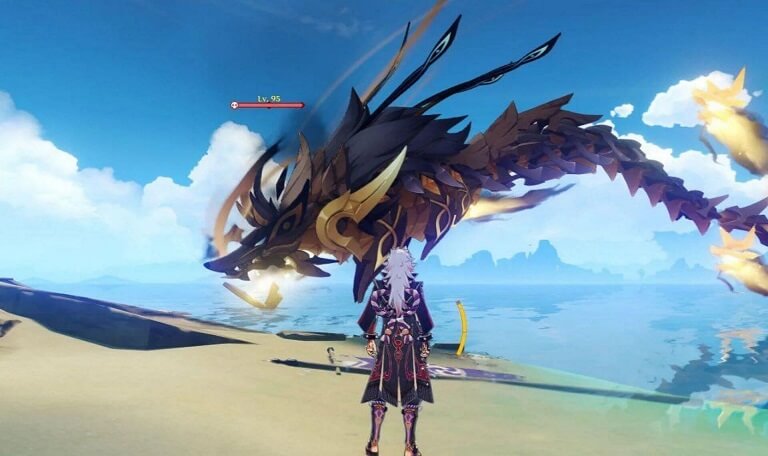 Golden Wolflord: A new world boss being added on the Tsurumi Island and drops the ascension materials required to level up Arataki Itto. Players need to carry shield and healer characters since Golden Wolflord applies the corrosion status on your entire team draining their health bit by bit. Since he floats a load, bringing a ranged character would also be very beneficial. He also reaches a paralysis state where you can then use your melee characters to deal direct damage.
Fell Whopperflower: *SPOILER WARNING* This boss is a part of Albedo's plot-line in the update. He is of the Cryo element and appears to be a very dangerous opponent, therefore use caution when fighting him.



When will the update come out?
---
The 2.3 Update, called "Shadows Amidst Snowstorms" where we will return to Dragonspine after a very long time. The update is dated to come out on November 24, 2021. Till then, you can enjoy the current update and farm for the upcoming characters that you're gonna plan to summon for. Happy Gaming!