With the new month steadily continuing and the main story of Epic Seven's 4th Main story chapter fast approaching, Epic Seven is rolling out its monthly update patches with brand new events, new functions, new main story chapters and even brand new banners featuring brand new characters for players to roll on.
In this guide, we will go over the details of Epic Seven's November update patch, showing what the exciting new events coming to Epic Seven this November Update Patch, how players can get a FREE Light Hero - Adin through the main story, how players can clear the 4th main story chapter and what kinds of rewards they can get. In addition, we will go over the brand new time-limited side story and the rate up banners featuring a brand new 5* Earth Warrior Arunka.
Contents: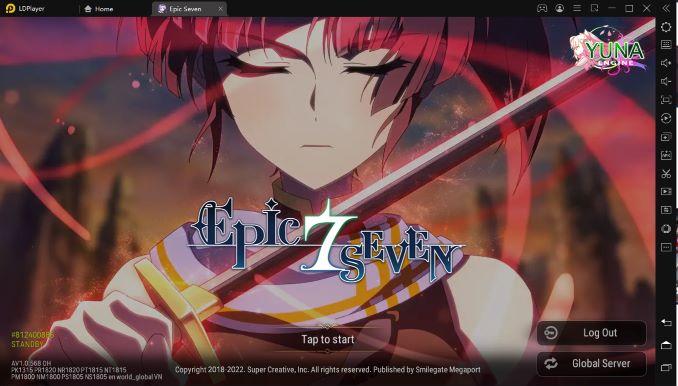 Let's play Epic Seven on PC and find out together.
---
Epic Seven Main Story 4th Chapter Ending - North Theranhad
With over 1 year in the making and 11 previous story chapters, Epic Seven's 4th Main story chapter reaches its climatic conclusion in its last section - North Theranhad. Together with its end marks many rewards and a special brand new character for all players to get - the 5* Light Thief - Savior Adin.
Final Story Section - North Theranhad
With the release of the final story section - North Theranhad, Epic Seven's 4th story chapter about the 4 season swords will come to a close. However, players should be aware of the extreme difficulty spike coming to this section of the story as players will have to face the final boss of the 4th Main Story Chapter - Dark Possessed Emperor Zio.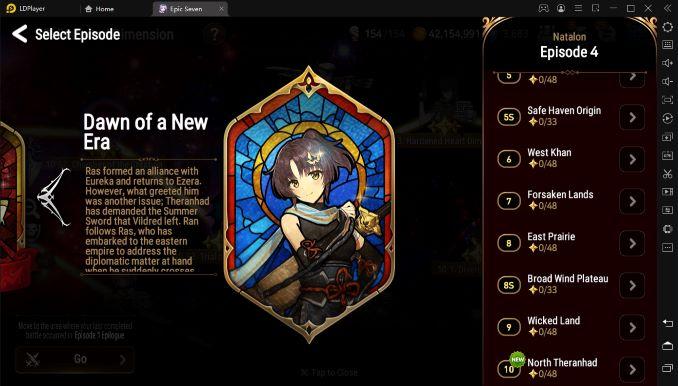 The final boss of this chapter is an extremely difficult fight, requiring players to have a good understanding of the game's battle mechanic, otherwise they will most likely be one-shotted from the boss' mechanics. For this fight, players should focus on bringing characters with the ability to dodge attacks and heal off big damage, this will allow your team to survive and deal good damage to the boss to clear the stage. Alternatively, players who have good invested characters can try to use big damage characters to one-shot the boss, preventing him from dealing damage to the entire team at all.
Clearing this section will reward players with many good rewards such as EXP Penguins, Molagoras and even 6 Gold Transmit Stones = 1 Moonlight summon. In addition, clearing this section will let players change Adin's element from Fire/Ice/Earth to Light and grant them the Light Thief - Savior Adin.
Savior Adin
Savior Adin is the final form of the main character of the 4th Main story chapter - Adin. To accomplish this form, players will need to have specialty changed Adin through her Fire, Ice and Earth forms and then clear the final section of the 4th Main story chapter - North Theranhad.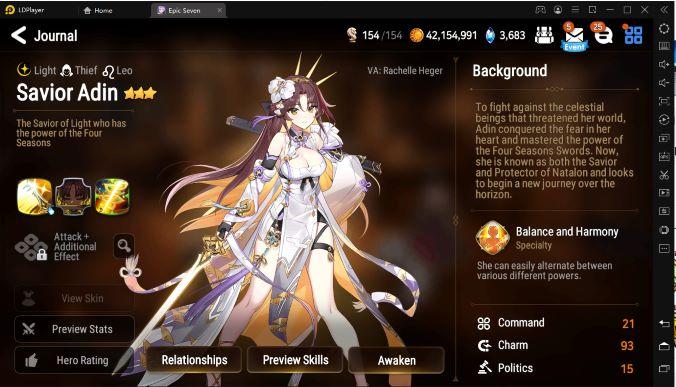 Savior Adin is a Light Thief that specializes in dodging attacks from enemies and countering their attacks with debuffs, hindering the enemies' combat flow and buffing herself to gain faster turns. Her skills focus on dealing massive damage to 1 enemy and constantly loop her turn, allowing her to constantly deal damage all the while dodging the enemies' attacks.
Savior Adin's kit, coupled with her class, provide her with a great amount of Artifacts options to choose from and help her become one of the best F2P options to choose when using for both PvP and PvE contents in Epic Seven.
---
Special Side Story - A Fable of Demons of Natalon
Together with the release of the end of Main story Chapter 4 is the subsequent sequel to the story and a special 3 weeks-side story to the main story event of chapter 4 - A Fable of Demons of Natalon. This special side story is a limited-time available side story and will only be available for 3 weeks.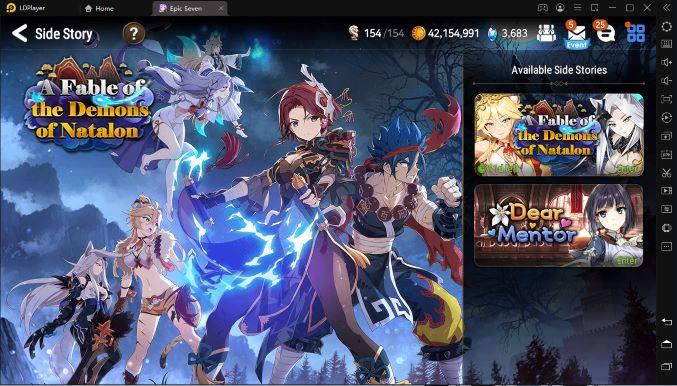 Side Story Quests
During the side story, players will have to go through a selection of special story stages in order to accumulate event currencies. There are a total of 3 different sections to the side story quests that will be unlocked depending throughout the 3 weeks of the story's availability.
Each section of the side story quests will provide players with 1 main farming stage and 1 type of currencies to farm specifically for each section, therefore, players should pay attention and farm the correct currency based on the right section of the side story quests.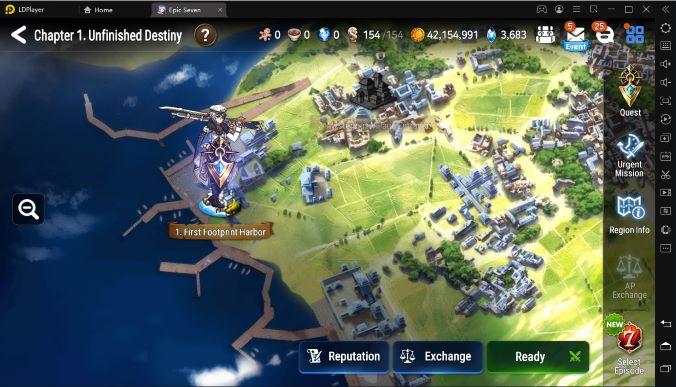 Event Shop
A special event shop will also be available during the side story period, allowing players to exchange their hard earned currencies for event items such as Event Exclusive 5* Artifact, Bookmarks, EXPs and more.
Event Bonuses
To quickly clear the side story, players should utilize the event bonus characters that are granted extra stats and event exclusive artifacts that boost the amount of currencies gained, helping players to clear stages easier and more effectively.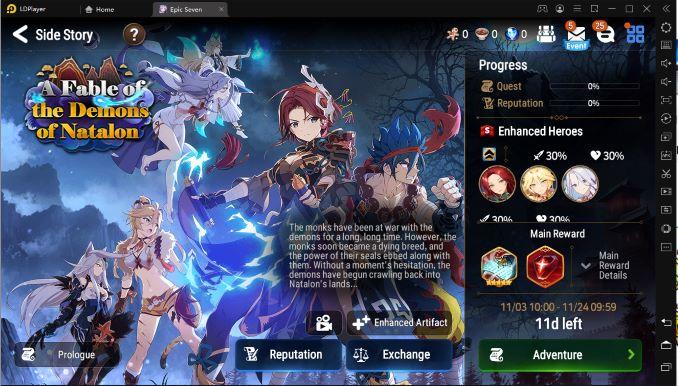 ---
Special Rate Up Banner - Should You Roll
Together with the special side story, the game introduces a brand new character to be added to the roster of amazing heroes for players to attempt to roll for. This time, the character introduced is the 5* Earth Warrior - The Champion of the Autumn Blade - Arunka.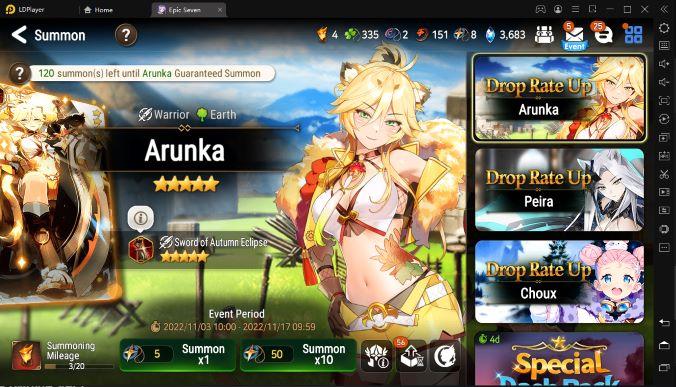 Arunka
Arunka is a 5* Earth Element Warrior that has high attack stats and doesn't rely on critical damage to deal big numbers. Arunka's kit revolves around her ability to deal massive defense piercing damage to 1 enemy, and if they are killed, dealing massive team-wipe damage to surrounding enemy waves.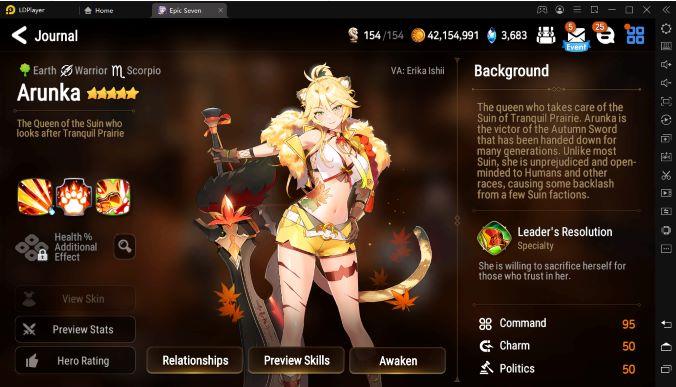 Arunka's 2nd skill is a passive that boosts her attack stat massively, up to 30% and grants her Combat Readiness boost depending on her attack, allowing her to gain a massive amount of attack stat and can get her turn quicker than other heroes.
Arunka's main skill is her 3rd skill, with its ability to deal massive amounts of damage to 1 enemy proportional to Arunka's attack and deal defense piercing damage, making it a prime skill attempting to 1 shot other heroes or enemies. If Arunka kills the intended target with this skill, she will deal massive amounts of damage to other enemies, proportional to the target's HP stat.
Should You Roll
No. While Arunka is a good hero with potential, she is heavily outclassed in the current meta of the game, making it hard for her to actually try and deal good damage. Coupled with her element that is highly countered in the meta and you have yourself a decent damage dealer, but one who is unlikely to be able to one shot any other characters. In addition, she is not a limited hero, so players shouldn't prioritize rolling for her unless you really like her as a character.
---
LDPlayer 9.0 - The High-Quality Epic Seven Gaming Experience
LDplayer is the most stable emulator to allow players to run Epic Seven smoothly, at high speed and high quality and provides many amazing functions to help all players to have the perfect Epic Seven Gaming Experience.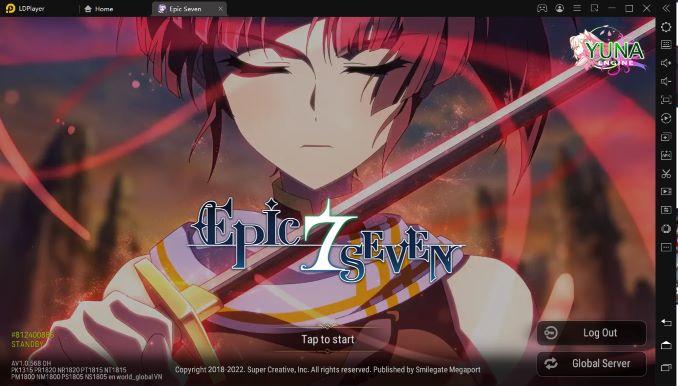 For newer players that intend to join the game, it is recommended that they utilize LDPlayer's multi-instances function to reroll and have the perfect head start in the game.