Epic Seven is a role-playing mobile game that offers selective summon for every new account. Rerolling is the act of creating a brand-new account to get the desired units to start with. This tutorial will show you our ranking for selective characters (heroes) acquired by selective summon in the game of Epic Seven after the big update on May 27th, 2021. We will also share the information on how to time your rerolls faster to get the best characters you need.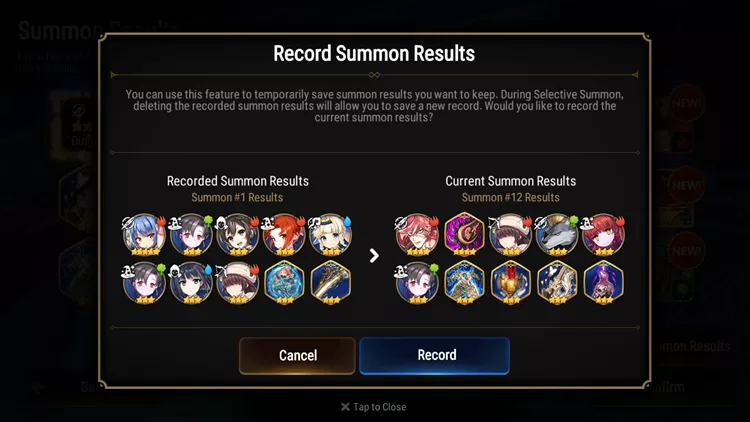 You can unlock the Selective Summon after finishing Adventure Stage Chapter: 1-10 Sanctuary Gate Underground and the free Covenant Summon tutorial. You will have 30 chances of summoning a good set of heroes. It's extremely important to pick the right hero for your journey.
After the update on May 27th, players now will have a higher chance to obtain a 5-star Hero. On the 1st/10th/20th/30th summon, one 5-star Hero is guaranteed to appear in your selective summon results. What's more, players will be able to keep a summon result and compare it with the ones summoned afterward, before finalizing your Selective Summon. But be aware of that only one set of summon results can be saved at a time. (Saving another set of summon results will replace the previous record.)
Players will now be able to see Hero Ratings in Summon Results > a Hero > Hero Rating and this will help you be more familiar with the heroes you're going to select. Tapping on Confirm allows the player to select between a saved result or the last summon results before finalizing the Selective Summon.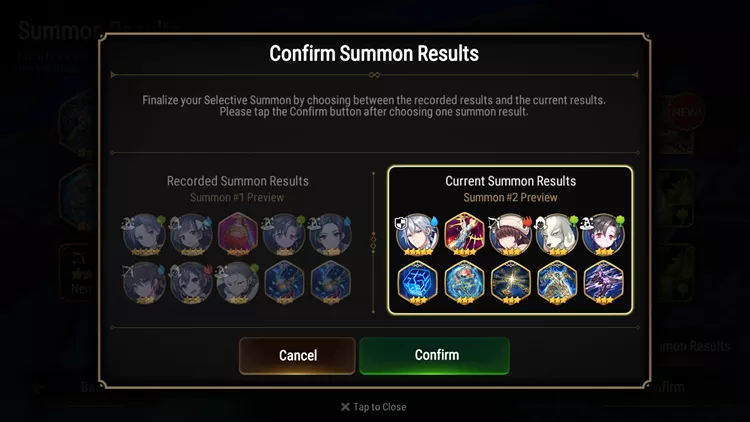 So, in conclusion, here's the key points about the free selective summon for new account:
1: Players have thirty opportunities to summon, but can only confirm one of them.
2: Players can record summon results and confirm them afterward.
3: The drop rate for Selective Summons is different from other types of summons.
4: Players may only receive one 5★ Hero or Artifact per summon.
5: On the 1st/10th/20th/30th summon, one 5★ Hero is guaranteed to appear in your selective summon results.
6: New Heroes will not be included in Selective Summons.
To better start your Epic Seven adventure, it's recommended to play Epic Seven on PC. Now, let's first begin with the free selective summon reroll tier list guide.
Epic Seven Selective Summon Reroll Tier List
Not all heroes in Epic seven are in the selective poor. You can only summon part of the heroes from Episode 1. Also, the selective Summon can only be used once. Be sure to select a really good set of heroes from this summon.The best strategy to summon a reroll unit is to pick a strong farmer who has strong AOE to carry weaker units. Below is our suggested tier list to start with.
S Tier Reroll Heroes
You should prioritize getting a really good farmer hero on S tier that has a cleave attack. It will be your main DPS hero that will help you farm throughout the game and also carry you until late game. A really good roll is one 5★ DPS hero and 4★ Support hero.
Here are the updated S-tier reroll heroes in Epic seven 2021:
Arbiter Vildred: 5-star Thief hero
Vildred can farm easily for you with his S1&S2 and carry you through the beginning adventure. He is the best starting AoE farmer. He can deal so much dmg as AoE Dps while buffing Atk to himself.
Sez is another AoE Dps that can help you clean the story content very easily, while also being usefull in a lot of content. He require good gear, but he can do insane AoE dps + very good Single Target Dmg.
Ken is a very strong unit with self-increase speed, attack, defence and provides defence break and stun. He also scales with HP allowing him to be both tanky and deal a lot of damage. Ken is also very usefully for PVP in Epic Seven.
Angelica

: 4-star Soul Weaver hero
Angelica is one of the best 4-star Soul Weaver in the game. She can give immunity, heal a lot, barrier, and being tanky. After the update on May 27th, Angelica will be added to Connections and you can obtain her aby finishing the Connections quests. However, you can still pick Angelica if you have a S tier 5-star hero and Angelica together in the summon.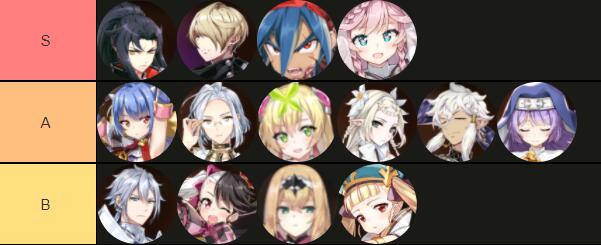 A Tier Reroll Heroes
A Tier heroes are the ones that are making you the most opportunities throughout the gameplay of epic seven. If you don't get the luck to summon heroes in S tier, you may want to consider A tier heroes.
Here are the updated A-tier reroll heroes:
Ravi: 5-st

ar Warrior her

o
Ravi is a self-sustaining bruiser like Ken. Ravi can deal a lot of damage while being tanky. She can be your farmer however she will be slow to clear out the monsters. Pick her if you want a solid frontline with very good Damage and self Sustain!
Sigret: 5-star Warrior hero
Sigret is a Dmg Dealer with Unhealable + Penetrate defence and bleed. She's good for Wyvern but not the best as starter. If you have Clarissa as a 4-star farmer together in the summon pool, you can also make a good team with both AOE and single-target dealers.
Destina: 5-star Soul Weaver hero
Destina is the best pure healer as she can heal/remove debuff and give CR but 0 buffs) She can carry you easily everywhere being naturally Tanky. She is also a good alternative if you do not get Angelica. However, she's not your first choice if you don't get a farmer in the 10x summon.
Iseria: 5-star Ranger hero
She's a very good char, paried with any character that have long Cooldown. She can def break + reduce CD + Negate buffs and remove buff, but as starter, she's not optimal, but if you can invest on her, she will be your best pick!
Basar is a good AoE Dps/Debuffer. She's META actually for PvP, while also being good for PvE too. Not a beast as started but can work fine!
Clarissa: 4-star Warrior hero
She can be your bread & butter def break + Aoe damager in your team, she can also work on Wyvern. Good option paried with 5-star reroll hero.
B Tier Reroll Heroes
The following heroes are good at some situations like in PVP, Hunt, or Arena. But they should not be your selective summon starter as you have better options in S and A tiers.
Here are the updated B-tier reroll heroes:
Tywin: 5-star Knight hero
Tywin is mostly common in PvP team. He can tank your late Wyvern and offer very good morale point. Meanwhile, he also provide defense break, and good buffs for DPS.
Exclusive Equipment: he can Dispells more buff from target and get Combat Readiness with S2
Chloe: 5-star Warrior hero
Chloe is a very good Single target Dps for boss kill, also work good for Wyvern, Abyss and anything with High HP due to unique debuff called "Magic Nail". Pick her if you want a Boss Destroyer.
Exclusive Equipment: 50% chance 1 more turn on Magic bolt/ dispell al buffs or Decrease defence on Hyper Strike
She can be a cheap tank/utility character. Provide CR Push and Atk up, can dispell and give barrier, while increasing her def or provoke. Nice unit to have.
Exclusive Equipement: She can always taunt/def up with S1 or Shield her + ally or Reduce CD by 1 turn on S3
Achates: 4-star Soul Weaver hero
Achates is also a good support hero that can cleanse debuffs and provide healing to allies.
Tips on Selective Summoning
Getting heroes that is good at farmig is the most important strategy that you should follow. But if by unlucky chance you didn't get them, you can always count on the free giveaway heroes of Free Spirit Tieria and Mercedes. They are also good heroes that can clear adventure mode.
For the Support role Aither can be a good alternative if you did not get Angelica or the other support heroes. If you got heroes that is good for PvP, you better skip that one. You should prioritize first farming heroes. The very ideal for this game is that you're gonna have to keep grinding for good equipment.
Other points to consider
The 5-star heroes above are the only 5-star heroes you can get from the selective summon. To obtain other 5-stars, they must be obtained through the covenant summon or banner which sky stones can be used for.

You can only get one 5-star per 10 summons. This also applies to artifacts which means you can not get more than one 5-star hero or one 5-star hero and one star artifact

5-star artifacts should not be rerolled for as a 5-star hero is more useful and has a lower chance to get than an artifact. 4 and 5 star artifacts are class restricted - eg a knight cannot use a thief artifact.

Rerolling can take a lot of time to get the best outcome, sometimes its better to get a great 5-star and call it a day and enjoy the game.
Most popular characters in Epic Seven
If you are also interested in the entire list of all characters in Epic seven, you can check this Epic Seven Tier List 2021 Updated.
How to reroll on Epic Seven?
If you did not get those desired units you can always do the reroll until you obtain them. It might take you a lot of time doing the rerolling but you can faster the reroll process by using LDPlayer. The normal process for rerolling in Epic Seven consists of the following steps.
1. Download the game and start to play it on a Guest Account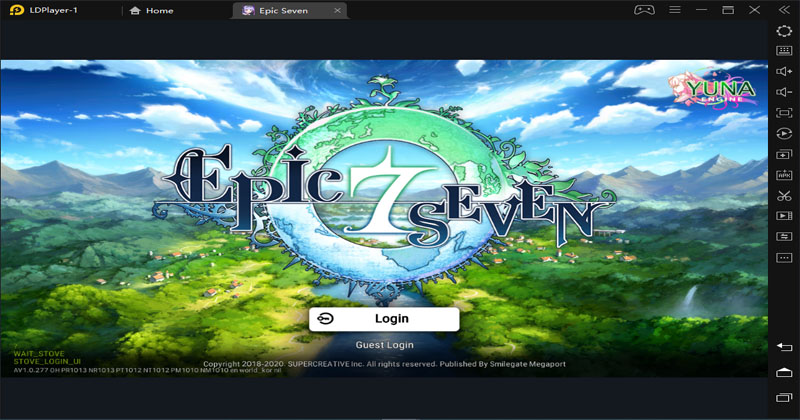 You can download Epic Seven to your PC using LDPlayer and start the journey. You should never log in with your actual Gmail or social media accounts for this. A single guest account will be enough to do the reroll.
2. Go Into the Adventure Mode
As a second step in the rerolling, you should progress your gameplay from one to four in the adventure mode.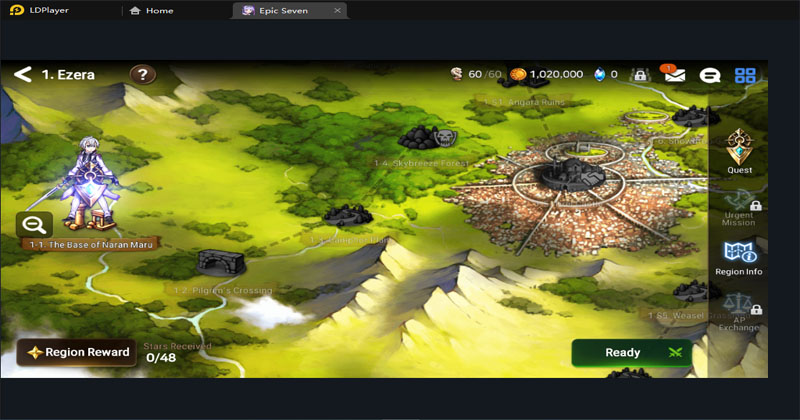 Go through the all tutorial phase, and you have to come to the summon page to enter into the adventure mode. Pass the levels of 1 to 4 and go to the summon page.
3. Complete the 30x10 Selective Summon
You are granted 30 chances to do the 10x summons and if you are not satisfied with the hero you got, you can summon again to take the one you need. But remember, at that phase, the game will erase the current summon hero you already obtained. The decision is totally up to you. But before you get into those decisions, remember you will not take any liked hero at all the time. So it will better to pick the ones when you take them.
4. Keep the Account or Reset it
After you have completed the reroll, you can either keep your account or delete it. When you take the desired heroes for yourself, bind your account to an email address so that you will be able to confirm your account data.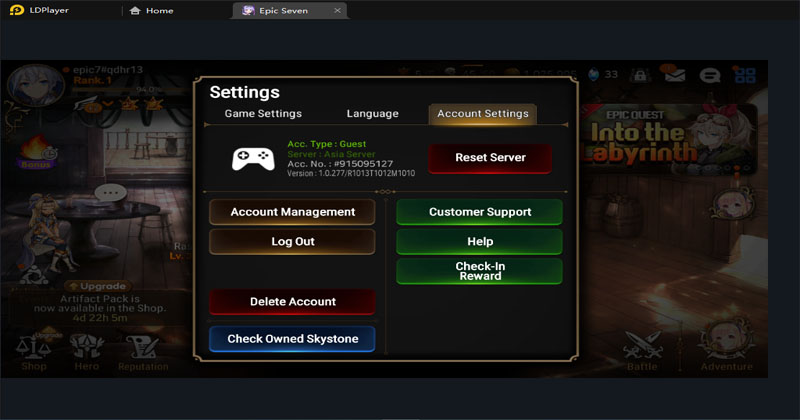 Suppose you didn't get any interest in heroes by summoning 30 pulls. It would be good to try once to get your desires. So you will ask to restart an account again. You can open the menu in Epic Seven and select settings. There you can see a red button to reset your all account data.
If you are in a guest account, there will be no things to lose in here. But if you have some best 5-star heroes or other best ones, it will be better to bind your account into a Gmail or a social network.
How

to Reroll Faster on Epic Seven using LDPlayer?
The usual time for doing a reroll takes up to 20 minutes on average. Sometimes this time will increase than that estimated time. Once you fail in rerolling as per your desires, you have to wait for some time to perform a reroll again.
So, as a result, this process will take too much time for you. But if there is any chance to avoid this time-wasting? Yeah. That exists.
You can prevent this huge time taking by taking the advantages of an emulator for Android: LDPlayer. This emulator's multi-instance feature can save up a lot of time-consuming as it gives the best features for your gameplay at Epic Seven.
Use the Multi-Instance manager to speed up your rerolling experience with LDPlayer. That feature initially allows you to play the game at several instances from various accounts simultaneously. By using that feature, you will be able to perform several rerolls in several minutes.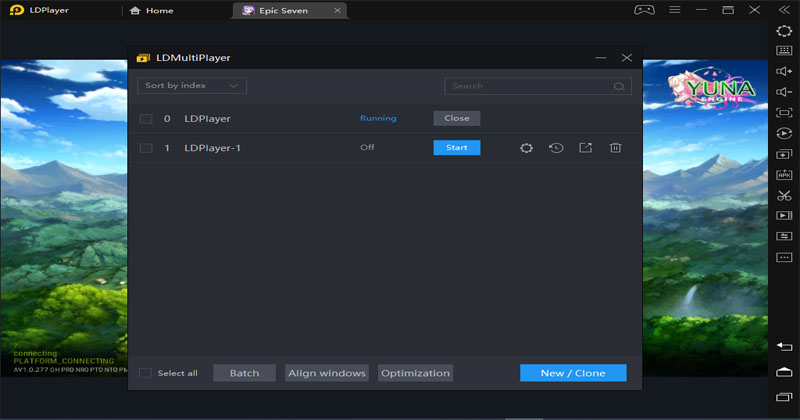 Follow these simple steps to reroll in the game Epic Seven through LDPlayer by making the maximum usage of the multi-instance sync feature.
Firs

t download L

DPlayer for your PC
Install LDPlayer and search the game Epic Seven in its store called LDStore. After that, download and install it to your LDPlayer (Finish the full file download but don't make any login)

Then open the multi-instance manager (LDMultiPlayer) to make clone of you main emulator (4 clones are enough for efficient reroll)

Then click and start all the cloned emulators (Don't open your main one)
Open the synchronizing tool (Synchronizer) from the tool bar

Start synchronizing your instances and launch Epic Seven

Start the game in a guest account

Follow the in-game process and make it to the free selective summon.

Finish the summon and choose your preferred results to bind your account

If you don't like the results, delete all the cloned instances through the LDMultiPlayer manager

And then make clones of your main instance (That's why we keep the main instance unused for Epic Seven) to do the reroll process again
Conclusion
Rerolling Epic Seven's characters are relatively more comfortable than most of the strategy games available for mobiles. There will be various characters to choose but rerolling the best characters and the best strengths is undoubtedly a leading factor for a victory. So keep in mind to reroll the best out of best and be a part of the victory of Epic Seven.