If you are a player who has always wanted to experience great multiplayer gaming with a mixture of horror, why don't you play Dead by Daylight? This is the perfect choice for you, and now it is one of the best multiplayer games for any player to experience the running of survival with horror. And today, it is taking us towards its redeeming codes.
Content
If we talk more about this game, Dead by Daylight is a video game by Behaviour Interactive, and its initial release was for Microsoft windows. The game is actually flowing through a mixture of horror, actions, and most importantly, you need to survive. Dead by Daylight has been fresh from many because of its unique gameplay, new updates, and more content, etc.
As we know, a game can provide you with rewards for the players, and these rewards can be acquired through redeeming codes. These codes are constantly changing. And it is a must to know which will work today and which has expired for now. So let's look at the redeem codes of Dead by Daylight, which you can redeem in February 2022.
What Dead by Daylight Redeem Codes?
Dead by Daylight developers have managed to provide their players with some free kinds of stuff, which can be taken by entering a code. This code is known as the redeem code, and it can be identified as a good perk since it gives players a currency by making sure to keep along with the latest released ones.
Redeem codes of Dead by Daylight are offering players some free Blood points. These are offered to them regularly, and Bloodpoints are the things that players can use for unlocking the nodes from Bloodwebs of characters. So it can actually open up perk slots for players with many more things.
The Bloodpoints offered by the redeem codes are perfect items for a player to be used on their new character building. They can use them to build the characters like Jil and Leon, who work with every platform of the game. When the game conducts some special events, the developers of Dead by Daylight add some new codes as well.
Sometimes, there are chances to redeem these codes for having charms or cosmetics. Most of these codes will expire at the month-end. And some codes will be expired by the resets. Reset will happen on the 13th of February, so you need to be alert and aware to redeem these all before that day comes.
Working Redeem Codes for Dead by Daylight
There are some new codes offered for the players in the last month, and those are total. You will not be limited to an amount of redeem codes to redeem, so you can step and redeem more from them to convert them for cash with Bloodpoints as well.
Here are the working codes for the month of February.
TOOTHFACE -

10k Bloodpoints (2022/07/30)

SHARKY - 10k Bloodpoints (2022/07/30)
FINN - 10K Blood (2022/07/29)
BUBBLES - ( 2022/07/30)
OCANADA - (Added 2022/07/01)

CAKEWALK -

For 100k Bloodpoints

IGBPPARTY - for 100k bloodpoints
THANKYOU - For 150k Bloodpoints
GETTHATBAG - 10 rift fragments
BLOODBANK - 100k bloodpoints
DOUBLERAINBOW - 200k Bloodpoints
How to Redeem these Dead by Daylight Redeem Codes?
To redeem these working codes, players have to open their game and go to the store option. After that, they can see a button that mentions a Redeem Code, and you can click it to open a redeem code screen to enter your codes.
Once you have opened this screen, you can copy our list of codes or just type it in its blank space. Always make sure to type correctly and don't miss out on a single word from the code as it leads code to not working. So be careful enough to type the right spellings. We suggest you copy from this list.
Dead by Daylight is a game that is available for different platforms, but if you are looking for genuine gameplay with more added features, we suggest you use the mobile version of the game. Still, you can play the mobile version on your PC using the best android emulator, LDPlayer, and it guarantees you give more optimized gameplay than usual.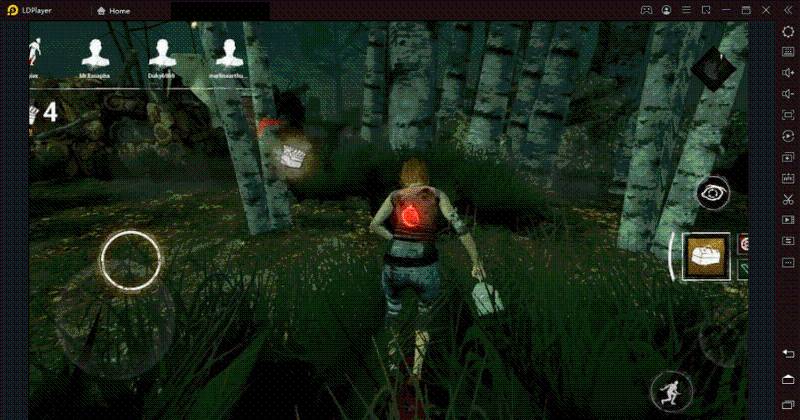 LDPlayer comes with many added features to make your gameplay more impressive, and it can adjust the game to have the smoothest performance with the most flexible settings to have a more outstanding performance. Even if you are a low-end PC user, you don't have to worry more since LDPlayer can optimize the game to have the best experience.
The features you can add, like keyboard mapping and keyboard macro commands from LDPlayer, will definitely spice up the game with more additional settings as they are designed to ease the game with more adjustable controls. So if you ever dream of an optimized gaming play even with a low-end PC, LDPlayer got you for Dead by Daylight.
Conclusion
So this is up to you now. Please take a look at these codes and redeem them to earn your best rewards for gameplay. You need to hurry before the reset happens and before this month ends since these are always changing, and don't forget to type them as they are. Take the advantage and make your gameplay cooler.