Botworld Adventure, which has been in development for approximately five years, will be released on October 13th. It will be available on the Google Play Store and the App Store worldwide. Featherweight Games is the studio behind Rodeo Stampede, which surpassed 100 million downloads in 2016 and was named one of Apple's top ten games of 2016. Rodeo Stampede is currently celebrating its anniversary through an in-game event and the developers will not stop updating that game even with the release of Botworld Adventure. Let's find out more that will come in the new game!
About Botworld Adventure:
Botworld Adventure has a beautiful and colorful aesthetic going on. It lets you choose between one of the four races present in the Botworld- dog, cat, buffalo, and lizard. Once you're done picking one of them, you get to customize your own character and give them more personality.
After all the initial customization is done, you'll head out in the world to search for bots. You'll get to soak into the open and fascinating world of Botworld. Because it is an open-world game, it, like others of its sort, places a strong emphasis on exploring in terms of gameplay. Botworld has 12 different diverse zones ranging from deserts, forests, ports, and more. Exploration would give you tons of rewards and hidden treasures to progress into the game much better.
Like most of the games, this game also has a stamina system, called "Repair Canister" for which you have a limit of 3. You need to pay attention to the repair canisters and return to base before it fully runs out while exploring. If you run out of your repair canister, you can use the jetpack to return to the starting position quickly. Set checkpoints to go from one place to another easily.
The bots you collect will assist you with the battles that you will face as you move ahead with the game. You will various scrap materials throughout your journey. You can use those to find new bots and upgrade the bots that you own. Also, every bot has its own unique abilities and powers which would be very helpful during battles. The battles in the game are the strategic ones, so you need to form your teams accordingly. Participating in multiple battles gives you experience points and materials to further upgrade your bots. There would also be boss enemies who after defeating will grant you better rewards compared to the usual. Another way of collecting materials is by doing the story quests, side quests, and commissions.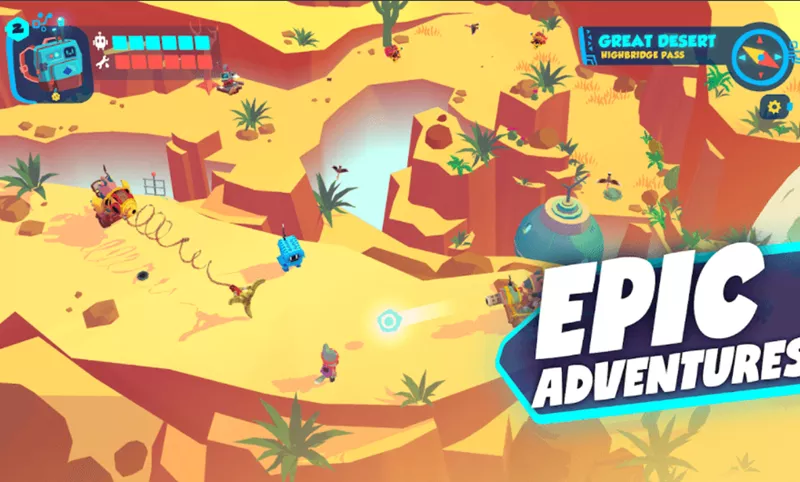 Conclusion:
Overall, if you're an open-world RPG enthusiast, this is the perfect game for you. Botworld Adventure takes heavy inspiration from Pokémon and World of Warcraft- the fun and different creatures just like in Pokémon and the massive and beautiful world to explore just like in World of Warcraft. The graphics for this game are extremely cute and eye-pleasing and the gameplay keeps you coming back for more. If you're planning to download and play the game, good luck and have fun!