Idle League is the latest instalment of turn-based strategy games on mobile devices. After getting our hands on the game, we enjoyed every minute of the gameplay and its players' features. The game lets you play the role of a novelist who wishes to enter a world of illusion to learn of the 7 chosen ones that once came into the world.
You can include them in the novel that you hope will take the world by storm if you can learn their stories. However, you can only do this if you can survive the world of illusion.
So in this article, we will be helping you with necessary tips and tricks that will help you get up to speed on the game and reveal ways to collect exciting rewards and make your heroes more powerful.
Use all the free giddies from the start of the game
---
One of the exciting things about idle League is that it offers players a bunch of cool rewards at the early stages, which sets them up for a comfortable start in the game. You don't have to worry about playing for hours to make enough gold or diamonds to buy powerful heroes as this game will give them to you for free as a kind of head-start.
You will be awarded several top-tier rewards, most of which will be in the form of heroes. Some of them are level 3, while some are level 5. Level 5 heroes are the most powerful, and if you get rewarded with them, you have the upper hand in early battles. These rewards will be given to you at the early stages of the game. Don't forget to use them.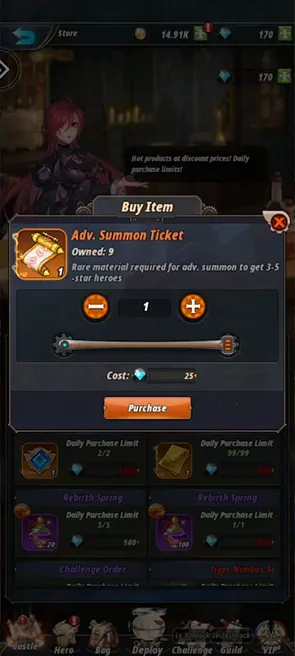 Convert your Shards to powerful 5-star heroes
---
Shards are one of the most common rewards you get after every battle you win. The more shards you gather, the more chances you have to convert them into powerful heroes. You must win battles against opponents in order to reap their shards.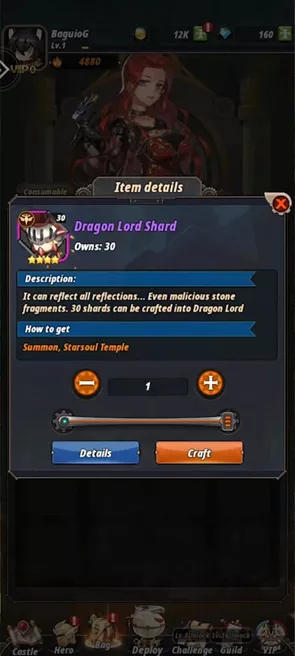 Upgrade your heroes, especially the 5-star heroes
---
Every hero, even the already powerful 5-star characters, can be upgraded to become even more powerful in the face of opponents. You may not necessarily need to upgrade them early on, but as you face off against powerful opponents, you will eventually be forced to upgrade them.
Upgrading these 5-star heroes is not always easy as you will have to upgrade their gears, such as weapons, armor, and shields. And while upgrading your 5-star heroes, don't forget to upgrade the 3 and 4-star heroes as well. You cannot have all 5-star heroes in a battle as the game usually mixes 3,4, and 5-star heroes in every battle. So it is necessary you upgrade all your heroes but lay more emphasis on the most powerful ones.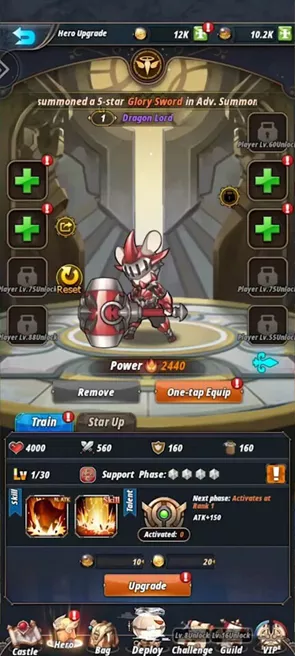 Use the Auto-Deploy feature
---
Players can decide to pick their heroes before battle manually, but it is highly recommended that you use the game's Auto-Deploy feature to select your heroes. This allows the game to help you pick out the most suitable heroes for every kind of battle, and in doing so, there's a high chance of winning.
Manually deploying your heroes could lead to disappointing outcomes in battle and you may see your team constantly losing battles. So if you're just starting out, we suggest letting the game deploy your heroes at your convenience while you sit back and watch your heroes dominate.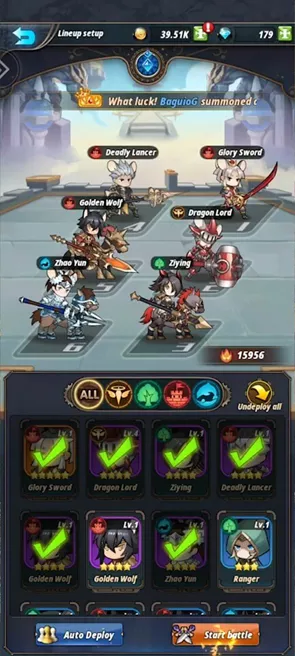 Don't forget to use your Bomb Frenzy illusion bonus once per day
---
In addition to some of the exciting rewards, you get when starting the game, one of the best is the Bomb Frenzy. This allows you to use an Airship loaded with bombs to destroy the opponent base and reap tons of rewards. However, this is a quick battle feature and can only be used once per day.
So if you don't plan on spending a lot of time playing the regular battles, you could just log in to the game and use the Bomb Frenzy to take out enemies and be rewarded. Note that you will have to redeem your Bomb Frenzy rewards from the menu screen; else, they will keep on multiplying until you claim them.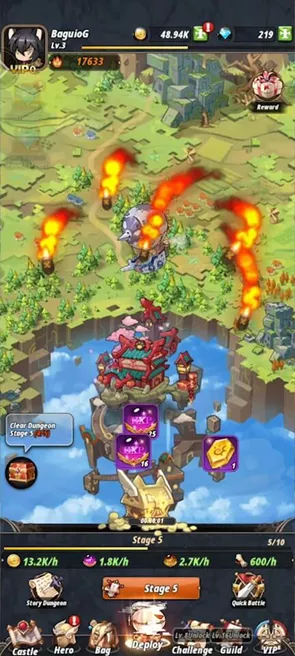 Claim your Login Rewards
---
This is pretty obvious, but some players forget to do it or don't even do it at all. Perhaps it's because some other games do not give exciting login rewards, but that's not the case with Idle League. This game rewards players with amazing rewards when they log in every day.
Some of the rewards could be hard-to-get diamonds, shards that can be converted to 5-star heroes, or if you're lucky, you might even be rewarded with a 5-star hero as a login bonus. Either way, claiming your login bonus is one of the easiest ways of getting freebies in this game.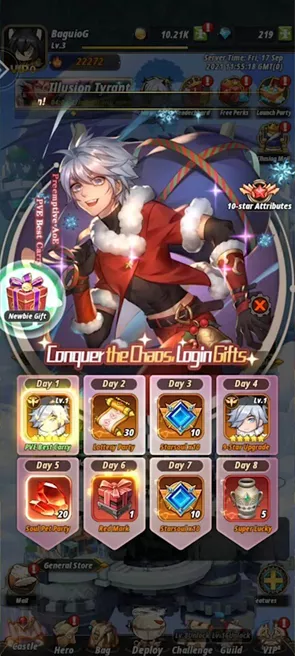 Take advantage of the bonus sales
---
Not everybody likes spending money on free-to-play games and especially on Android devices. Despite all the early rewards and heroes, you will be gifted in Idle League; certain levels will prove to be very difficult for you to beat, leaving you with the option of trying different strategies to figure out the best one or just spending real money to buy and upgrade heroes.
Either way, the game offers exciting discounts now and then in the store, and if you're lucky, you can get fantastic items at a very low price.
Conclusion
---
There are many ways to rack up cool and sometimes exclusive rewards in this game, and spending real money on items may not even be necessary to reach your ultimate goal, which is to learn the stories of the 7 chosen ones. You will have to fight your way through dozens of battles against hordes of enemies to get access to these stories one at a time.
Fighting to unlock these stories is one of the interesting things about Idle League; as you know, you're fighting towards something and not just battling your way through random locations and cultures in the vast world of illusion.