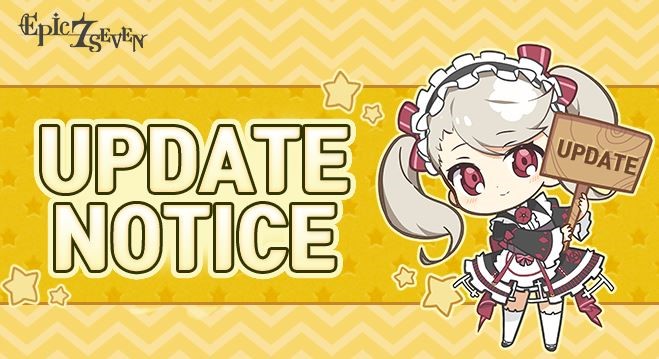 Epic Seven has just gotten its January 28 Mega Update. The update includes an entirely new character called Politis. A new side story called A Civilization's Final Transmission has also been added, which follows Politis's arc. The Drop Rate Up event has also been released, with other feature content and optimizations being added to the game. So, now is the perfect time to start playing Epic Seven due to the updates being added to the game.
Here's everything new you need to know about the update so you can start playing the game instantly and be up to speed.
General Summary: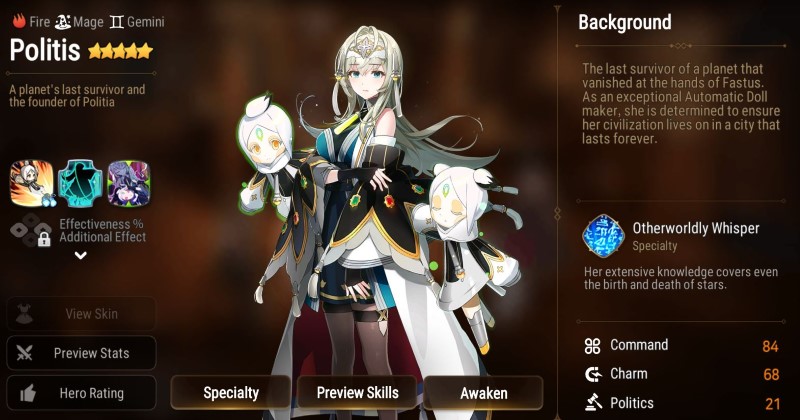 The new update is mainly meant to be a content update focusing on the new character. Moreover, a few content events will be added to the game as time moves on. However, note that there will be no maintenance time for this particular update, and it will be applied automatically.
The update will not have a large size and will be about 400-500 MB. However, expect your game size to remain the same as the developers have implemented good optimization to the game.
Politis – The New Character:
Politis is the survivor of a fallen race and is the founder of Politia. You can summon Politis using the Covenant Summon. Her abilities mainly revolve around hitting all enemies with a decreasing hit chance and does not allow them to be buffed.
She is a five-star elemental mage who has a Gemini star sign. She decreases her enemies' combat readiness while also not allowing them to be buffed. She has a passive skill called Astral Guide, which reduces the effect of Combat Readiness granted on an opponent. She also prevents the enemy from taking more turns as well.
If an enemy ends up using a skill that does not involve attacking, she helps reduce enemies' buff durations while increasing the caster's combat readiness. She also has a third skill, Starfall. It decreases Hit Chance and makes enemies unbuffable. Her first skill, called Call of the Stars, will stun all enemies repeatedly and interrupts their overall spell/attack casting.
Artifact Skill: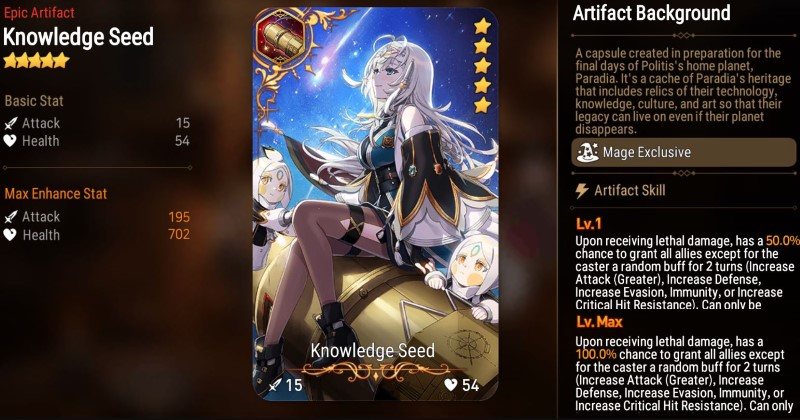 Politis has compelling artifact skills that she can take advantage of. Artifacts in Epic Seven provide you with specific ultimate boosts that significantly increase the character's power. They sometimes are meant to buff your allies but are mainly meant for the character themselves.
For Politis, she has a powerful kit known as the Knowledge Seed, which can be enhanced to 195 Attack and 702 Health. Here are the particular levels you should know about for her Artifacts:
Level 1: If Politis receives lethal damage, she has a 50% chance to grant all her allies except for herself a random for two turns that give increased attack, defense, evasion, immunity, and critical hit resistance.
Maximum Level: At the top level, if she receives lethal damage, Politis has a 100% chance to grant all allies except for the caster a completely random buff for two turns. It helps Decrease Attack, Defense, Evasion, Immunity, or Critical Hit Resistance as well.
New Side Event – A Civilization's Final Transmission:
Paradia is destroyed by a celestial attack, with Politis being selected as a team member meant to preserve her civilization. However, she is now in a place where she is even more trouble than ever before.
The update itself will be released on Thursday 28th of January, at 2:59 UTC. You need to at least have account rank nine, and you need to go to the Lobby, to the Battle Section, and start the Side Story. After completing the first story and cinematic, you can achieve the entire mission by going through the puzzle pieces.
Puzzle Missions themselves are randomly generated, with the mission goal changing every time. You are given ten free times for the mission, after which they have a cost. You can take three tasks at the same time, which you can view on the right pane.
After you have obtained a reward for any mission, the puzzle piece is removed, replaced by an illustration. After completing all the missions, you gain access to an entire art piece added to your artwork.
Politis Seed Drop Rate Up:
In this Drop Rate Up event, you get to meet fire elemental mage Politis, who can decrease all enemies' buff durations while increasing her combat readiness. You can gain the Mage Exclusive Artifact Knowledge of Seed to give all allies except the caster any random buff. This update, too, will be released at the same time as the main update.
Tywin Crown of Glory Drop Rate Up: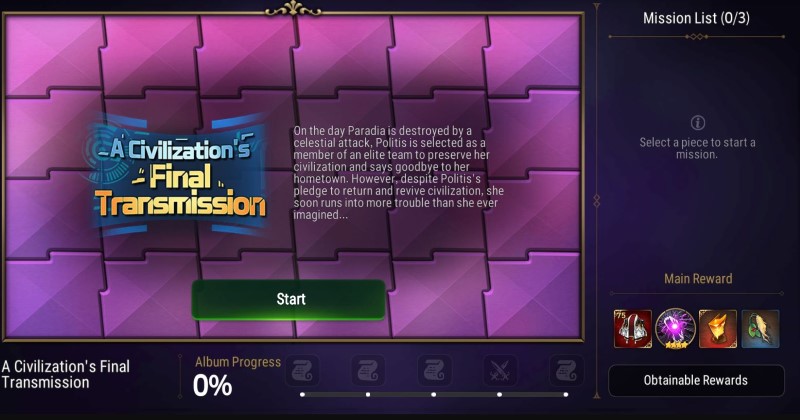 In this event, you meet the Ice Elemental Knight Tywin, who decreases the enemy's defense while also weakening their survivability while also dramatically making their allies stronger. You can also get the Knight Exclusive Artifact, Crown of Glory, which helps increase the caster's defense while also removing several Souls when they suffer from an attack that targets any of their allies.
This part of the update will be coming out later on the 2nd of February at 3:00 UTC and will last only for a minimal time. So, be sure to complete this particular mission as quickly as possible to make sure you don't miss out.
You might also need to party up with a few team members to make sure you don't fail the event, as it is quite hard and costs you a lot after a few tries.
Conclusion:
Epic Seven's January 28 Mega Update has added a lot of new exciting content to the game. With the introduction of a new side story, we can now look at the game's lore much better than before. The unique character arriving has hinted that many exciting new plotlines are yet to come by the developers.
The update has also quashed many bugs and has optimized the game even further, allowing for players with low-end devices to enjoy the game at reasonable frame rates.