With tones of new Android games coming out this year, some mobile gamers really don't know what games are worth playing on PC with an emulator. That's why we created this list and recommend you to try those mobile games. Whether you're a casual gamer or you want something with a bit more meat on its bones, the following will introduce the best new Android games that you can play on your computer using LDPlayer Android emulator.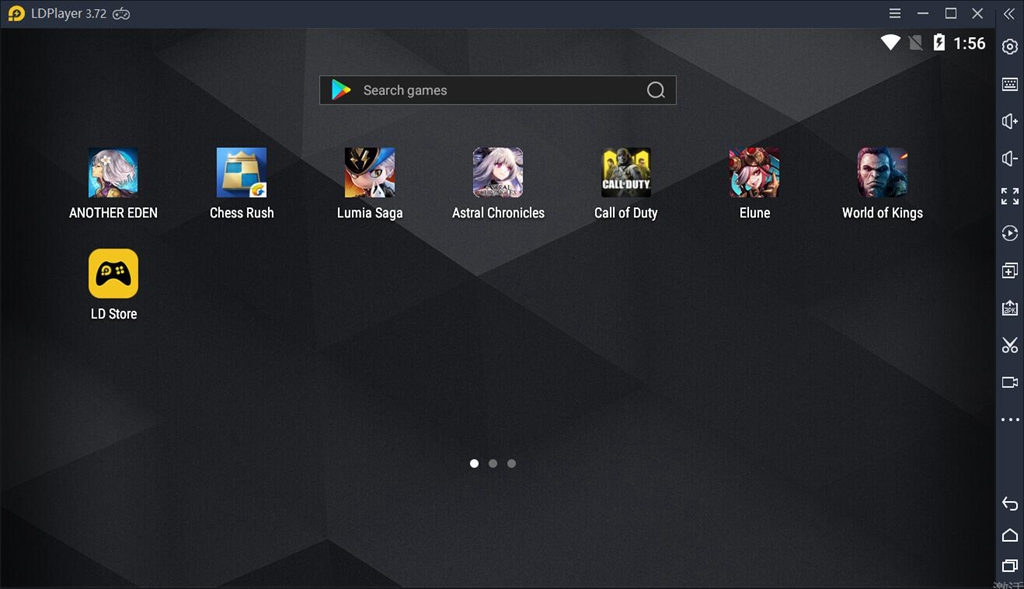 Call of Duty Mobile is a free-to-play FPS mobile game. It is free to download on the Google Play Store and on Apple's App Store. Also, it is available for Windows if you using an Android emulator. Like other games in the same genre - PUBG Mobile for example - you'll be able to get skins and additions for your weapons using credits, with access to items opening up as you level up.
Besides, there is some basic information you need to know about Call of Duty Mobile. You can use Call of Duty Mobile points to skip some of the tiers to provide access more directly. You will be able to pick between three types of match: normal, ranked or private, depending on what players you wish to face off against.
Elune is the newest gacha RPG to arrive on Google Play and the App Store. The core idea is still the same: you summon lots and lots of heroes, pick the ones you like best and arrange them into a team, then put them in endless turn-based battles for loot. In this game, heroes, called Elunes, can be divided into 5 types based on their rarity: normal, uncommon, rare, epic and legendary. They also belong to different classes (tank, healer, DPS, etc.) and different races.
Another Eden is one of the newer gacha mobile games. There are actually quite a few odes to Chrono Trigger in the game, including time travel and some other little story and design elements. Another Eden features a rich story and detailed world. You move around a map and engage in story missions like early console JRPGs instead of the usual mission-style game play. It's absolutely well, even if it's a bit different from most gacha games.
Players can get more characters through the Gacha system. Like most RPGs, heroes have different classes and rarity (stars). The main different in classes is the skills and stat growth nodes available in the skill tree feature. If you're looking for something new to try, Another Eden is definitely worth checking out.
Lumia Saga is a brand new 3D mobile MMORPG published by Century Game. Unlike the current trends of MMO these days of realistic visuals, Lumia Saga went the opposite direction and made the characters look like cute little munchkins! The game offers a lot of unique features like befriending NPCs, a crafting system that can shape your equipment as you see fit, dual-class option where you can switch your job class depending on what you need, and of course, multiple PVP and PVE challenges.
A unique feature of Lumia Saga is their sandbox style of assembling equipment. Each piece of gear can be equipped with up to three cores. The look of the equipment changes depending on the cores that are attached.
Chess Rush is a turn-based strategy game. Chess Rush is the best auto battler for mobile published by Tencent Games. The game is free to play and available both on mobile and computer. It launched with a 52-unit roster, and almost all of them are Auto Chess staples. In fact, when you hop into your first match, you will immediately be assailed by time-tested opening builds like Scrappy Inventors, which in this case is called Cyborg Engineers.
Chess Rush features over 50 heroes and follows the usual auto battler setup, with each match staged on an eight-by-eight battlefield against seven other players. The game includes two modes: Classic and Turbo. Turbo matches feature faster-paced games, finishing in ten minutes or less. For those who want to play with their friends, Chess Rush also has a co-op mode, which lets you invite players to a match to compete against other teams around the world.
Astral Chronicles is the latest game released by uBeeJoy, which is both available for Android platforms and for Windows if you use an Android emulator. Astral Chronicles is a real-time action RPG that tells a great anime fantasy tale. You can choose your class and recruit a variety of heroes on your quest to solve the mystery behind the Astral Realm.
World of Kings is a free to play mobile MMORPG for both Android and PC developed and published by the Chinese gaming studio ZLOONG. The game is set in the fantasy world of Ideon and features a persistent open world, numerous PVP options, dungeons, and so on.
The game's music and visuals are heavily inspired by World of Warcraft with the game's soundtrack composed by Russell Brower, who worked on World of Warcraft, Hearthstone, Diablo and various other games. The core gameplay loop revolves around completing dailies which mostly involve running various dungeons until players exhaust their stamina. Like other MMOs, World of Kings offers a huge amount of other collectibles like mounts, pets, fashion items, and more.
Best Way to Play Android Games on PC
If want to play those Android games on your Windows PC, then you can download LDPlayer (the lightest Android emulator) to help you get the access. Using LDPlayer is a fabulous way of playing mobile games on your large screen computer without any crashes. Feel free to download LDPlayer and it's a very simple process.