WWE Champions is back and with a new Update. Now, WWE Champions 2022 is an Action Role-Playing Game (RPG), developed and published by Scopely. The game is available with both single-player and multiplayer options. Wrestling fans around the world are very much familiar with the name WWE. Such is the popularity of WWE; the game has more than 10M+ downloads on Play Store and mostly has positive reviews.
Content
WWE Champions 2022 offers puzzle-based RPG battles to compete in the different contests based on NXT, Raw, Smackdown, and many more. With over 250 characters to collect and more than 35 million online players, WWE Champions 2022 is one of the most downloaded wrestling mobile games.
With this article, we will try to guide you through the basic gameplay of WWE Champions 2022 that will help you get started with the game without much trouble. We will be focussing on the current version of the game while explaining the gameplay, rewards, characters, and other things. Let's begin with the game's features without wasting much of your time.
Features of WWE Champions 2022
---
Collect from over 250 WWE superstars and Legends

Action RPG game in WWE Style

Weekly WWE events such as events inspired by WrestleMania and SummerSlam. Also, play monthly title events.

Signature WWE superstar's moves to crush your enemies. Match 3 RPG puzzles battles & the Superstars' WWE Moves

PvP battles

Join factions and Alliances to play with your friends or players from around the world.

Complete tasks to earn rewards in League mode

Customizable titles with abilities and buffs
Getting Started
---
This section will guide you through the login and Tutorial steps. When you install and open the game, the first two options you will see are – "New Player" and "Returning Champion." The former is to be used when you are playing the game for the first time or using a new account. The latter option can be used if you have previously linked an account to the game and want to start where you left off last time.
The game is simple; consequently, the tutorial is too. The tutorial will teach you how to match gems to attack and pin down your enemies to win the contest. After this initial phase, you will earn a welcome bonus of 200 coins.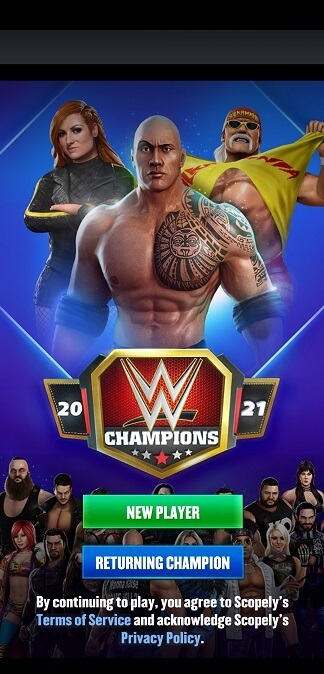 How to Play?
---
You start the game by choosing a Career. Here also, the tutorial will help you perform the game's basic tasks. In this mode, you will start by battling a WWE superstar. First, you have to learn the basic attacks, and then you can start the game.
The gameplay is simple. You have to match three same RPG puzzles to attack the enemy in this game. You have to match different colored puzzles to power up your attacks and Deal maximum damage. And when the enemy's health reaches zero, pin down the enemy to win the game.
Your opponent can also pin you down, so you must match puzzles and deal enough damage to prevent them from winning. You got three chances to save yourself by matching puzzles before the count of three. Once you are done with the tutorial, you will choose your name. Daily rewards will help you to unlock the bonus Prize.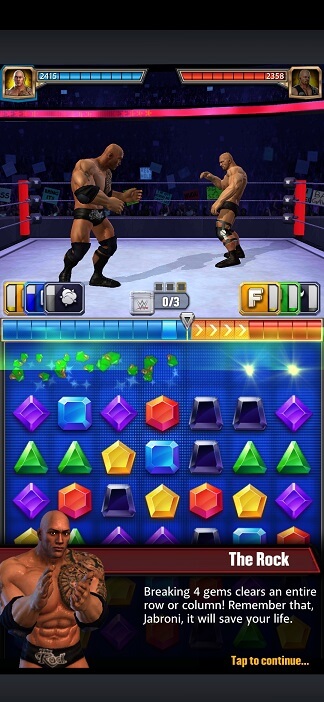 League Mode
---
The game offers several game modes, but we will be discussing only the league mode in this article. The league mode is important. Here, you learn the game mechanics and recruit Superstars for your roster. You collect powerful Superstars to help you complete this stage faster. Also, you earn various rewards by defeating your opponents – such as coins, Superstars, training cards, etc.
You can also change your fighter before the match. You can choose the player that you have won or either recruited. You can use these players as per your opponent's strength to fight. Now, if your opponent is too powerful, then you can train or upgrade your superstar to enhance their skills and damage power. You can use coins to do so. With each battle, you will learn more and more about the game. To change your superstar, tap on the player, choose to replace and choose the manage option to upgrade him. You can unlock Contest and Faction after reaching level 5.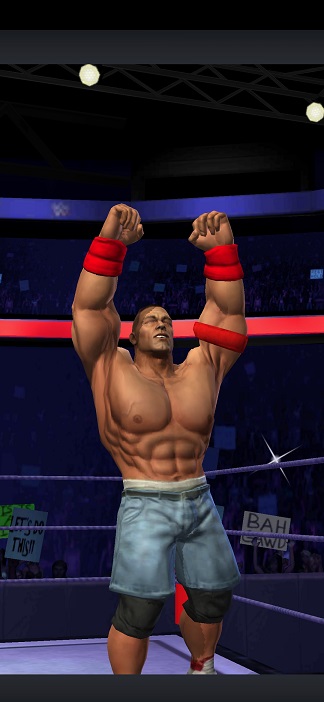 Recruiting Superstars
---
Apart from defeating and collecting superstars, the game offers other ways to recruit superstars. The Loot option will help you add superstars to your roster on the main game screen. Each loot has a time limit after which each end and new loots are added. You can choose a loot of your choice to try your luck and unlock powerful superstars. But to open loot, you have to get coins.
Attacks and Moves
---
The puzzles you match have different effects depending upon the type and number of RPG puzzles. When you match 3 puzzles, you punch your opponent, and if the puzzles are golden, you add power up point to your special move. Each player has three special moves which deal more damage than normal moves. So, to defeat an enemy faster, power up and use special moves.
When you match four puzzles, you clear an entire row or column, thus inflicting more damage. Most importantly, if you match five gems/puzzles, you create a rainbow gem. You get an extra chance to match gems if you get a rainbow gem.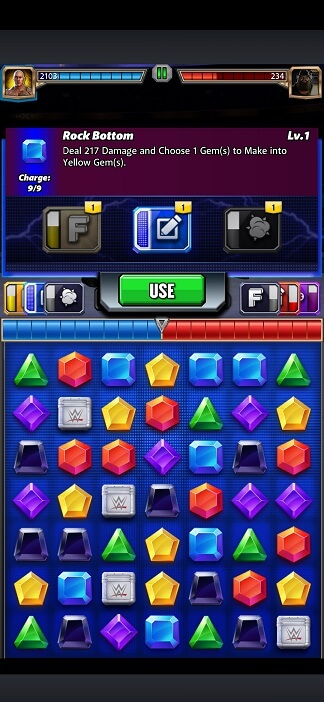 Rewards
---
The main rewards are training points, various coins, and cash. With the rewards, you can unlock more players from loot and train them to become more powerful. These coins and cash will further help you when you unlock new modes.
The white crates available during the match can be matched to gain the materials you need to improve your superstars. Also, you should not use a player if they are low on energy. The superstars can heal by themselves when you don't use them.
This will be all for now. WWE Champions 2022 is an awesome game, and wrestling fans will love it. You may not use controls to move and attack opponents, but the fun of matching gems and witnessing the signature moves of your favorite superstars is electrifying.