Pako Highway is a racing game in which the players can race on endless highways among the crowd, and as it is challenging gameplay, only the most capable players can hold onto the stage until the given time is over. So, whether you are a skilled player or not, with this Pako Highway beginner guide, you can understand almost every crucial thing about the game and have a top start in this gameplay using the details you will learn through this guide.
Table of Contents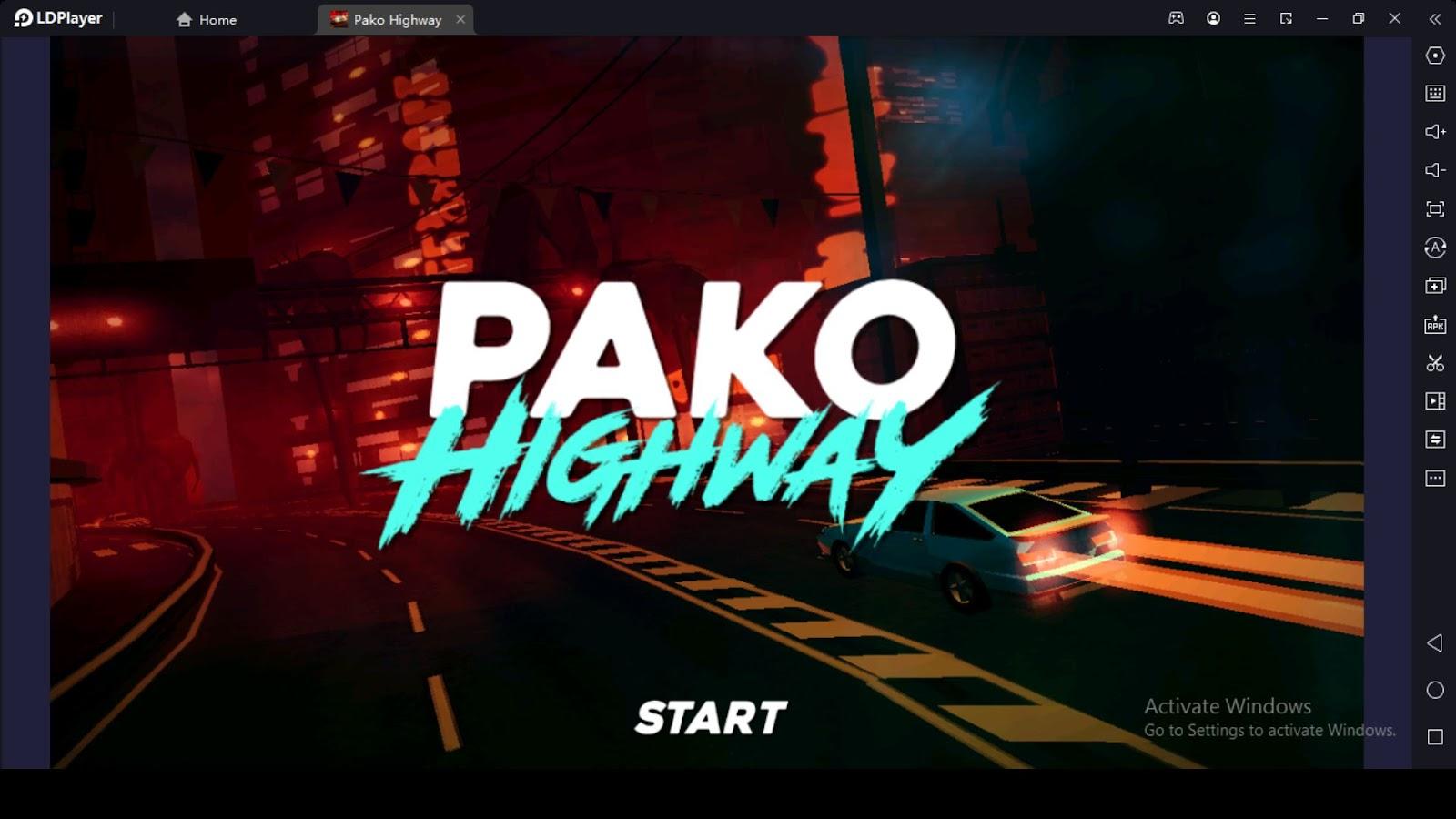 As this game allows you to only race among the crowd without getting crashed by other vehicles, it needs more concentration and more comprehension of the game, and this beginner guide will be the better one to learn all about it. Here, the game has different cars at different speeds and various stages you can try on.
Each stage has multiple targets to achieve, and the scores you will obtain through a stage will be determined by how accurate your play style is. So, here you have this Pako Highway beginner guide, and we invite you to read everything mentioned here without neglecting it. After reading it, you will end up being a top racer here, and using these beginner aspects, everyone can have a better Pako Highway on PC player experience with LDPlayer 9.
Pako Highway Gameplay
As a Pako Highway beginner, let us first look at the gameplay overview here, so beginners can understand what they need to do here. Here, as you know, this is a car game in which you can race over tracks and locations. And also, here, you can experience a real racing vibe using various racing cars. You can learn about cars and other things later in this beginner guide. But right now, let us focus more on the gameplay overall.
You can choose a car to enter, and also, you can select a stage to enter, and then, you need to race along in the selected track. The car automatically runs forward on the track, but you can control the bends the car should take.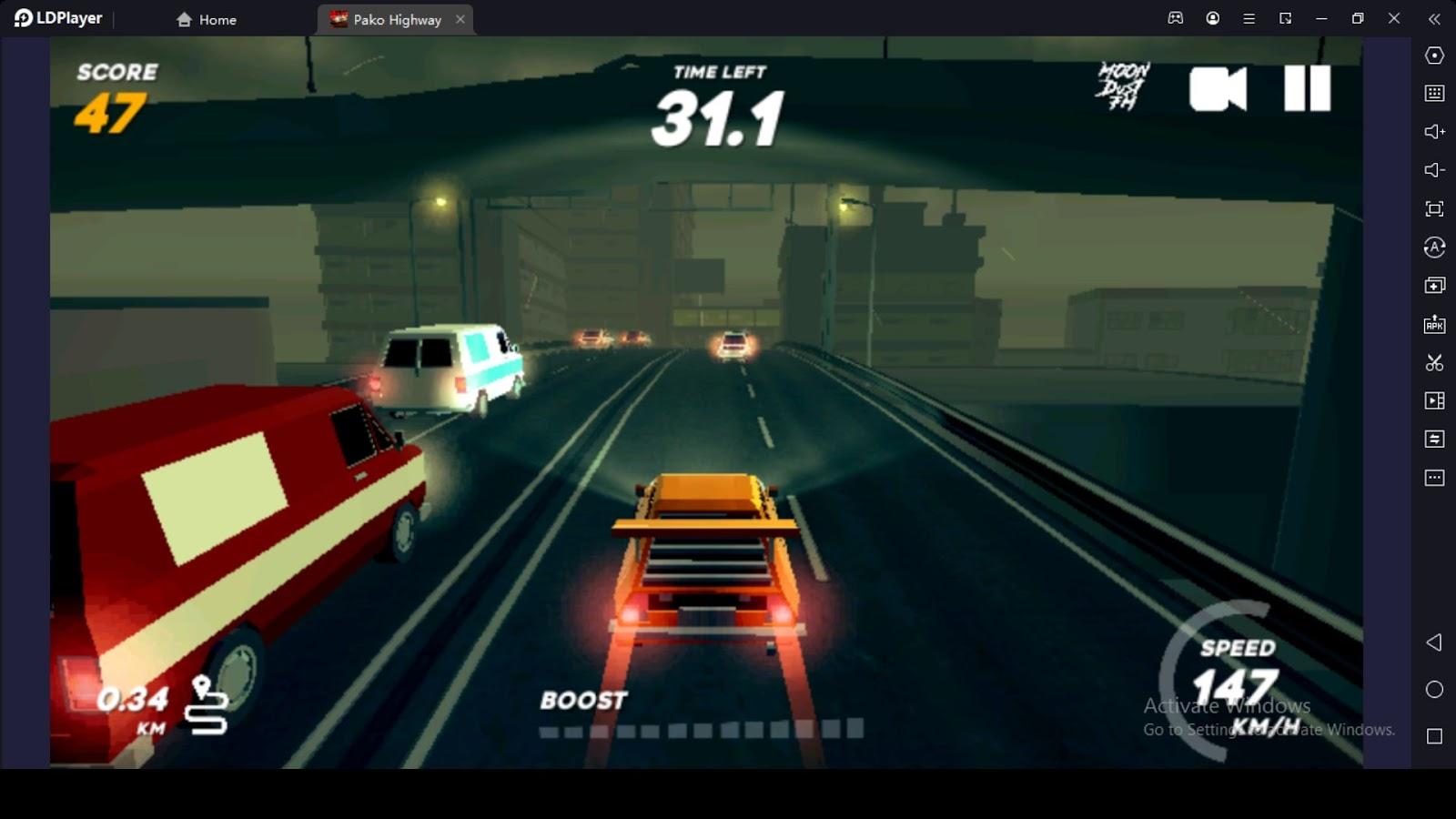 Most importantly, since you are racing between the crowd, it is better to tap on the left and right sides of the screen when you need to take your car to different sides. If you can avoid obstacles, such as the vehicles on the track and some barriers on the road, your car will be busted, and you will have to restart the gameplay.
There is a given time limit; in this time limit, you need to take your car, avoiding obstacles on the road to a maximum distance to earn more prizes. And also, if you want, you can tap on the resume button to resume the game for some time and start again, or you can restart the gameplay or go to the main menu and abandon the current race.
You can adjust the graphics quality from low to high in the middle of the race, and according to your preferences, you can turn on or off background audio.
As we said earlier, you need to control the car to move forward smoothly without getting crushed by other vehicle crowds to win the relevant stage. But if you cannot do it perfectly by tapping on different sides of the screen, it will be challenging to level up and earn more in-game currency needed to upgrade vehicle parts.
So, you can play this game through the best android emulator LDPlayer 9. Instead of touching the different touch screen sides when playing the game on mobiles, you can have incredibly comfortable gameplay on PC. LDPlayer 9 offers you the Keyboard Mapping feature, and using that, you can assign keys to move the car's left and right sides, and after setting the keys to turning the car on both sides, you can easily avoid obstacles using the shortcut keys you assigned.
So, with the help of features in LDPlayer 9, you can ease your overall gameplay, and also, you can earn more in-game currencies along with player XP to level up here. As you drive through endless highways with more traffic, take control of your car with LDPlayer 9's features and overcome any obstacle by successfully avoiding them.
Pako Highway Stages
Various stages are for you to choose from in this Pako Highway gameplay, and some of the stages can be accessed freely, but most are not free, and you need to spend in-game currency. Some of the stages will give you bonus prizes when participating in them. So, to achieve more stages, you need to earn more gaming currency by participating in one of these freely given stages.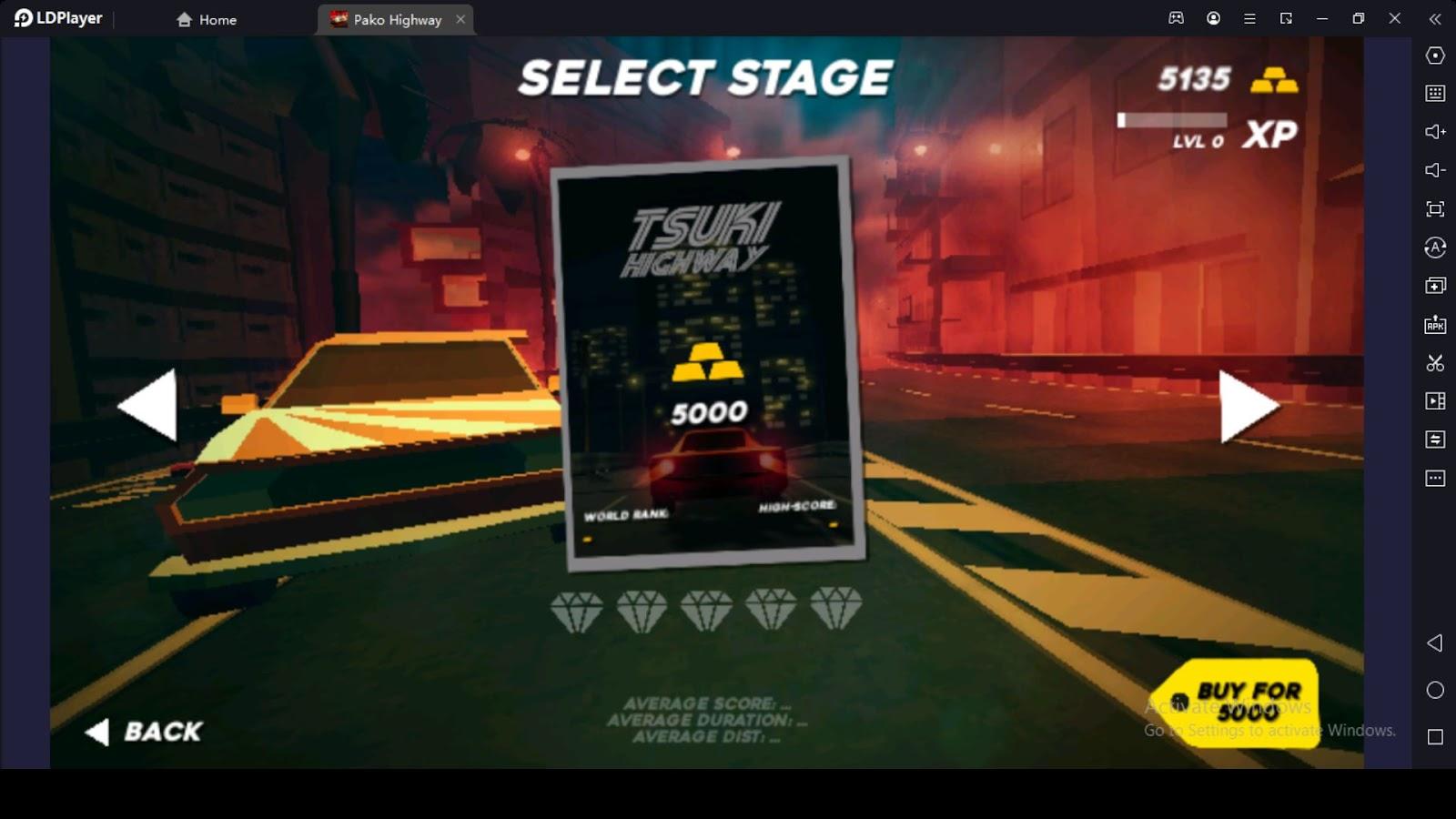 Some free stages are Chopper Chase, Dusk and Dawn, Nowhere Bridge, Devil's Plains, and Motor Bay. The stages where you need to pay a certain amount of gaming currency are Sunny Coast, Tsuki Highway, Asa District, Suzume Forest, Kaze Road, and Neon Daze.
Each stage happens in different locations, and each has its obstacle course, which you must avoid and win in the relevant time. For example, in the Chopper Chase, your car is chased by a chopper, and the chopper lands different exploits on the road. If you cannot avoid these exploits, your car will be busted, and you will have to restart the game. So likewise, each stage has a unique gaming way, and if you can identify its way and play accordingly to win the stage, you will easily beat the stage in the given time.
Pako Highway Cars and Customization Options
Various types of cars are available in this gameplay, and these cars cannot be obtained easily as they need some conditions to meet even before you get them. So, when you enter the game, there is one car that you can use for the races freely, but all other cars are not free, and you need to buy them using the in-game currency.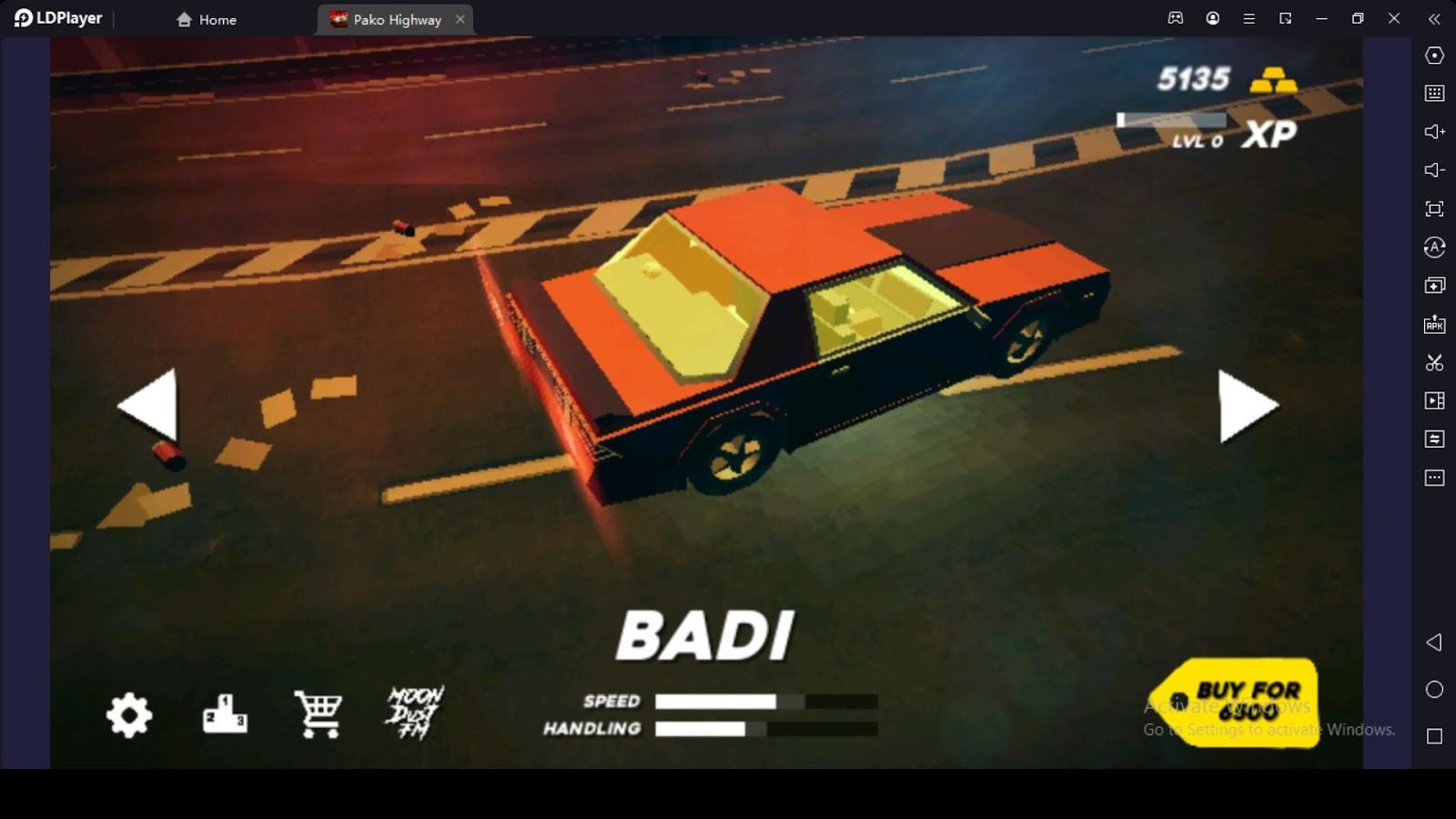 And some other cars can only be purchased if you have the appropriate amount of in-game currency needed to buy them because you have to upgrade your player level to unlock them. So, it is expected that you cannot obtain all the top cars here as the progression cannot be achieved in one day. But when you continually play the game, you will gradually upgrade to where all the top cars in this game are available.
So, play the game continually, and upgrading your player level to a higher one will help you gather more currency and unlock more cars with the currency and player level you have.
Remember, there are two factors for all the cars on Pako Highway, Speed, and Handling, and the higher the quality of the car, the higher the speed. So, when the speed is higher, it becomes harder to handle different obstacles and traffic, but with the proper attention, everything will be easy.
And the next thing about cars is the customizations given in the game, and using the different customization options; you can make your car wonderful in every aspect. You can paint the car in different colors, but only some colors are freely available. And then, you can buy new rims for your car and upgrade various parts to ensure that it is not slow and uncontrollable.
So, using the customization options, you can upgrade the car to a much better state than it previously was. And if you are tired of the free beginner car you use from the beginning of the game, you can buy more cars after having a certain amount of in-game currencies, which are enough to buy higher quality cars with super speed.
Conclusion
So, here are all the Pako Highway beginner guidelines that everyone needs to have a perfect racing experience with a better understanding of all the essentials. And now that you have these beginner aspects, we assure you that you already know everything in this game. Refer to the Pako Highway tips guide as well to gain some of the best tips you need to have fantastic racing with the best control over the car. Since you are not a beginner anymore, thanks to the guidance received through this, it is up to you to improve your play skills while playing it.