Welcome players to another guide about a game that belongs to the action-adventure genre: Whiteout Survival. The game is based on strategies and adventure exploration of the world after a glacial apocalypse. The world is full of ice now, and the people who made it out of this glacial disaster must face various kinds of beasts and bandits with no peace. Since the game is quite challenging and is not just about city building, it is essential to learn how to level up in this game, and this guide will be your guide for that.
Table of Contents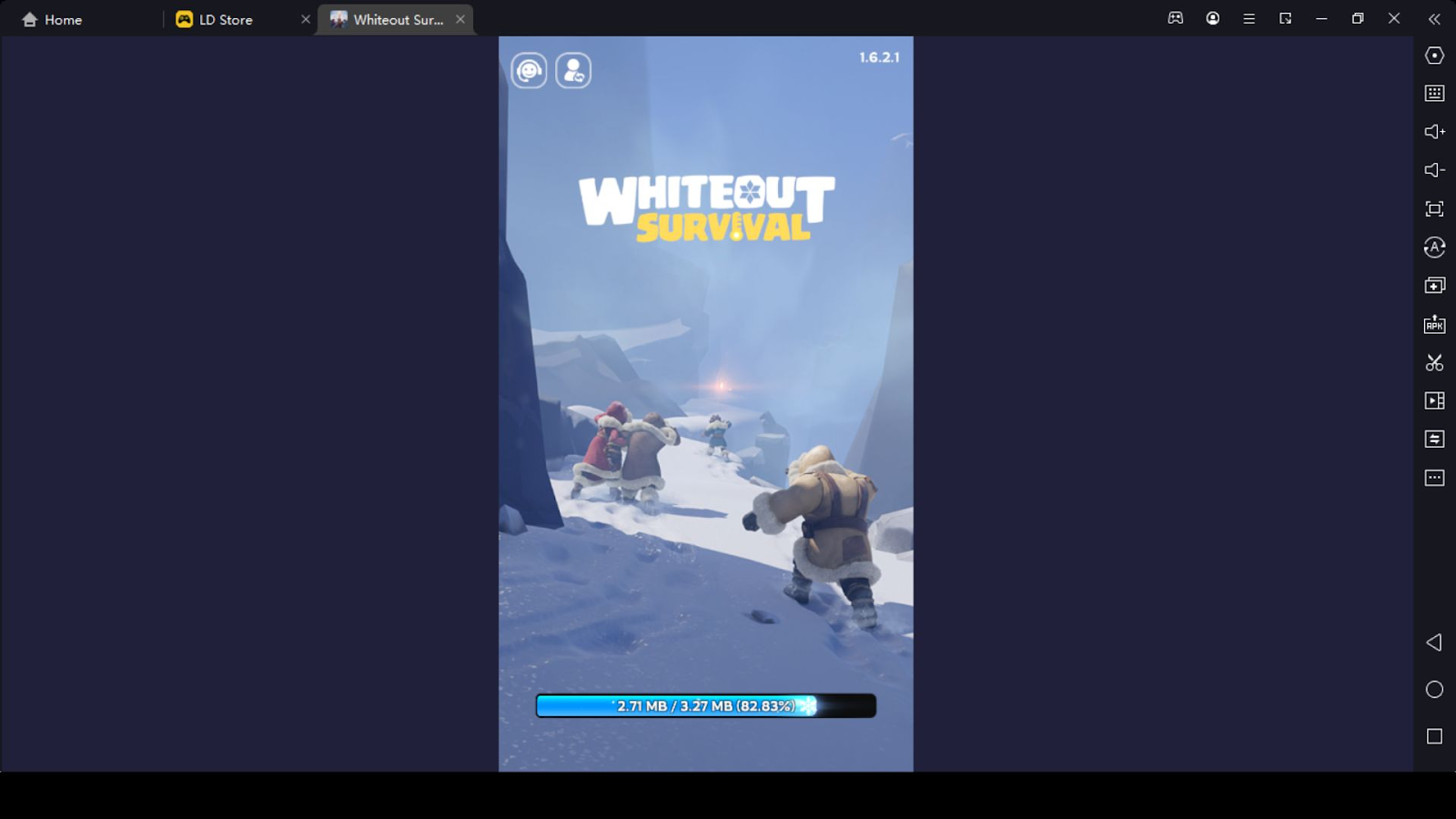 Download Whiteout Survival on PC
As the player, you have become the chief of the only city in this snowy area. As the chief of the city, can you be at ease? Nah, because you have many things to perform here. While performing all these tasks assigned for you, it is important to focus on how to level up in this game, and that is why you should focus on reading this Whiteout Survival guide which includes all the essential tips to increase the level of your gameplay.
Once you read and identify the steps to be taken to level up in this game, you can play Whiteout Survival on PC smoothly. And also, remember to check on some Whiteout Survival codes, which will be very helpful for you to earn the top rewards in the gameplay, paving an easier path to level up here. Why are you waiting here? Go and see what we have prepared for you.
Focus on the Strongest Heroes
In this game, you are about to face many battles, which you must conquer if you want to level up in this game successfully. So, to do that, you must learn to focus on the strongest heroes when recruiting them through the in-game recruitment system by doing a Whiteout Survival reroll. There are heroes with different tiers and rarities; trying to summon the heroes with the highest rarity or tier is what you should do to improve your level in this game.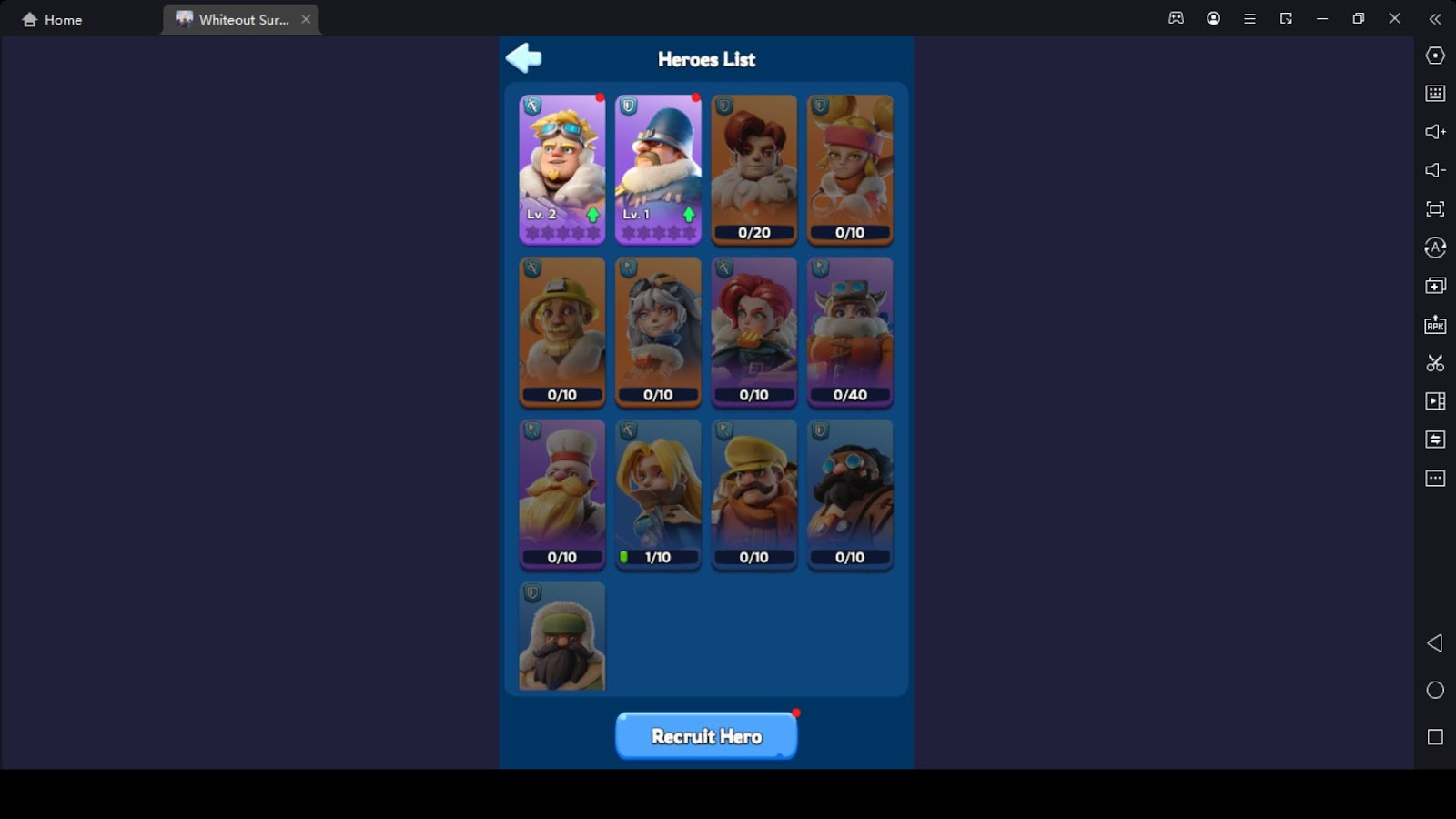 The hero tiers in this game are rare tier (R), super rare tier (SR) and super particular rare tier (SSR). Out of these three tiers, the most powerful heroes come with the super particular rare tier, so you should focus on recruiting the heroes who come with this tier to improve your battle power and your city's development. Once you do this, nothing can stop you from reaching the top of the gameplay with the best leveling-up achievements.
Upgrade Heroes
From above in this Whiteout Survival guide, you learned how important it is to focus on the powerful heroes when recruiting heroes in this game, and now, you will learn how to enhance the heroes you recruited here. Only if you learn how to improve your heroes' strength with some other aspects will it be impossible to take maximum advantage of your heroes for your gameplay.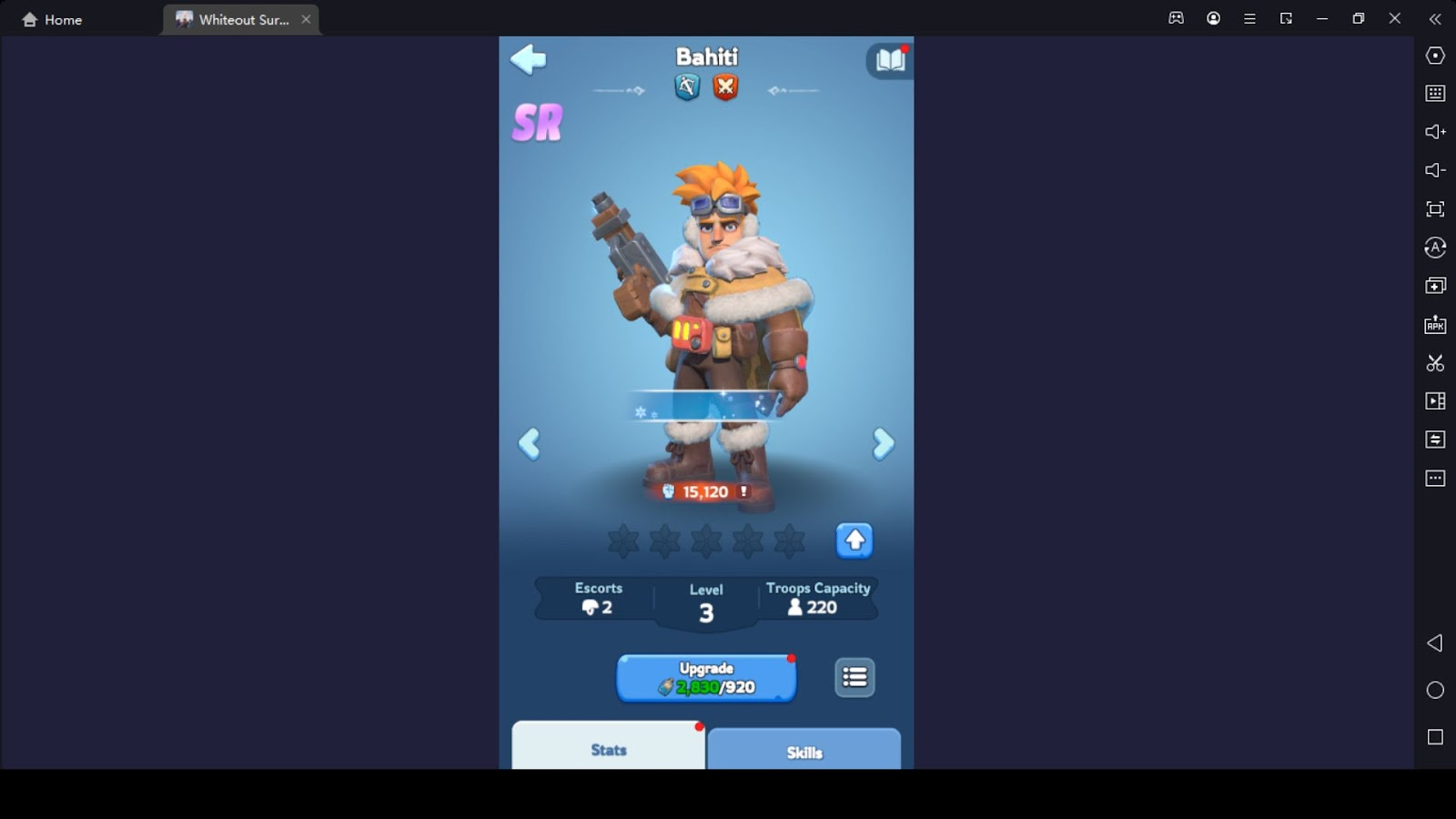 The heroes are mainly two types, combat heroes and growth heroes. The combat heroes are primarily used in battles, while the growth heroes are the figures who work hard on the city's development. Therefore, if you learn how to upgrade the heroes' strengths, they will be advantageous.
First is leveling up the heroes; when you level up heroes, you need more XP. Even so, it is essential to level up the heroes because as the level goes up, the heroes become powerful, which is why you should level up them. To earn XP, you can go and complete various tasks.
The next is, upgrading the skills of each character. Every character has skills, and when you upgrade a character's skills, the character becomes much more powerful. Therefore, you need to upgrade your character's skills using the required resources.
Power up the Troops
Powering up the troops is another step you should follow to level up in this game, as mentioned in this Whiteout Survival review guide. It is because when you have the best troops, you can attack other players' bases while increasing your troop strength.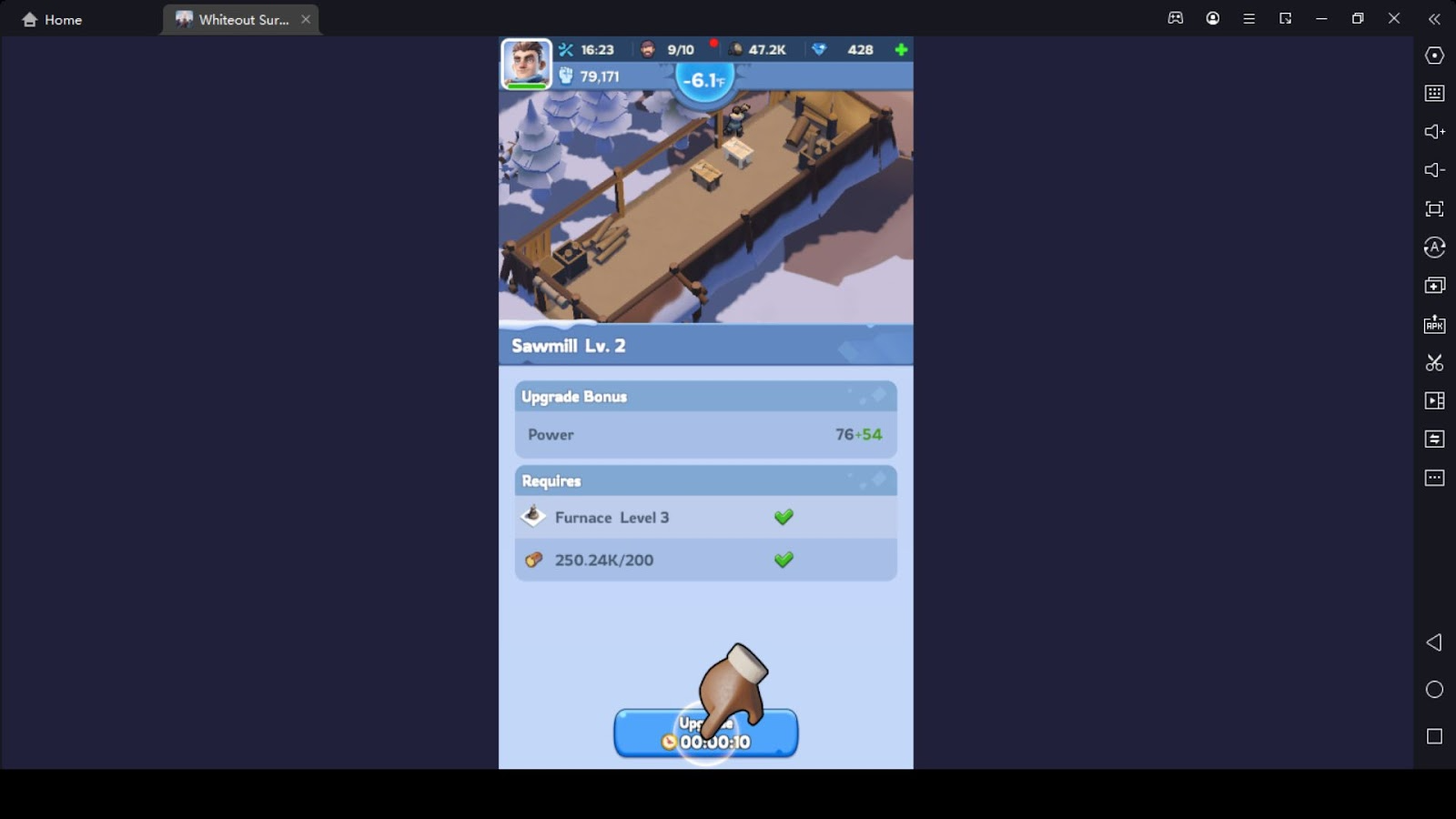 So how to power up the troops in this game? You need to upgrade the buildings used to train various types of troops. When you upgrade these buildings, you can unlock advanced troop types to your gameplay which will help you to level up higher in this game mentioned in this Whiteout Survival guide.
Complete Arena Challenges
Taking part in the Arena is one of the best ways to level up. There are five daily chances to enter the arena and challenge the opponents. In these daily arena challenges, you will challenge either player who has more power than you or the less powerful players. Whatever the five opponents you got, you should challenge them, or if you think these opponents will outmatch you in a few seconds, you can refresh the menu and look for another set of opponents.
Since there are five daily attempts to take part in the arena for free, we advise you to do this daily without ignoring even one day. Once you challenge an opponent and win the battle, you can increase your rank in the arena leaderboards while winning several rewards, which will help to level up in the game faster. Besides leveling up in the game, you can earn things to level up your hero by participating in these daily arena challenges.
Daily and Growth Missions to Complete
There are missions in this game for you to complete, which will help you achieve a faster progression throughout the game. So, the missions are two types: daily and growth missions. The daily missions are the missions which you need to complete within the relevant day, and when you complete these daily missions, not only are you going to earn a good progression which helps you to level up faster in the game, but also you will earn rewards for completing these daily missions.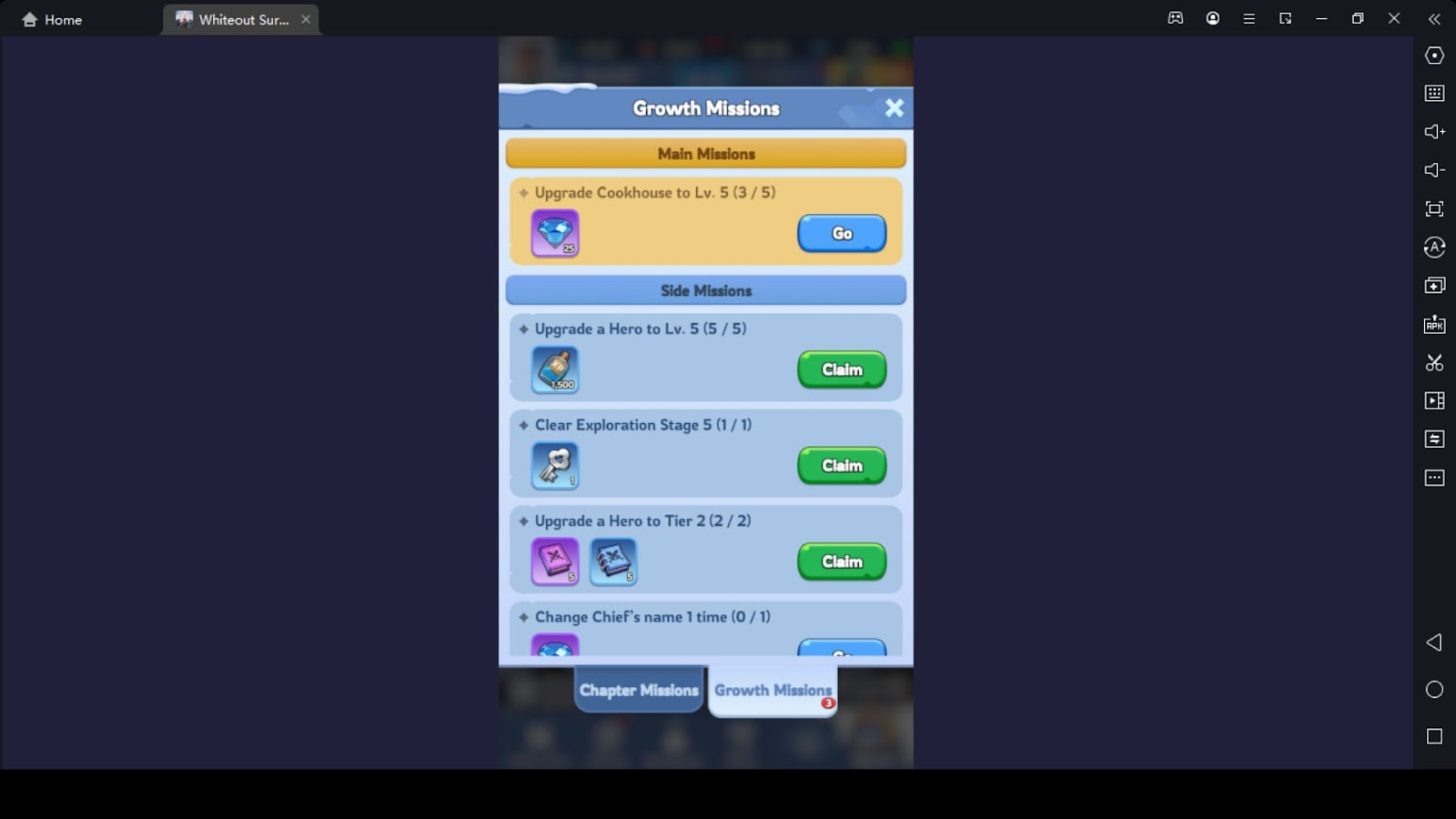 The growth missions are another type of mission given in this gameplay, and as it is mentioned in this Whiteout Survival review, you should complete the growth missions. The growth missions will help you grow your gameplay much better if you follow them. So, complete these growth missions given to you in the game to achieve a higher level in no time.
Join an Alliance
Alliance is another way to help you level up faster in the game. When you join an alliance in this game, you can participate in various tasks, wars, and battles. Once you join these tasks, you will earn more rewards. Therefore we like to tell you that joining an alliance would be another factor that affects your leveling-up process in this game. So, as it is mentioned in this Whiteout Survival review guide, you should join an alliance.
The alliance consists of many members, and besides earning rewards through participating in alliance activities, you can learn the best strategies for your game from the other members. And also, you can get help from the other members to complete various tasks in your gameplay.
Pay Attention to the Furnace
The Furnace is essential for your survivors and the whole basement. And we can consider this the most important building in your town because it is the main reason your survivors are alive. Since the survivors live in snowy places, the Furnace will keep them warm through all the disasters that come to their place, whether it is snowstorms or whatever.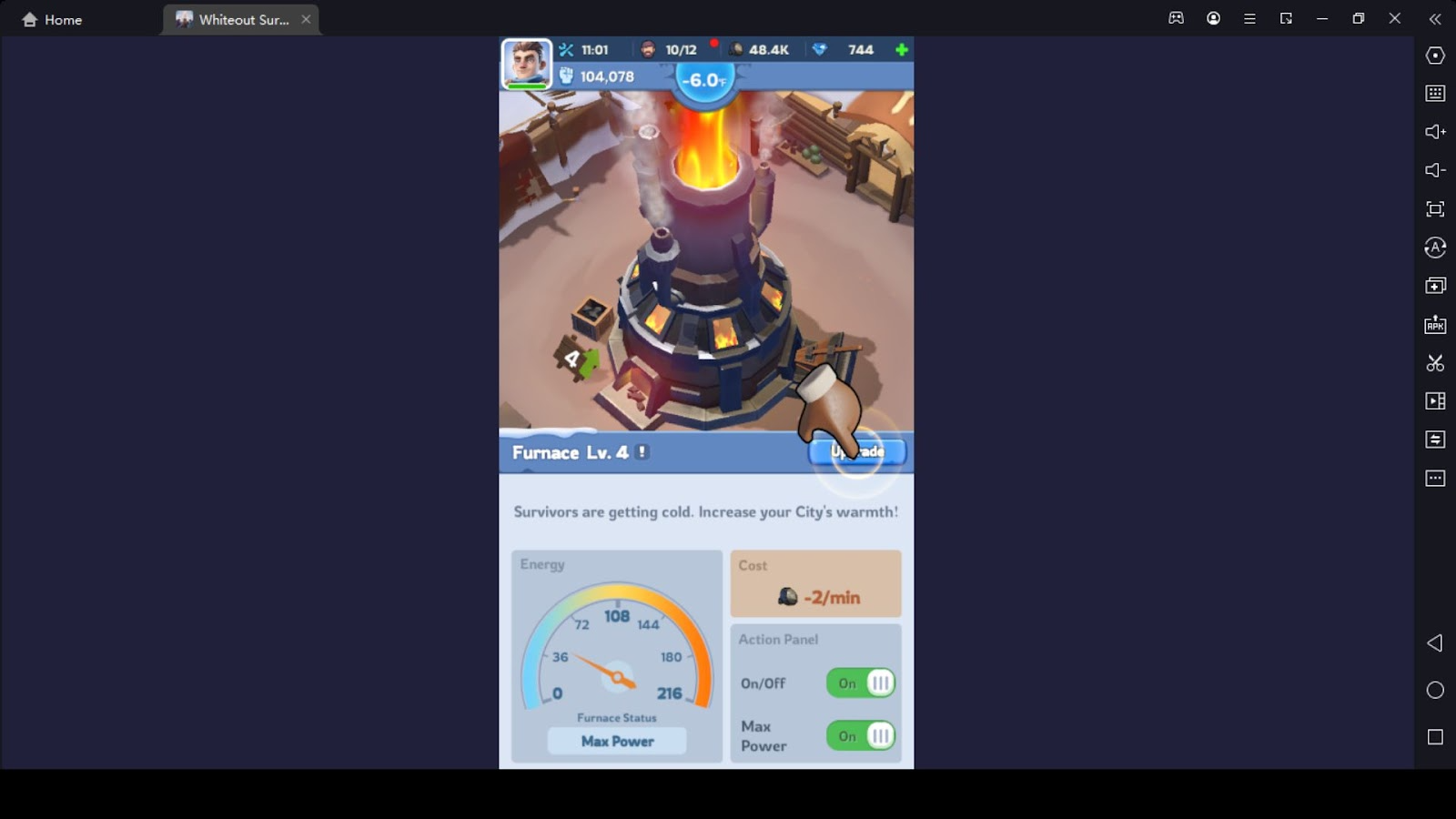 When the survivors feel cold, they get ill and die in this Whiteout Survival gameplay, but with the help of the Furnace, you can maintain the well-being of your survivors. When your survivors are in good condition, they will perform more activities, and your level in the game will increase more than you imagined. And also, make sure to upgrade the Furnace, as it is one of the most important aspects to expand your gameplay, unlocking more features and territories.
Conclusion
Whiteout Survival guide about leveling up will end here, and with these tips, you can be at ease about how to level up in this game. Besides these tips to level up, having some Whiteout Survival codes is better. You will achieve perfect progression with the codes and tips to level up in this game. Although the game is tough with the best strategies in need to use, once you use these tips, you are going to level up faster in this game, and no one will be able to catch you.