Higan:Eruthyll is a new Anime Style Gacha RPG currently having its second closed beta for Singapore & Malaysia. You will play as the Commander of the Gopher Troupe, a special organization created to fight a threat for the real world, called Dream Eaters of Fantasyland. Fantasyland appears random in the world, usually when someone is sad, desperate, feeling lonely, they will switch reality and join Fantasyland. Your role in the game is to enter that mysterious land and find a way to rescue who's inside and defeat all the monsters. Higan:Eruthyll will have an engaging story with fully voiced cutscene, high quality 3D graphics and great music. If you like Anime style games and Real Time battle, this is the game you are looking for!
Table of Contents
What is Higan: Eruthyll?
Higan:Eruthyll is a new Anime Gacha RPG with Active Time Battle combat, where you can also unleash "Skill Cards'' during battle. Form a party of 4 Member, who have different roles (Guardian, Hoplite, Assassin, Ranger, Caster, Adiutrix) and also different elements (Pyro > Anemo > Hydro > Pyro | Lumino - Umbra) making the game let you create different compositions suitable for different enemies.
There's a lot of content in Higan:Eruthyll, like the Main Story, where you can discovered the story of the game, unlock characters for free, side content such as Daily Quests for improve your characters, Weekly Content for great rewards, PvP, Characters Chapter Story, Tower Challenge and much more!
Early Game Content
Main Story / Fantasyland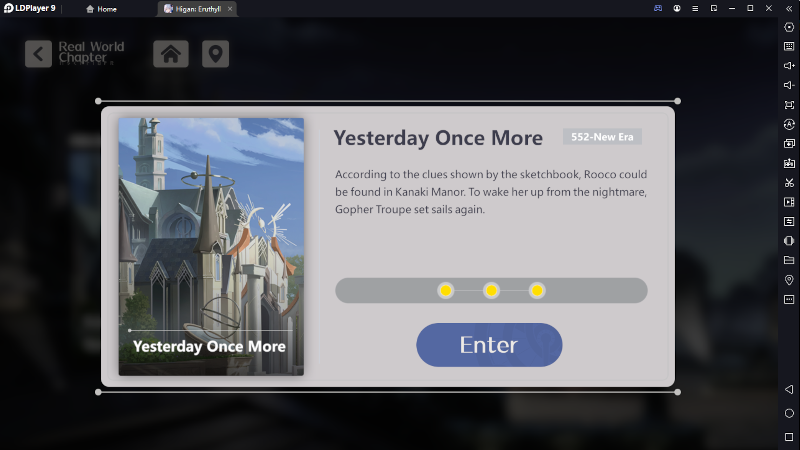 The "Main Story" in Higan:Eruthyll is the first content you will unlock from the start. The Main Story is the core of the game, letting you experience the game plot with both great animated cutscenes and also combat stages. Once you finish the usual 3 stages for the Chapter, you will unlock the corresponding Fantasyland. The Main Story stages have no stamina cost, and give you free rewards for first time completion. The correlated Fantasyland stages instead have stamina cost, can be completed with Stars score (from 0 to 3) and rewards you with both First time rewards + repeatable rewards such as Credits (golds), Wit Potion (Exp Items), Codex, Dream core, unlock new characters and much more. There's also Starlight Revelation rewards (summon currency) for completing all stages with 3 Stars. Both Story stages and Fantasyland Stage can be also played with autos if you finish them with 3 stars.
Ark Task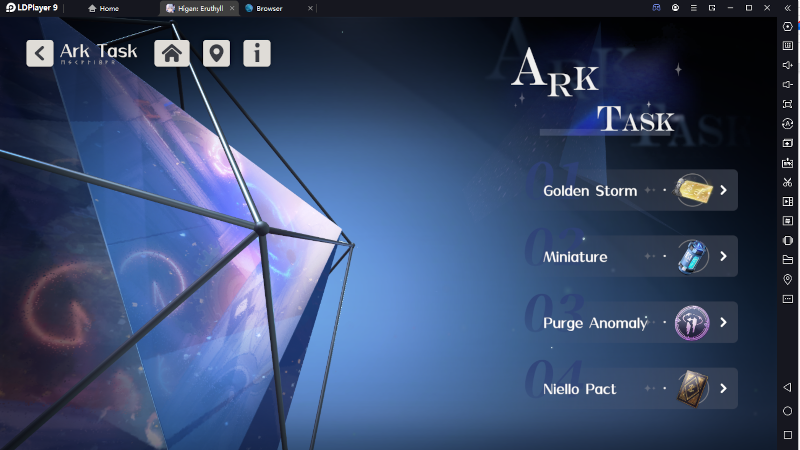 The "Ark Task" is the best Farming Zone for both improving your Characters and getting new ones thanks to the Niello pact. In the Ark Task you can get:
Golden Storm
Miniature
Purge Anomaly
Niello Pact
Here you can complete stages with different difficulty and stamina cost to get Niello Voucher, a precious currency that you can exchange in shop for any kind of items, even characters Soul Shards
Mesmerizing Labyrinth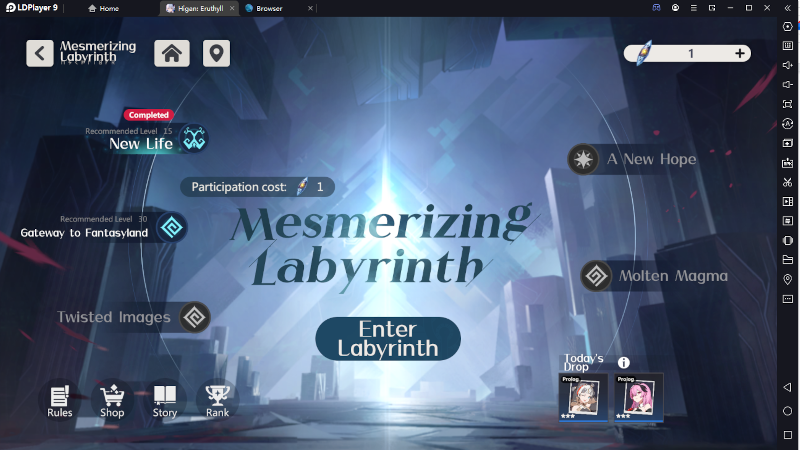 The "Mesmerizing Labyrinth" is a Random Generated labyrinth where you must choose from a different path to reach the end of it and obtain Outland's Mark and Play Cards. The path you can choose from are:
Fight: Let you pick both an easy or dangerous fight

Explore: Unknown, anything can happens

Supply: Can usually recover HP or Ultimate gauge

Merchant: Can buy some items

Collect: Have a chance to find rare items

Crisis: Special battle with usually great rewards
After every stage, you can also choose a buff that will last for the entire run. You can enter Mesmerizing Labyrinth once a day and it reset at 4 AM Server time. You can have an extra entrance with a Daily quest. Unlocking a new Mesmerizing Labyrinth requires 1 Daya'Thia Reminiscence. Also collected Daya'Thia will disappear after 7 days.
Isolated Tower Challenge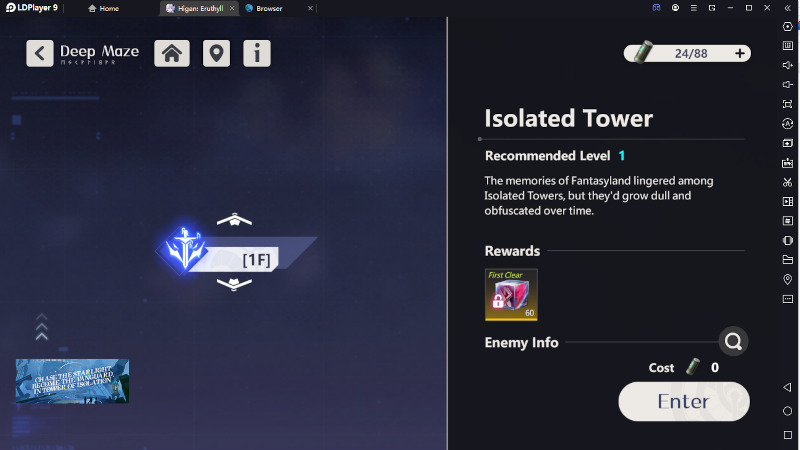 The "Isolated Tower Challenge" is a stamina free content that rewards you with Dubriostal everytime you clear a floor. The tower features a lot of floor, but going on isn't easy. Make your team stronger and try to reach the deepest floor to collect all the Dubriostal!
Characters Guide
Characters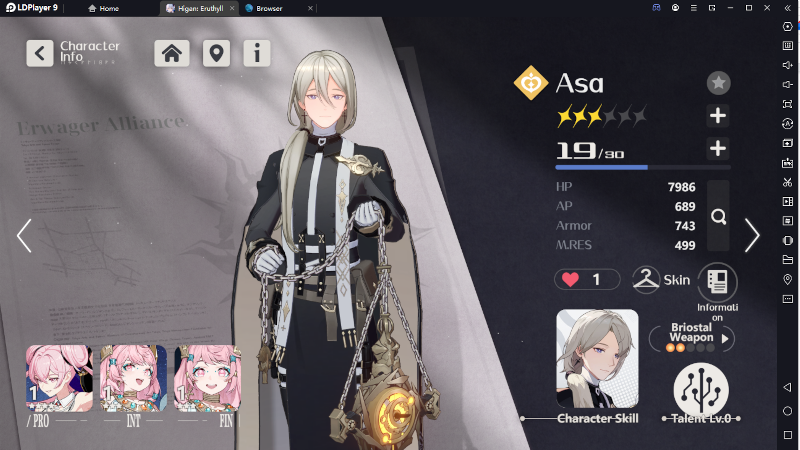 The "Characters" in Higan:Eruthyll must be Leveled Up, Awakened and Equipped with "Play" for become stronger. They have different Classes and Elements. Let's analyze:
Class
Guardian: Usually Melee character who can decrease all allies Damage Taken by 5%

Hoplite: Melee Characters who can deal Physical Damage and increase all allies Physical Damage done by 5%

Assassin: High burst damage classes who can deal 40% more damage to target below 20% HP

Ranger: Deal great damage from afar, increasing damage done by 10% if no enemies is near, or decrease by 10% if enemies are near

Caster: Can deal Magic Damage and increase Energy Regen by 5%

Adiutrix: This class can heal, buff allies and debuff enemies, while also increase Healing Received by 15%
Element
Level Up
Skill
Talent
Once you unlock Talents, you can improve your characters with passive stats, choosing 4 from a total of 8 passive skill
Play
"Play" cards are equipable cards that boost your character with both great passive stats (HP, AP, DEF etc) while also new passive effects such as Shields, Increasing Attack, Healing etc. Play cards can be obtained with Wish and also different game content
Gacha Rates
When Stars Gather Together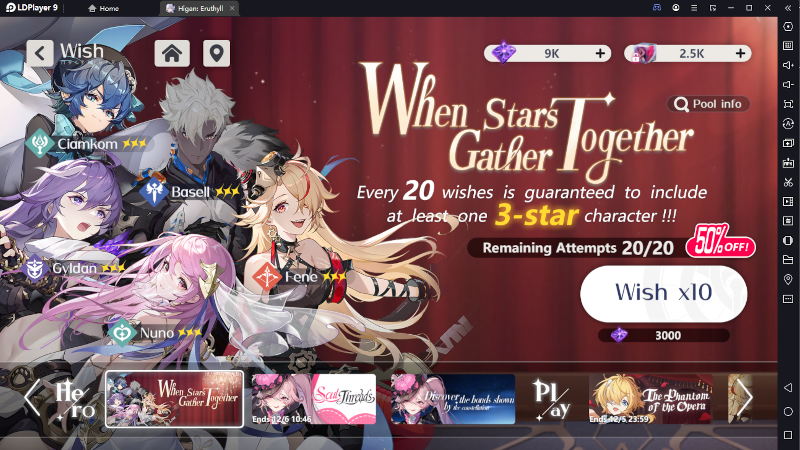 The "When Stars Gather Together" banner is a welcome to the game banner. You can only have a total of 20 pulls from this banner, and you are guaranteed to get a 3 stars character within the 20 pulls. You can use Starlight Revelation to pull in this banner, at the discount cost of 3000 x10 instead of 6000. Once you have done the 2 x10, the banner disappears. Here's the rates:
Characters
3 Stars Characters = 2%

2 Stars Characters = 19%

1 Stars Characters = 79%
Pity
Soul Threads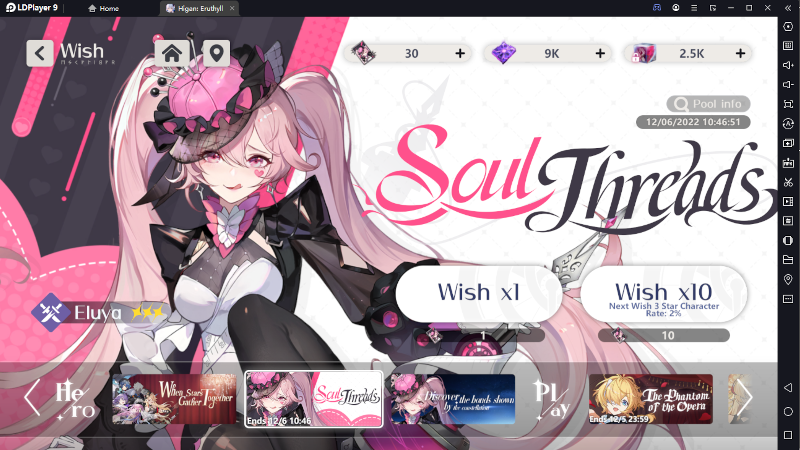 The "Soul Threads" banner is the Rate Up Banner in Higan:Eruthyll. You can summon with a Special Ticket (Soul Threads Coupon) that you can obtain for free with the release of the new characters, you can also use Starlight Revelation or Dubriostal. One pull cost 1 Ticket or 600 Starlight Revelation, and x10 cost 10 Tickets or 6000 Starlight Revelation. Here's the rates:
Characters
Pity
Once you make 50 pulls without receiving a 3 stars character, your chance for obtaining 3 stars characters is increased to 4%, after that, the chance of getting a 3 stars will increase by 2% with every single pull, capped at 100%. So you are guaranteed to get 3 stars characters with 98 Pulls
Character Stardust
Everytime you pull on a Rate Up Banner, you will obtain 1 Character Stardust x 1 Pull. Once you collect 300 Character Stardust, you can exchange it on the shop for the current Rate Up unit
Permanent Character Wish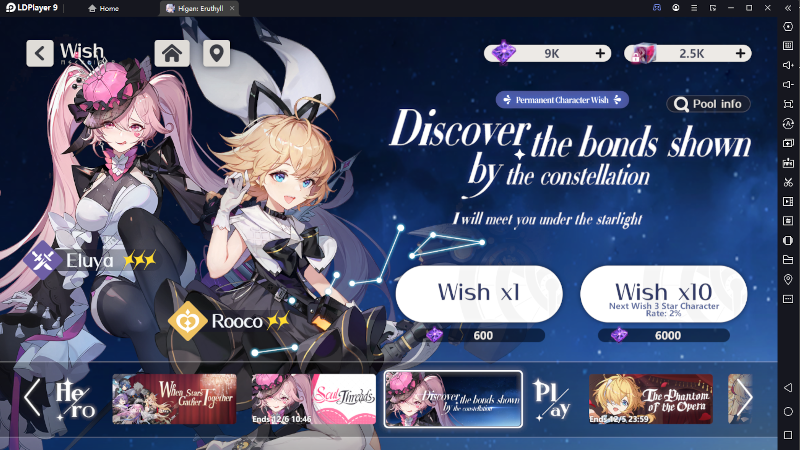 The "Permanent Characters Wish" banner is the Normal Banner in Higan:Eruthyll. You can summon with both Starlight Revelation or Dubriostal. One pull cost 600 Starlight Revelation, and x10 cost 6000 Starlight Revelation. Here's the rates:
Characters
3 Stars Characters = 2%

2 Stars Characters = 19%

1 Stars Characters = 79%
Pity
Once you make 50 pulls without receiving a 3 stars character, your chance for obtaining 3 stars characters is increased to 4%, after that, the chance of getting a 3 stars will increase by 2% with every single pull, capped at 100%. So you are guaranteed to get 3 stars characters with 98 Pulls
The Phantom of the Opera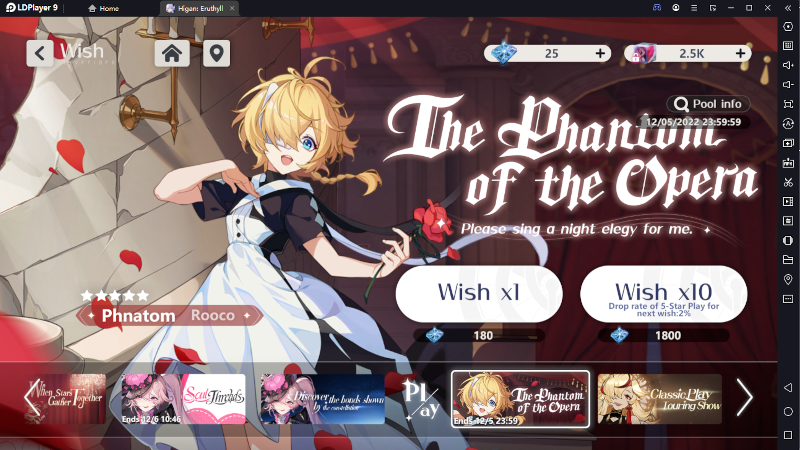 The "The Phantom of the Opera '' banner is a Dual Rate Up Banner (One 5 Star Rate Up and One 4 Star Rate Up) for "Play" equipment ("Play" are equipable Cards for boost characters). in Higan:Eruthyll. You can summon with Inspiration Revelation or Dubriostal. One pull cost 180 Inspiration Revelation, and x10 cost 1800 Inspiration Revelation. Here's the rates:
Characters
5 Stars Characters = 2% (50% chance for rate up)

4 Stars Characters = 19% (50% chance for rate up)

3 Stars Characters = 79%
Pity
Once you make 50 pulls without receiving a 5 stars Play, your chance for obtaining 3 stars Play is increased to 4%, after that, the chance of getting a 5 stars will increase by 2% with every single pull, capped at 100%. So you are guaranteed to get 5 stars Play with 98 Pulls
Inspiration Stardust
Everytime you pull on this Dual Rate Up Banner, you will obtain 1 Inspiration Stardust x 1 Pull. Once you collect 180 Inspiration Stardust, you can exchange it on the shop for the current Rate Up Play
Permanent Play Wish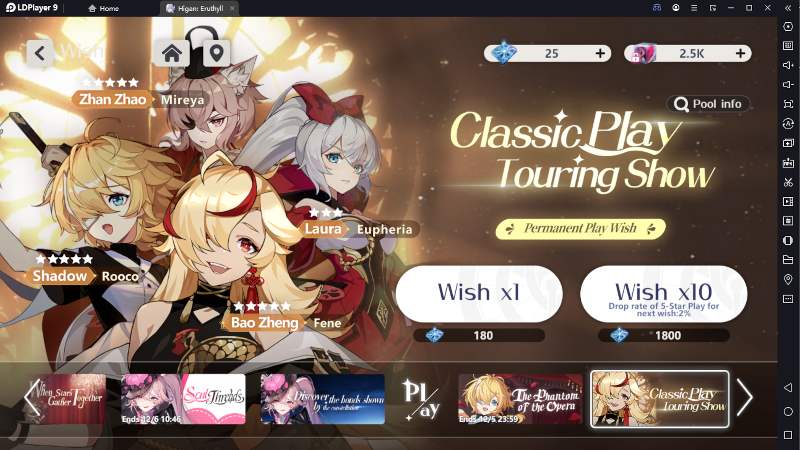 The "Permanent Play Wish '' banner is the Normal Banner for "Play" equipment in Higan:Eruthyll. You can summon with Inspiration Revelation or Dubriostal. One pull cost 180 Inspiration Revelation, and x10 cost 1800 Inspiration Revelation. Here's the rates:
Characters
5 Stars Characters = 2%

4 Stars Characters = 19%

3 Stars Characters = 79%
Pity
Once you make 50 pulls without receiving a 5 stars Play, your chance for obtaining 3 stars Play is increased to 4%, after that, the chance of getting a 5 stars will increase by 2% with every single pull, capped at 100%. So you are guaranteed to get 5 stars Play with 98 Pulls
Should I Play It? Pro & Cons
Pro
Fantastic 3D Graphic very polished

Great Animated Story Cutscene

Variety of Characters!

Fully Voiced Characters

Great Music

Very fast loadings

Tons of Mini-Event and Login Rewards

You can use newly released Character for free for 3 days

Can obtain Character shards for free
Cons
Character Requires A LOT of dupes (shards) for awakening

Gameplay can be hard and require a lot of different characters to build

There's Paid and Free Currency (future Paid only banner?)