Build up a perfect strategy, fortify your castle with the given resources, enhance its defense and protect your kingdom while killing hordes of enemies in Castle Master TD! In this tower defense game, you need strategies to be the best master of castle defense. So go through this beginner guide and improve your Castle Master TD gameplay with the tips and tricks provided here.
Table of Contents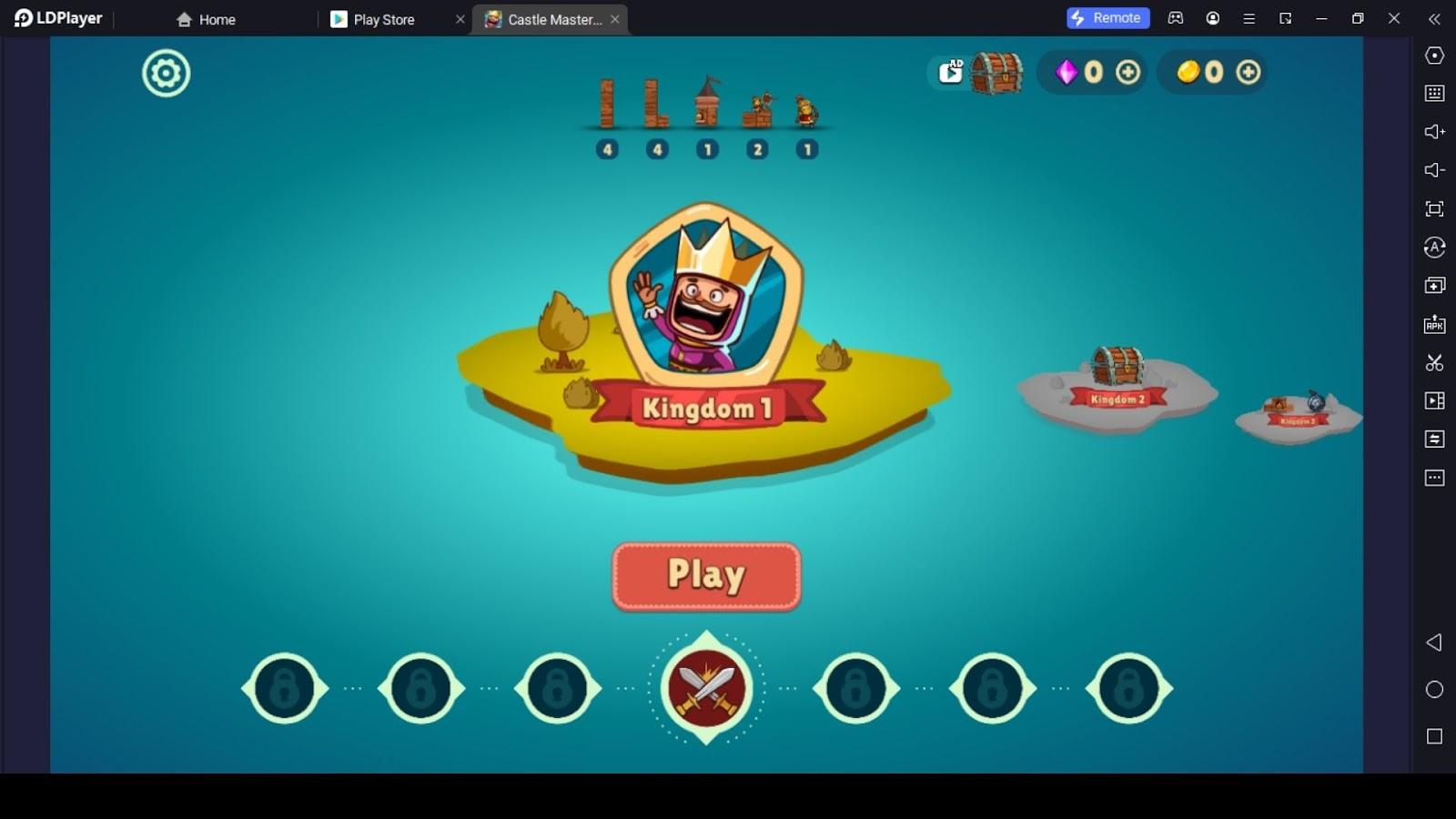 Download Castle Master TD on PC
Even though you are a beginner to this gameplay, you will never play this game as a newbie once you go through this Castle Master TD beginner guide, as it has the best tips and tricks. Remember, the intensity of the battle increases when you reach higher levels. So be more strategic with the tips and tricks in this guide and conquer all the stages in Castle Master TD on PC gameplay with LDPlayer 9.
Build Your Castle with Great Defense
You need to build your castle in all these battles to protect your king from falling. When you build your castle, you need to be strategic enough to build it with great defense. Defense is a must factor you should focus on when building your castle.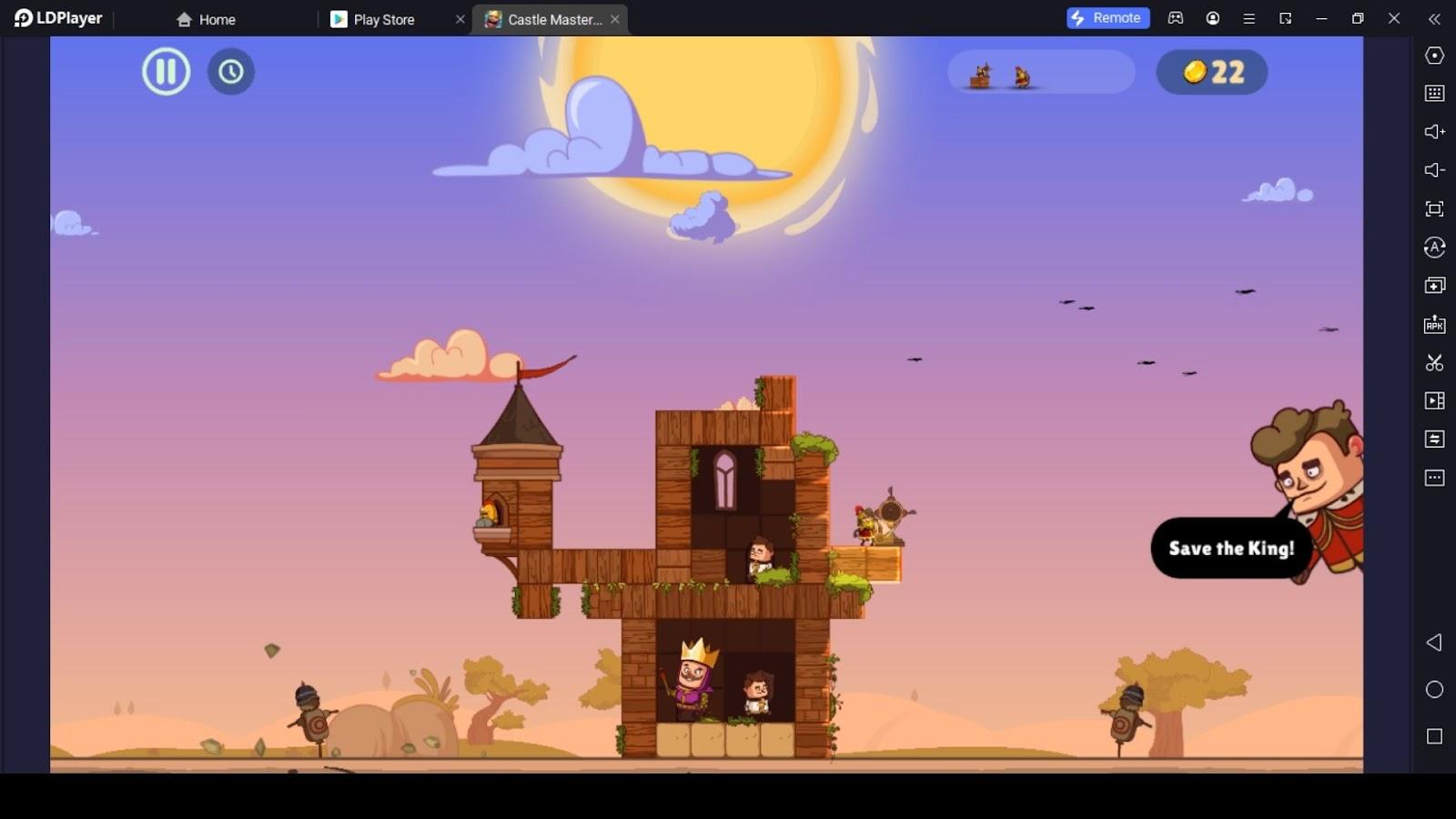 How to build your castle? In each level, you will be given some resources, such as bricks, to create your castle towers to attack hordes of enemies while protecting your castle and king. Then, the units should be placed in different areas of your castle and outside. All these things should be done strategically to build your castle with great defense.
With the resources you receive, you should build your castle properly and stronger so that no enemy attack cannot break into the castle. At the end of each stage, depending on the condition of your castle, you will receive coins. Therefore, while protecting your king, make sure to protect your castle as much as possible so that you can earn more coins in this game.
Build Extra Rooms
When building your castle in the Castle Master TD game, try to build extra rooms; therefore, you can get more coins for your gameplay. As coins are essential in upgrading resources, you should try to build your castle with extra rooms to get more coins for your gameplay. Here, you can build rooms easily with the bricks given to you. Make sure to build more rooms for more coins.
Upgrade Bricks and Produce More
As we told you earlier in this Castle Master TD guide, bricks are the ones that are given to you to build your castle. There are many types of bricks in different shapes, and using all of them, you can build the castle perfectly, prioritizing defense. You will unlock many different bricks when you get advanced in the gameplay.
And you can use these bricks to fortify your castle. Although the bricks of various shapes come down from above facing different directions, you can change them by tapping on the screen and rotating them in different directions. And then, you can place them in different places on the floor to build your castle. Every brick has a specific HP amount, and if the HP amount is higher, it will make your castle very strong as the enemies have a hard time destroying them.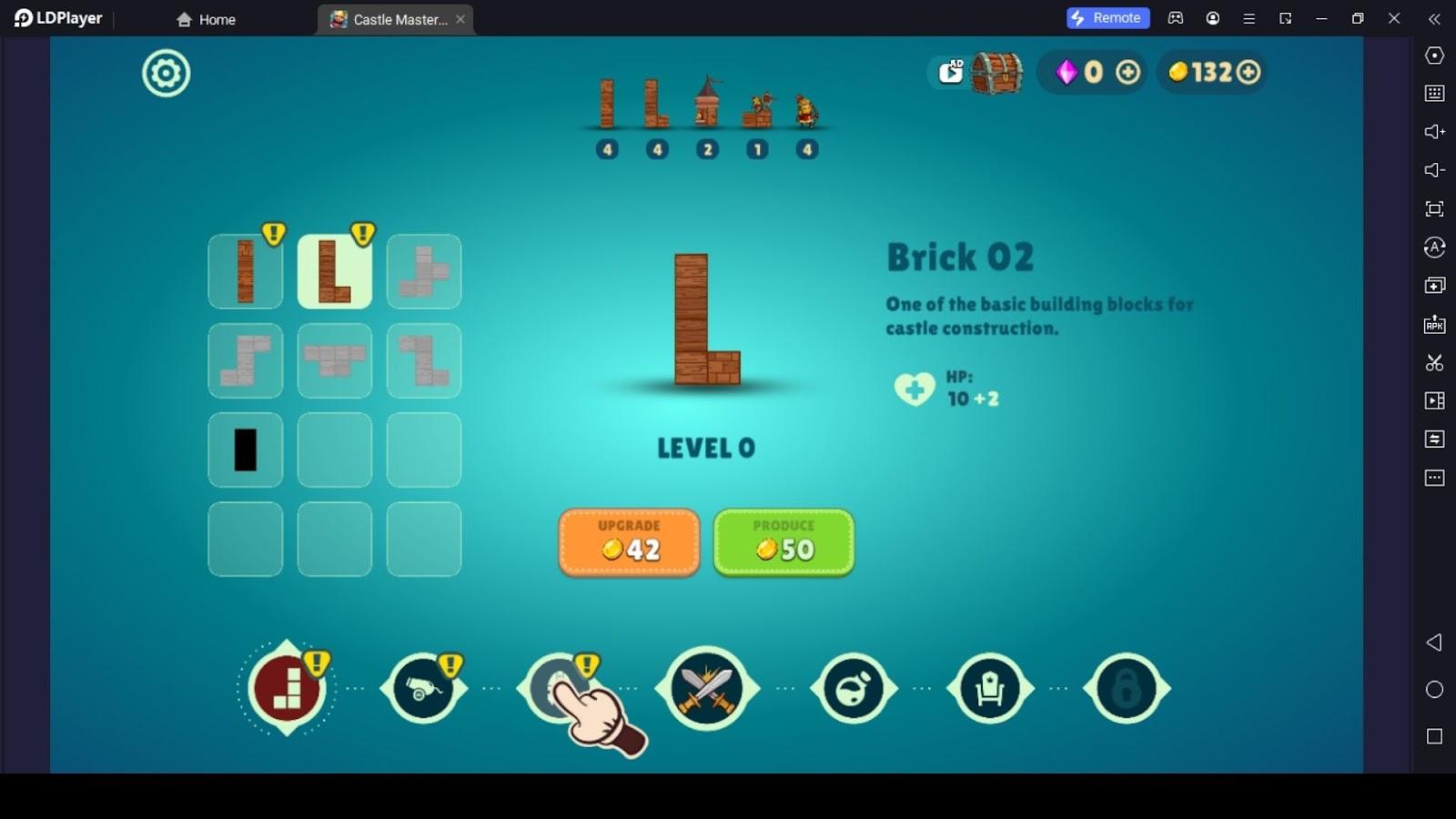 So, to increase the HP status of each brick, you can upgrade them. Upgrading them needs more coins. Using the coins you collected from winning Castle Master TD battles, you can upgrade your bricks. Make sure to upgrade every brick type for a perfect castle build. Then, you can produce more bricks of the same type using coins, and it takes a specific time to produce more bricks. But, regardless of the time it takes, make sure to produce bricks and upgrade them.
Upgrade Towers
Towers are another special resource to build your castle in the Castle Master TD game. This game has different types of towers, which you can unlock with the progression you achieve in this gameplay. Each tower has a specific role to perform and different attributes that specify its power. Upgrading these towers is important because whenever you upgrade the towers one by one, you will increase their attributes, making them very beautiful.
Also, you can reduce the time it takes to get these towers during the Castle Master TD battle stages to be placed on your castle. And here, besides upgrading towers, make sure to produce more towers in each type so that you can have more towers in your gameplay from time to time. If you have enough coins, you can upgrade them and produce more towers for your gameplay. Here is a list of towers you will unlock in your Castle Master TD beginner phase.
Defensive Tower - this is a tower with defensive elements, so you can use these towers to defend your castle from enemy attacks. It has good damage and an attack range to defeat the enemies who try to infiltrate and ruin your castle.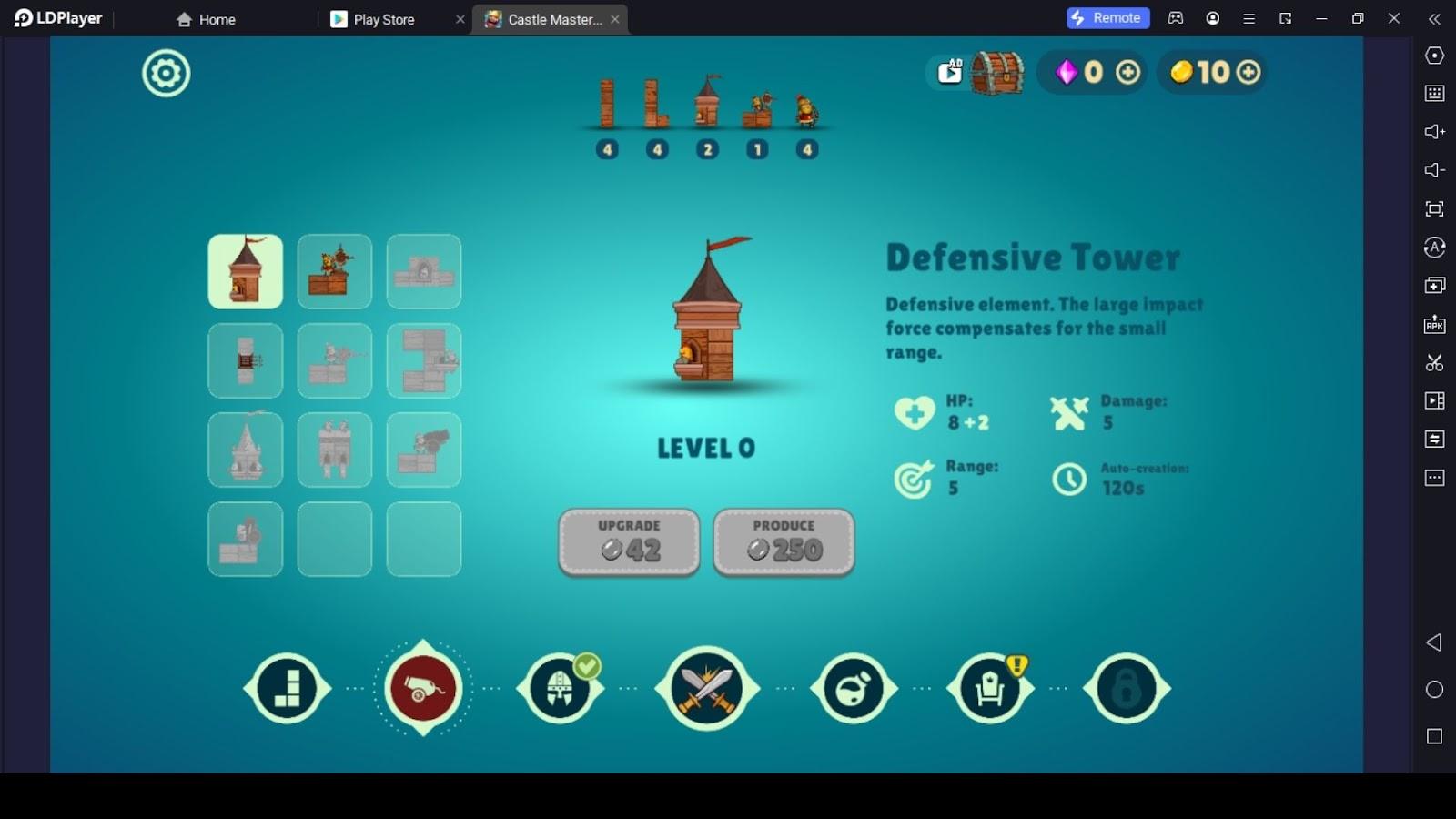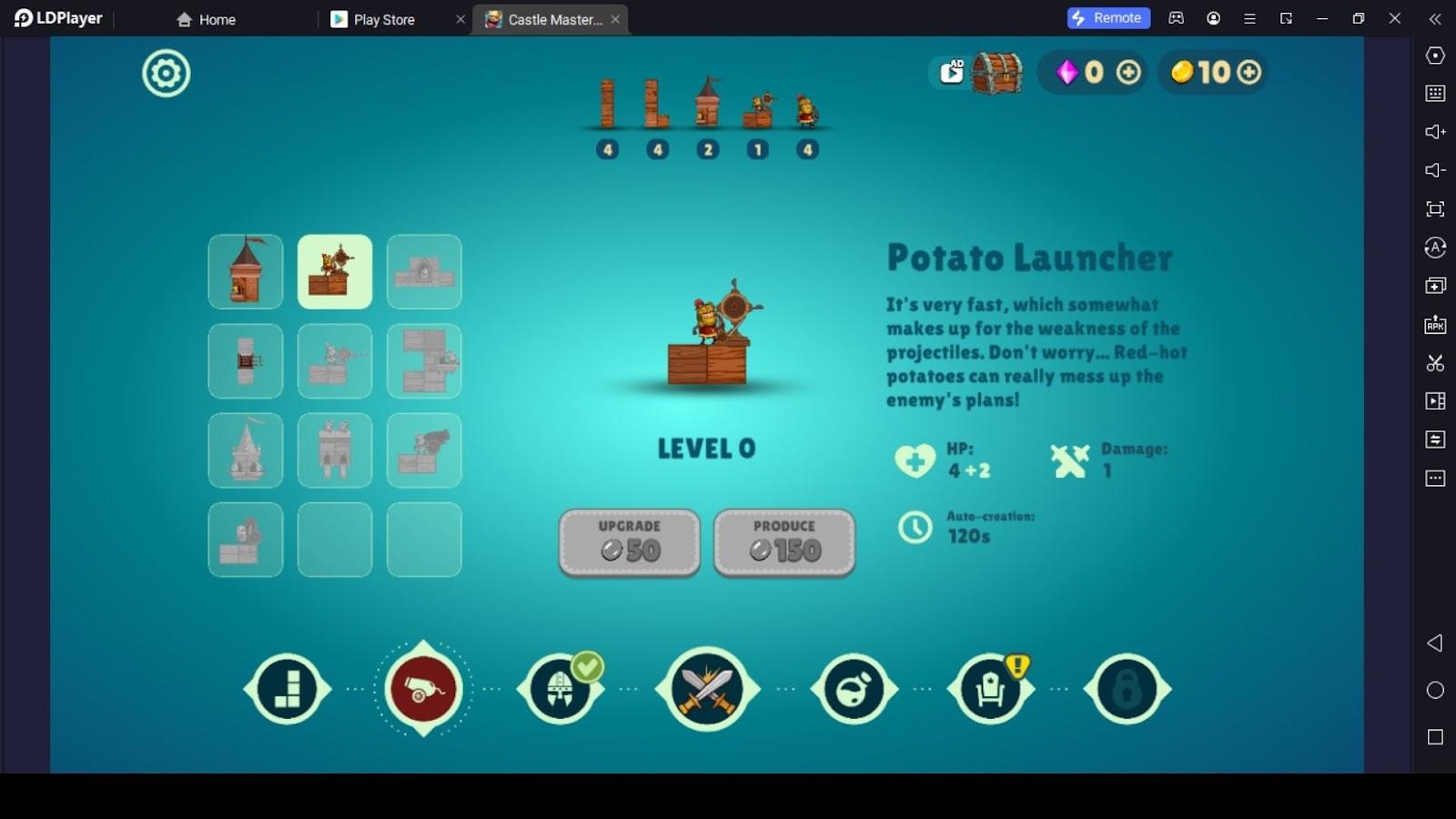 Tar Window - this is a very special castle construction element in this game. Through this, the tar will flow down from the window; you can slow down enemies, taking away their life points or HP.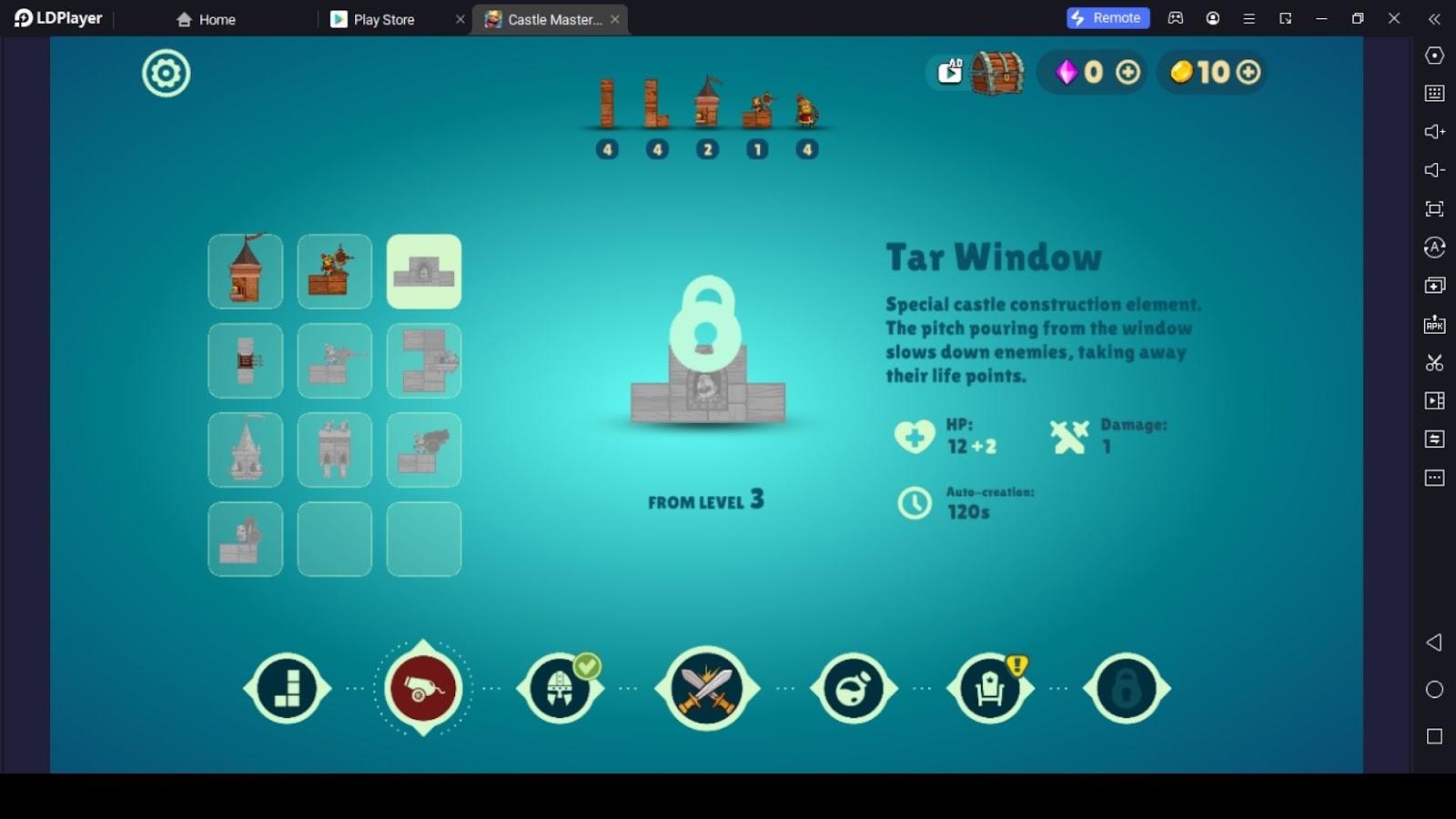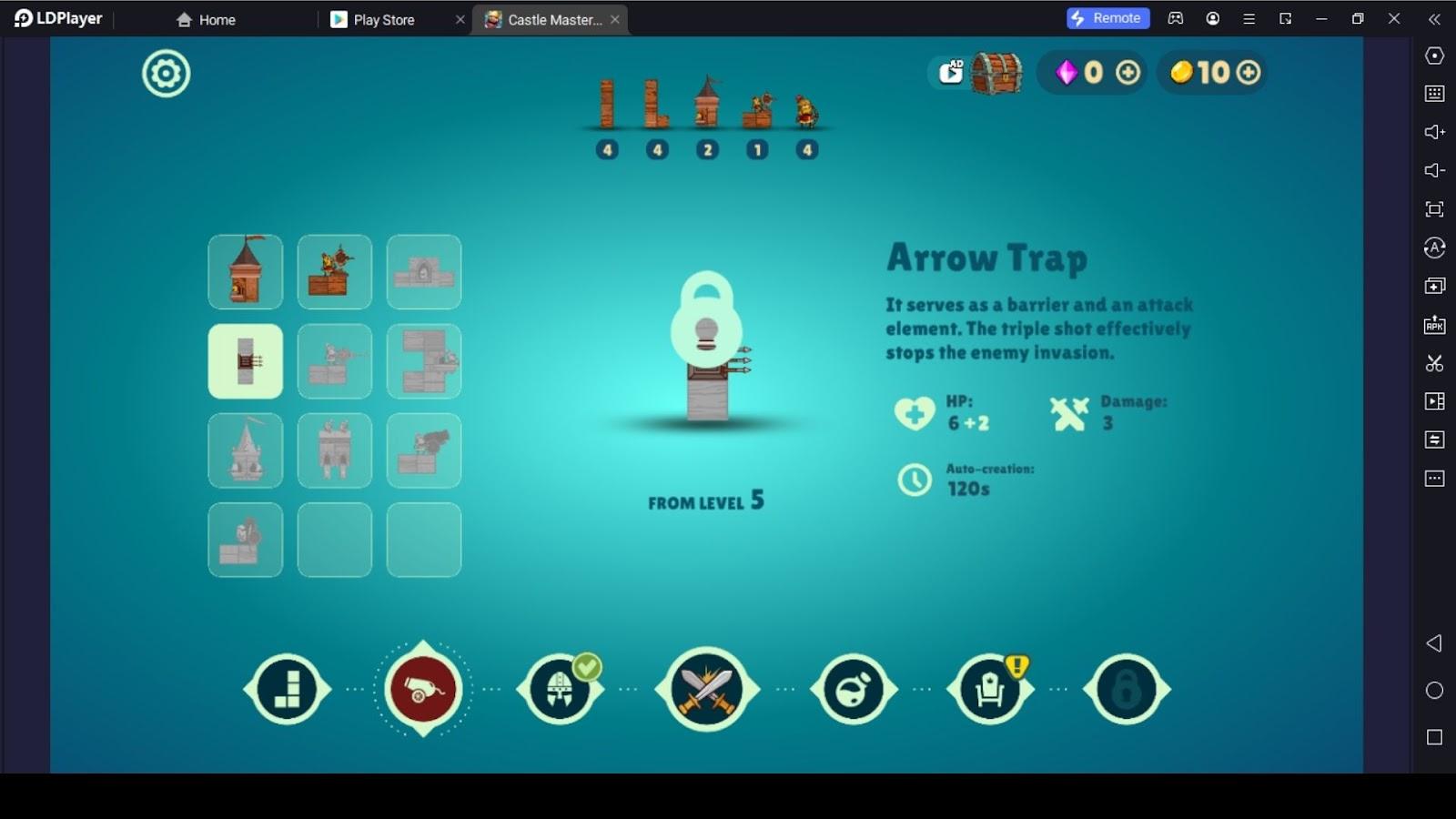 Arrow Launcher - this is the next tower you can use to defend your castle well. This tower can eliminate several enemies at once. Still, when using this, you should be careful because if you position this tower incorrectly, it will also destroy the elements in your castle, which is disadvantageous.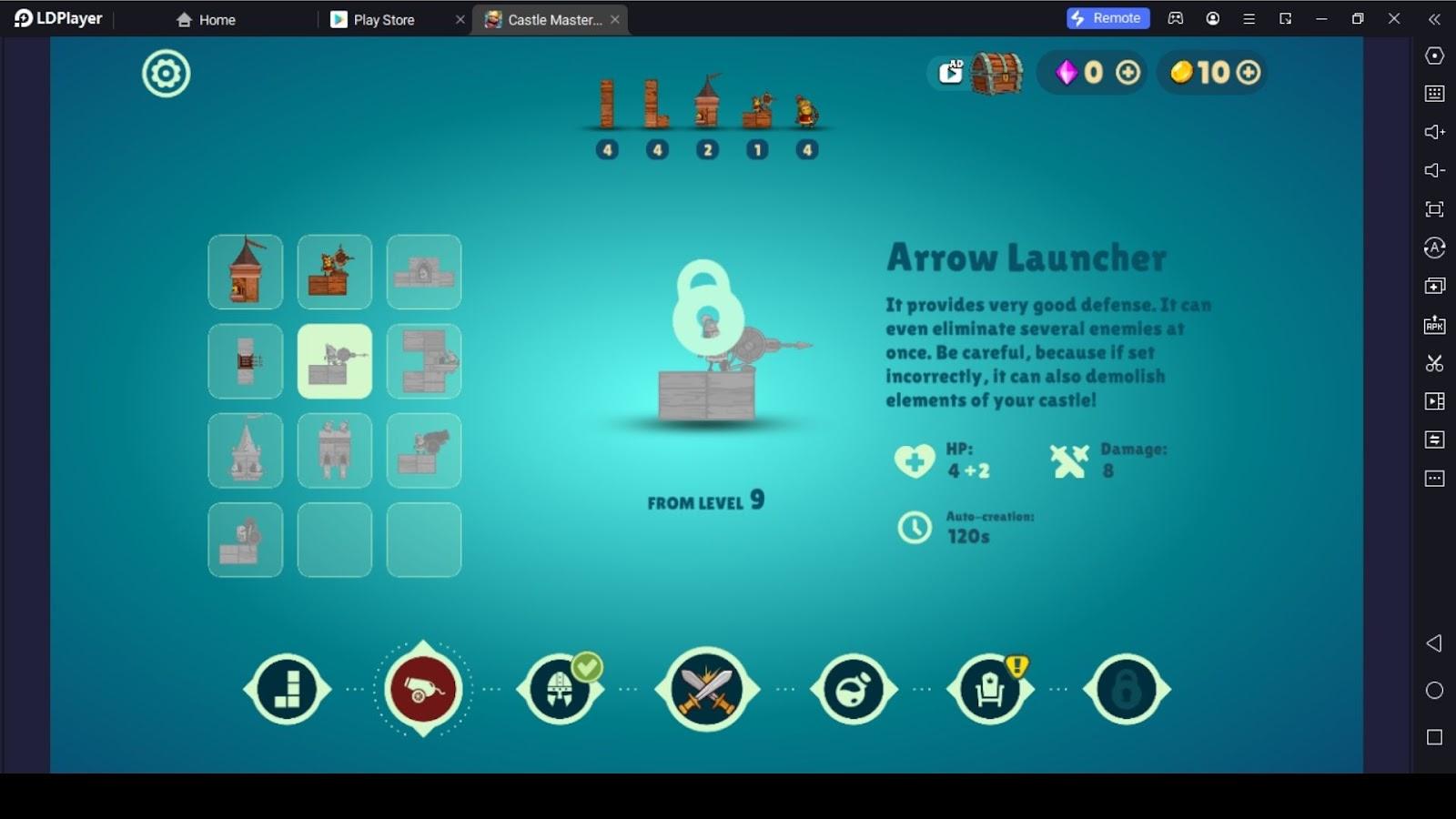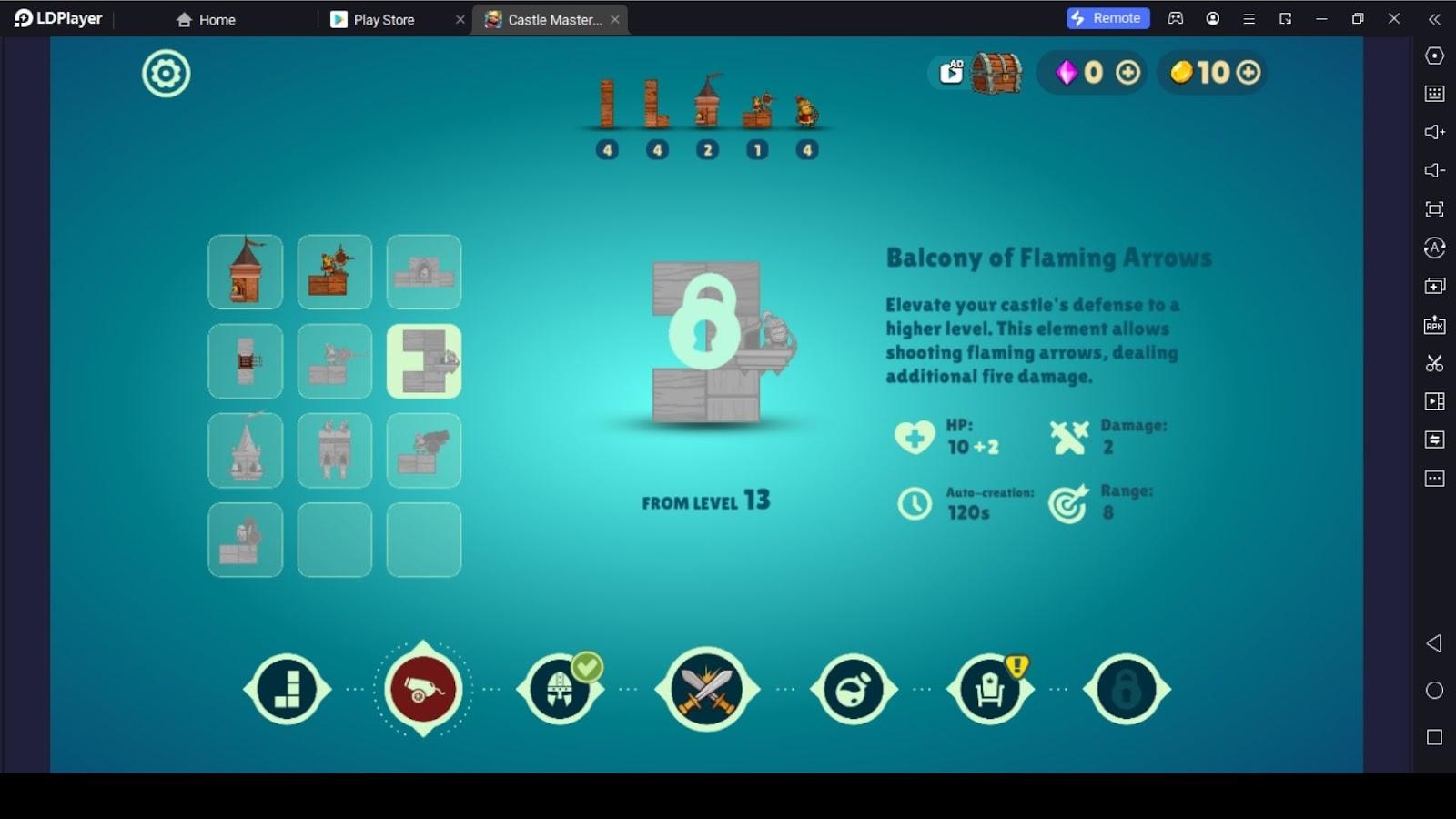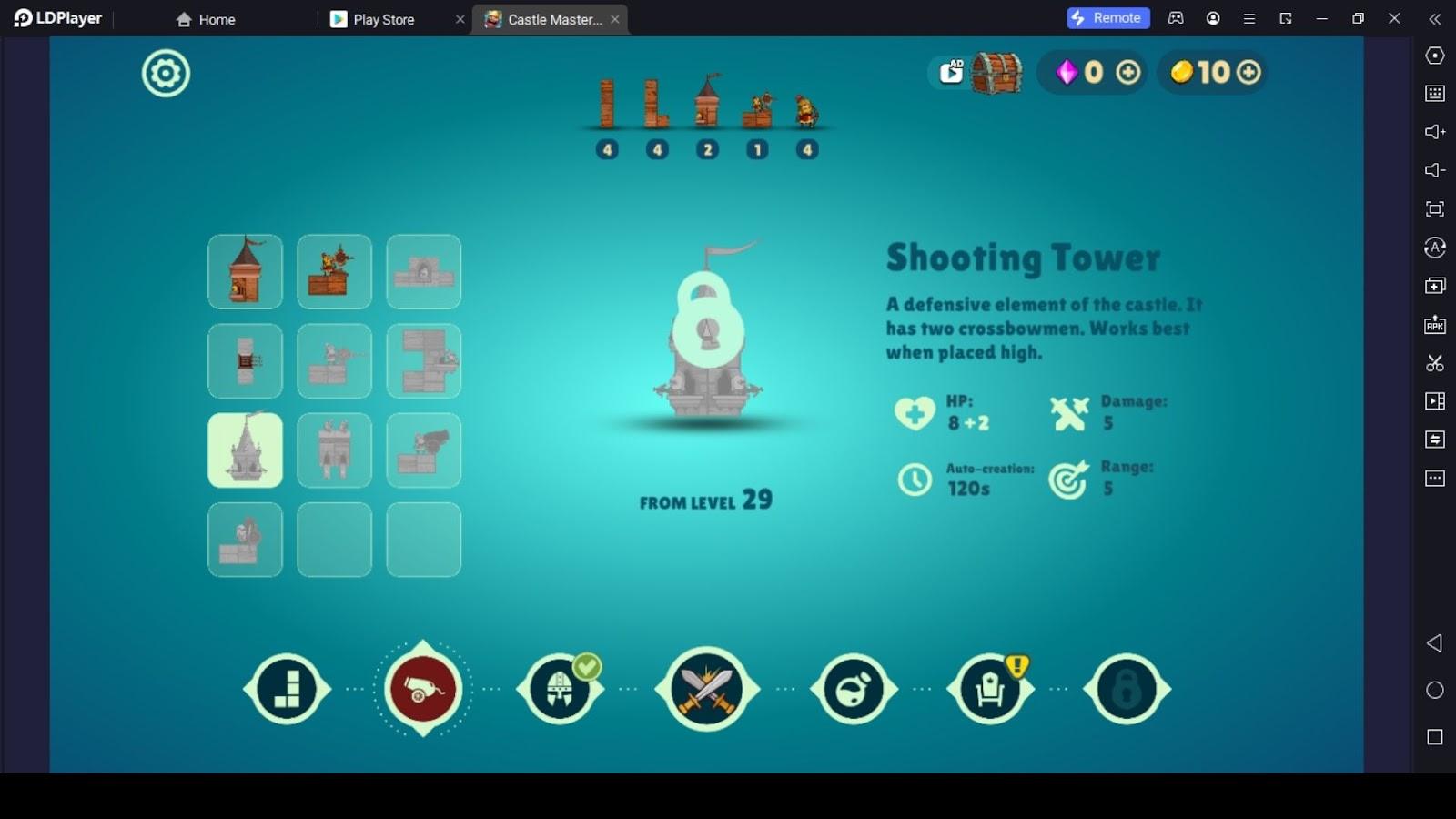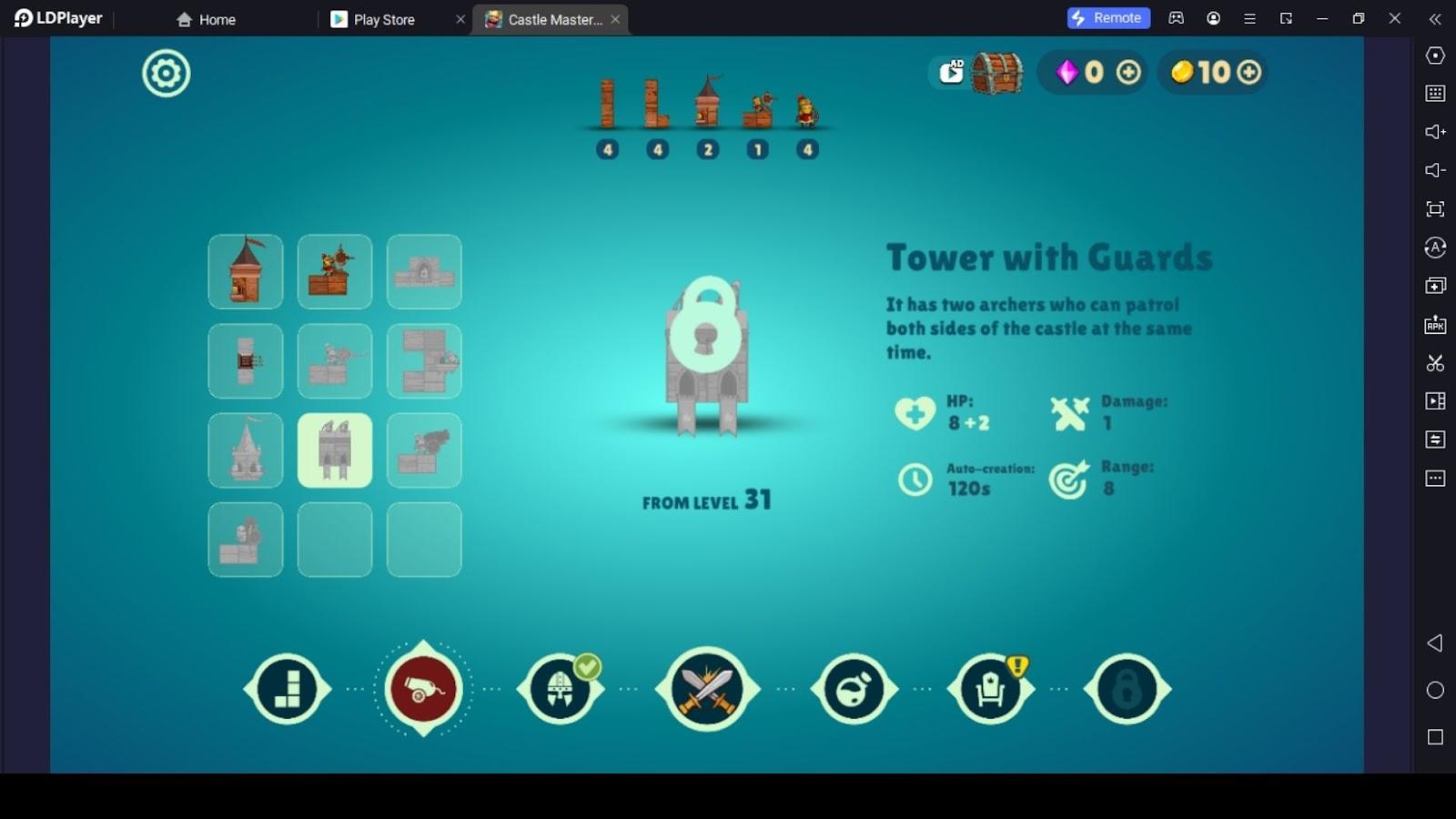 Cannon - this is a very effective and impressive defense element that can be used in this game. This can shoot long distances; therefore, place it correctly, or your castle walls will be destroyed.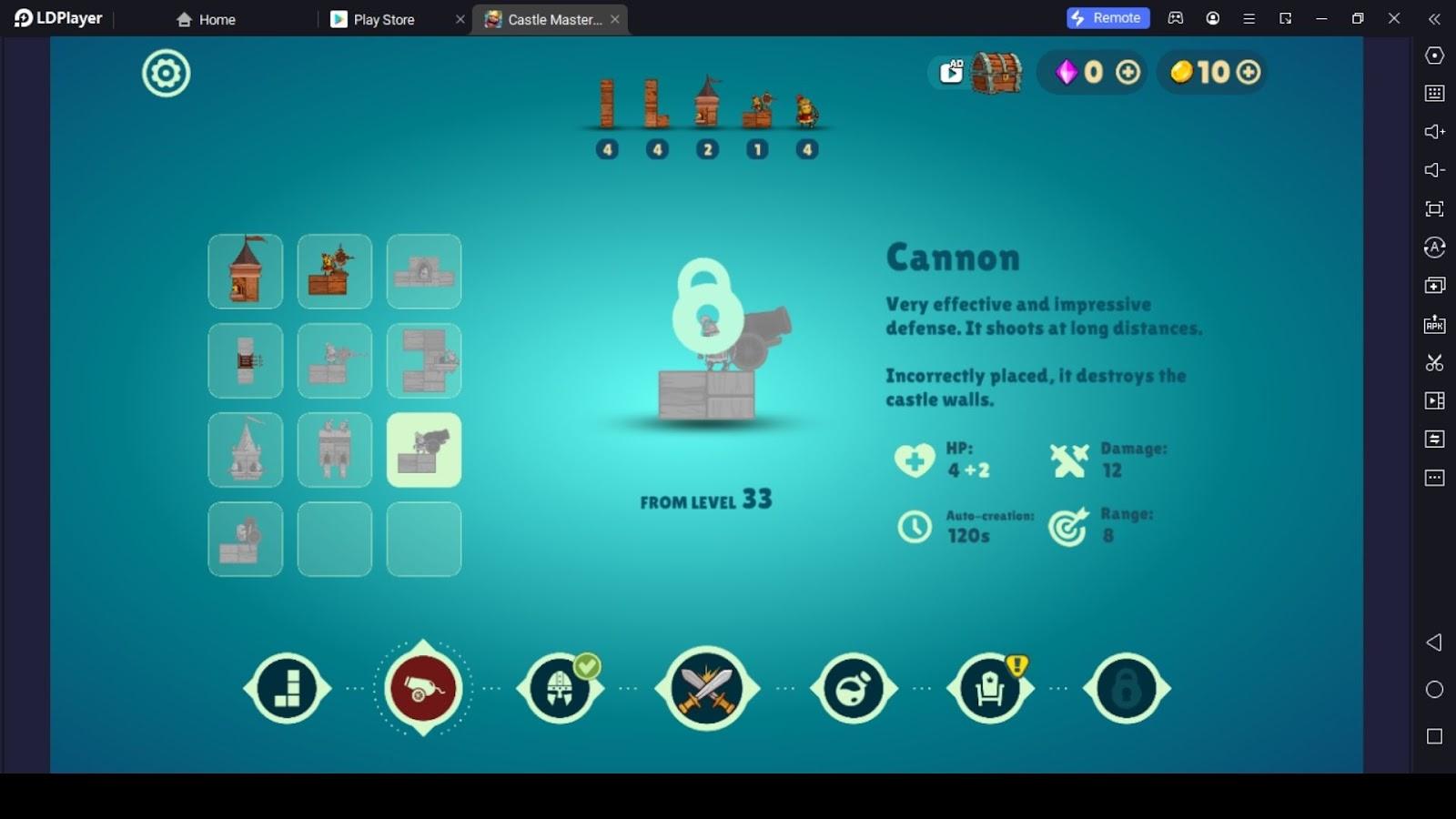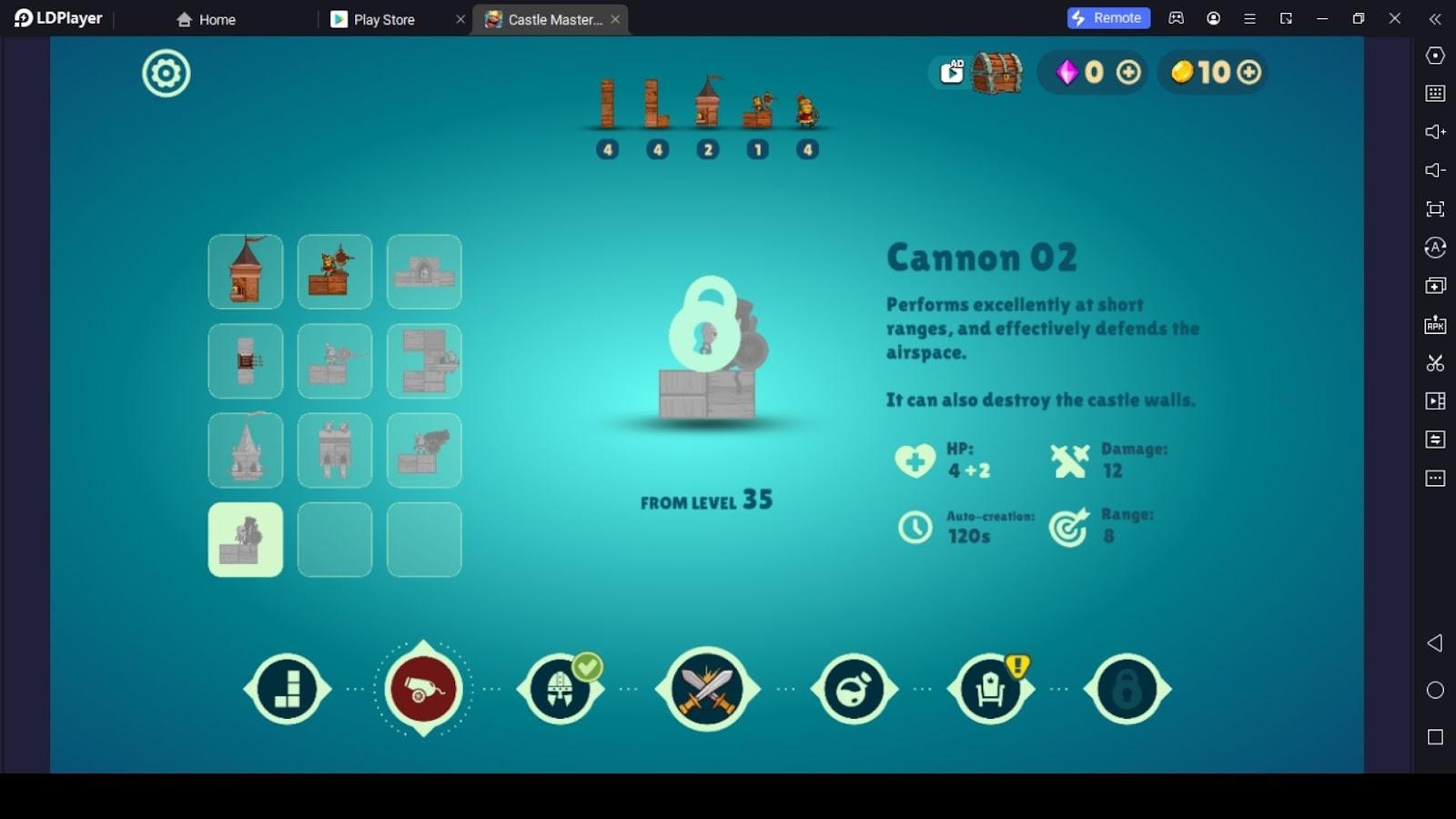 Buy Special Items
There are special items which can help you to overcome challenging battle situations very easily. These special items have the power to deal massive damage to the enemies. When you get through the Castle Master TD gameplay battles advancing on it, you will face elite enemies which are harder to deal with.
And these special items become a big help to get through those tough situations smoothly. Here, you will get these special items freely for the first time, but if you use them once, you must buy them again using gems. Some of the special items you will unlock in your beginner game phase are,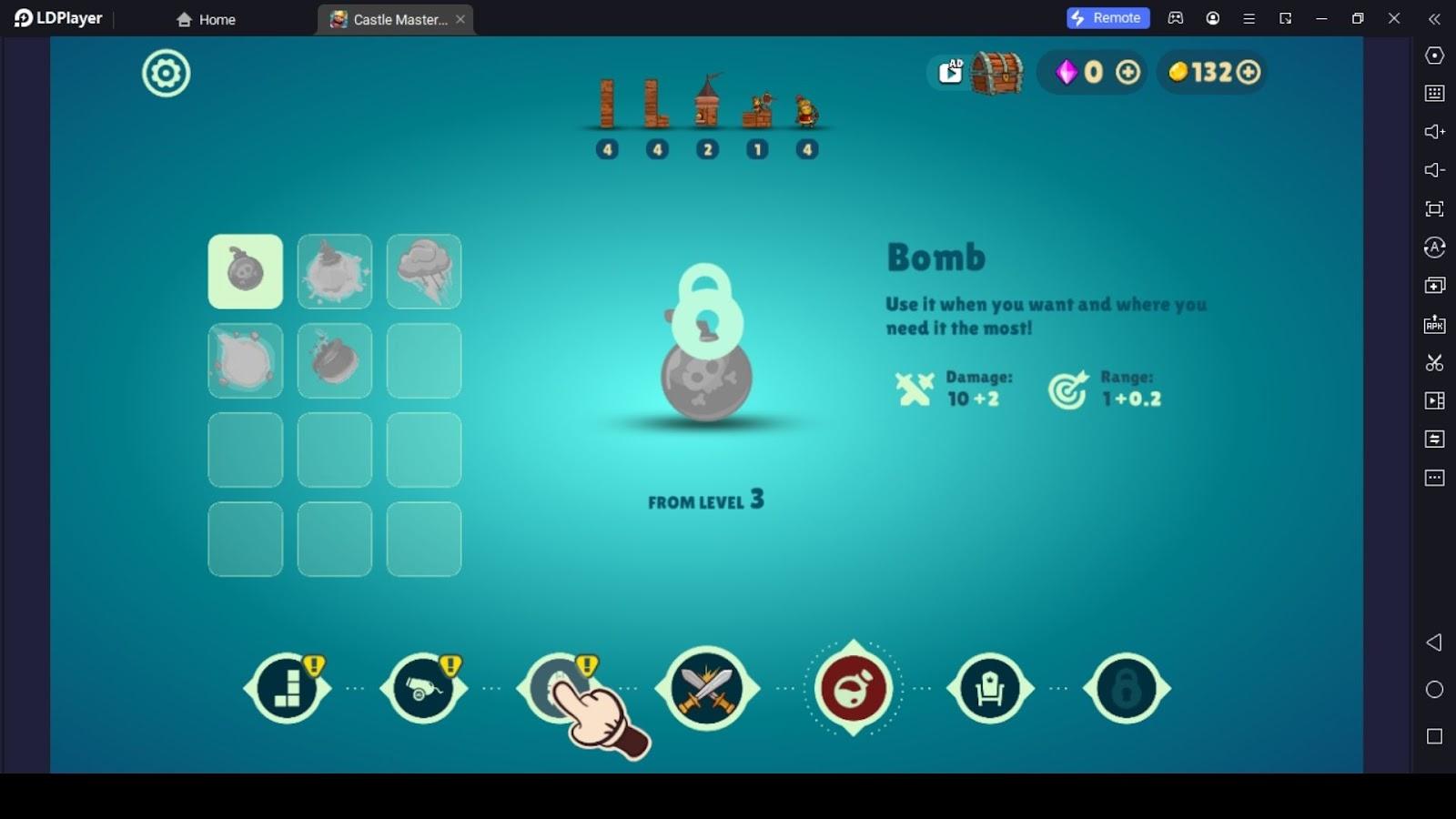 Freezing Blast - with this bomb, you can damage the enemies, but most importantly, you can slow the enemies' attack.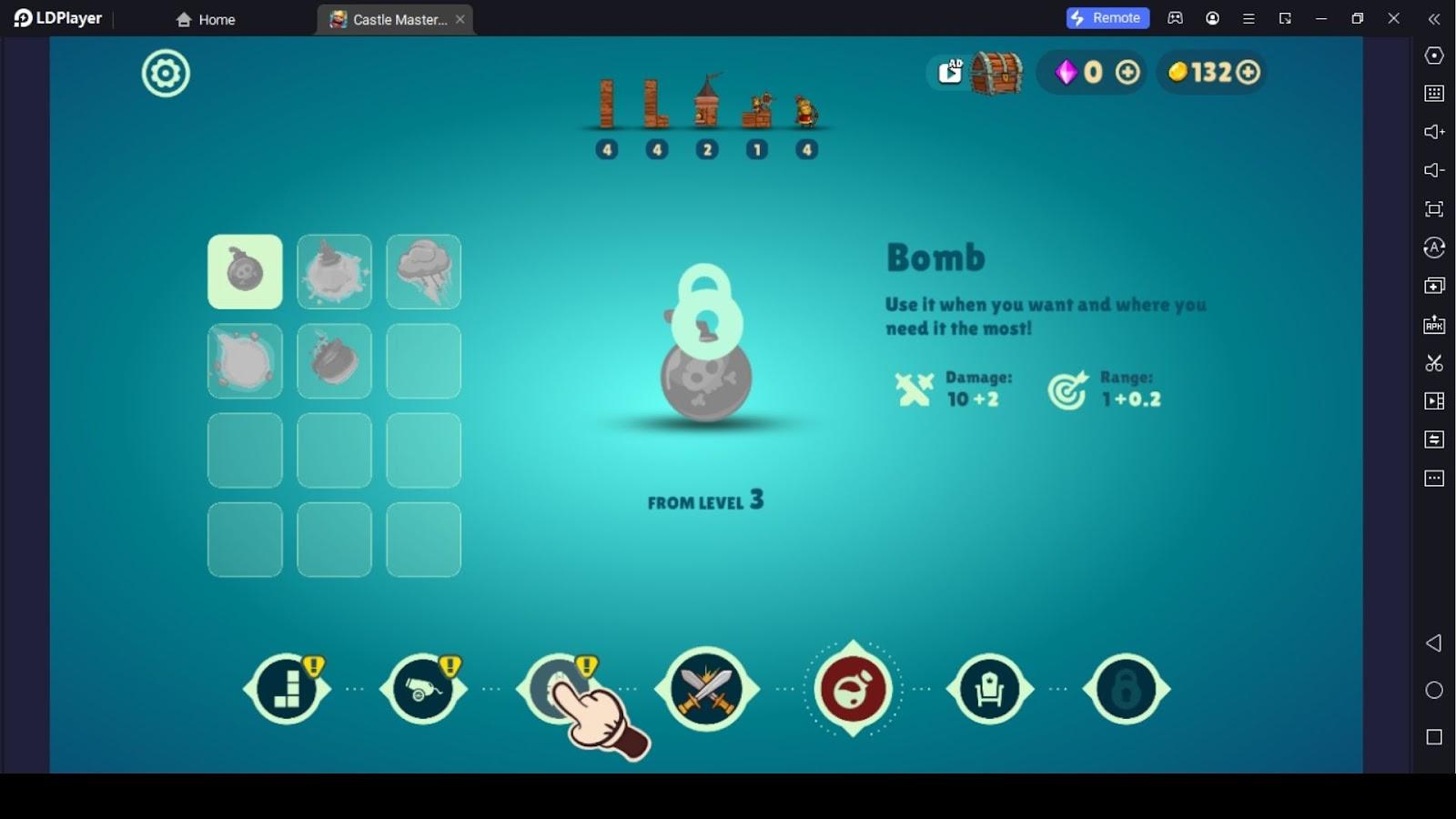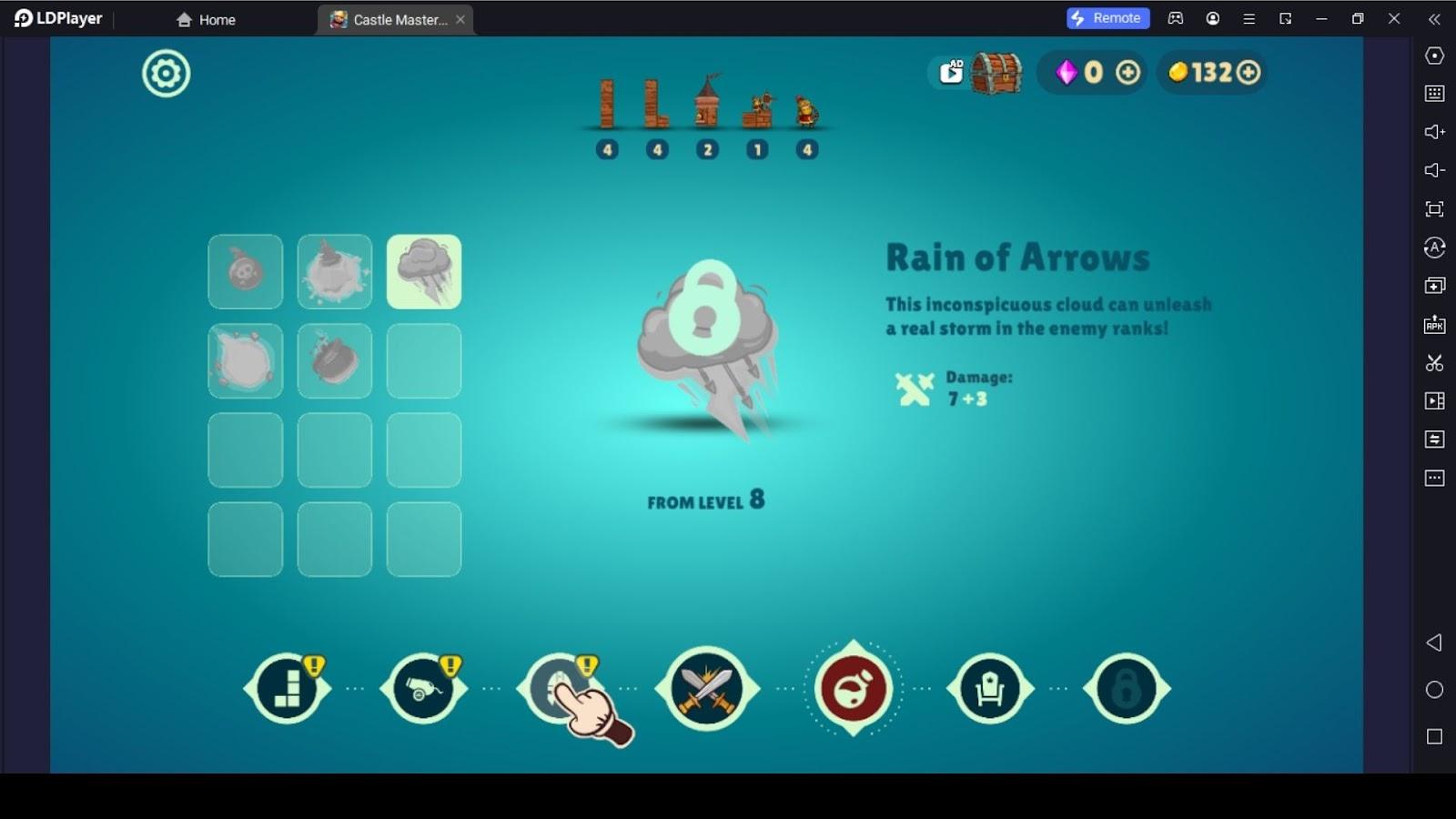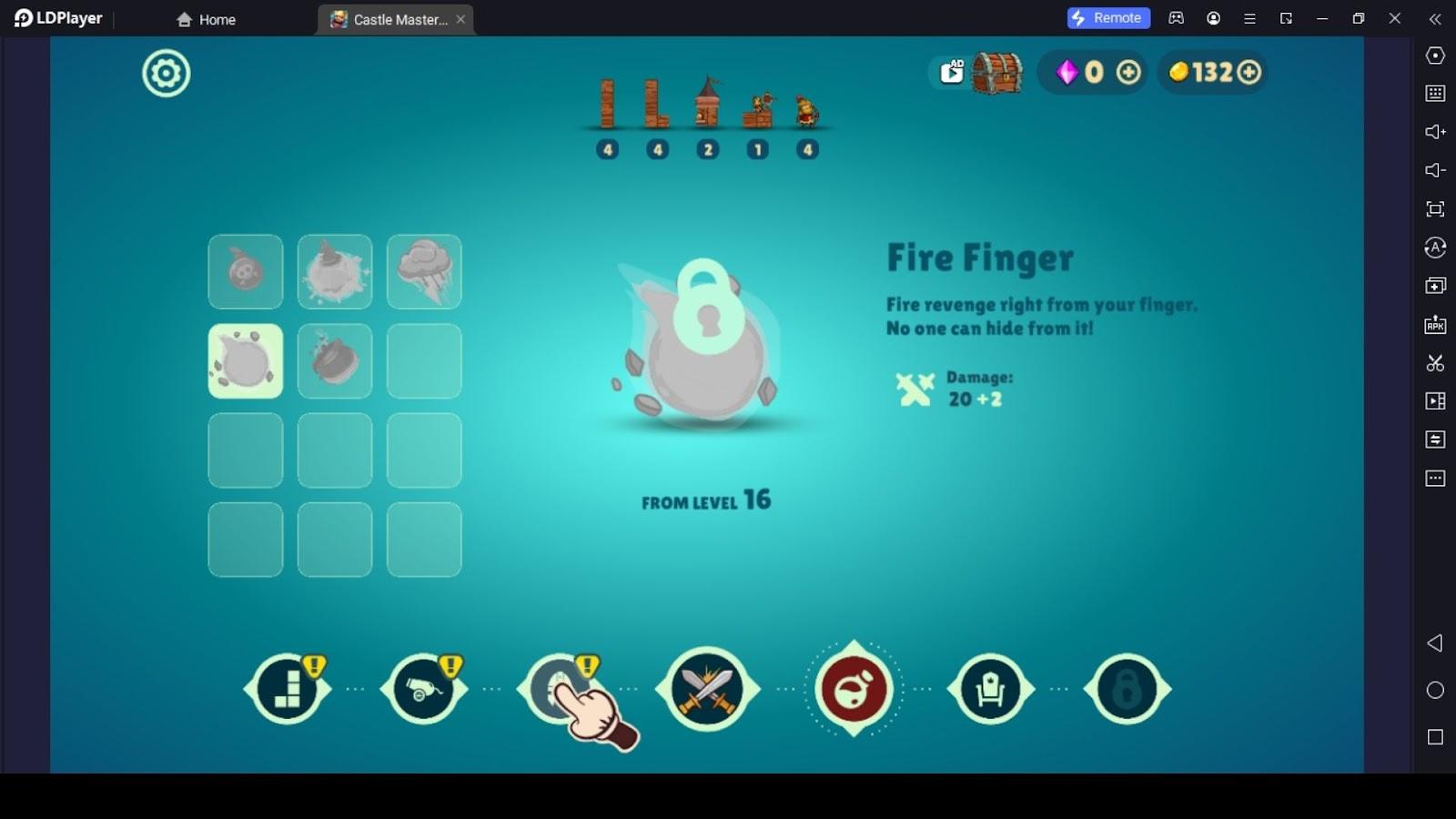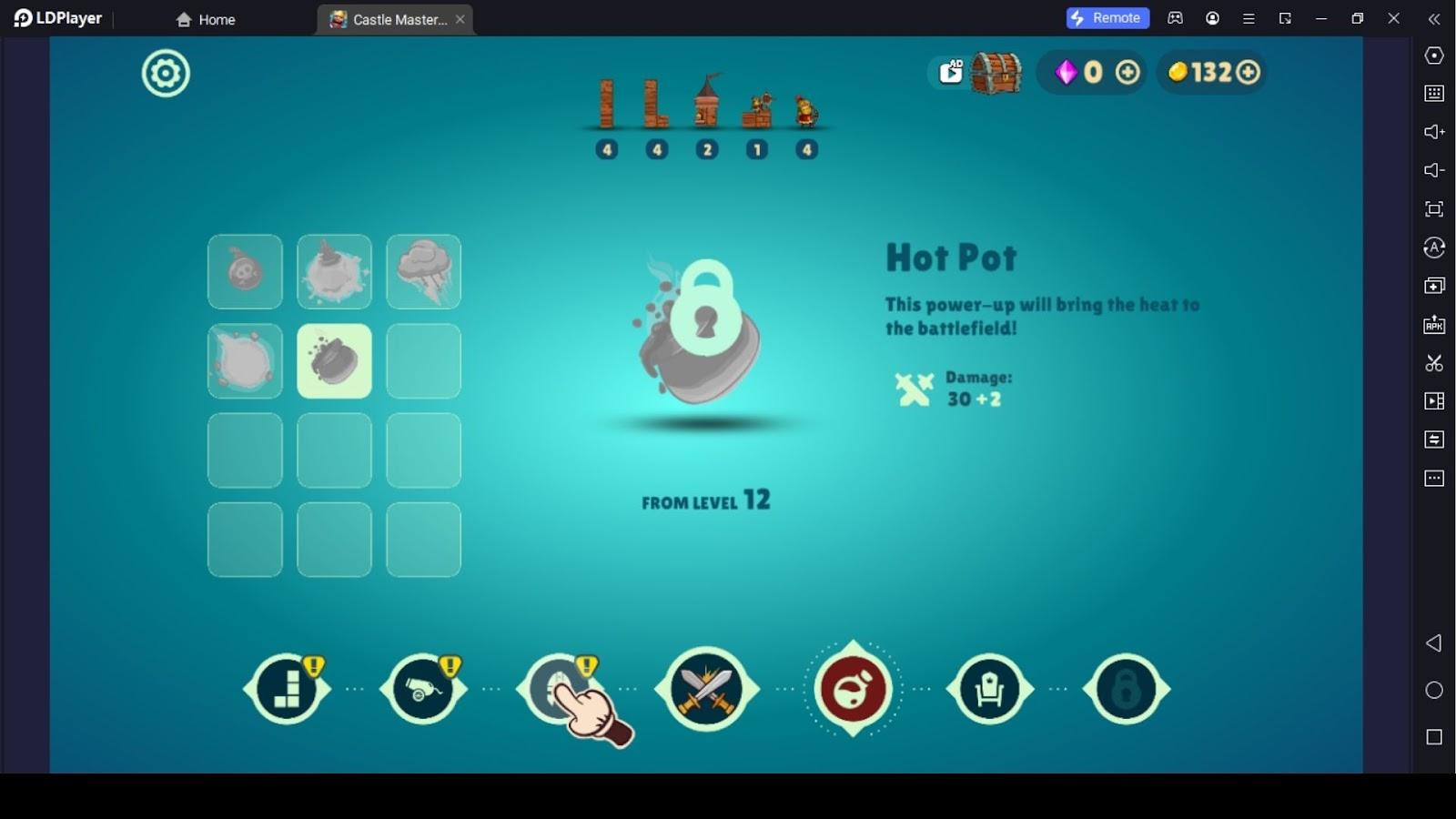 Here, you can upgrade the level of each item when you have them to increase their effects and attributes.
New Units to Unlock and Upgrade
Units are another important element we must talk about in this Castle Master TD beginner guide. The units help you to protect your castle, the king, while attacking the enemies. There are many units you can unlock in this game. Once you unlock them, you can upgrade them using coins and produce new units of the same units for effective castle defense gameplay.
Before speaking of the units which are efficient for your castle to protect it, we are here to explain to you about the king in this Castle Master TD game. The king is the most important resident of the castle. You must hide him inside the building and defend him at all costs. The game continues as long as your king is alive. Once the king is dead, you will lose the battle stages. Here, you can level up your king in this game to increase its HP so that he can resist more damage and survive all the enemy waves to win all the battles.
Since we have spoken to you about the king, let us go and check the other units in this game. As we said, these units help you protect the castle and the king. Let us check the units you can place in your castle.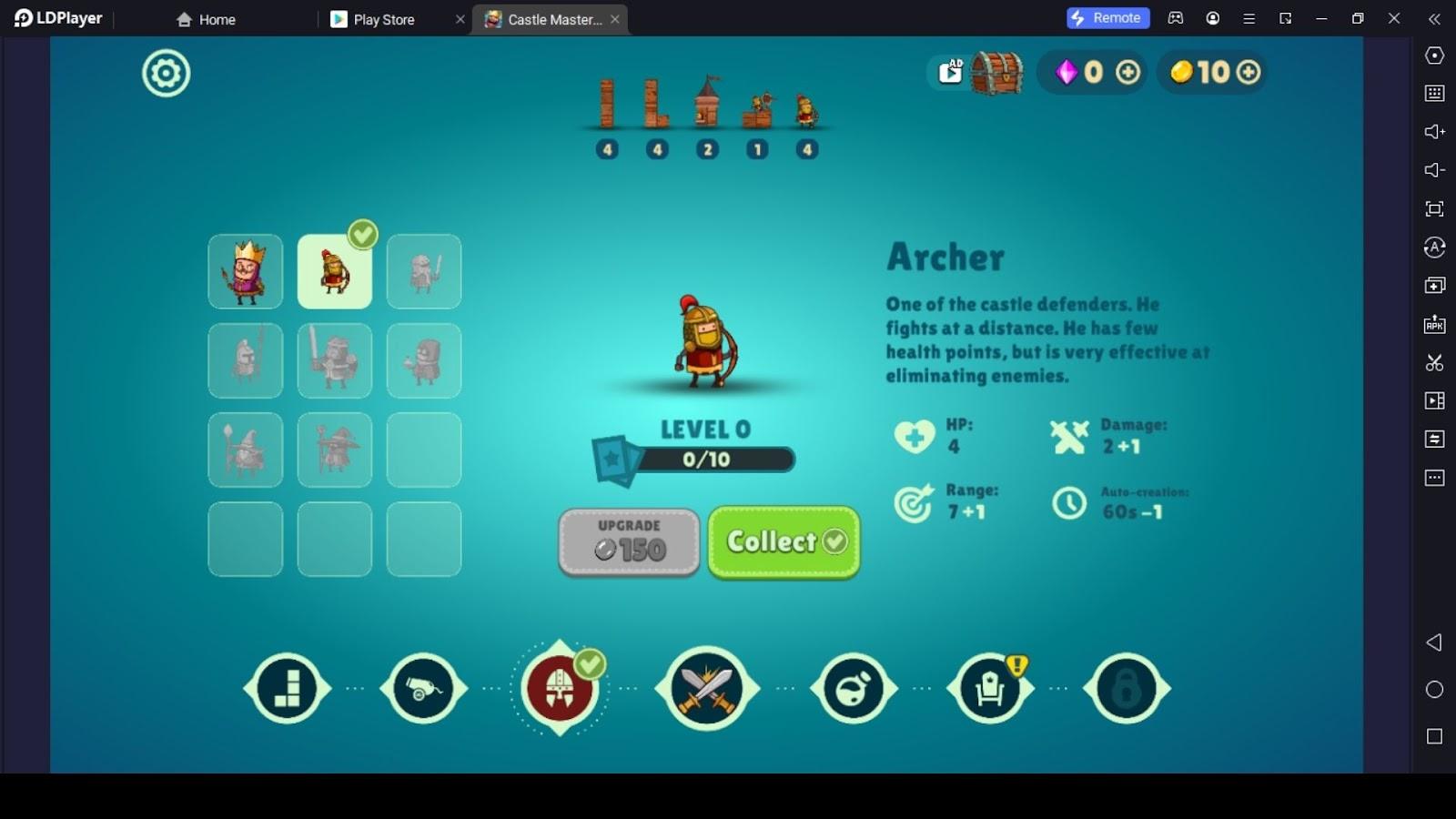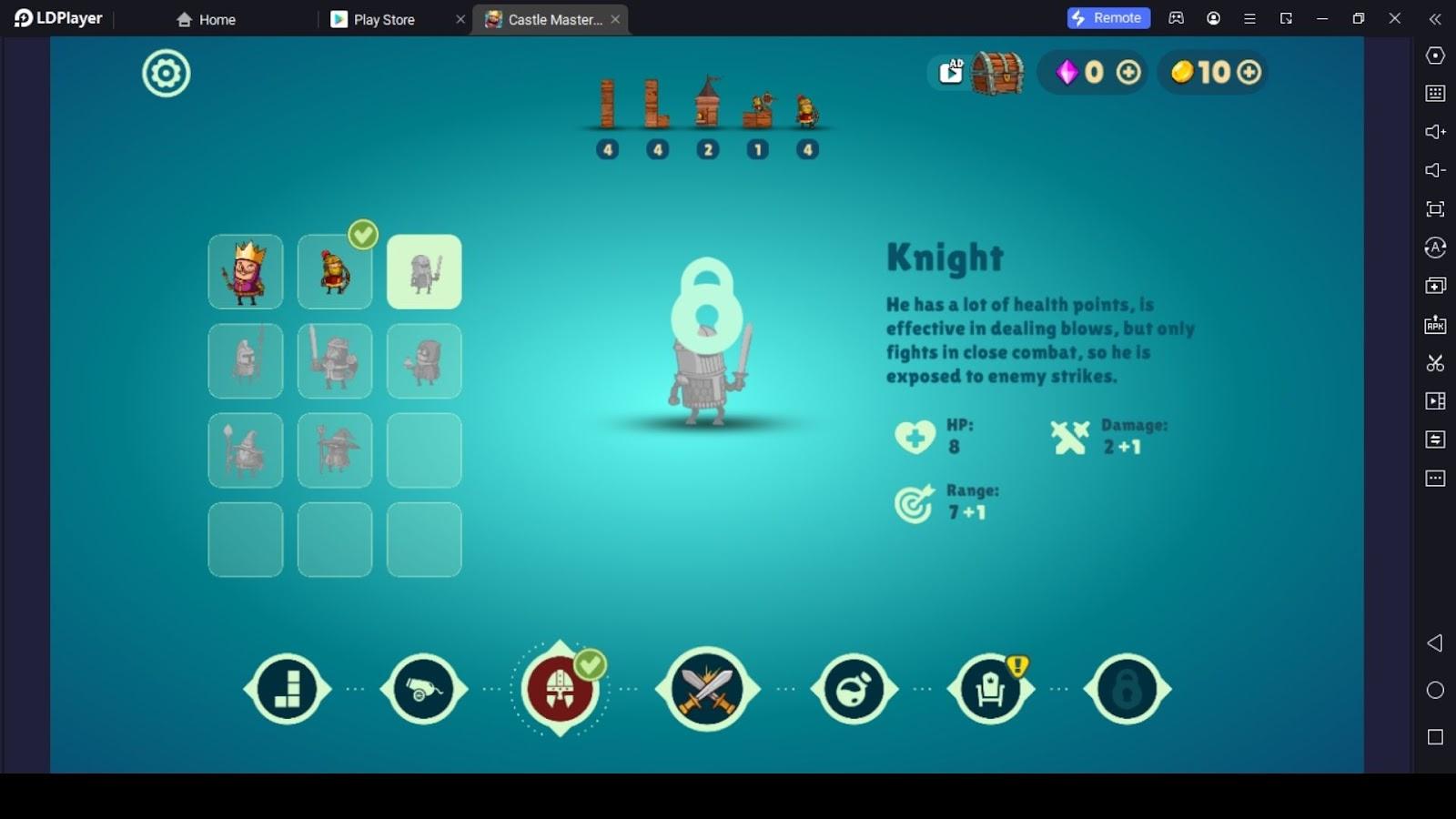 Spearman - this unit can damage enemies strongly and is in good health. And this unit excels in fights from a distance.

Giant Warrior - this is a very strong and additionally fast warrior who only fights in direct combat.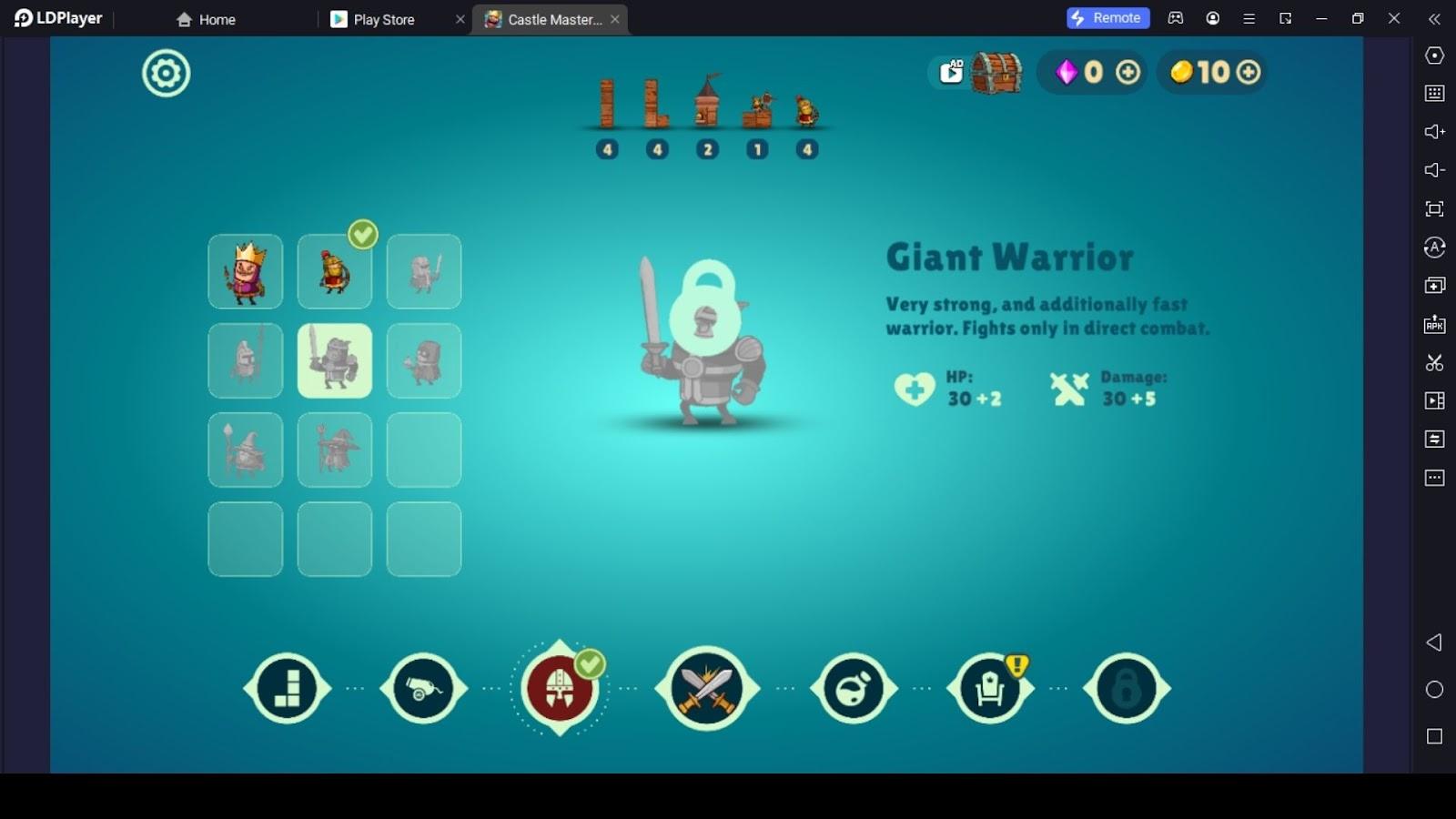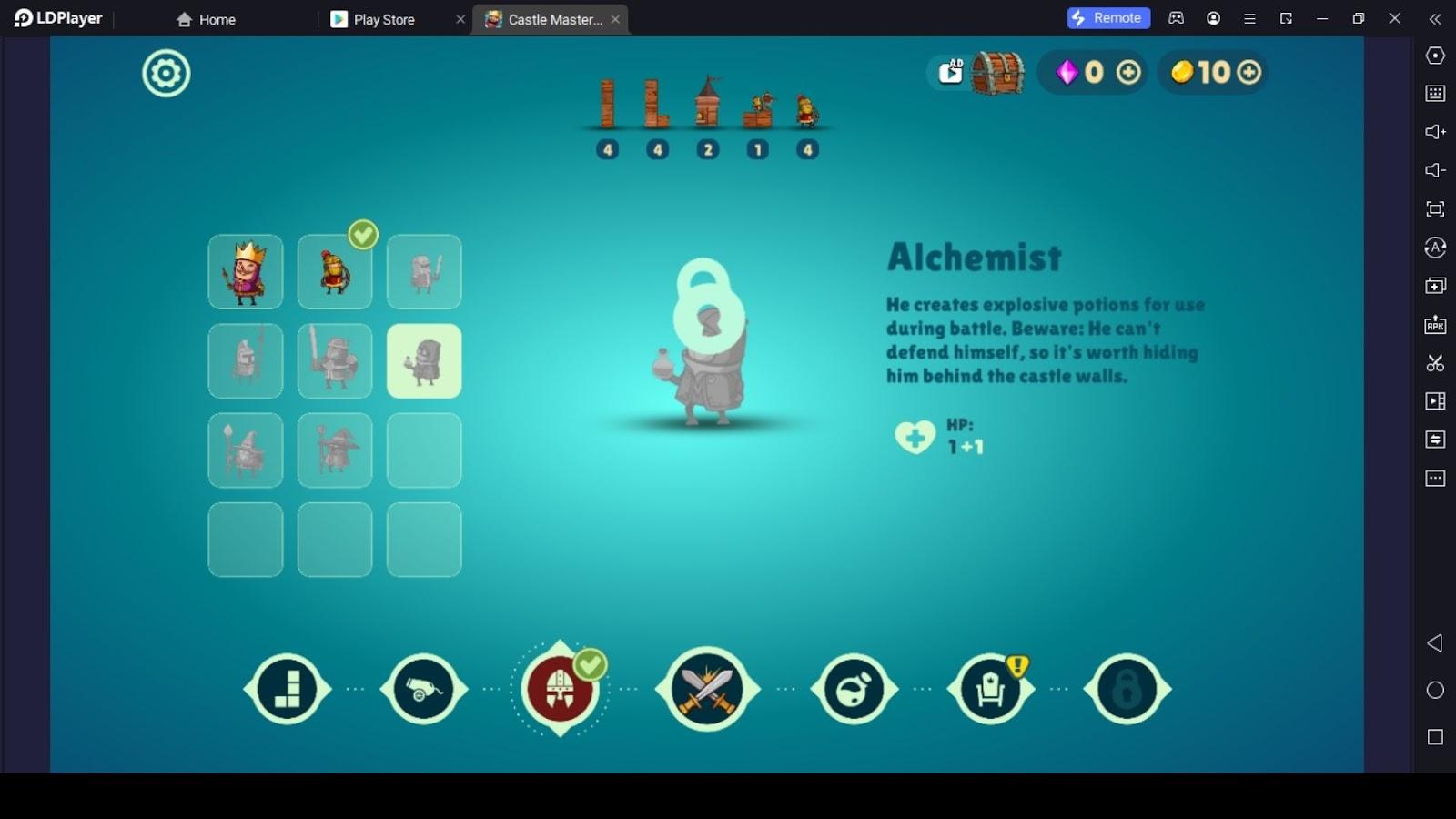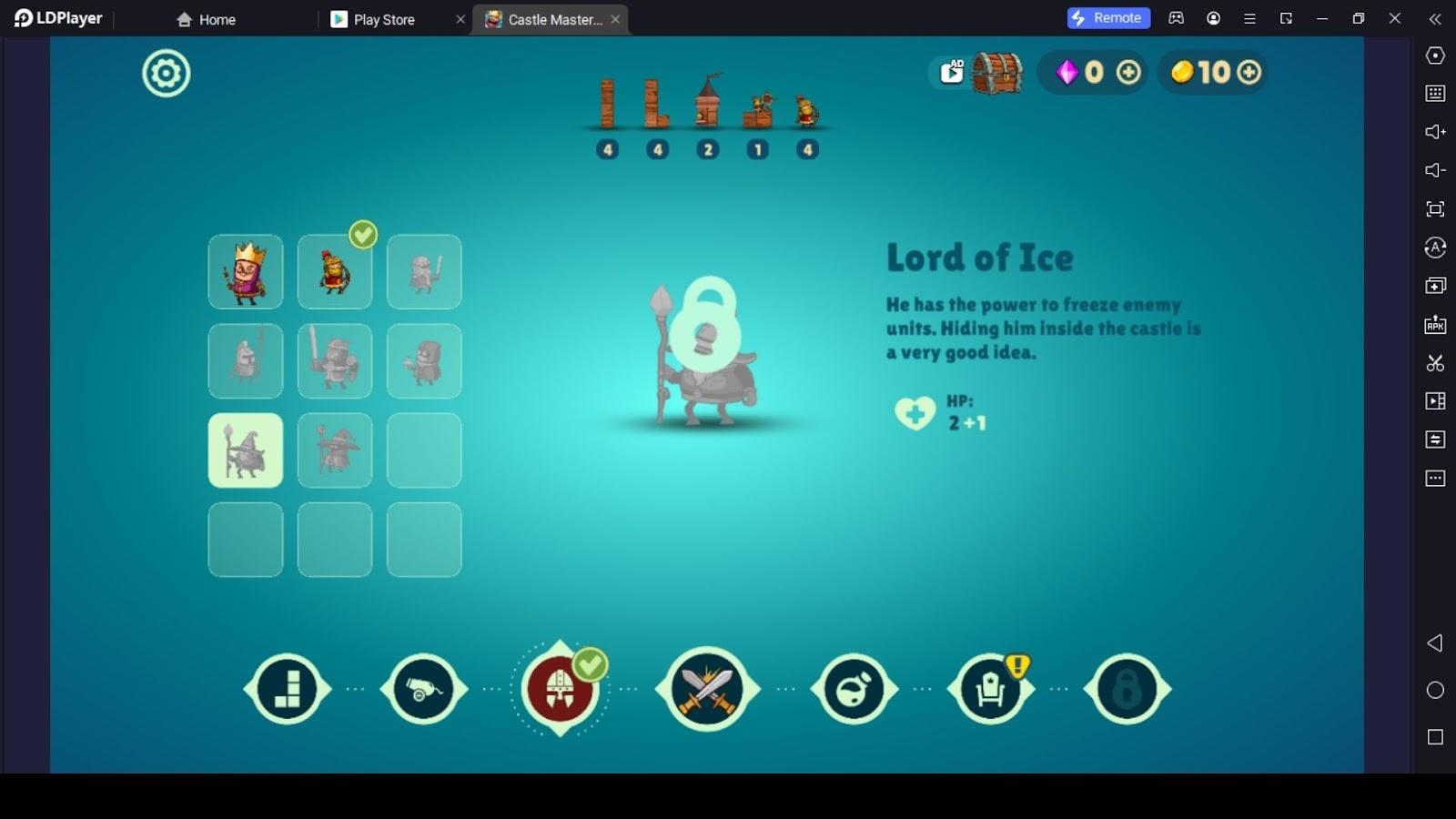 Claim Royal Tax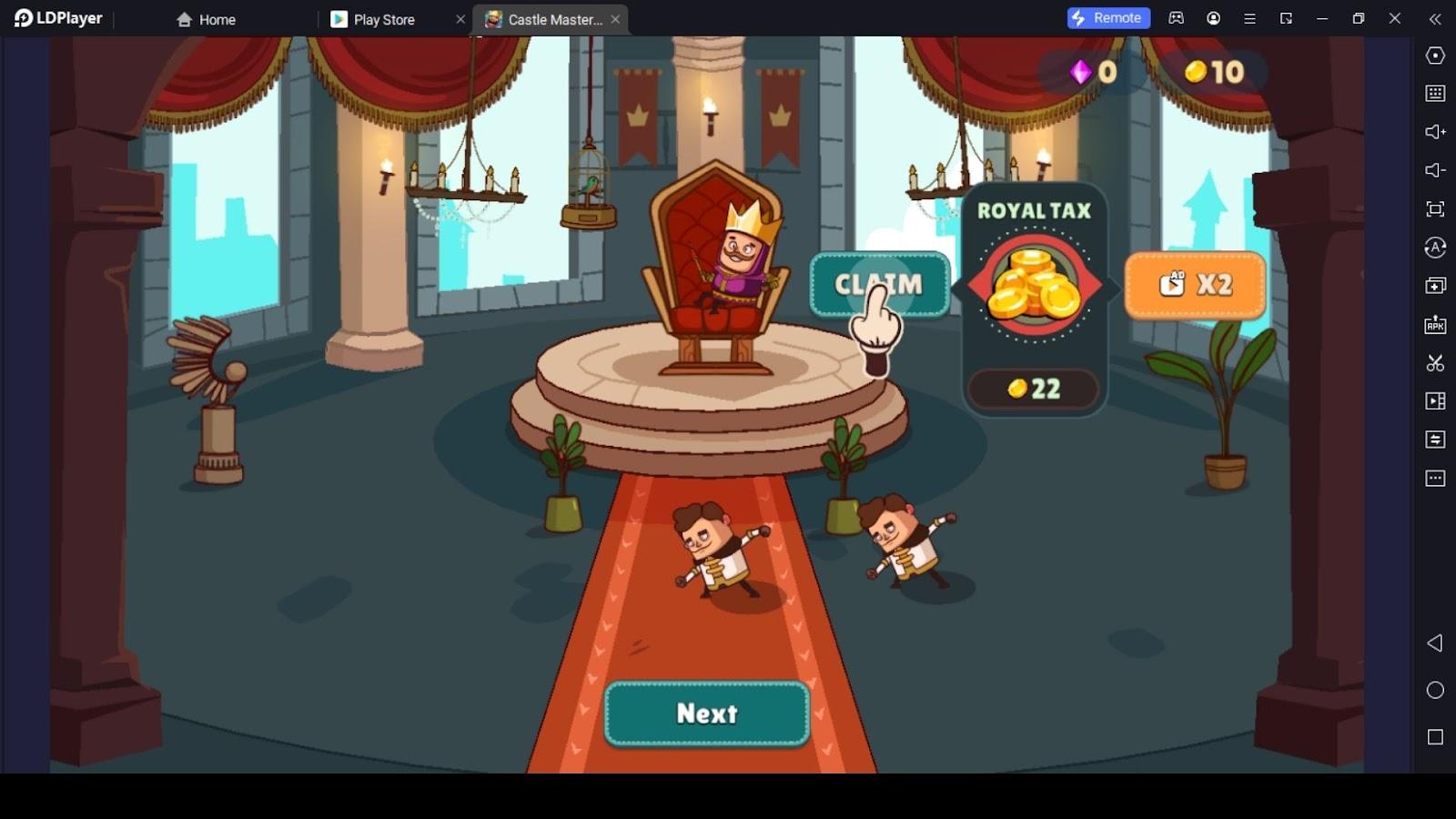 Claiming royal tax is fun because it lets you collect more coins for your Castle Master TD gameplay. The royal tax claim is an idle reward aspect where you can collect a specific amount of gold coins after a specific time amount. As coins are needed for the production and upgrading system in this game, you should claim royal tax after a specific time. It is worth waiting a while for the coins you can earn from this option.
When claiming the royal tax, you can just claim the amount of coins gathered here or double up the amount of coins by watching an advertisement. As mentioned in this Castle Master TD guide, claim royal tax to fill up your gameplay with more coins important to doing many things in this Castle Master TD game.
Conclusion
Here, we have come to the end of this Castle Master TD beginner guide. Though this is the end of this beginner guide, it gives a new start to your gameplay. When playing the game, make sure to play the game on your PC with LDPlayer 9 and use its amazing features to ease up your gameplay while using the tips and tricks mentioned above in this Castle Master TD beginner guide.