Hatch MergeMons, merge the same levels, and craft monsters in Grow Mergemon Masters-Idle Rpg. This is one of the best games you can play with idle elements and advanced gameplay techniques. Other than the campaign mode, which is idle, there are other game modes you can try here. As this game is rich in many features, you need help when you play this game, and that help will be provided in this Grow Mergemon Masters-Idle Rpg beginner guide.
Table of Contents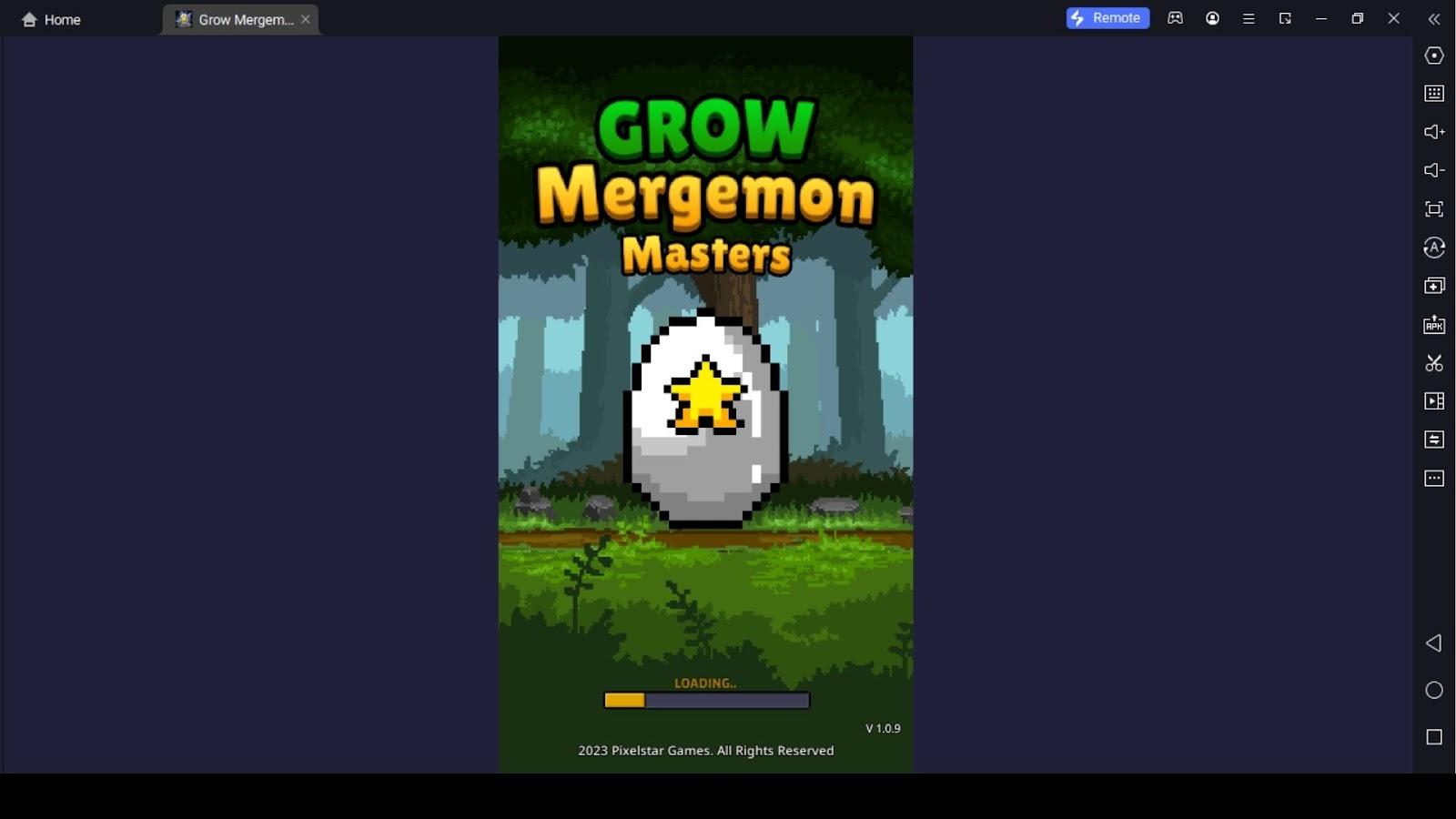 Download Grow Mergemon Masters-Idle Rpg on PC
Being the master trainer in this Grow Mergemon Masters-Idle Rpg may be hard for you in your beginner phase. But now that you are ready to learn the best tips and tricks to be used in this game, you will never find this game hard when you play Grow Mergemon Masters-Idle Rpg on PC with LDPlayer 9 after going through this guide. The game is so fun, especially because of the merging technique. Are you ready to check on the best tricks and tips for this gameplay to make everything smooth? Then keep going and learn the best ones prepared just for you!
Complete Quests for Amazing Rewards
Completing quests is one of the best Grow Mergemon Masters-Idle Rpg tips you can follow here. Through the quests, you can obtain awesome rewards; therefore, it is important to complete the quests. There are special, daily, normal, and repeat quests, and each quest gives you different rewards that are valuable to your gameplay. The special quests are two types: discover and reach level. The Discover quests give you rewards for discovering different MergeMons. The Reach Level quests reward you for acquiring different player levels in this game.
And then, the daily quests have a specific time to complete them, and they are simple and mostly reward you with gold coins. The normal quests mostly give you many gems, which are complex compared to daily quests. The repeat quests are always repeatable. Those quests never end; you can complete them repeatedly and earn more gems for your gameplay. As the quests are one of the best sources to obtain more rewards and resources in your gameplay, follow them, complete them, and claim rewards.
Learn Skills Necessary for Battles
You can learn new skills for your monsters in this game from the Lab tab. As you know, the game is filled with idle elements; you should know that one of them is the battles. The battles are idle, where your monsters will battle on their own. But here, you must do many things that may help your monsters get powered up.
So, one of them is learning skills. Here in this game, there are two kinds of skills known as active and passive. You can let your monsters learn these skills so that they become powerful. The active skills for all your monsters at the beginning of the game are,
Orb of Power - increases the monster's damage.

Orb of Life - restores the HP every two seconds.

Orb of Speed - increases monster attack speed.

Orb of Crit - increases monster crit rate

Orb of Blessing - makes the monster invincible for a certain duration.
The passive skills you can activate for your monsters in this Grow Mergemon Masters-Idle Rpg are as follows.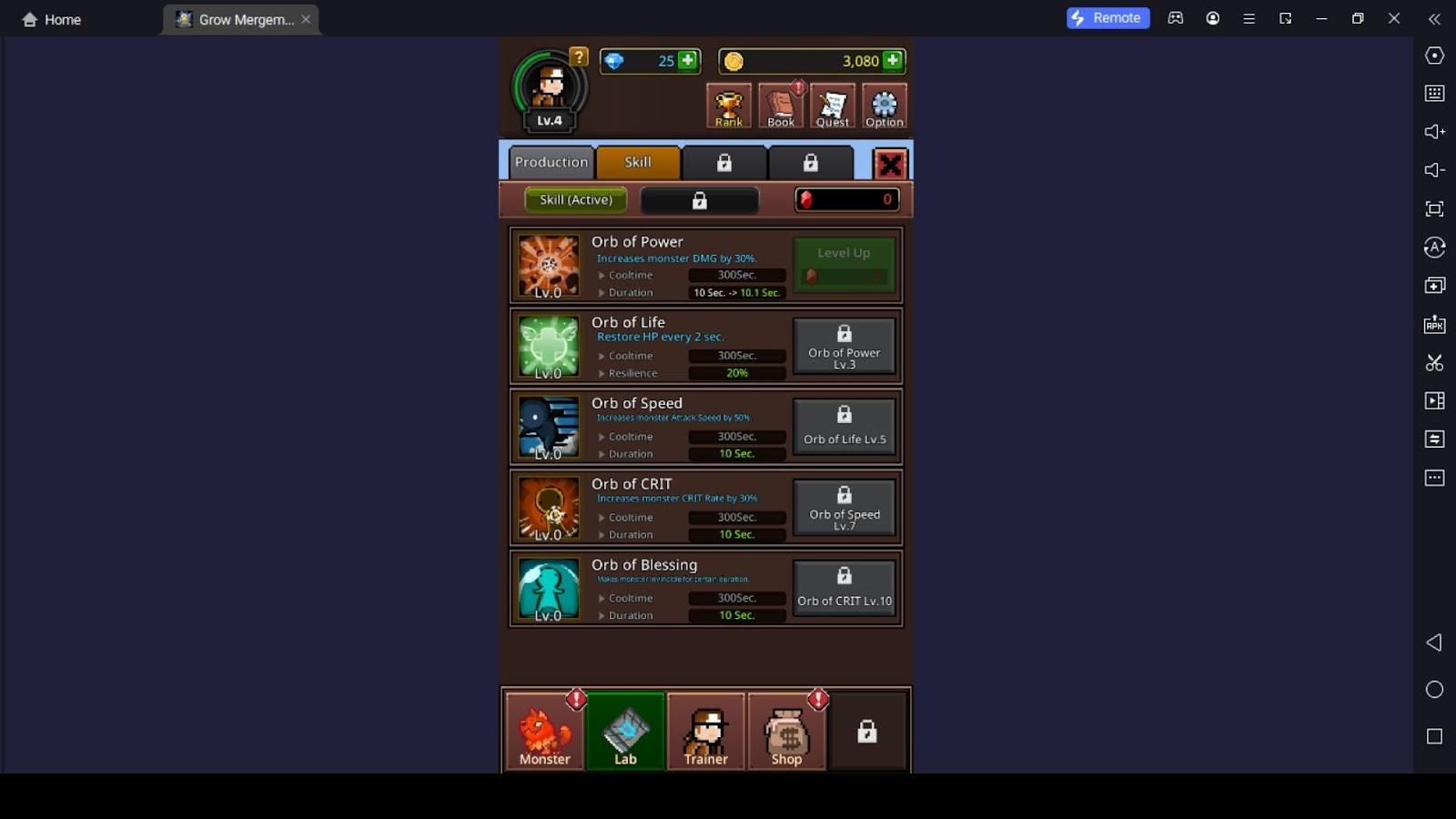 Auto Skill On - use the MergeMon skills automatically.

Capture Research - increases the success rate of capturing monsters.
As you can see above, each skill has its effects, and when you look at those skills again, you can understand these skills are helpful for your gameplay to power up your monsters or your MergeMons. Once you unlock these skills after meeting up with conditions, you can upgrade them using rubies and gems. When you level up the skills, their effects will be boosted.
Level Up Your Monsters, Upgrade Attributes, and then Evolve
Leveling up your monsters is another way to upgrade your monsters' strength. When you level up your monsters, their level and other attributes, such as attack, HP, and defense, will gradually increase. Remember to focus on the best monsters you use in your battle team when leveling up the monsters. To battle with tougher enemies, your monsters need to be very powerful. So, leveling up might be one of the best things you should do while playing this Grow Mergemon Masters-Idle Rpg as a beginner.
While leveling up your monsters, don't forget to upgrade their attributes individually. Yes, you heard it right; here in this game, you can upgrade the attributes of your monsters one by one individually, which is another way to make your monsters stronger than they were when you got them.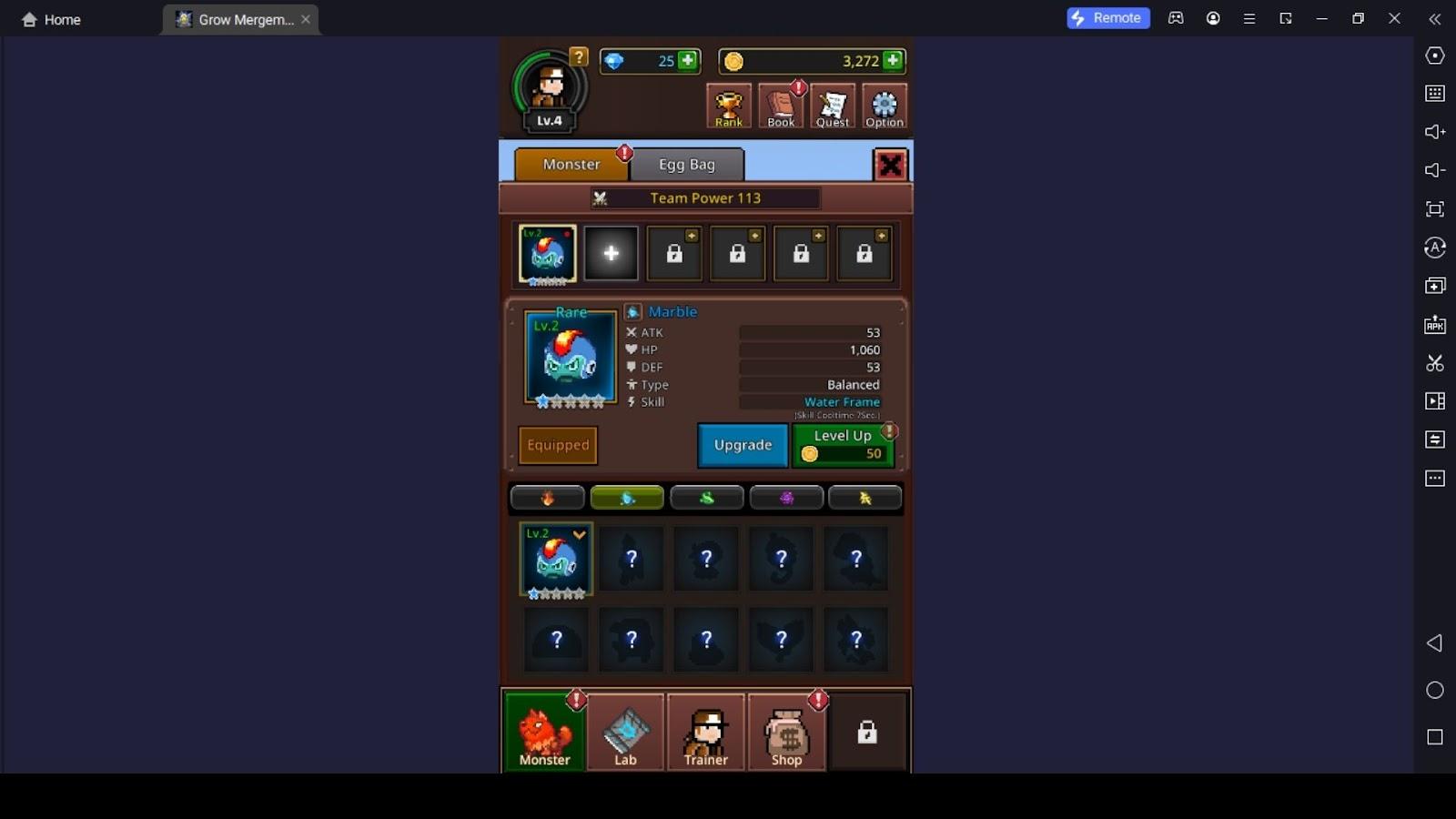 Evolution is the other way to upgrade the power of your monsters. When you evolve your monsters, which you usually use in the battle squad, they become very powerful, and their attributes will be boosted massively. But the evolution process seems very advanced for you in your beginner game phase.
To do an evolution, you need a monster of the same rarity and same kind and some other specific material. With the evolution, the star tier of your monsters gets promoted. Also, evolution increases the skill range limit and monster max level. So proceed with the evolution process when you have the required materials.
Craft New Monsters for Idle Battles
One of the best features you will experience in this Grow Mergemon Masters-Idle Rpg is crafting new monsters. How do you craft new monsters? You will craft new monsters by collecting the MergeMons with lower levels through hatching eggs and then merging the same level MergeMons. If you still cannot comprehend this theory, let us explain it by example.
In the monster tab of the game screen, you will see idle battles happening at the top half, and in the bottom half of the screen, you will see an egg. Tap on the egg, and then the egg will hatch MergeMons starting from level one.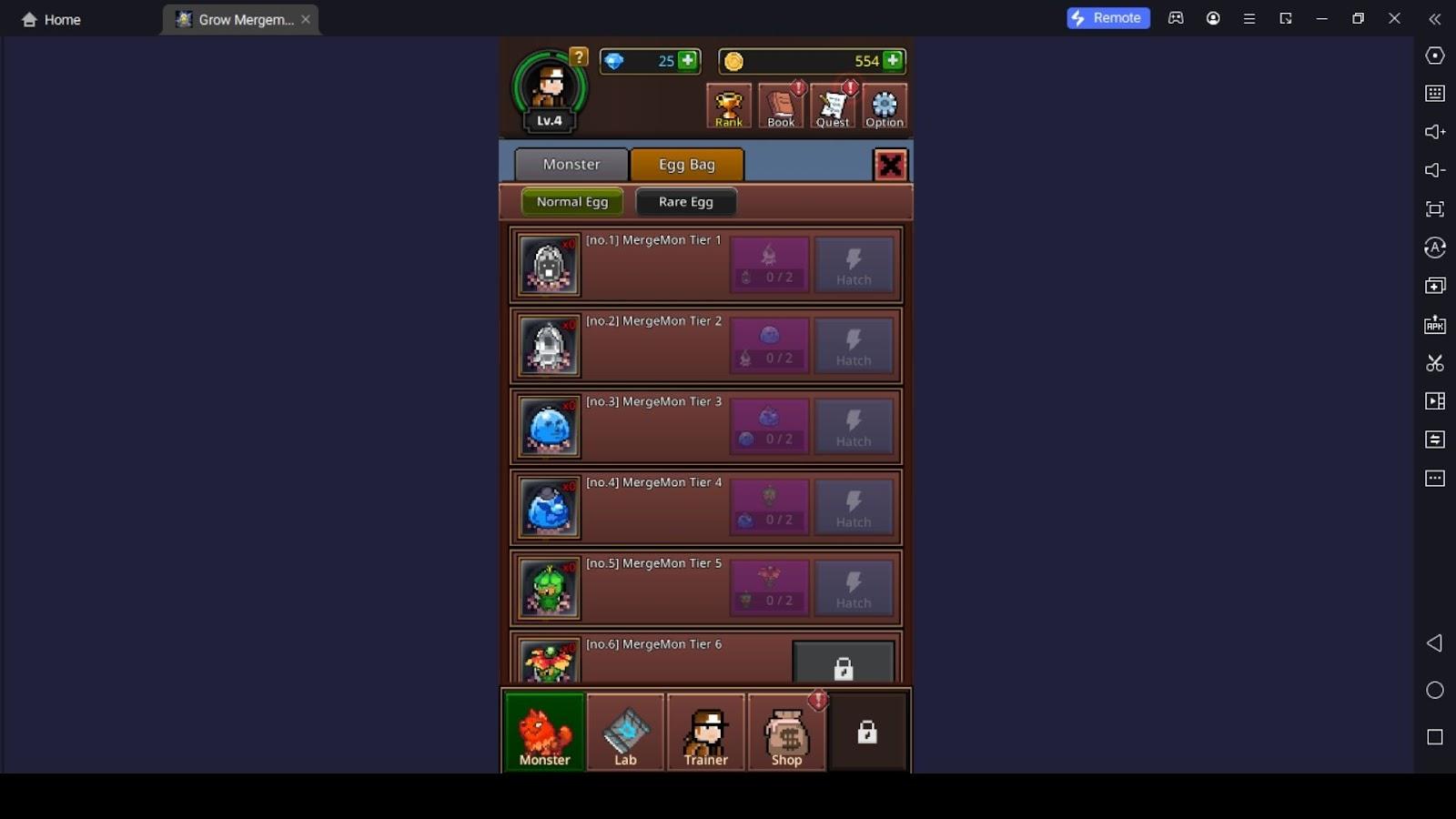 You should combine two of the level one MergeMons to craft a level two MergeMon. And then again, you should merge two of the level two MergeMons to create a level three MergeMon. With this process ongoing, you need to merge and create two level nine MergeMon of the same rarities, and then you can merge the two-level nine MergeMon to craft a monster for your game. This is how you craft monsters in this game. Merge more and more and then craft monsters successfully.
Equip the Best Trainers
Among the best Grow Mergemon Masters-Idle Rpg tips, equipping the best trainers takes a special place. The trainer matters very much for the performance of your monsters during idle battles. When you equip a trainer to your monsters, you can activate various effects and buffs for the whole team, such as increasing attack, HP, defense, item discovery and gold collection, attack speed, etc. The better the trainer you equip for the battle team, the higher the activated attributes become.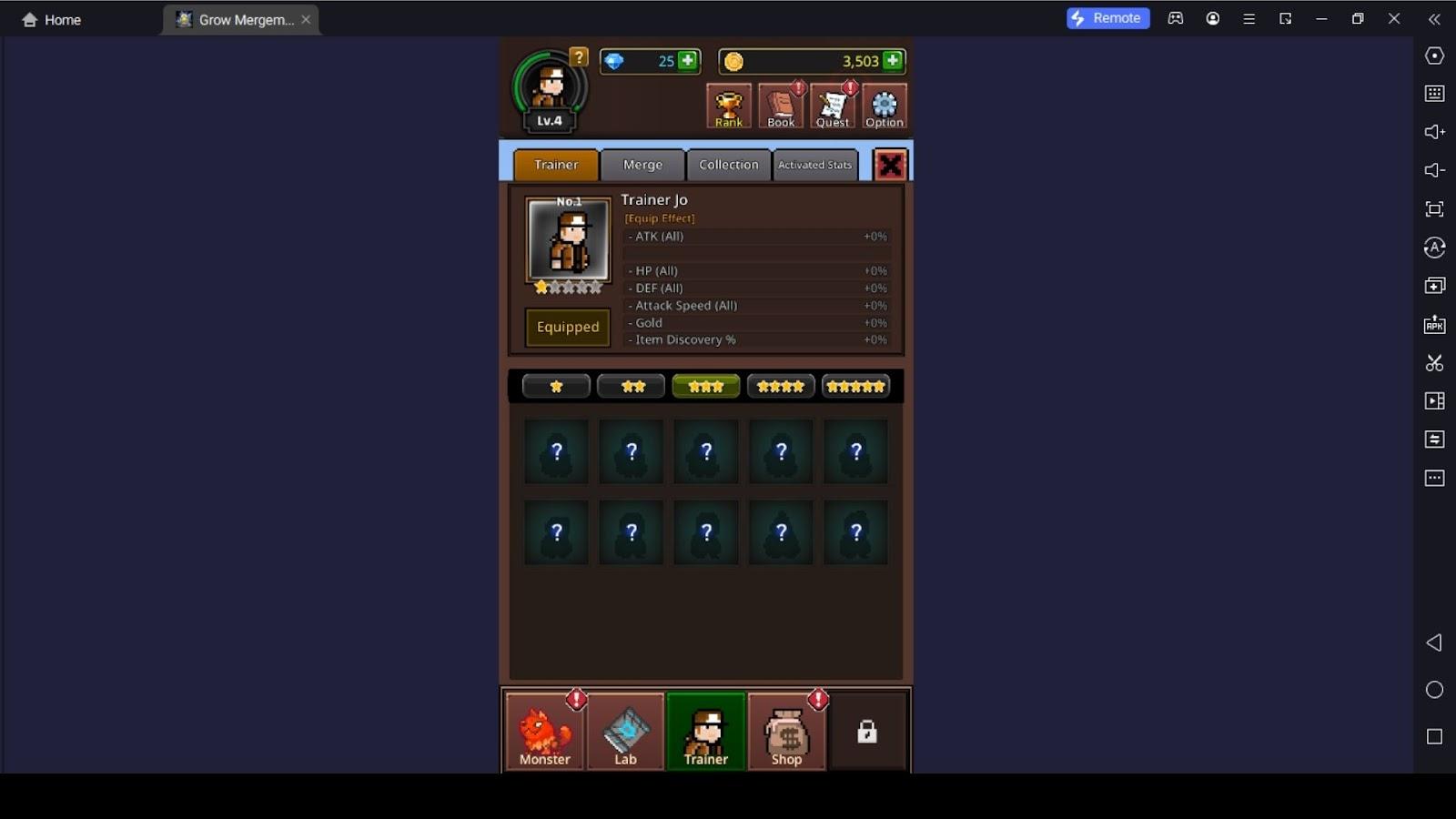 Therefore, equip the best trainers and see how powerful your monsters become during battles. Yes, with the trainer you choose, the functionality and performance of your monsters increase. Therefore, always try to equip the best trainers. The trainers you earn in your late gameplay are better than those in your beginner game phase. Therefore, without sticking to one trainer the whole time, you should equip the best trainers with the advancement you achieve in your Grow Mergemon Masters-Idle Rpg play.
Explore Habitats for Precious Loot
From the adventure mode, you can enjoy many other game modes other than the idle battle mode in this gameplay. So, one of the special game modes you can enjoy through the adventure tab is Explore Habitat. Here, in this game mode, you will explore different habitats of different monsters. While exploring their habitats, you can try to tame them. Taming these monsters also gets easier when you have a perfect and better trainer. When you explore the monsters' habitats, your battle team has to fight with those monsters.
The battles are no different because they take place as idle. When you go through this game mode, you will earn much precious loot once you destroy the monster. Here in this game, there are up to ten habitats to explore, and the higher the habitat you enter, the tougher the battles become. So prepare yourself for the worst by upgrading the power of the monsters assigned in the battle team following the tips mentioned above in this Grow Mergemon Masters-Idle Rpg beginner guide.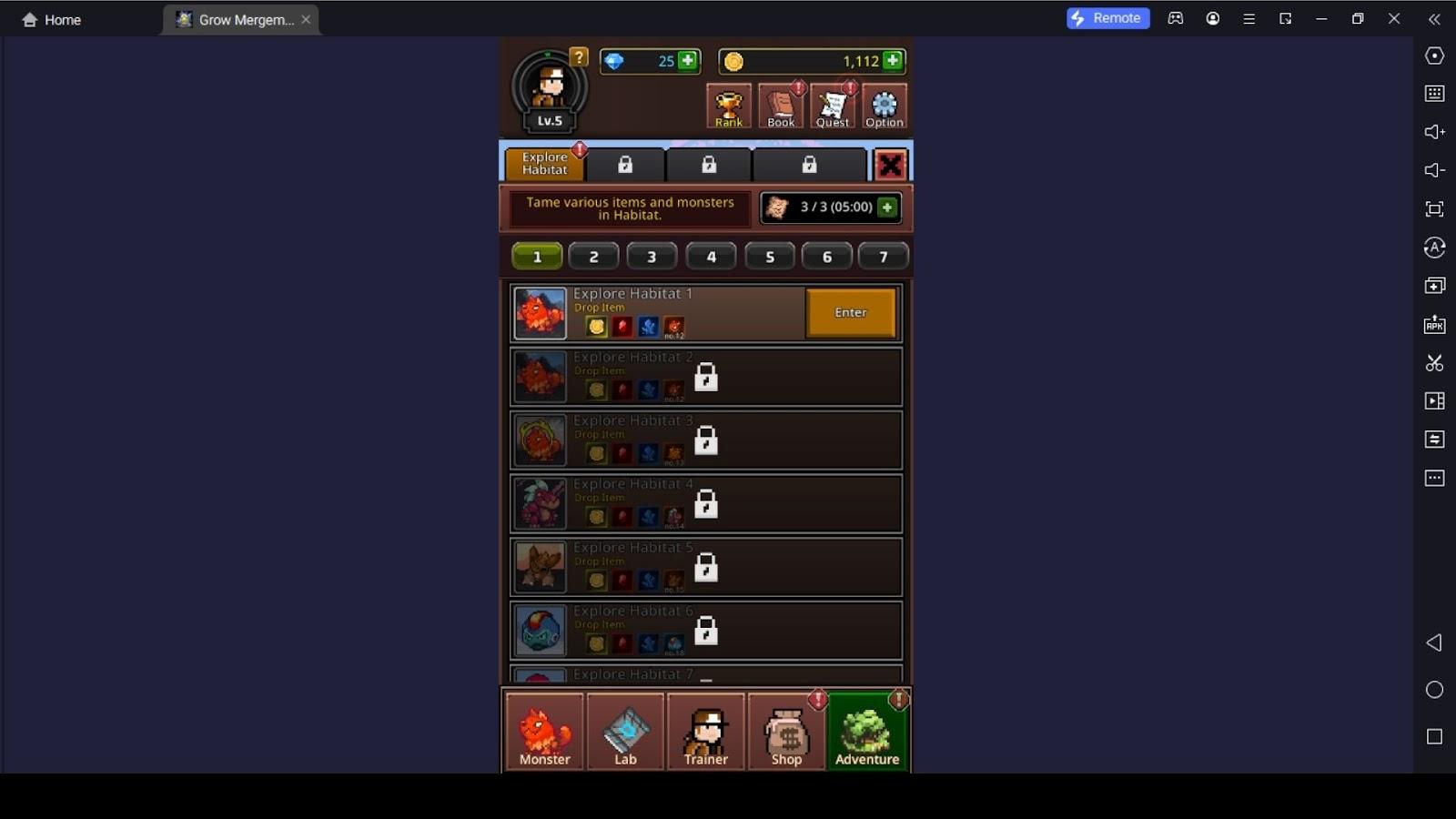 Grow Mergemon Masters-Idle Rpg Dungeons
Dungeons are another game mode that you can access through the adventure tab. In the dungeons game mode, there are many dungeons with different monsters to fight and different rewards to be obtained. You need dungeon keys to enter these dungeons, and you will be given two dungeon tickets or keys per day for free in this game. Every dungeon floor has different monsters to battle against.
The higher the floor, the more powerful the monsters become. And the higher the floor of the dungeons, the better the rewards you get. Therefore, try these dungeons, and then you can earn awesome rewards for your gameplay.
Conclusion
Here are the best tips and tricks to play this Grow Mergemon Masters-Idle Rpg. In this idle RPG, you may find many idle aspects, but there are other things you should do here to have a great progression, which we notified you earlier in this guide. So follow these tips above and have a perfect gaming experience in this Grow Mergemon Masters-Idle Rpg.