Are you looking for a way to play Tales of Wind on PC? Now LDPlayer is available to this game, which provides stellar visual quality and improved features.
Tales of Wind is an action MMORPG with lovely characters, exquisite pictures, and many innovative gameplay modes. In the world of Tales of Wind, you will take the responsibility of defending La Place, a divine and blessed city under the shadow of evils, travel with cute pets and mounts, and explore the amazing world with your friends.
Tales of Wind has won many praises from players with its high quality. To get a better experience, many players are looking for a way to play the game on PC. LDPlayer Android Emulator can make it possible.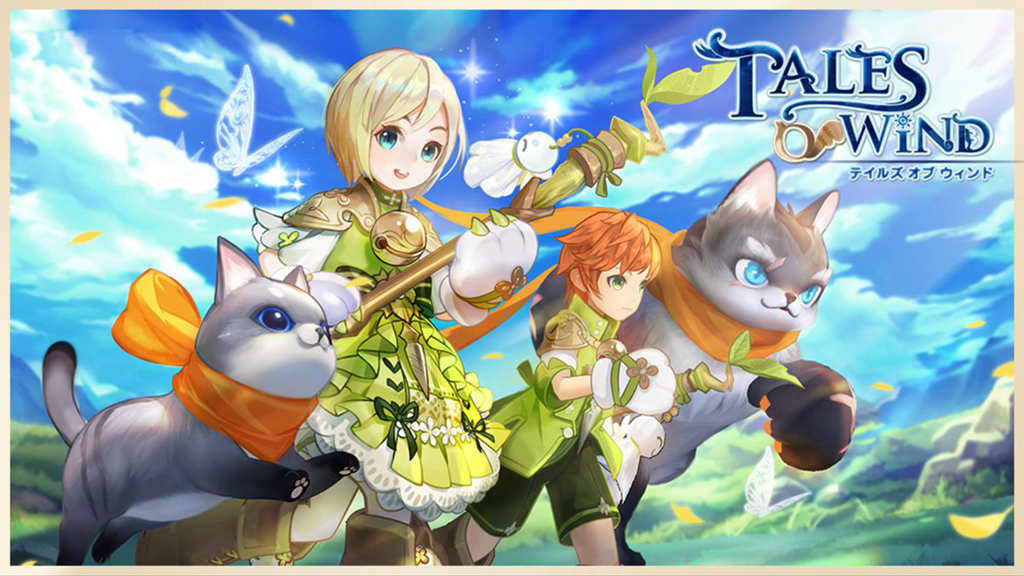 What is LDPlayer Android Emulator
LDPlayer Android Emulator, which is free for players to play Android games on PC, makes full use of your computer resources and provides first-class performance for your gameplay. What's more, with LDMultiPlayer, you are able to run multiple separate instances of one game, which makes your gameplay more colorful. And if you are eager to share your gameplay with your friends, LDPlayer Android Emulator can record your exciting moments.
How to Play Tales of Wind on PC
The first step to start your adventure on PC is to download LDPlayer Android Emulator. The following is the guide to install Tales of Wind on PC through LDPlayer Android Emulator.
STEP1: Click the above button to download LDPlayer Android Emulator and run the installer.
STEP2: Complete the setup and run LDPlayer Android Emulator on desktop.
STEP3: Click the search bar and search Tales of Wind in the LD Store.
STEP4: Download Tales of Wind and follow the instructions to complete the setup.
STEP5: Launch the game and begin your adventure.

With all the steps finished, now you can enjoy a more wonderful visual effect and smoother operation. Take up your weapon and fight for La Place.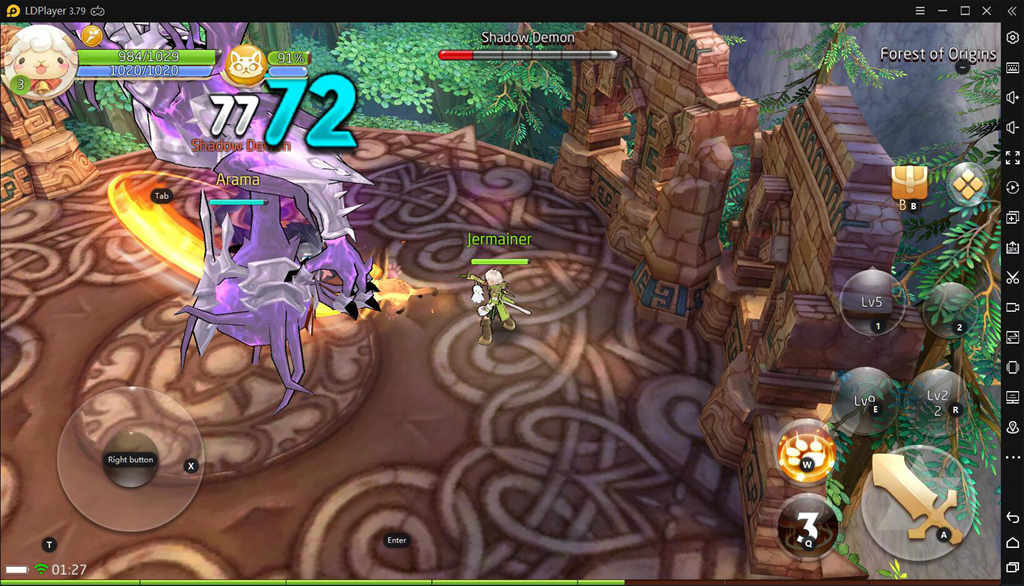 Benefits of Using LDPlayer Android Emulator to Play Tales of Wind on PC
1. Splendid visual effect with delicate pictures
One of the reasons why Tales of Wind has attracted so many players is its glamorous and pretty characters. With a larger screen and higher image resolution, you will marvel at the crafted details of their charming appearances.
Moreover, unlike screens of mobile devices, on a large PC screen, you will totally immerse yourself in the beautiful scenes of La Place. Use LDPlayer Android Emulator to play Tales of Wind, you will find the enchantment that you cannot find on a mobile device.
2. Smoother and more convenient operation
Generally, with faster CPU and larger internal storage, a computer has stronger performance than mobile devices. And LDPlayer Android Emulator can make full use of your computer resources in order to provide a smoother operation to the players.
In the world of Tales of Wind, you are required to defeat different kinds of enemies. To improve your fighting ability, you can use a keyboard and mouse to make your control more convenient.
3. Longer duration than mobile devices
When you indulge yourself in the fighting in La Place on a mobile device, you may sometimes get worried about the duration of the battery of your device. However, things are different when you play the game on PC. You can enjoy the game without duration limitation unless you suffer a power failure.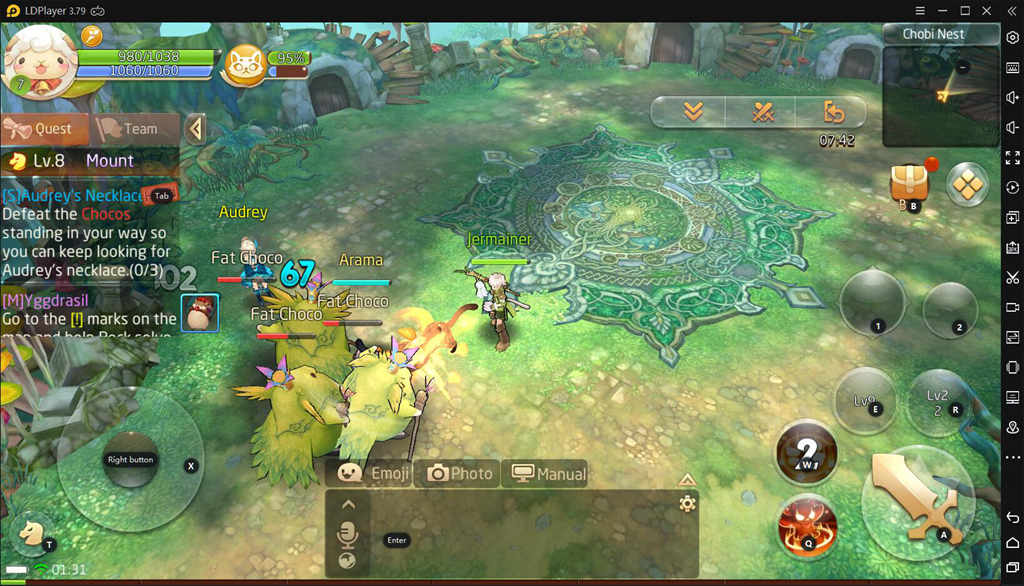 Simple Beginners Tips for Gaming Tales of Wind
Tales of Wind is a brand new mobile MMORPG with anime characters, action combat, challenging dungeons, and so on. In the fierce combat, you can relax from your busy work or study. And in the challenging PVE dungeon, you can deepen the friendship between you and your partners.
Also, you may encounter your soul mate and begin a romantic adventure. When completing the 2-Players tasks, the emotional connection between you and your soul mate grows stronger. You can hold a wedding in the church and manage a beautiful farm which belongs to you and your lover.
Very attractive, right? Before you explore this amazing world, we are going to tell you some tips to help you become a more powerful fighter.
1. Pick your class wisely
Before you begin your adventure, you will be asked to pick a class. In the beginning, you can see only four main classes, which are Warrior, Mage, Cleric, and Assassin. Don't worry. At the bottom of the class panels, you will be told that each class has 2 more promotion paths that they could follow. There are 8 classes in total, which are Paladin, Pyromance, Berserker, Priest, Ranger, Frostweaver, Asura and Ninja.
Remember, no matter which class you decide to choose, you are going to play an important role in your team.
2. Do not forget your daily quests
Like most MMORPGs, you will have several daily quests from which you could get various rewards or gears. The rewards and gears can help you strengthen your characters by increasing the BR. If you get tired of finishing the daily quests, do not forget the daily login rewards. Collect the rewards and maybe you will find them useful one day.
3. Put the best guardians in your array
To get a nice statistical boost, you can deploy a pet that you can capture with Egg Nets during your journey and slot it in your array. Putting your most powerful pet in your array is an excellent way to get stat boosts.
Conclusion
Overall, LDPlayer Android Emulator is the best choice for you to improve your gameplay. Without the inconveniences and limitations of mobile devices, you will meet a more wonderful world on the PC. Let's download LDPlayer Android Emulator and begin your adventure in Tales of Wind!