Not all Android games are released in all countries. Sometimes we have to use VPNs to connect to foreign servers in order to play some region-restricted mobile games. However, with so many VPN apps available on Play Store, it can be hard to know which ones to use. Also, while nothing in life is free of cost, finding an unlimited free VPN is the most challenging.
That is why we made a list of five free VPNs where you can use to bypass the geo-restriction and get access to those games. We just picked them from LDStore and made tests on LDPlayer Android emulator. It's believed that those VPNs can help you play region-restricted Android games on PC with LDPlayer. Let's check up on these five free VPN apps one by one.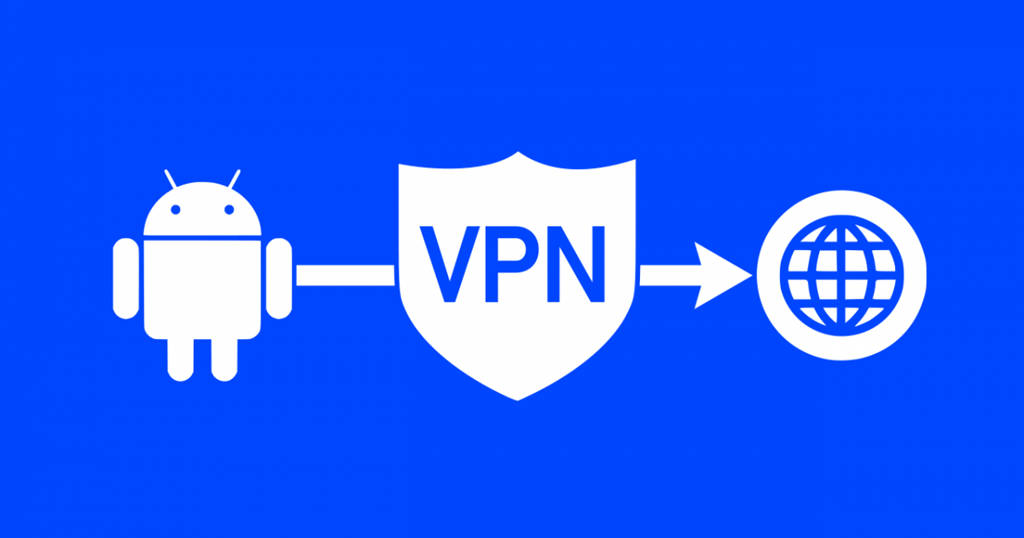 #1 iTop VPN
iTop was an Founded in 2016 and it has been creating tools and software that run on both desktop PCs and mobile devices. iTop products are used and trusted by more than 20 million users now. iTop VPN is one of the product and you can download the PC version of iTop VPN from their official.
iTop allows users to stay anonymous and safe with advanced Salsa20(chacha20)256-bit encryption. To make sure users can enjoy social interactions, games, and movies with no limits and borders, iTop VPN supplies 1800+ serves in 100+ locations, even ensuring users smooth and lag-free gaming & streaming experience with dedicated servers of WhatsApp, PUBG, Free Fire, Netflix, BBC iPlayer, etc.

#2 Turbo VPN
If you need a quick or regular VPN app, then Turbo VPN is the answer you have been looking for. As a hare to unlock sites when connect successfully, it not only offers access to geo-blocked or prohibited games and websites, but also it supports you to use one tap to connect the Internet without linking your account or agreeing any other additional terms.
With simplified and attractive interface design of Turbo VPN, even total novices can understand its fundamentals and use it with ease. You can get all information you need at the tip of your fingers by clicking easy-to-navigate buttons and windows. In brief, Turbo VPN is a great choice for those who are looking to find a free VPN service.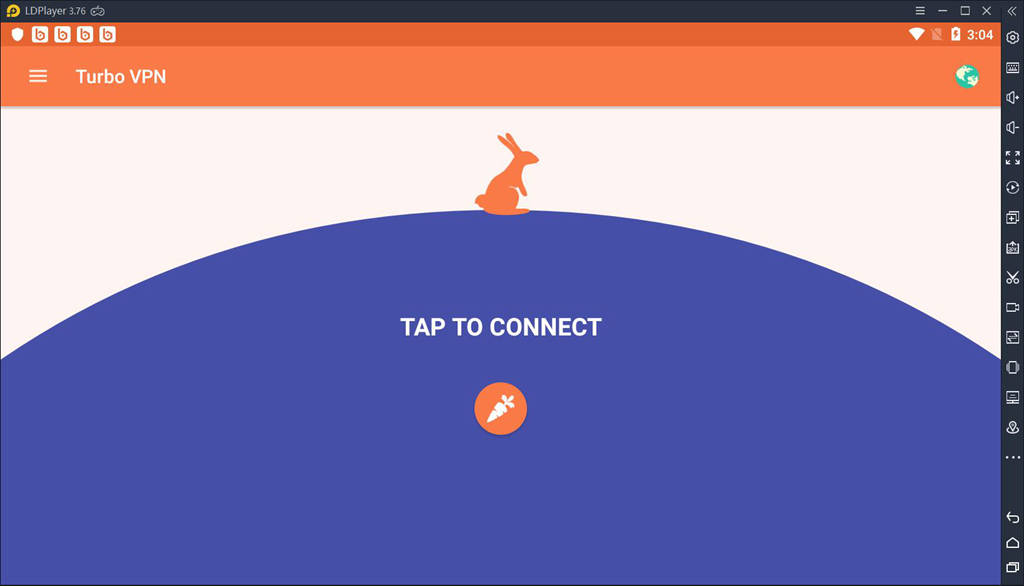 #3 Thunder VPN
Thunder VPN is a fast, unlimited VPN proxy that provides a free virtual private network. There is no need to register account when you use it so that you can run it quickly. Moreover, you have no fear that the third parties will track your online activity because it emphasizes on online security and user privacy.
Thunder VPN is also user friendly, offering plain and untroubled surfing when you are loading movies or games, requiring no specified configuration. Even though sometimes it stops working without telling you, you can check the app from time to time to solve this problem. In short, Thunder VPN ensures safer environment and faster speed.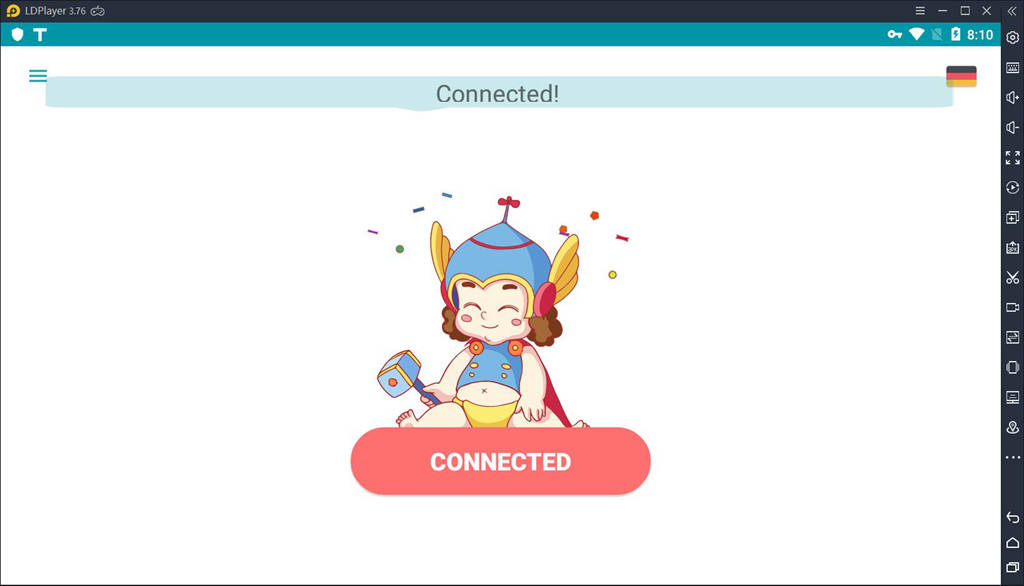 #4 Delta VPN
Delta VPN is another remarkable VPN with unlimited speed and bandwidth that is very rare in free VPN services. It can ensure 100% security and privacy when you browse through the Internet. Plus, it has uncomplicated and easy user interface, allowing you browse the Internet without difficulty. Only with a single click, you can connect to the VPN.
If you like playing games like PUBG Lite or Call of Duty Mobile, Delta VPN is a fantastic tool permitting you to play these games smoothly and easily. Additionally, Delta VPN covers over 30 different worldwide server locations where you can choose to browse the websites. With its clever privacy policy, you can connect the web anonymously.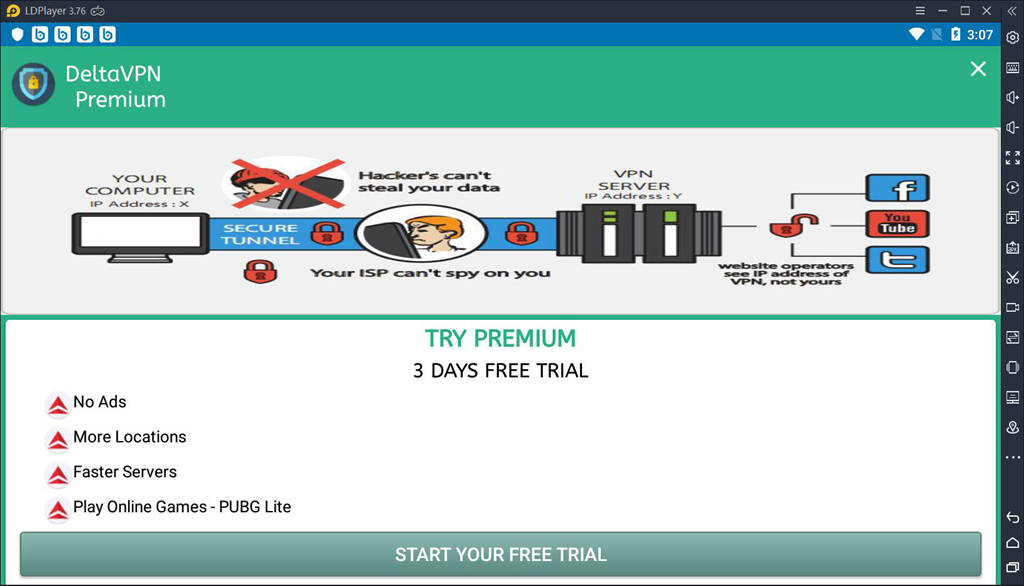 #5 Express VPN
Express VPN is high-speed, secure and anonymous VPN service attracting a mass of people. Its high-end encryption technology prevents hackers and trackers from snooping your online activity, or stealing sensitive information. The more advanced feature of Express VPN is the great split-tunneling system that protects the traffic you choose, allowing you download without slowing down other web activities.
Unlike just about every VPN provider who will reply your technical issue mechanically, Express VPN offers 24/7 customer service via Live Chat and email, so that staff will answer your question as soon as possible to ensure you can get detailed, helpful, and friendly information.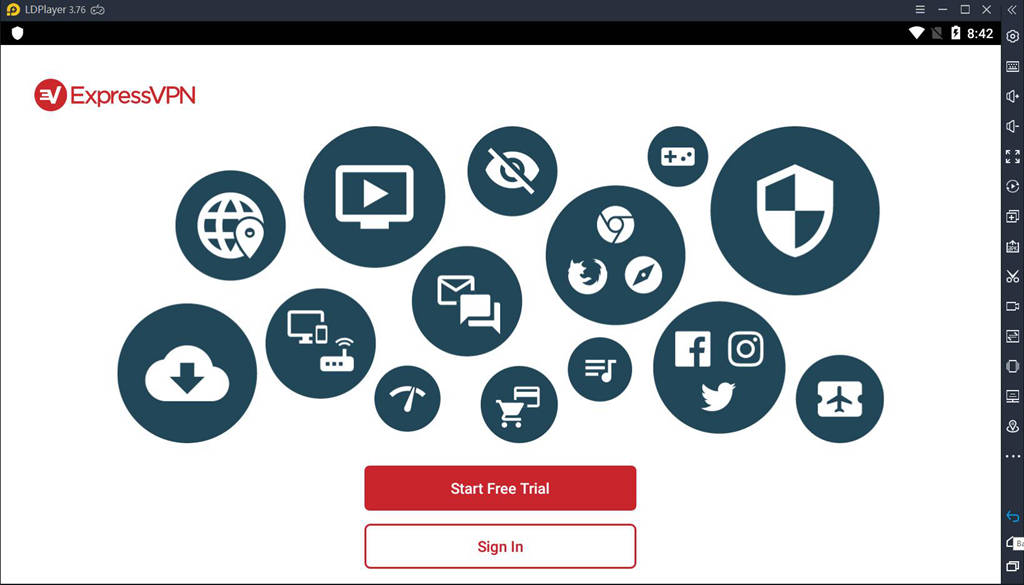 Conclusion
In short, these 5 free VPNs could allow you to play Android mobile games without region restrictions. You can choose one of the VPNs and download it on LDPlayer. And then enjoy browsering websites and playing your games.