Checkers is a household game being played for centuries. With various regional differences and many nuances to the game, porting the game to Android certainly has challenges. However, with all these developers lining up to make the best game possible, here's a list of the top 5 Checkers (Draughts) games you can play right now for free on your PC.
GamoVation's Checkers tops the list when it comes to providing players with the most comprehensive Checkers experience possible. It is available offline and online, which means that players can either play against the AI or against other online and offline players.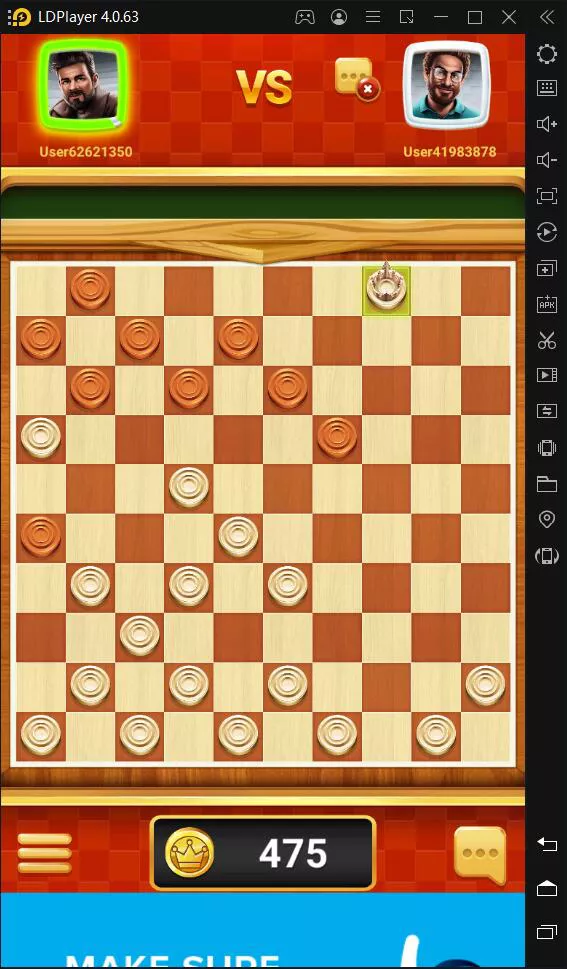 The game has tons of chatting features that let you meet with new people and interact with them, creating everlasting friendships within the world of Checkers! It features the American, International, Brazilian, Russian, Turkish, Spanish, Italian, Czech, and Thai rules, which keeps you entertained for hours on end.
The game also innovates with a brand new feature called Quick Checkers, where you are instantly matched into a multiplayer game in a matter of seconds which is meant for more casual and light play as the game runs faster than usual. Other than having great graphics and sound effects, the game incorporates several different themes, each based on a different world area, ranging from areas like New York, Paris, London, Amsterdam, and more!
It also has tons of unique checker-related skins, avatars, and the ace in the coffin, a complete competitive ranking system! With leaderboards set for people in your own country and globally, you can finally find out who the best player in your region is and can also compete in the world. Moreover, you can also play and unlock various achievements, which present you with different rewards that allow you to customize the game even further.
With a good progression mechanic, you'll be addicted to the game in no time, and rightfully so! It deserves the top spot in our list due to the innovations it features and the fact that it is the least buggy, most stable, and feature-rich out of all the offerings mentioned down below.
AI Factory's Checkers Free is the second-best game on this list; it provides slick, polished graphics in 2D and 3D format and lets you customize your game with multiple pieces and boards. What sets the game apart is that you can undo your moves and review them in real-time. So, you can find out all the mistakes you are making and work on them.
When you start the game, you get the name of the opening line you are using for both teams. This helps you identify what opening the opponent is using and help you learn the names of the openings you use. The game features six different checkers piece sets and seven boards with statistics for your gameplay being shown according to each difficulty you play with the AI. Surprisingly, the game has 12 different difficulties as well. While the AI is not as strong, it still provides a good enough challenge.
Unfortunately, the game does have some intrusive ads, which can get quite annoying quickly. However, they do not appear as often, which means they can be brushed off more often than not.
Coming in second, the game "Checkers" by the developer "English Checkers" is relatively popular. Its beauty lies in its simplicity but is also its biggest drawback. The game supports more than twelve different Checkers levels and incorporates AI into the game, allowing you to play against them whenever you please.
While the game has a relatively strong AI, a good Checkers player won't be experiencing many difficulties dismantling them as they seem to be quite primitive in their moves. Usually, the AI follows the same pattern consistently, which means that you can easily recognize and identify those patterns and start playing against them, which can sometimes sap the fun out of it.
Other than just the AI, the game also has an assistant or a helper, which provides you with tips whenever you feel like you need them. However, the basic AI used for vs. Computer and this helper is the same. So, you will more than often get the same hint over and over again, even though it might not be the most move every time. The game features great sound effects for what it's worth and has seven different themes ranging from white, dark, light, grey, gold, art, and black.
Another issue with the AI you might experience in the later levels of the game moving from Advanced to Expert is that the enemy will make the same move repeatedly until you lose. If you end up making the same move, the game ends in a draw, which means you are forced to either forfeit the game or end up losing, which can be quite annoying.
You can also play against another player locally. The game does not feature online play, but it does allow you unlimited matches vs. an AI and an opposing human who will be playing on the same device. The game also has two different board views, with one being vertical and the other being horizontal. The game clocks in at a few MBs and has an autosave feature, which means you won't be losing your game's data soon.
Here are all the different Checker game modes currently supported in this version of the game:
American Checkers (English Draughts0

Russian Checkers

Brazilian Checkers

International Checkers (Polish)

Spanish Checkers

Thai Checkers / Machos

Turkish Checkers

Czech Checkers

Pool Checkers

Ghanian Checkers / Dami

Nigerian Checkers / Drafts
"Checkers Online," developed by "Chess & Checkers Game," is a basic reminiscence of what it meant to play Checkers in your childhood. With an emphasis on multiplayer, you can play the game both offline and with your friends as well. Meant to be kid-friendly, the game holds back on player interaction and keeps everything under parental guidance.
One of the biggest advantages of Checkers Online is that you do not need to register an account to play the game. You just need to follow a few simple steps. The first step is to create a profile and choose an avatar while selecting your country's flag and nickname. Next, you choose your rules, and then you are in the game!
The game also features a premium currency, Gold which you can obtain either through playing the game or purchasing the currency. It allows you to get different styles of boards and designs, which adds a bit of flair to the game. However, do note that Gold does not help you in your game in any way or form, and it is your gameplay that eventually matters.
The game has five different types of AI, with each of them progressing in difficulty. You can start from the easiest level given to you and check if you can beat the AI. You will then be allowed to move on to the next difficulty. If you take up the Checkers Masters Challenge, you will get an achievement and gain Gold.
The game also has a different set of rules in the game as any other game present on the list. You can play American Checkers, where capturing is mandatory, but you cannot capture pieces backward with the king only moving one square.
The most commonly played version of the game is International Draughts, where capturing pieces is mandatory and can be captured backward. The king in this instance of the game has longer moves and, if a square is not blocked, can move at any distance diagonally, just like Chess.
Optime Software's Checkers Free is a multi-platform hit that has finally made its way to Android. The game is perhaps the most basic of these, which means that it can run on almost any device with ease. With the game around for centuries now, this is the smallest file size it has ever been compiled in.
However, this does not mean that the game is a slouch in any meaning of the word. It offers intuitive touch controls that let you play the game in both landscape and portrait on the phone in any dimension. You also gain access to an Undo button in the game as it does not have any online play, which lets you remove the last move if you feel like you could have made a better one.
Like other small file size Checkers games, you can play with the AI or play against a friend on the same device. The game features a 2D board and relatively well-packaged sound effects that provide depth to the game but are not overwhelming.
The most advantageous part of the game is the research done on its AI. Lead by renowned researcher Martin Fierz, the game features tons of different difficulty levels that either let you tip the scales in your favor or make it nigh impossible for you to win anytime soon. You also gain the ability to enable and disable forced capture.
However, where the game lacks are in its rule sets, it only features American Checkers and English draughts, which is not a lot compared to other games in the list. However, what modes it does have are very well made due to emphasis on the computer / AI being as smart as possible. You'll be able to enjoy the game on every difficulty and will have a lot of fun trying to test your wits on the AI.
One more interesting feature in the game, which is quite a rare find, is that the game autosaves whenever you receive a phone call or even exit the game. Rather than leaving the match and saving it, you can leave the match or even shut your device down at any point, and the game will automatically detect that instance and save your last position, saving you a lot of frustration if you accidentally tab out of your important match only to find out all your progress being completely eradicated.
Plus, the game generally has relatively unobtrusive ads, which means that you won't be bombarded with advertisements as soon as you pop the game open, which is another plus. So, while extremely simple, the game does offer all the basics like configurable player names and score tracking. The reason why this game is generally preferred over the previous two in terms of popularity is sole because of its stronger AI as most players tend to play Checkers offline and want to compete with someone who they have a chance with but is also difficult enough to be intriguing and intimidating the first time they boot the game up.
Conclusion
With a plethora of games to play, each of them has their advantages and disadvantages. After taking a close look at all the pros and cons we've mentioned above, it can be clearly stated that GamoVation's offering is the best one!