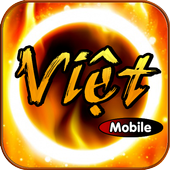 Võ Lâm Việt Mobile
Updated at: 2019-05-23 15:50:49
Downloads: 42
Võ Lâm Việt Mobile IMAGES
Võ Lâm Việt Mobile INFO Installation tutorial
Phiên bản hiện tại: 1.1.0.1

Ngày cập nhật: 17.04.2019

Cấu hình yêu cầu: Ram 2.5 Gb trở lên
READ MORE >
COLLAPSE > >
×
How to download & play Võ Lâm Việt Mobile on PC
1. Search Google for LDPlayer/Directly enter the official website of LDPlayer (//www.ldplayer.net/) to download LDPlayer.
2. Install LDPlayer: Directly install/Overlay installation (The installation path can be customized), click Install and wait for the installation process till it is successful.
3. After LDPlayer is installed, check whether the mark "VT" is shown in the top right corner of LDPlayer if LDPlayer is stuck at 94% or 50% (If VT is not shown, it means that VT has been enabled).
4. If VT is enabled but the problem remains, you need to check wheter your graphics driver is updated.
5. Open LDStore and type the name of app or game to search for it, and click INSTALL.
6. The solution to the crash: Increase CPU and RAM of LDPlayer; Switch from integrated graphics to discrete graphics; Update the graphics driver; View the CPU and RAM of your PC and then reduce the usage of them.
7. Lag: Increase CPU and RAM of LDPlayer; Switch from integrated graphics to discrete graphics; Update the graphics driver; View the CPU and RAM of your PC and then reduce the usage of them/the used memory of graphics card should be viewed when multiple instances of LDPlayer are running.
8. The APK file you want can't be found: Go to Internet to download the installation package (APK file), and then directly drag the APK file that you downloaded to LDPlayer. Or you can install it through the button Install APK on the right toolbar of LDPlayer; If you have a Google account and the game you want is in the Play Store, you can directly open the built-in Play Store of LDPlayer and then search for the game or app you want and directly click install!
9. Disable root permission when you encounter the prompt such as An emulator is running/Anti-virus software confilicts with the game program/ This device can't be used to play the game and so on.
10. The prompt Installation failed appears during installation: Restart your network.
11. Disconnect from Internet: Exit all your anti-virus software, including the built-in firewall of Windows; Download the tool for resetting the network; Right-click this tool and select Run as administrator; Restart your computer after it finishes resetting.
Perfect handling experience
Play games with keyboard and mouse
Operate simply and conveniently
Seckill mobile players in one hand
Multi-player
Play multiple games at the same time without restrictions
Small footprint
Stable and smooth
Perfectly compatible with games
Operation recorder
Operate simply and fast
Record and execute
Powerful effective function for AFK
LDPlayer 3.63 Release Notes
Release time: 2019-06-05
Download
1. Optimized NVIDIA rendering performance, greatly increasing the smoothness of games.
2. Introduced fresh new input method. Various problems of input method were solved, input windows can be accurately matched and dynamic cursor can be followed in real time. Typing is faster and more comfortable.
3. Fixed an issue where Google Play services had stopped (You may need to uninstall and reinstall LDPlayer to fix it).
4. Throughly fixed an issue where the input method wrongly popped up when pressing the keys of keyboard. There is no interference during a game.
5. Fixed an issue where some games froze after turning on the microphone.
6. Fixed an issue where LDPlayer couldn't be launched on some Windows XPs.
7. Optimized the key operation delay. The key response is faster and more direct.
8. Added support for more gamepads and more extension keyboard mappings of gamepad.
9. Added support for installing XAPK by means of draging it into LDPlayer.
10. Added a function of merging multiple scripts.
11. Fixed an issue where some games occasionally crashed.
12. Fixed an issue where Homescapes crashed.
13. Fixed an issue where Eternal City crashed (For AMD graphics card).
14. Fixed an issue where Revue Starlight Re LIVE couldn't be entered (You need to uncheck the root permission in settings of LDPlayer).
15. Added support for HD graphics quality in Super Mecha Champions.