Touhou LostWord mysteries of the losing words have not been solved yet. Marisa and Reimu are still searching for the end of this mystery and we are still searching for the missing words. So these missing and hidden words searching are now going through another update that came on the 18th of July 2021.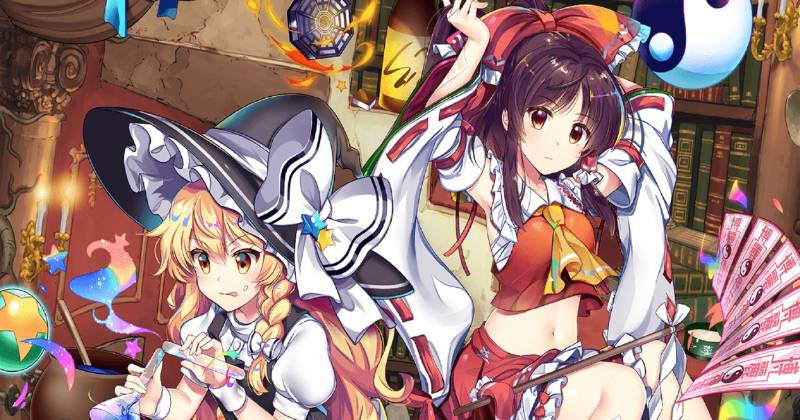 So this time the Touhou LostWord is coming with a new update, a limited prayer, new content, and the prayer Lunatic Rabbit and the Blazing Immortal. These all events are now happening with this RPG and let's find out what we are going to get with these new updates.
So download Touhou LostWord on PC and we will start our game with the newest update.
The Newest June 18th Update
A newly adding update is coming with a login bonus for the Reisen's Mock battle. Resien Mock battle is giving a login bonus to the players and this login bonus is starting from the 19th of June and will end on the 25th of June 2020 until 23.59 UTC. On this login bonus, you are allowed to have several gifts and players have to take these all rewards through the event period.
You will only have one chance to claim these rewards in the game.
Reward List
Day 1 will offer one Plum Tiles (3)

Day 2 will offer one Wagashi

Day 3 will offer one Bamboo Tiles (3)

Day 4 will offer you one Wagashi

Day 5 will offer you one Chrysanthemum Tiles (3)

Day 6 will offer 1500 coins

Day 7 will offer one Orchid Tile (3)
Pre-event Reisen's Mock Battle
This pre-event has started on the 18th of June after the maintenance of the game and will end on the 16th of July until 1.59 on UTC. During this period of the event, there are many rewards that a player can take and it will include the new costume of Reisen.
This is the second event of this game Touhou LostWord and Reisen in here is undergone battle training. She is setting up to take a new outfit and there are lots of goodies to be earned through this event. To unlock this outfit you have to unlock the Reisen first and after that, Outfit will be forever yours.
Just like the first pre-event on this game, the Mock battle of Reisen is coming with a series of missions on the time gates. They are available to check by you on the missions menu. There will be two kinds of missions here as daily unlocking and sequential order completion on your leisure. These sequential order missions are expiring daily.
There are unlocking missions are available for the players daily and if you really want to start working on these pre-events, you need to wait 8 days from its start, and then you can achieve them all through the blast.
To unlock the new costume of Reisen, you need to complete all the missions in clear stages. These unlocking will involve the stages from the chapter one to 2 of Act 1 and they are set to complete at a normal difficulty level. You can't retroactive them. Players are not enabled to retroactive these. You might already finish the stages, but you have to complete them again once there is a mission for counting.
If you have already started at a late phase and would see any of the missions, don't be scared. These missions are unlocking subsequently and each time when you are completing a current mission, you can unlock the next which are currently available for the players. When you are able to finish the last mission, you can take the Reisen's outfit and in addition to that, you are gaining some skill books as well.
When you want to earn the full rewards, you have to complete other missions too and they are spread into the form of two types as follows.
Limited Time Missions – once a day, you have to log into the event and win 30 amounts of battles. These missions are expiring at the daily reset and you don't need to carry over them. If you have already missed a day, you will lose out on the missions. Players can gain scrolls. Incense wood, tiles, and the skill books through this.

Other Missions – these are the missions that are unlocking every day and although you are a late starter, you can take a new mission copy every time you are completing a current copy. These missions are coming under four types as 3 Errands completion, dojo once finishing training, providing food for the school once and the battle using 500 of Spirit P. Those who are completing these missions can take skill books, scrolls, and wagshi.
The shop of the Mock Battle packs on Reisen is started after the maintenance of the game on 18th June 2021. And this period is ending on the 25th of June when it is 1.59 on UTC.
Prayer Lunatic Rabbit and the Blazing Immortal
So this is the prayer that comes with the update that happened on the 18th of June. Players should never miss this opportunity and there you take the reisenUdongeinInaba with Fujiwara no Mokou. These two are coming at the highest level of drop rate and will be only available for a limited time. So there is no time to engage with this prayer and grab your opportunity as soon as you can.
The payer is started after it is maintenance on the 18th of June and going to end on the 21st of June 2021 when it is 1.59 on UTC. Players need to be alert that the Flandre Scarlet, Remilia Scarlet, and the Fujiwara no Mokou are going to be added to the pool of standard prayer.
Start to play Touhou LostWord by referring to our Beginner's Guide.
Limited Prayer for 72 Hours
This is dedicated to the players to boost their roster. Their booster is going to be boosted with one guaranteed character from each of the 10x prayers. You are given a three chance within 72 hours to pray up in the game and it has to be started from your first login. The first login also has to happen from the prayer period.
There is only one limited character called Yukari Yakumofeaturing in this 72-hour festival prayer. Limited prayer is started on the 18th of June after it has been the maintenance of the game and will end on the 16th of July when it is 1.59 UTC.
Maintenance Rewards
As this update is coming after maintenance to Touhou LostWord, the game developers have decided to rewards the players with some rewards for the patience they hold. These are the rewards that a player will be awarded and these are directly sending to the mail.
Five of the seal crystals

1500 of coins

500 of spirit points
You need to claim these rewards from the mailbox within 30 days and if you are unable to claim them within the time, you will not be able to claim them anymore.
Upcoming Scarlet Devil Tower the New content
The newest content has been settled to be released in July 2021 and it is the scarlet Devil tower. This is end game content on Touhou LostWord and players have to climb up to the tower in here. Climbing has to be done by clearing all the battles on each floor and each of them will have various bosses. You need to fight with them and defeat them all to climb up onto the tower.
The main task to do here for all the players is to defeat all the enemies. That is how you are getting the chance to climb up the tower named Scarlet Devil Tower. You and your friends will not be recovering after every battle and recovering has to be done with the units. You have to use all the units of yours to reach the top into the next floor.
Players have to be sure at the leveling up of various friends and their respective skills. So that you will be prepared for the upcoming challenges that will release don the scarlet Devil Tower.
To have an effective reroll with the fastest reroll steps, you can refer to our Touhou LostWord Reroll Guide.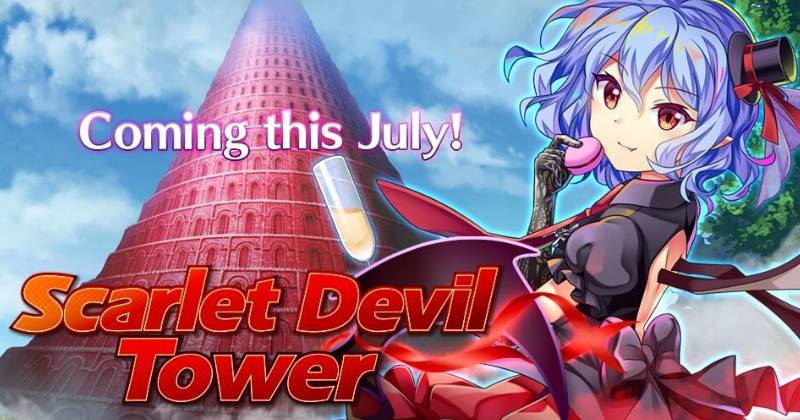 Conclusion
Touhou LostWord is coming with some undergone changes with the new update that happened on the 18th of June. So this is the best chance for you to grab the opportunity on earning your upgrading and it's about to release another upcoming content as well. So refer to this guide to know everything about these updates and the newest coming contents on Touhou LostWord