Hello, there, dear gamers; a massive hello to everyone. We hope you have heard of Tank Battles 2D by Net's game Studio. Today we have brought you a beginner cum tips guide for this game. This game was recently launched into the gaming industry and had a high rating. The game does not only use attacking skills but also depends highly on strategy.
Table of Contents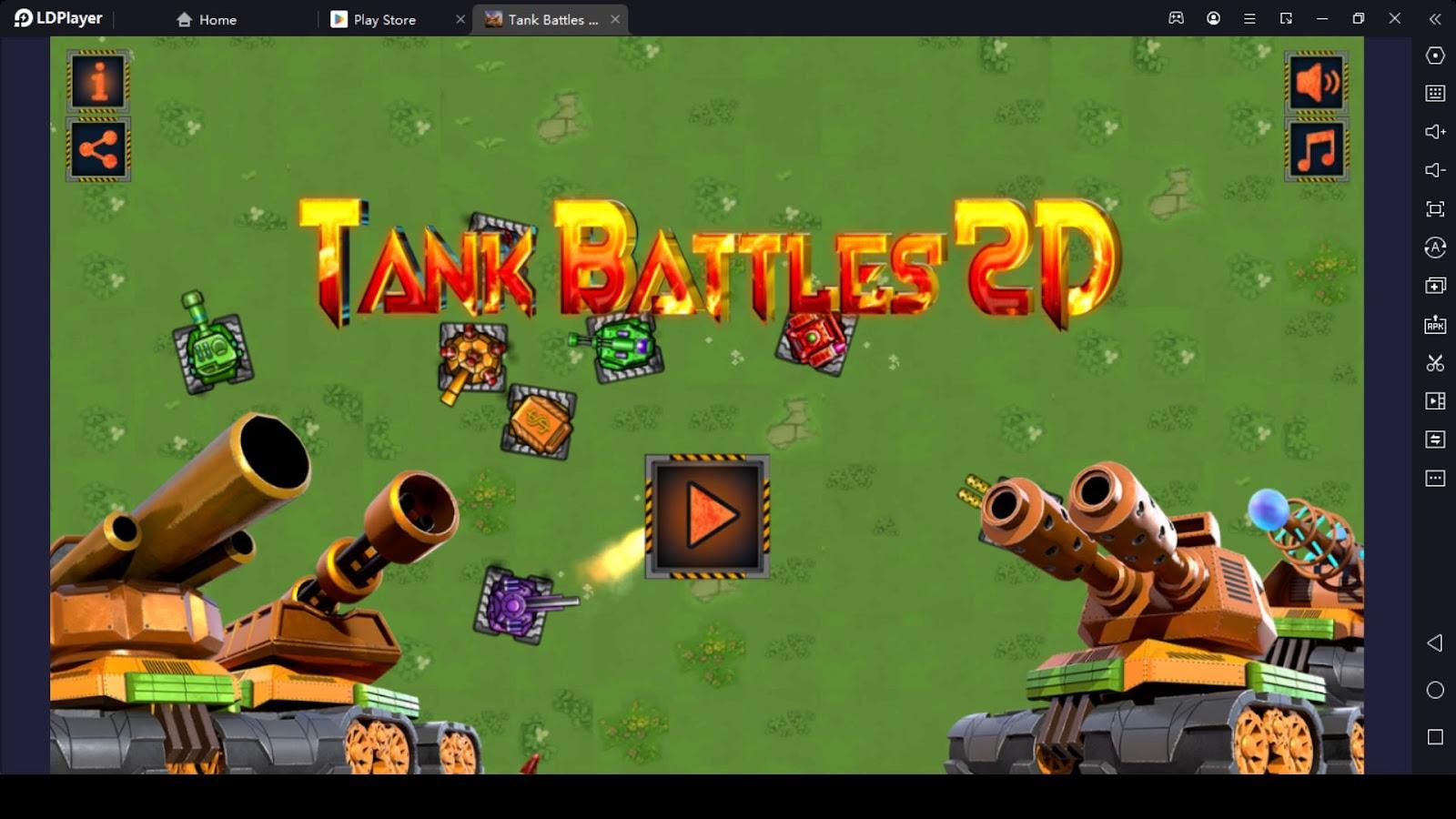 Apart from this, Tank Battles 2D has three play modes for the players. The game having great gaming content keeps attracting many gamers out there. With a rising fan base comes a beginner guide to aid starters. So let us not take our time for granted and look into our beginner guide. Take Tank Battles 2D on PC with LDPlayer 9, and follow the manual from here.
Guide on Moving Around the Battlefield
As beginners, we would all have doubts about moving around the battlefield. In Tank Battles 2D gameplay, they do give you instructions about this. But it would be pretty complex to remember. To move your tank around, move your finger on the screen on the left side. To unleash an attack, do the same procedure on the right side screen.
This process in Tank Battles 2D can be confusing at the beginning. With more practice, it will be easier. Make sure to stay calm. When you get overwhelmed, moving your oval cursor around will be hard. Keep calm and remember left is for movements and the right to unleash attacks.
A Guide to Gameplay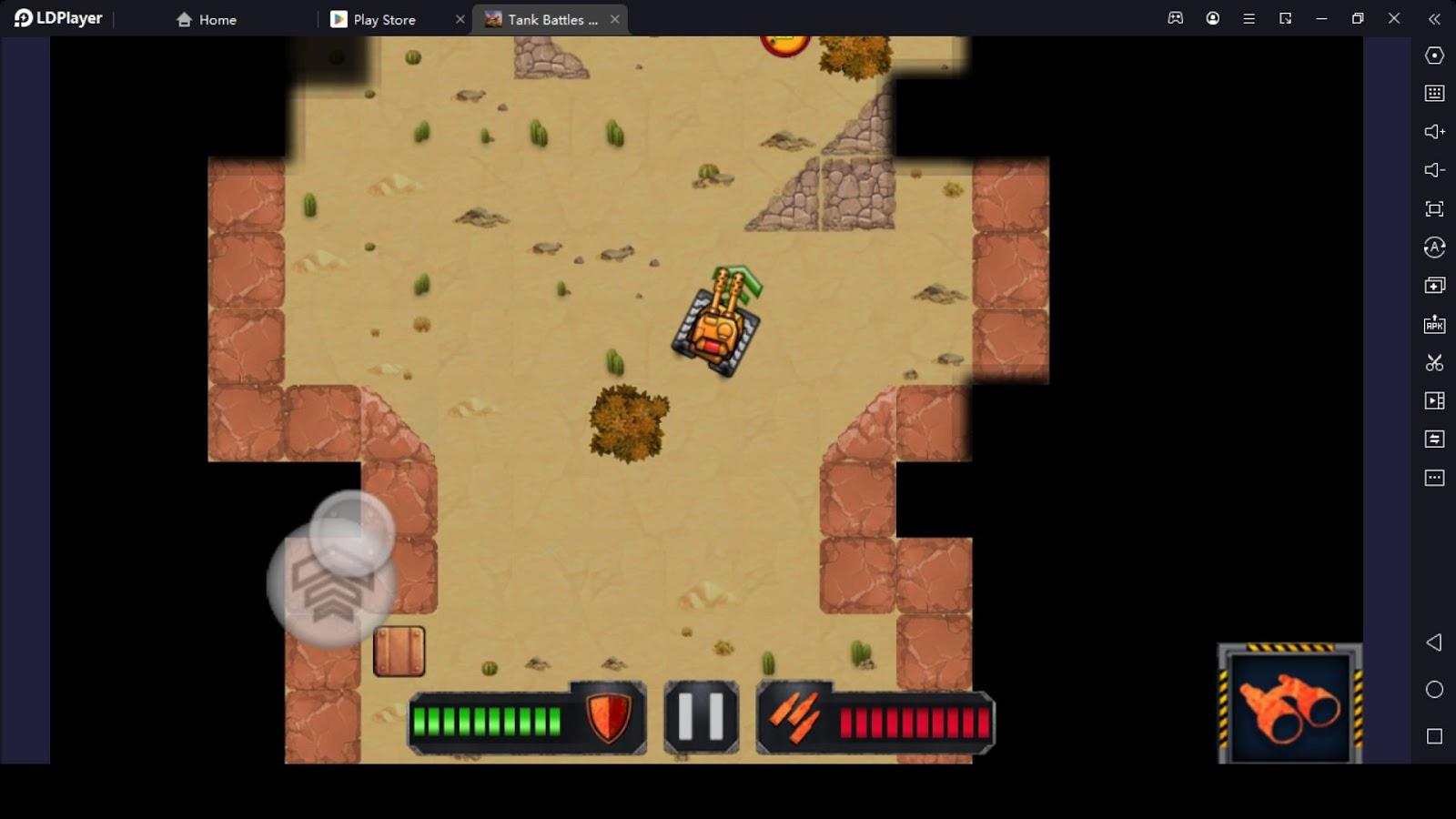 Instructions on playing the game will be given to the players initially. But sometimes, we find it hard to get the hang of it. Mostly you will be met with a black screen in front of you. When you move forward, the black screen will clear your path ahead of you. You will need to destroy the blocks before you move forward. As new players, we are highly likely to forget about this. By heart, this key point. This is highly important.
Tank Battles 2D Guide on Upgrading Weapons
Upgrading your weapons can have an enormous influence on any game. And a game like Tank Battles 2D will need a weapon upgrade from time to time. To upgrade your weapon, you would have to pay gold coins. Initially, only one weapon can be unlocked. More weapons can be unlocked with gradual progression in the game.
We highly suggest you upgrade your Speed and Armour. Leveling up in the game will bring in complex battlefields as well. To withstand such a challenging environment, you must upgrade your weapons. The price to pay for upgrades increases with each level. Upgrading Speed makes your tank more swift, and upgrading Armour provides protection.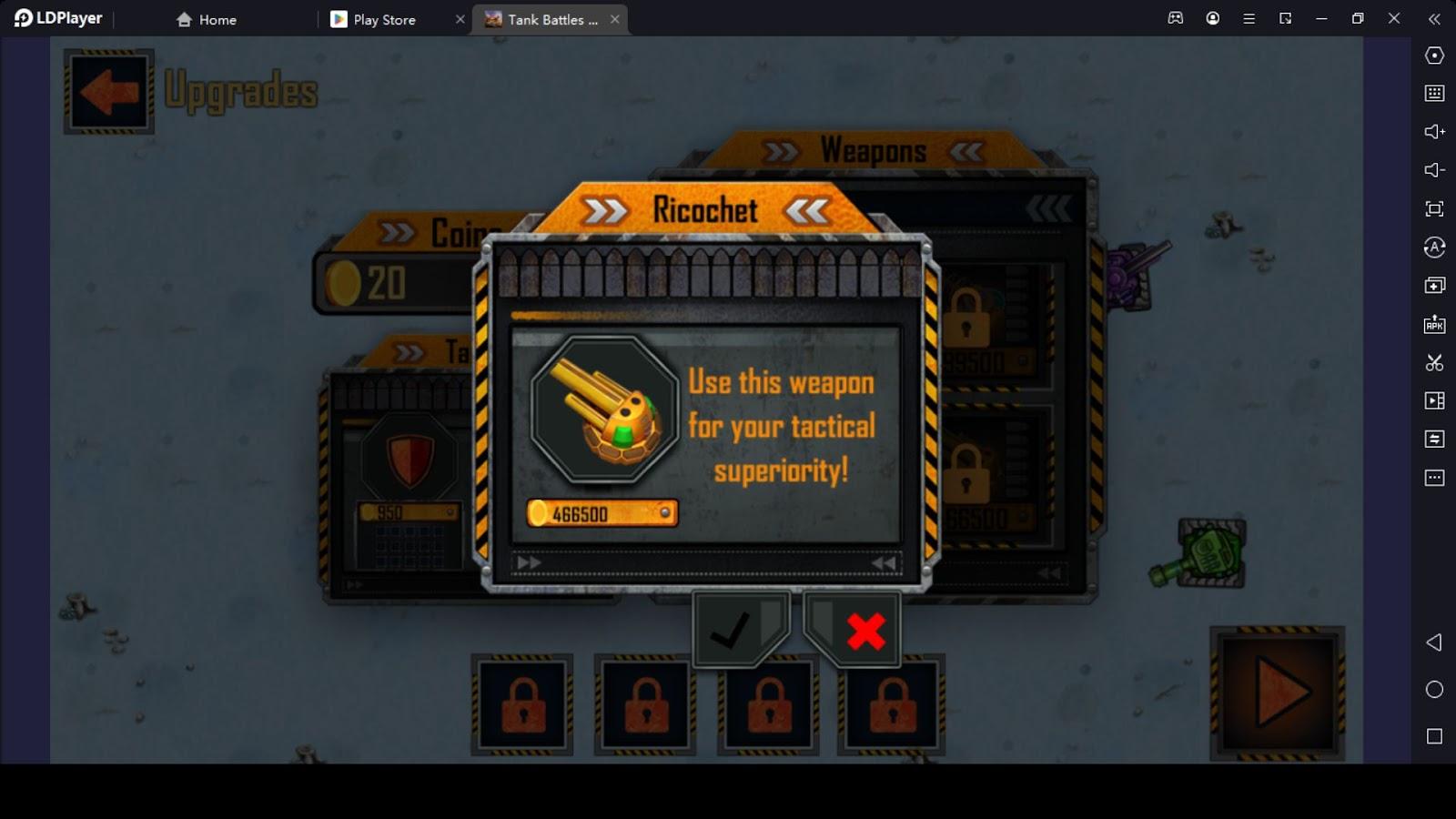 A

Guide to Gold Coins
Initially, you will earn a few gold coins by playing a less complex battle. Later at the bottom of the screen, you will have some options. And the gift option will be one of them as well. By breaking the gift box, you will earn gold coins. You can earn gold coins even if you fail your battle.
You will be given gold coins for the number of enemy resources you destroyed. Apart from these methods, you can also buy gold coins. You can purchase these from the Shop. But you would need to pay real money to buy these enormous amounts of gold. Killing many enemies and gaining many gold coins will be a double bonus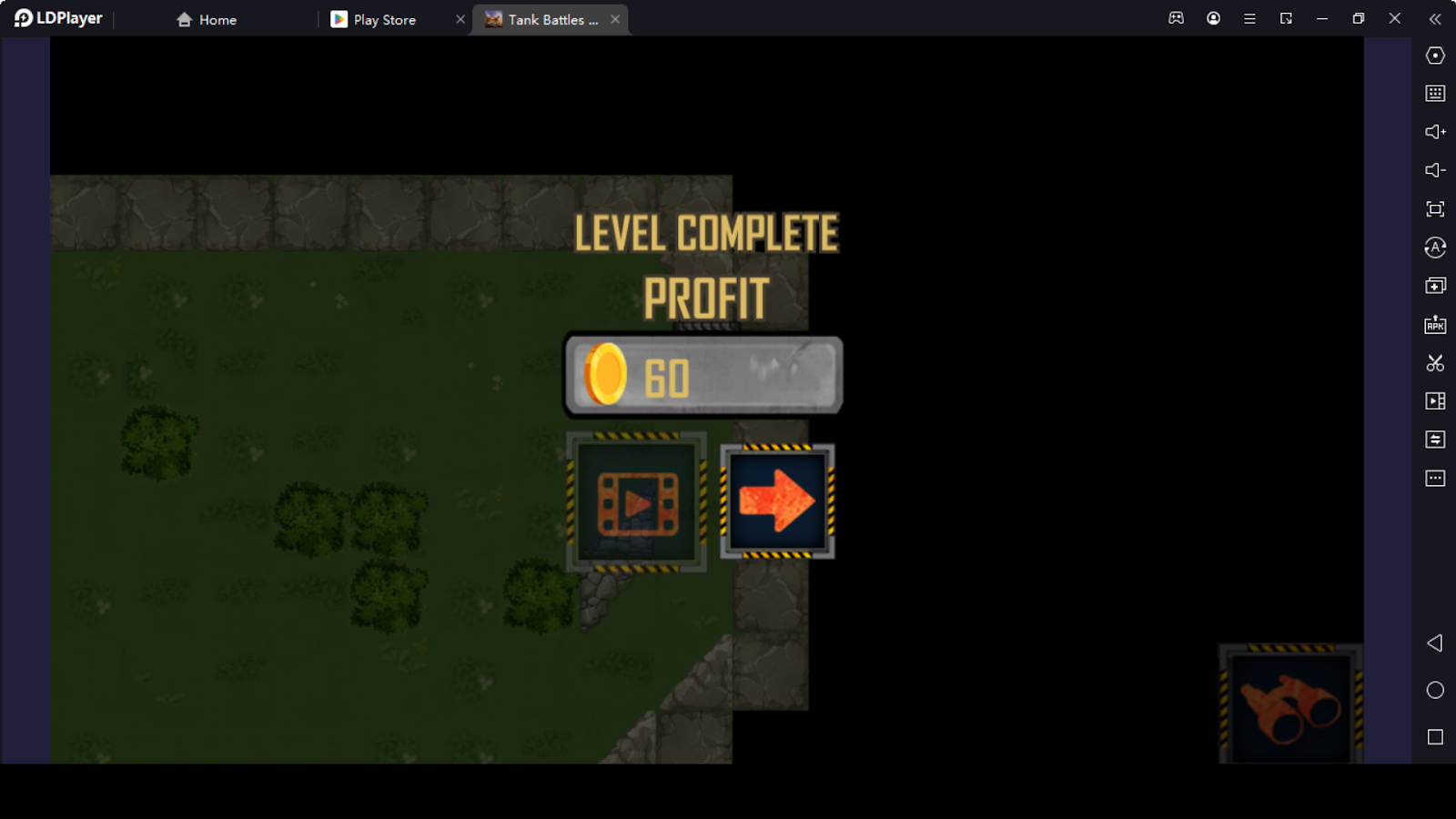 Earning more Coins when you are Stuck in the Middle of the Battle
It is super normal for players to get stuck in the middle of a game by failing a level. This hurdle will only let you get past a particular stage. Thus making it hard to earn Gold coins. When faced with situations such as such, we highly recommend you return to the previous levels. We highly suggest you play the previous levels again. Through this, you will earn more gold coins than the coins you lost. The Gold Coins play a major role when it comes to weapon upgrading.
Destroying Your Enemies
The more you progress, the more enemies you will fight off. We have a pro-strategic tip that will help you to defeat your enemies without much hassle. Do not seek out the enemy; instead, lure them out of their location. And when they come near, you unleash your attacks. Also, at the same time, if multiple enemies march towards you, covering yourself behind the huge boulders might buy you some time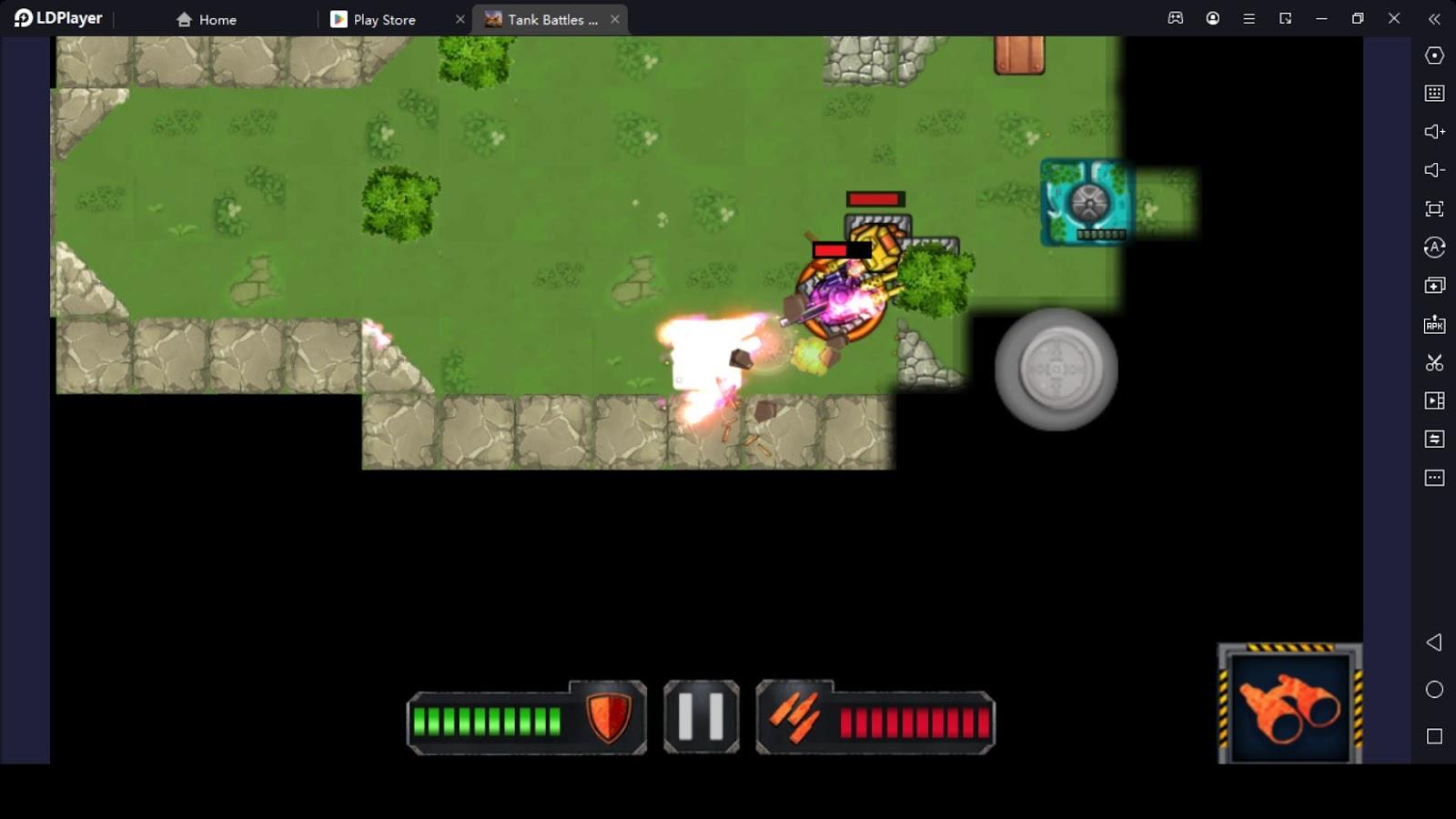 The health of your tank can be checked at the bottom screen. An Armor shape represents the tank's health. During the battle, you might destroy the crates. Among these crates, there will be medical kits. These kits will help you get back to health. At the same time, the attack you receive needs to be less than the attack you receive. With every episode you get, your tank health will gradually decrease.
Upgrading your Weapon
A vast screen divided into is present. On the left side, you will have Speed, armor, etc., upgrade. There is an Upgrade option on the right side of your screen. Only click the right-side upgrading icon a few times. The Upgrade icon only is clicked five times. You will not be allowed to use this option after five clicks.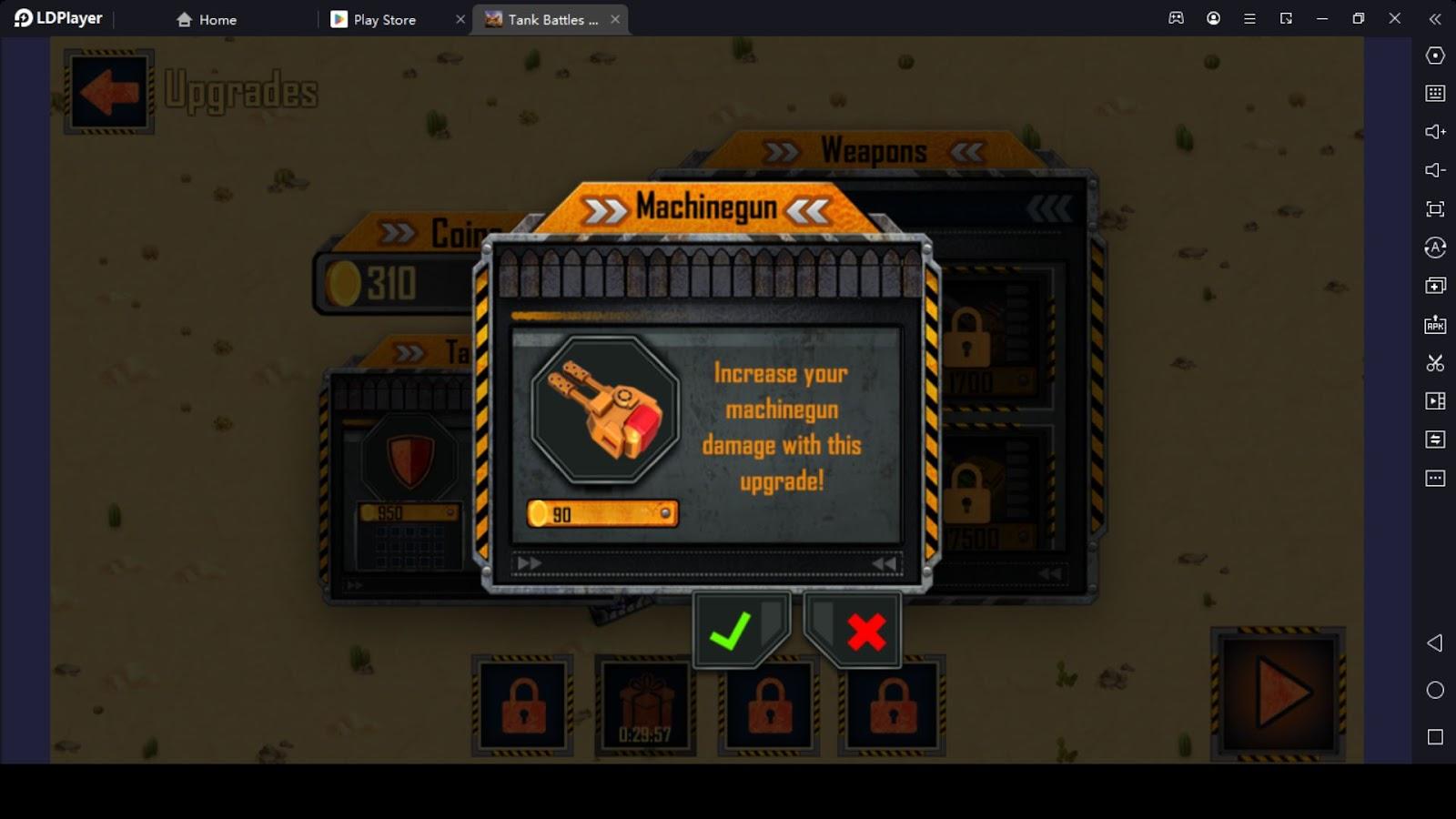 We recommend upgrading your Speed and Armor. You can click the entire weapon upgrade when the battlefield turns highly competitive. During the initial stages upgrading your whole weapon system is fine. Moving further into the game, ensure you upgrade your entire weapon only when required.
Tips on the Battlefield
The battlefield is going to be extremely harsh, especially with the progression. When faced with multiple battle tanks, refrain from attacking from a corner. You would need to move forward. Moving into a corner will get you in a complex situation, and it will be hard for you to attack them back. Apart from this we highly suggest you hide among the bushes.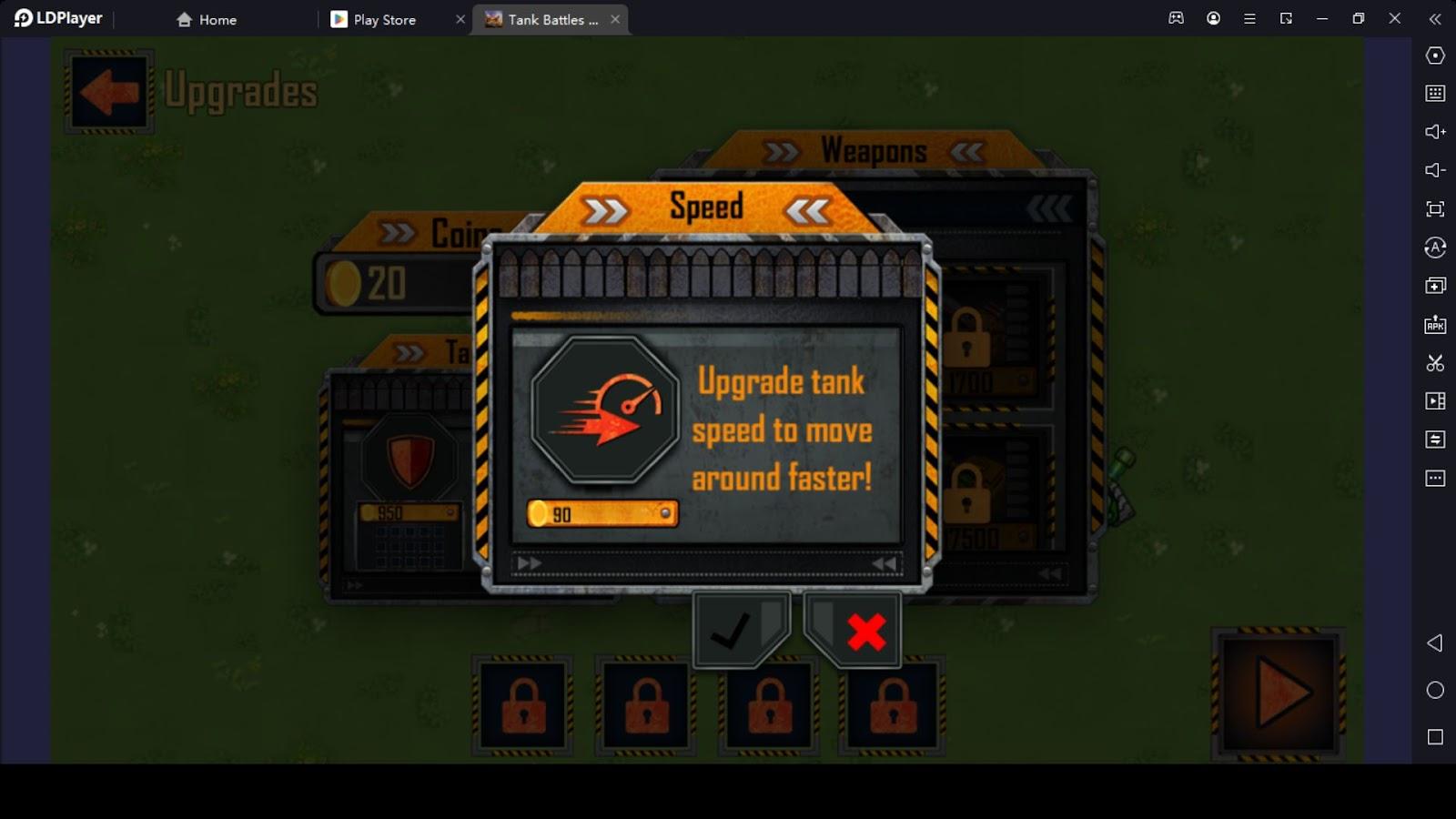 In the battle arena, you will find many bushes. Use these bushes as a shield to protect yourselves from the enemies. Focus on the mission at hand. For example, if tasked to destroy enemy crates, prioritize it. After accomplishing your primary job, you can beat other enemy spawns.
Conclusion
And now we shall part ways, for we have reached the endgame of our Tank Battles 2D beginner guide. The game recently launched has some great gameplay. Apart from the typical video game genre, this game works our brains primarily. The players must practice more to get the hang of the game. But with our comprehensive guide, we are sure the beginners will not find the game much hard to master. Since Tank Battles 2D has some unique graphics systems, remember to go with the best android emulator: LDPlayer 9, for a higher level of gaming experience, achieved.