This article will review Summoner's Greed: Idle TD Hero by PIXIO. Summoner's Greed is an Idle Tower defense game released in 2017. This game is available on Android and iOS devices as Summoner's Greed: Idle TD Hero and Summoner's Greed: Empire TD.
I have been playing this game for a while now. So, this will be a 100% honest review on my part. I will tell you what I liked in the game and what I didn't. Let me also tell you that, Summoner's Greed: Idle TD Hero has mostly positive reviews on both App Store and Play Store.
About the Game
---
Summoner's Greed IDLE TD Hero is a Tower Defense game. It allows you to strategize and place your towers/monsters to protect your loot from the Kingdom's Heroes. You will also use powerful spells to throw fire, ice, and lightning at heroes to stop them. Use every move in your arsenal to defend yourself from the endless attacks of the kingdom's heroes.
The game features several heroes you have to defeat and prevent from reaching your loot. Summon monsters and minions using summoning stones and place them on the empty slots to stop heroes. Each hero has an attack power, and after every ten levels, one of the powerful heroes with the highest power level will enter the battle. The Elite Knight is the most powerful hero, and you don't want to mess with him.
In between the game, exchange your gold coins for orbs and stones from the seller. If you don't like the offer, decline it. Earn magical orbs that are required to open magical portals to summon monsters and other creeps to assist you in defending your loots.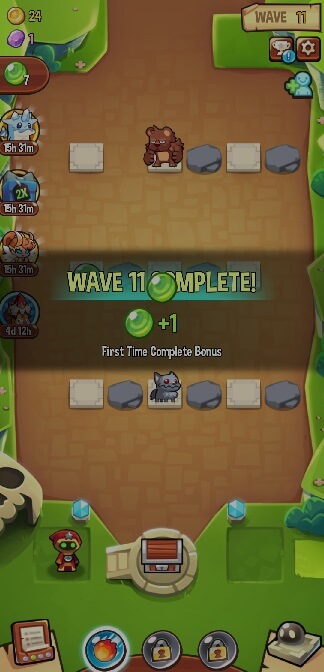 Gameplay
---
Summoner's Greed has a simple enough gameplay to figure out on your own. Summon the monsters using orbs, place them and strategize to stop heroes from reaching your loot. You can also use gems to summon more powerful monsters to strengthen your defense. Also, you can level up your monsters by using coins. But this will take time as you get one coin for each hero you defeat. But, on the bright side, this is an Idle TD game. So, even when you are not playing, it collects coins for you. The longer you leave the game, the greater is the reward.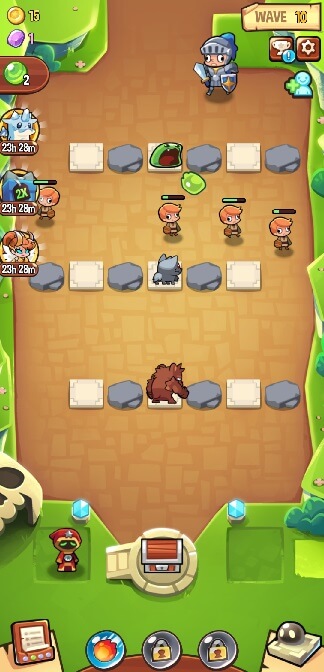 What did I like in Summoner's Greed IDLE TD Hero?
---
It is a free game, so you would expect that there will be a lot of ads that will pop up in between the game out of nowhere. But that's one thing I liked about this game, Summoner's Greed has very few ads, and those are also not too frequent. You can lay this game offline, which means you will never have to watch ads. The only time you require to watch ads is if you need some extra reward. The game does not force you anyway to watch ads.
Like any other idle game, this game also collects coins and rewards when you are not playing the game. Once you start the game again, you see the available rewards, claim them. The Best part is that the game does not confuse you with complex gameplay and menu design. Everything you want is there on just one screen. The game offers 50+ monsters as of now. As the game progresses, the difficulty increases, and you require more powerful monsters, so you got several options to choose from.
Tutorials do not waste time. Although you can't skip, it takes you through all the necessary details. The background music of the game is also perfect. It allows you to stay indulged even when you don't have to control the monsters to attack.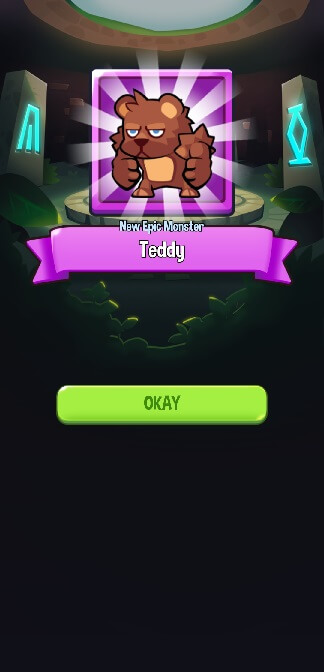 What didn't I like in Summoner's Greed IDLE TD Hero?
---
Now coming to the bad parts of the game. It is a free game so, you can't expect it to be perfect. The first problem with the game is Speed. The game sometimes feels too slow. You can't skip the celebration part, though the celebration is short when you have to repeat some levels.
Another thing which I didn't like is that, once you lose and restart again after that, you have to wait for 3 hrs to restart at the same level or start with Level 1 again. This isn't very pleasant. Like, even if you are at level 28, either wait for 3 hrs or start all over again. They should reduce the wait time or make the game start at a certain lower level again instead of from level 1.
Another bad thing is the game progression. Monsters become weaker with time, and you have to upgrade them every time. Games modes can be added for more fun. With the same mode and increased difficulty, the game might seem tedious. The developers can also add more maps for battle.
With these changes, the game can be more fun and motivate me to keep playing.
Conclusion
---
With really amazing and not-so-complex gameplay Summoner's Greed IDLE TD Hero is one of the best TD games available. It is a stress-free, simple, intuitive, and relaxing game to pass your time. I would rate the game 4 out of 5, and it is worth playing. So, with this, I would like to finish my review.