Sky Warriors: Airplane Combat is an awesome-looking new aircraft simulator from developers Wildlife Studios that allows you to fly and battle other modern jets in intense matches.
The game offers players many amazing features and two very interesting game modes to indulge in and have fun. The game's plot is also quite interesting as it lets you join the Sky Warriors and fight to prove yourself and become an ace pilot.
In this dangerous quest, you'll experience the thrill and intensity of realistic aerial battles and challenge tough enemies in thrilling adrenaline-packed dogfights and battle real-life enemies in PvP multiplayer battles as well. You can also jump into a squadron and play with friends and other players around the globe.
In this review article, we'll be looking at the pros and cons but mostly the pros of Sky Warriors Airplane Combat and giving you detailed ratings on what we think about its features, game modes, and graphic visuals after hours of exciting gameplay.
The Good
---
The game starts very interesting
In the beginning, you are recruited to join the Sky Warriors, whose job is to defend their base from enemy attacks and appear formidable in the face of enemies. Your goal is to train, learn and battle your way through the game's tutorials and strive to become an ace jet fighter and make your lieutenant proud of your skills.
After taking up this responsibility of being a member of the Sky Warriors, you'll be on your way to getting your first look at realistic and modern fighter planes. As you progress, you'll even be able to fly the best and most advanced fighter jets in the world.
This is one of the most exciting concepts of the game, and many players, especially those familiar with this genre, will appreciate the story's plot and want to know what comes next.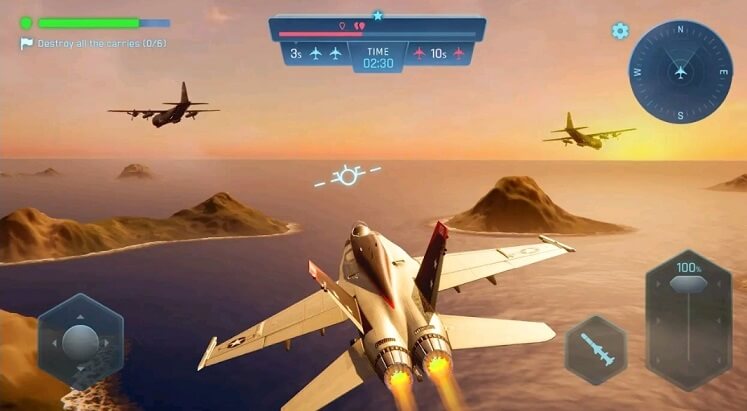 Unique Game Modes
The game introduces players to two very interesting and unique game modes that they can participate in and get lost in the awesomeness of the gameplay. Below are the two game modes and a brief elaboration on how they are played:
Payload: In this game mode, one squad is tasked with defending a convoy carrying three cargo planes, while the other squad is tasked with shooting them down. The opposing team will have to shoot down the planes' engines rather than attack the planes directly. Each plane has six engines, three on each wing, and missiles or your jet's mounted machine guns can be shot down.
Skirmish: In Skirmish, every battle comes with a single goal: to accumulate more kills than the opposing side. The game will produce three airships for both teams to take down and three battleships once the airships have been shot down to expedite the match.
Both game modes involve very interesting concepts, and regardless of which of them you prefer, we advise trying both of them out once in a while as they are both intense and enjoyable. Players can also enjoy these game modes both online and offline.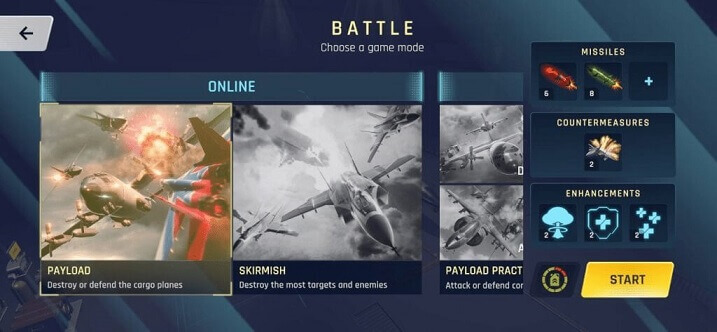 Graphics and Visuals
The game's graphics look really good, but they don't appear very different from other sky combat games. The graphics look amazing from certain angles, but they don't look all that stunning from other angles.
Controlling the jet in a very sunny location gives you fine detail and showcases the game's stunning visual. Other enemy jets also have clean visuals and decals that you could spot from afar, which is an interesting aspect of the game, considering that you're in the air.
All the buttons and game modes are well placed and have a bold look that improves the overall visuals from the game's lobby menu. In addition to the game's graphics, there are also several locations with stunning visuals that you can explore.
Ultimately, the game's graphics are amazing, and depending on the device you're playing with, that will determine how fine the graphics and visuals will appear.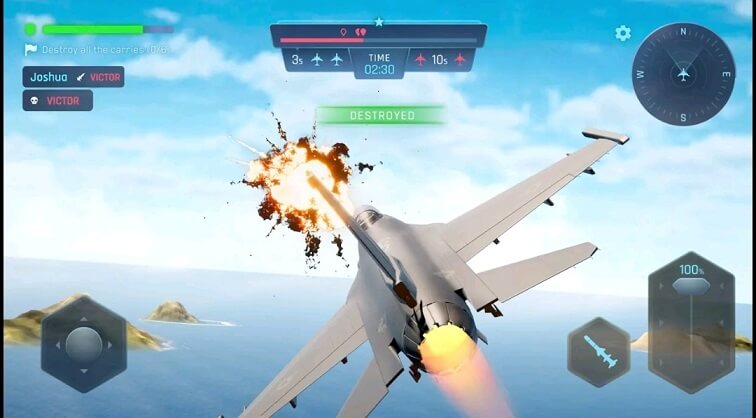 Good Game Controls
For most air combat games, controls aren't always a factor that players worry about because many developers tend to get it right most of the time. And in Sky Warriors, Wildlife Studios did a fine job with the game's controls as well.
The Joystick button is placed on the lower left of the screen and controls the fighter jet's movement such as up, down, left, and right. The game's Accelerator Lever button is placed on the right to speed up or reduce the fighter jet's speed.
The Launch button is used whenever a target is locked and missiles are ready to be launched; this button helps you deploy the missiles towards enemy jets.
The Flares button is placed just above the Missile firing button and avoids incoming enemy missiles.
Very few players will have problems mastering this control as they are well placed. But if you're not comfortable with the above control style, you can change your controls from the game settings, which is another very cool factor because not all air combat games allow players to change the default controls.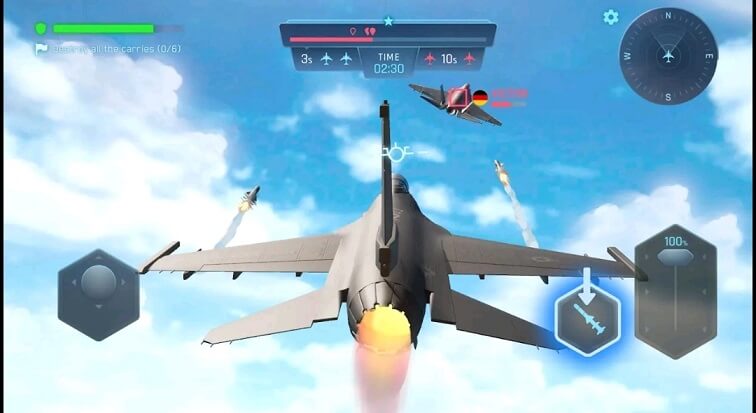 The Bad
---
More game modes can be added
We understand that the game's overall size and concept give little room for more game modes. While the existing game modes are interesting, more game modes should be added to increase players' overall experience and choose from several game modes.
Adding one or two more game modes will be a nice inclusion to the existing ones, and some players might even resent this idea as they fear the game might become bogged down with too much content if more game modes are added. But anyhow, even if new game modes are not added, the Payload and Skirmish game mode can be improved, and more battle options can be added.
Verdict
---
Sky Warriors: Airplane Combat is a thrilling and challenging air combat game that takes players into the depths of the action and challenges them to survive against fierce opponents in offline and online multiplayer PvP matches. The gameplay is fun and similar to other air combat games, deserving of your time.