We are here to sincerely looking for long-term android games writers, who are professional at writing game guide articles, and if you are familiar with android emulators or games, that would be nice. Native English speakers would be best.
Requirements:
Be good at rewriting articles, understanding SEO strategies.

Being expert in writing games tips/guides or having some relevant writing experience is preferred.

Love playing games or you are sensitive and familiar with mobile games.

Have experience of publishing articles elsewhere, articles that rank high in Google would be preferred.

3-4 blogs posted per week, finish within 3 days (no plagiarism, with topics and outlines provided, your ideas are appreciated as well).

Native-level English a must.
Responsibilities:
Being able to search related game material and analyze.

Follow up on our requirements for writing.

Follow up the game updates on time, catch the hot topics and produce high-quality articles.

The article must be original.

Serious and trustworthy, submit works on time.

The salary will be done through Paypal.
Article price:
Normally, for a general post about the game guide and tip, it would be 13 dollars, and the words requirement is over 1000 words.
For games news, it would be counted as 10 dollars for 1000 words.
For guest posts, it is also set at 10 dollars for 1000 words.
Finally, we also need you to send the following materials/information except attaching with your personal resume to us:
① Your name and your country
② Your related working experience
③List which kind of games you have been playing with, and your playing experience. If you have ever used LDPlayer, we welcome you to share your feelings and suggestions!
④The link to your article you posted. (please generally describe the style and content of the article. If you could, please also attach the Google ranking data about your article as well)
For example:
Article title: Arcana Tactics Reroll Guide & Reroll Tier List | Who To Pick
Article-style: reroll guide and tier list for RPG games
The basic content: this is an article about the Arcana Tactics reroll guide and tier list, there will be a full and detailed guide for you to choose which heroes for rerolling.
Ranking: search from arcana tactics reroll, article ranking the first place.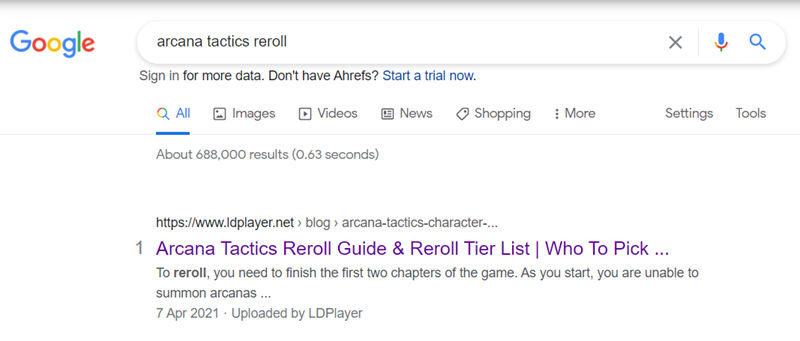 ② Your 3-4 other related articles you published.
③ Your available time for writing.
We are looking forward to more talented game writers joining our editorial team for writing game guides! If you are a fever mobile games player, you can get a certain return from freely sharing your gaming experience and show your writing skills, why not consider that? If you feel interested, please contact us and send your personal material through the following email:
Google mail: qinqiu711@gmail.com
Once we receive your email, we will try to reply to you within 3 days, so please don't worry! We await for hearing from you soon!