Mirage Memorial Global, a brand-new gacha MMORPG that features various famous characters from history and mythology. In Mirage Memorial Global, you are able to collect those characters and train them as your servants. What's more, the multiple gameplay including PVP battle, GVG battle, Expedition, and Spa Scramble, will never let you down.
Undeniably, Mirage Memorial Global has made a great impression in current RPGs market thanks to its casual-friendly game mechanics and unique 2D animation design. Recently, we notice that many mobile players are looking for a way to play Mirage Memorial Global on PC for better visual and control experience. Now, this has become possible with LDPlayer.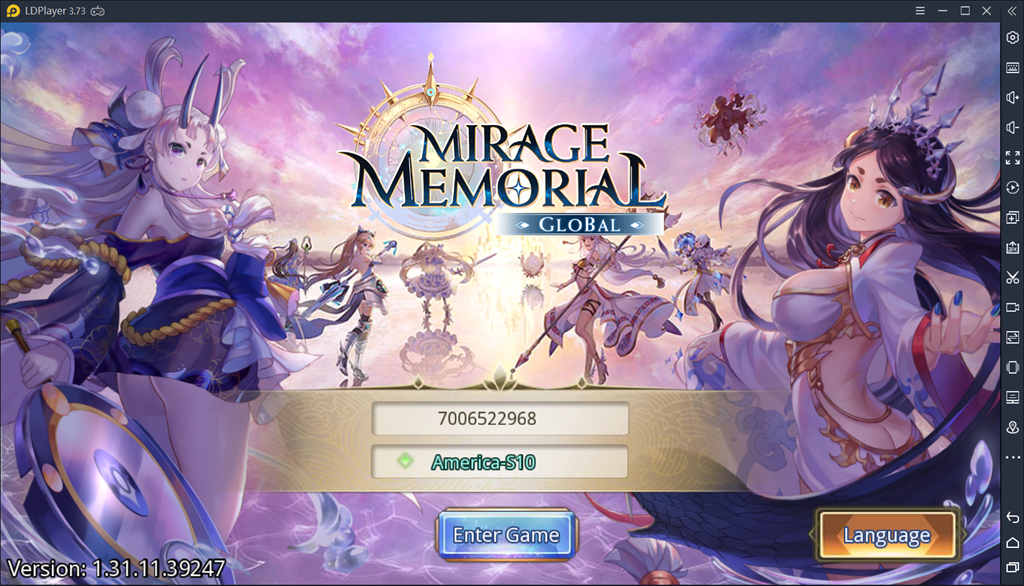 What is LDPlayer?
LDPlayer, one of the most powerful Android emulators available for Windows, is committed to optimizing the PC gaming experience for mobile gamers. Most notably, LDPlayer not only allows you to run Android games on your desktop but also offers a number of powerful tools to take the gaming experience to the next level.
How to Play Mirage Memorial Global on PC with LDPlayer
Below is a simple tutorial about how to install and run Mirage Memorial Global with LDPlayer on PC. Some antivirus software will prevent your computer from running LDPlayer due to wrong identification sometimes. We guarantee that LDPlayer is definitely a safe and clean Android emulator. It will not cause any harm to your system.

Step - 1: Click the Download button up there to download LDPlayer and run the installer.
Step - 2: Open the installer to complete the setup and then run LDPlayer on desktop.
Step - 3: Head over to the search bar and search for Mirage Memorial Global.
Step - 4: Click Install icon to download Mirage Memorial Global from Google Play.
Step - 5: Follow on-screen instructions to finish the installation of Mirage Memorial Global.
Step - 6: Once installation completes, click the MMGlobal icon to launch the game.
Complete all the installation process? Excellent! Now, enter the Mirage Memorial Global and start your adventure!
Rerolling Effectively in Mirage Memorial Global on PC with LDPlayer
In Mirage Memorial Global, the S and SS characters can greatly improve the potency of your team. And the main way you can get these characters is through summoning. After completing chapter-one in Mirage Memorial Global, you will gain ten free chances to summon your new servants who may greatly decide the combat effectiveness of your team.
This is why we need to talk about rerolling. When it comes to the gacha games like Mirage Memorial Global, rerolling must be one of the important tricks to help you create a lengthy career. Please note that you should not bind your email address when you launch this game until you obtain the powerful heroes.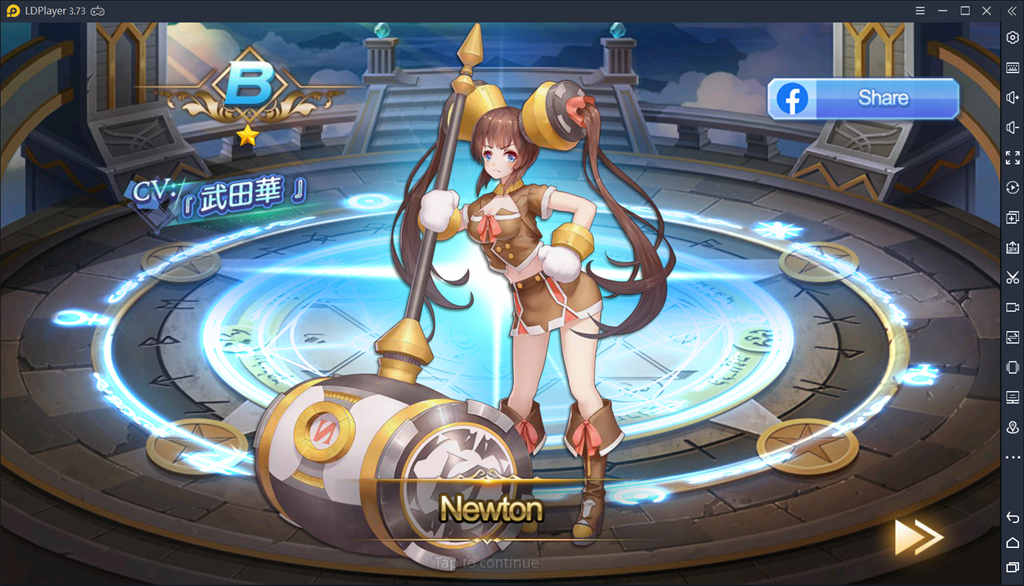 With Multiplayer, you can create several LDPlayer instances and run the game in each one separately. What's more, the synchronizer tool, one of the most useful tools on LDPlayer, can help you synchronize all your LDPlayer instances simultaneously when you are playing Mirage Memorial Global. These tools can truly help you save time on repeating the game process and rerolling.
Check more details at these two articles:
① Multi-Instance on Emulator | How to Use LDMultiplayer Tool
② Synchronize Android Emulator | How to Use Synchronizer Tool
4 Beginner's Tips for Playing Mirage Memorial Global on PC
Assemble a Powerful Team
When you choose servants for your team, you mainly need to consider two things. One thing is the rarity of your servants. The highest rarity rating is SS in Mirage Memorial Global. The other consideration is the elemental affinity. There are five elements in Mirage Memorial Global: Fire, Wind, Water, Light, and Dark. You need to fully consider the restraint between elements when forming a team.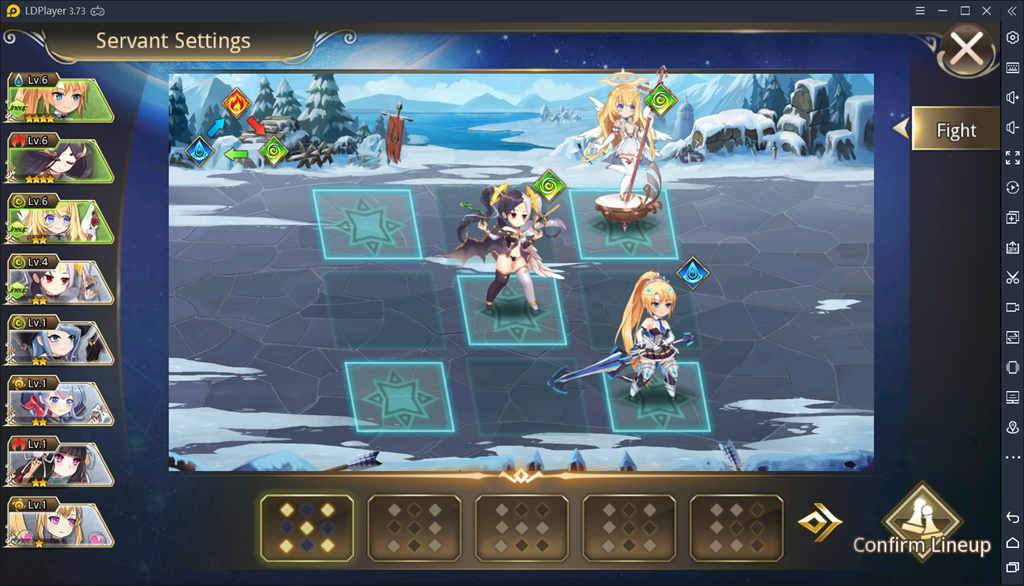 Finish the daily challenges
In Mirage Memorial Global, there are a series of daily challenges that you can complete each day. The challenges can offer you different valuable rewards. They are Arena, Team Boss Battle, Desert Shrine, Border Defense, Trial Corridor, and Spa Scramble. The gameplays of all the challenges are different. But you can always empower your servants through the rewards from these missions.
Utilize the Alliance System
Generally, Alliance is one of the cores of MMORPG. You always can progress and have fun with those people who shared the same goals with you. Instead of joining an established Alliance, you can also build up your own Alliance. You can always get some particular rewards and extra battle buffs from the Alliance system.
Upgrade your servants
Currently, the most basic way to level your servants up is to participate in the different battles in various maps. You can also use experience cards to level them up in the Servant menu. Furthermore, the rune system is another useful way to strengthen your servants. The runes, which are usually released as mission bonuses, can greatly enhance the power of servants.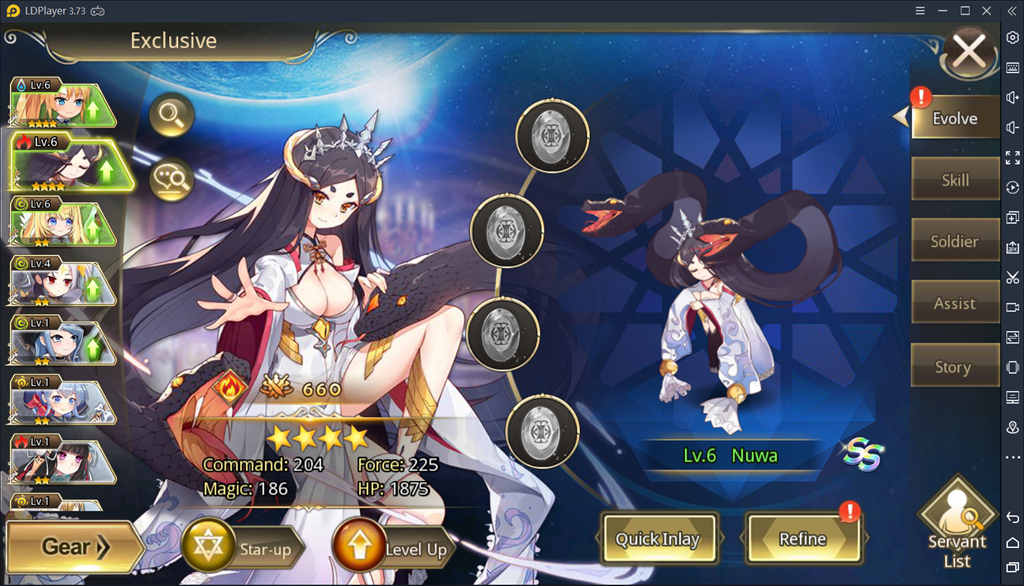 Conclusion
To get the best gaming experience in Mirage Memorial Global, you have to spend more energy and time to level up servants, upgrade team, unlock equipment, etc. Never mind, with LDPlayer, you are able to find many useful tools to ease the burden and improve your experience with Mirage Memorial Global. Now, download the latest version of LDPlayer and join the mirage memorial.