Lineage 2: Revolution is a mobile MMORPG licensed by NCSoft and developed by Netmarble. A player starts by choosing a race from Human, Elf, Dark Elf, Dwarf, Orc and Kama to create a unique story in the chaotic empire world. Using the latest version of Unreal Engine, Lineage 2: Revolution brings the most beautiful images and cutscenes to the game. For experiencing better game graphics, many players are looking for a way to play this game on PC. Below is a tutorial about how you can play Lineage 2: Revolution on desktop.
How to Play Lineage 2: Revolution on PC
1. Download and Install LDPlayer

First of all, you need to download LDPlayer installer on your computer. You can click the download button up there to download it. When it finishes, run the installer directly. It won't take you too much time to complete the install process. LDPlayer is a very safe and clean emulator that won't cause any damage to your computer.
2. Install Lineage 2: Revolution from LD Store
After downloading LDPlayer on your computer, you can go to the search bar at the top and search for Lineage 2: revolution. You need to log in to your Google Play account to download it. But if you fail to install Lineage 2: Revolution from Google Play, you can also click the "three dots" near the "install" and try Local Install.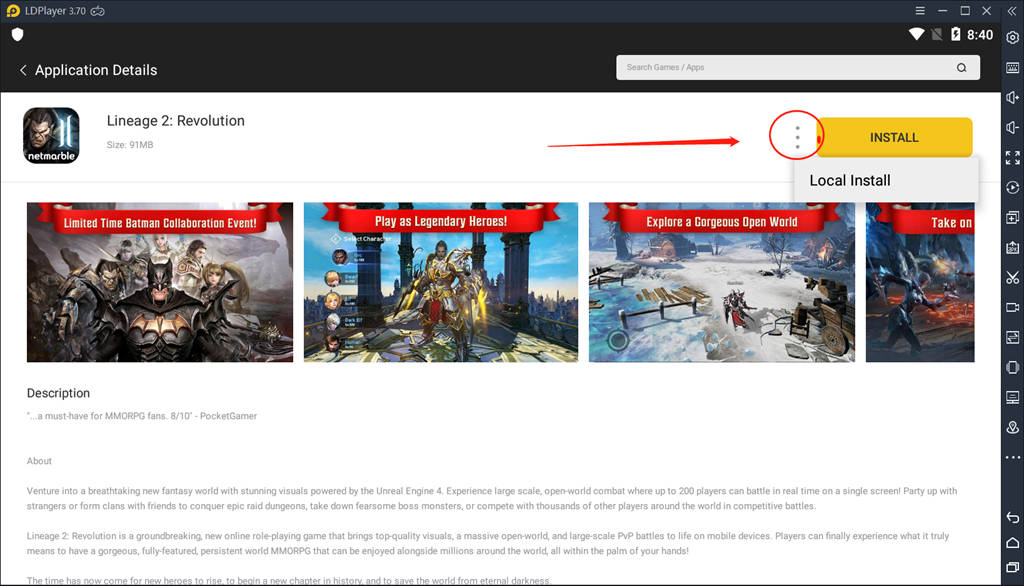 3. Run Lineage 2: Revolution and Enjoy the Game
Once installation completes, click the "Start" icon to run it. It will take a few seconds to load and extract the resources of Lineage 2: Revolution on your computer. The wait is worth it. When you are all done, you can enjoy playing Lineage2: Revolution smoothly on LDPlayer.
How to Improve Game Performance of Lineage 2: Revolution
Lineage 2: Revolution optimizes the original online game to fit mobile devices while offering the same high-quality graphics, character options and gameplay formats offered by the game's PC version. But high quality and graphics of the game may also cause some lags when you are playing the game using emulator to replace mobile. You can try to improve game performance and solve lag issues as following tips.
Generally, the performance of your emulator largely depends on your computer configuration. Before you adopt the following methods to improve game performance, you can check whether your computer meets the following recommended configurations.
System Requirements
Intel or AMD CPU Processor x86 / x86_64
Windows XP XP3 / Win7 / Win8 / Win8.1 / Win10
Windows DirectX 11 / Graphic driver with OpenGL 2.0
Hardware Virtualization Technology (Intel VT-x/AMD-V) enabled in BIOS
Recommended Configuration for LDPlayer
CPU: Intel i5 7500
RAM: 8GB
Disk Space: 100GB
Graphics Driver: NVIDIA GeForce GTX 750 Ti
●

Allocate More Resources to the Emulator
Generally, when you run games on LDPlayer, the emulator will consume some resources of your computer. Thus, if you experience some lags when playing games, you can try to reconfigure more computer resources such as the allocation of RMA and CPU to your emulator. What's more, you can also try to set higher disk size for LDPlayer on advanced setting of LDPlayer.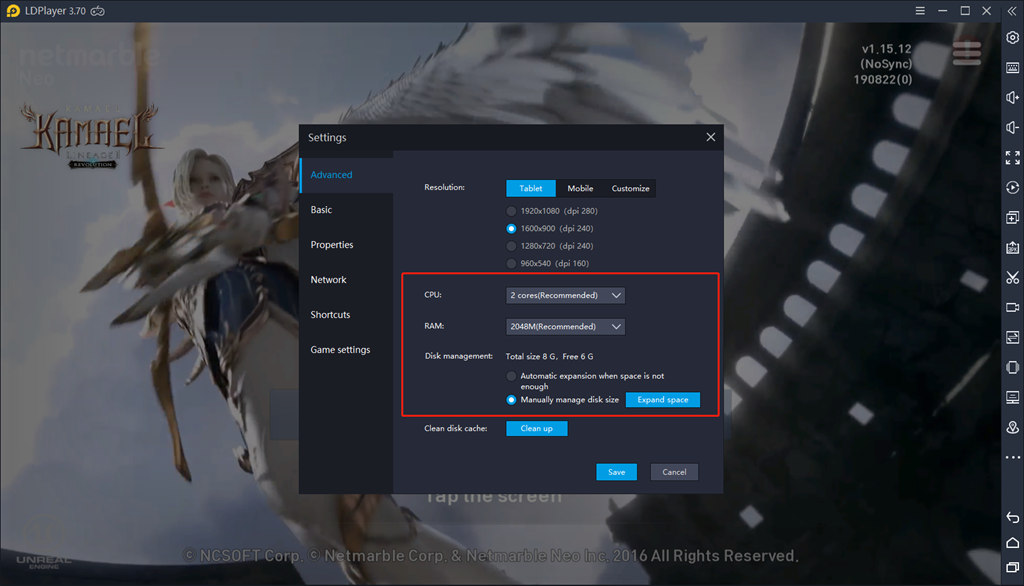 ●

Enable VT Technology on Your Computer
VT technology will largely influence your gaming experience when you play those large-scale action games include Lineage 2: Revolution on emulator. You can check whether VT is enabled on your computer through LDPlayer by following these simple steps.
1. Click the Menu button in the upper right corner of LDPlayer.
2. Click Diagnostic Information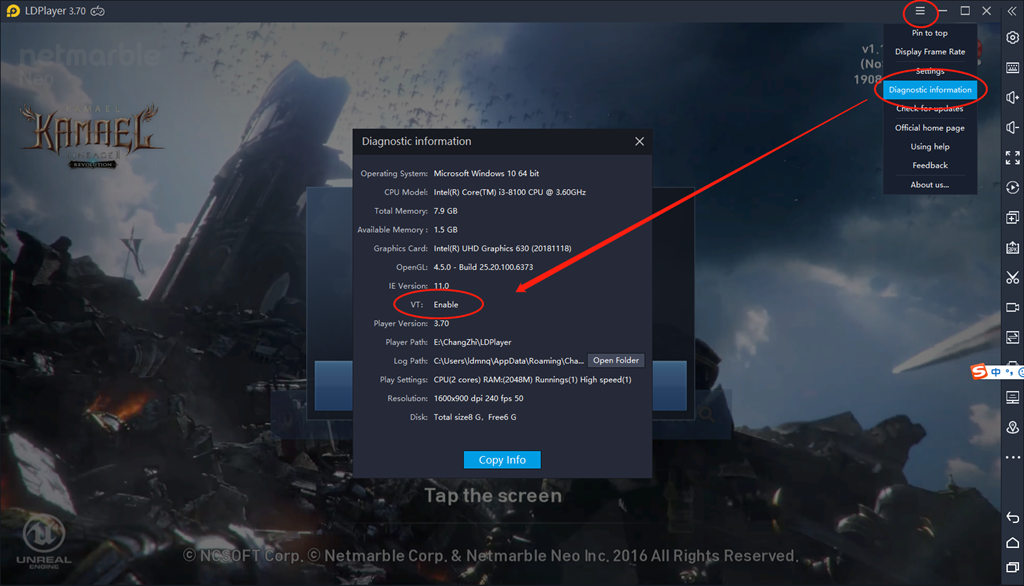 If VT is disabled on your computer, you can learn more details about how to enable VT on LDPlayer website.
●

Upgrade Your Graphics Driver
When you run some games with high graphics quality on PC, the graphics card and its settings always decide whether you can play those games smoothly. Lineage 2: Revolution is no exception. If you can't upgrade your graphics card within a short time, you can try to download the latest version of the graphics driver from the corresponding graphics card official website. Read "How to update the graphics driver" to learn more details about the upgrade of graphics driver.

The above methods should help you fix those lag issues effectively. If you still experience lags while you are playing Lineage on LDPlayer, you can find more methods to fix these problems by reading the article: Top 5 Ways to Fix Lags in Android Emulator
Advantages of Playing Lineage on Desktop with LDPlayer
Even Netmarble has specifically adapted the gameplay of Lineage 2: Revolution to better fit mobile devices, there are still many players prefer to use emulator to play this game on PC due to various shortcomings of mobile devices. Here are the specific reasons why players like to play Lineage with LDPlayer.
● Smoother control with mouse and keyboard
● Better visual experience with bigger screen
● No longer worry about battery consumption of mobile
● Less lags and crashes with computer
● Manage several accounts simultaneously
In order to push the game process faster, you can manage multiple accounts of Lineage on LDPlayer. You can learn more details about LDMultiplayer by reading this article: How to Use LDMultiplayer Tool.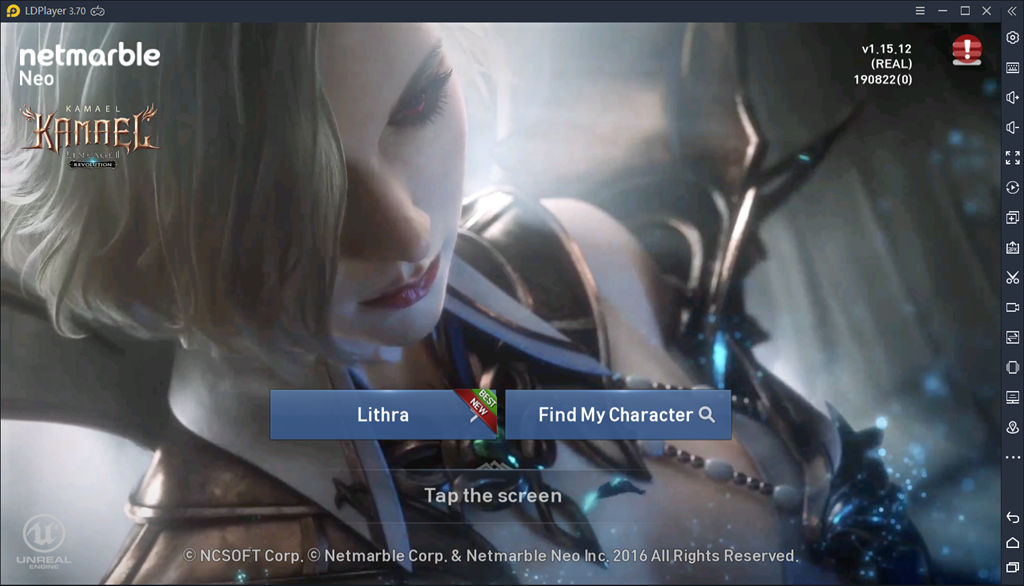 Conclusion
Compared to other MMORPG, Lineage 2: Revolution is meant to be a groundbreaking mobile game. Its amazing visuals and epic battles are truly only done on a large screen. Using LDPlayer to play this game can truly improve your gaming experience. You will experience the fun of this game that you can't experience on your phone.