Looking for a delightful mix of action, strategy and anime game? Girls' Frontline has made it possible! Girls' Frontline, developed by Sunborn Network Technology Co, is a remarkable strategy game that features beautiful anime scenes and characters. In Girls' frontline, you will get a chance to lead a team consists of many pure and cute girls to fight against enemies.
With the magnificent storyline and worldview of the game, players can really appreciate the charm of turn-based strategy game regardless of whether they are hardcore anime fans or not. Thus, for getting better visual and control experience, many mobile players are looking for a way to play Girls' Frontline on PC. This has become possible with an Android emulator.
What is LDPlayer?
LDPlayer, one of the most powerful Android emulators available for Windows, is designed to optimize the PC gaming experience for mobile gamers. What's more, LDPlayer not only allows you to run Android games and apps on your computer but also offers many useful extra tools to take the experience to the next level.
How to Play Girls' Frontline on PC with LDPlayer

Step - 1: Click the Download button up there to download LDPlayer and run the installer.
Step - 2: Open the installer to complete the setup and then run LDPlayer on desktop.
Step - 3: Head over to the search bar and search for Girls' Frontline.
Step - 4: Click Install icon to download Girls' Frontline from Google Play.
Step - 5: Follow the on-screen instructions to finish the installation of Girls' Frontline.
Step - 6: Once installation completes, click the Girls' Frontline icon to launch the game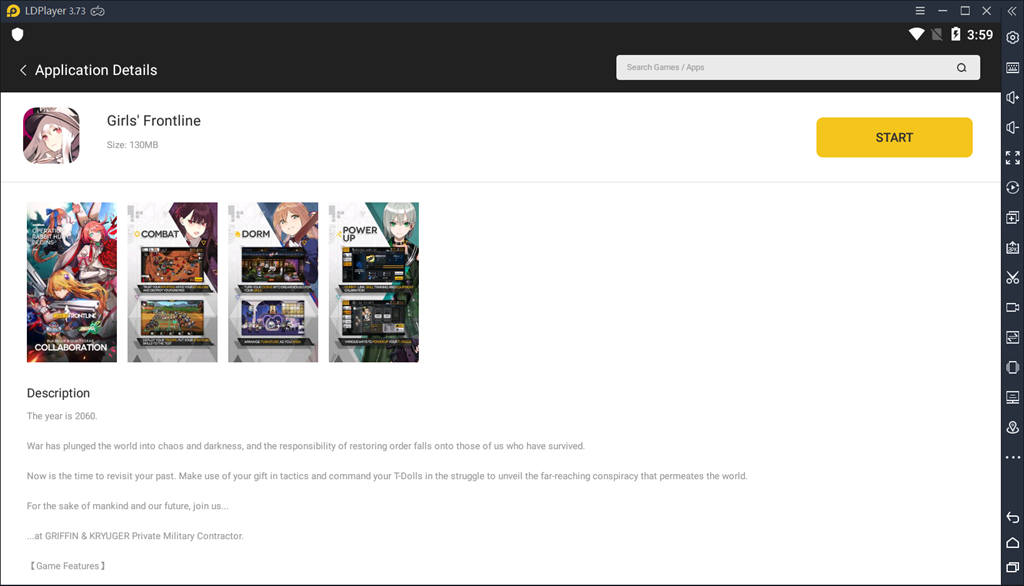 Got what you were looking for? Perfect! Now, it's time to build up your own girls' team to battle in frontline! Enjoy playing the game with LDPlayer on your computer!
Benefits of Using LDPlayer to Play Girls' Frontline on PC
Longer Duration than Mobile Devices
As one of the most successful strategy games, the core gameplay of Girls' Frontline is that you need to defeat enemies by developing different strategies in the frontline of the battleground. And collecting different T Dolls and upgrading them are also the key points to strengthen your battle effectiveness.
However, the precondition of achieving these is that you need to spend a lot of time and energy into the game. Thus, choosing to play Girls' Frontline on PC with LDPlayer must be a good way to reduce the consumption of mobile device. And you don't need to worry about the duration of your phone anymore.
Better Visual Experience with Larger Screen
One of the most attractive features in this game is the high-quality design of girl characters and anime scenes. You will become a Military Commander and train your T dolls in Girls' Frontline. Compared to the mobile device, you can truly enjoy the battle scenes and the outstanding design of your girls with large screen on PC using an Android emulator.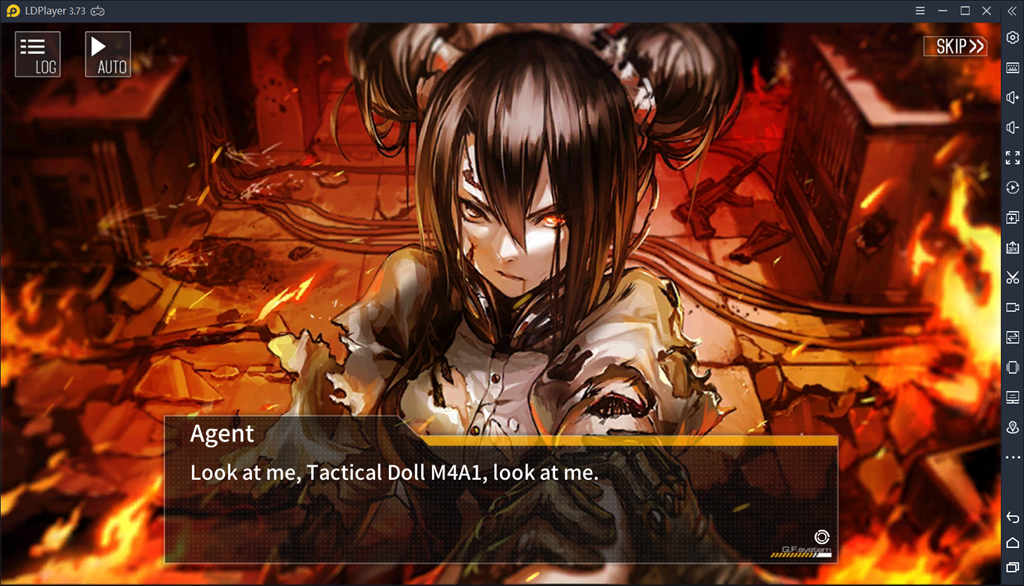 Log in Multiple Game Accounts Online Simultaneously
With the unique automated battle system of Girls' Frontline, you can rapidly level up your T Dolls and equipment through logging in multiple accounts simultaneously to challenge the enemies. This will help you get as many resources as possible, including ammunition, medical supplies, weapons, etc.
LDPlayer has developed a built-in tool called LDMultiplayer, which can enable you to launch multiple LDPlayer instances and log in several game accounts at the same time. You can learn more details about LDMultiplayer through this article: Multi-Instance on Emulator | How to Use LDMultiplayer Tool.
Three Essential Tips for Playing Girls' Frontline on PC
Demolish Enemies with the Best Weapons
Girl's Frontline offers you a huge array of weapons to choose from. But you must be aware that your choices must be based on the battle situation and the team lineup. From handguns to machine guns, each weapon plays its own unique role on every battle. In general, girls in your team should be equipped with as many different weapons as possible.
Here are some simple features of different weapons.
Rifles: One of the highest DPS (Damage Per Second) in the game. Outstanding in both close and long-distance combat.
Assault Rifles: Have capacity to deliver a high amount of damage in a relatively short time. Do well in night fight situations.
Handguns: Characters equipped with handguns will have high precision and dodge attributes
Machine Guns: The highest damage dealing category of weapons in the game.
Shotguns: Have capacity to cause extensive range of damage.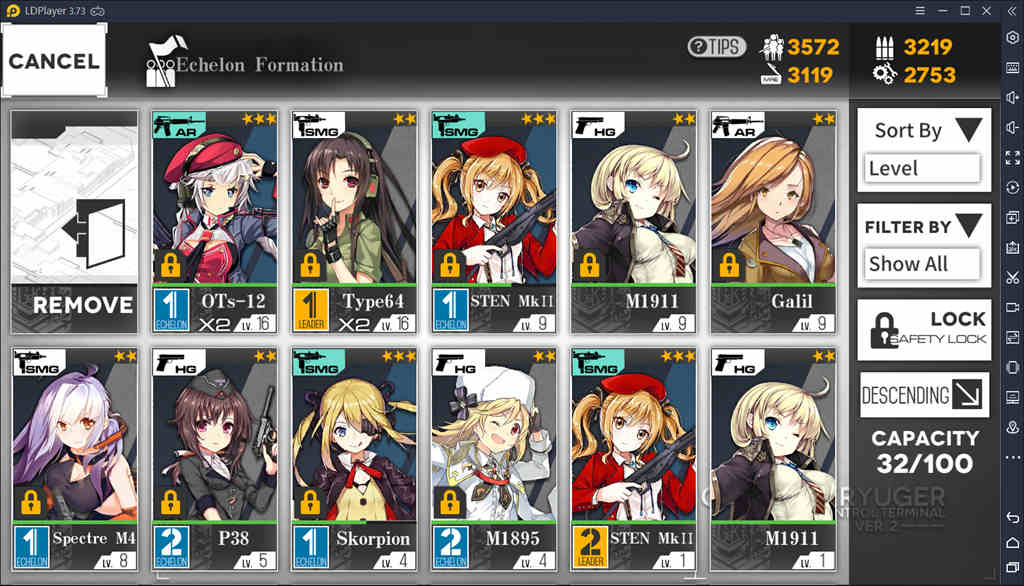 Get as Many Batteries as You Can
Batteries, the main currency in Girls' Frontline, can help you upgrade data, create combat reports, level up dormitories, etc. All of these are important objectives can help your girls gain experience much faster and more effectively. You can try your best to finish as many missions and game chapters as you can to obtain batteries.
Ensure the Best Battle Formation
Girl's Frontline is all about creating the best strategies and outsmarting your opponents in battle. You should always avoid placing the Rifles and Assault Rifle holders in the frontline. Instead, the tank weapon should be placed in frontline. Reasonable battle formation of your team can help you to achieve maximum combat effectiveness.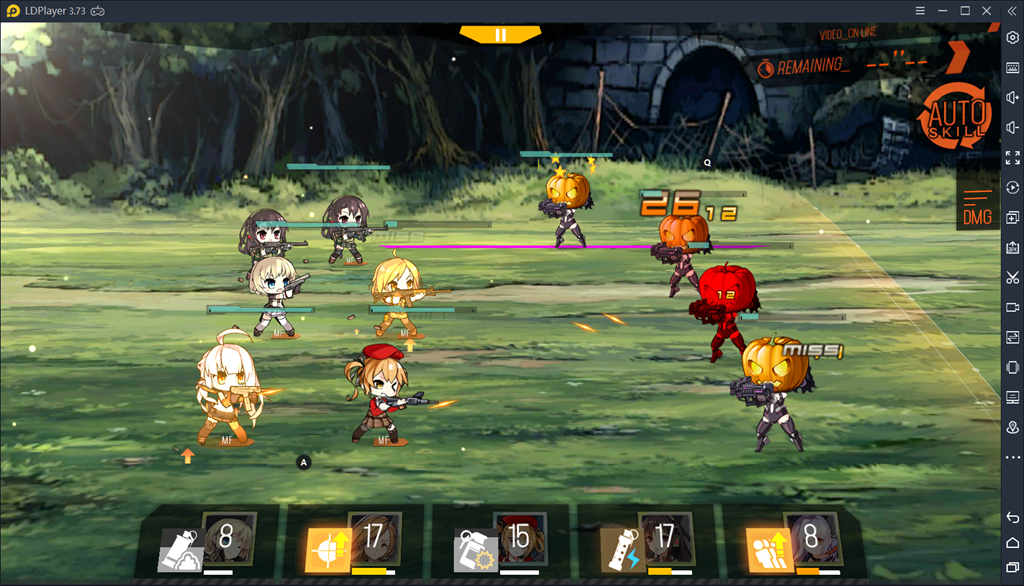 Conclusion
The superb experience of playing Girl's Frontline is on PC with a powerful emulator, and LDPlayer is definitely the best choice. You can stably and smoothly run not only Girl's Frontline but also any Android app or game you like, on your computer with LDPlayer. Now, as an outstanding military commander, you should bravely fight in the front line with those pretty girls on PC!