Digimon ReArise, a role-playing game that numerous fans of original Digimon anime are looking forward to, is finally released in the Google Play on October 10, 2019. The story of Digimon ReArise starts out with digimon, a digital monster who lives inside the player's smartphone as a virtual pet. Strange things start happening. The main characters and digimons find themselves under attack.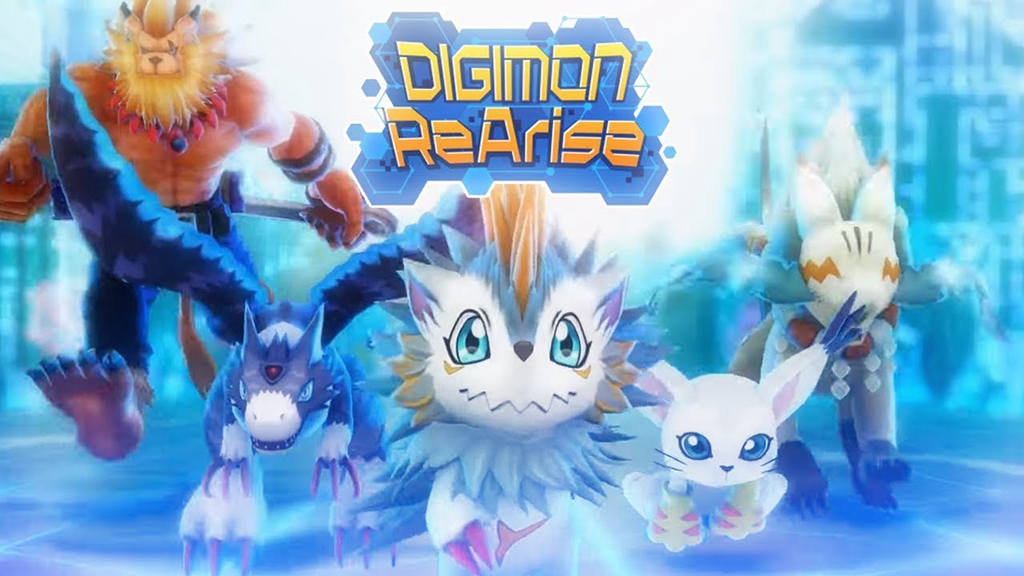 For fighting against evil enemies, you need to spend considerable time and energy to train your digimons. So, to get a better gaming experience, there are many players are searching for a way to play Digimon ReArise on PC. And it turns out that everything will be very simple if you download an Android emulator, like LDPlayer, on your computer.
What is LDPlayer?
LDPlayer is one of the most popular Android emulators in the current market. It is designed to optimize the PC gaming experience for mobile gamers. Moreover, LDPlayer not only allows you to run Android games on your computer but also offers a number of additional powerful tools to take the experience to the next level.
How to Play Digimon ReArise on PC with LDPlayer

Step - 1: Click the Download button up there to download LDPlayer and run the installer.
Step - 2: Open the installer to complete the setup and then run LDPlayer on desktop.
Step - 3: Go to the search bar and search for Digimon ReArise.
Step - 4: Click Install icon to download Digimon ReArise from Google Play.
Step - 5: Follow the on-screen instructions to finish the installation of Digimon ReAirse.
Step - 6: Once installation completes, click the Digimon ReArise icon to launch the game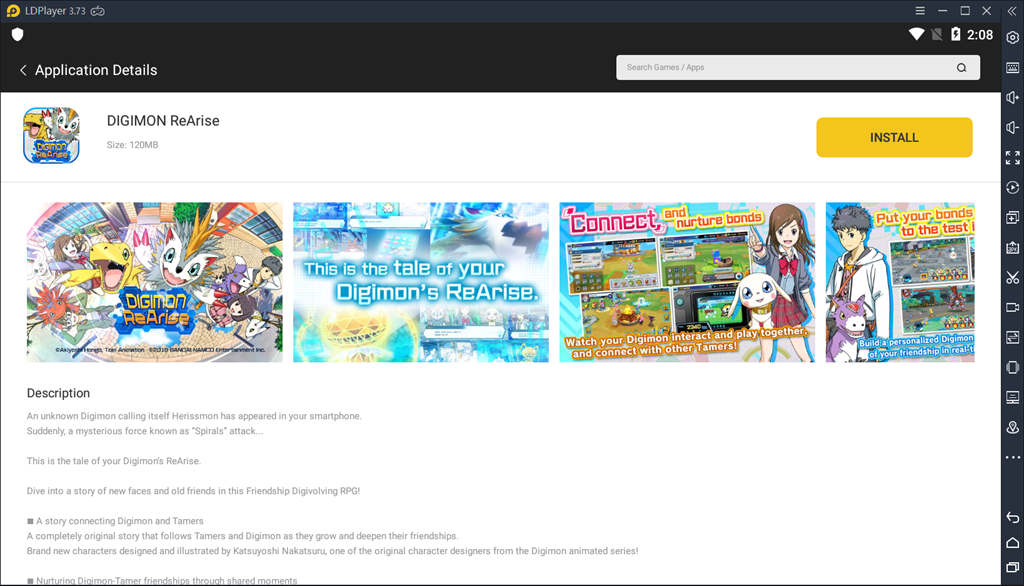 Got what you were looking for? Perfect! It's time to start your trip on Digimon world! Enjoy playing the game with LDPlayer on your computer!
Benefits of Using LDPlayer as an Android Emulator for Digimon ReArise
Smoother Control with Keyboard and Mouse
Do you really want to swallow the defeat in the battle with those evil digimons just because of the inconvenient and inflexible control on your mobile? Definitely No! By using keyboard and mouse to replace the touch screen on mobile, you can easily control your digimons to fight your enemies in fantastic PVE and PVP maps.
Especially the keyboard mapping, one of the most useful built-in tools on LDPlayer, will provide you a chance to set your custom keyboard mapping that can offer you a smoother control experience. You can learn more details about keyboard mapping through: How to Use Keyboard Mapping.
Better Visual Experience with Larger Screen
The character design of Digimon ReArise is perfectly referenced to the Digimon Anime. This has attracted countless fans and lets the game become one of the latest hot RPGs recently. Instead of playing on your small mobile screen, you will truly enjoy exciting battle scenes and beautiful appearance of digimon with a large screen on pc.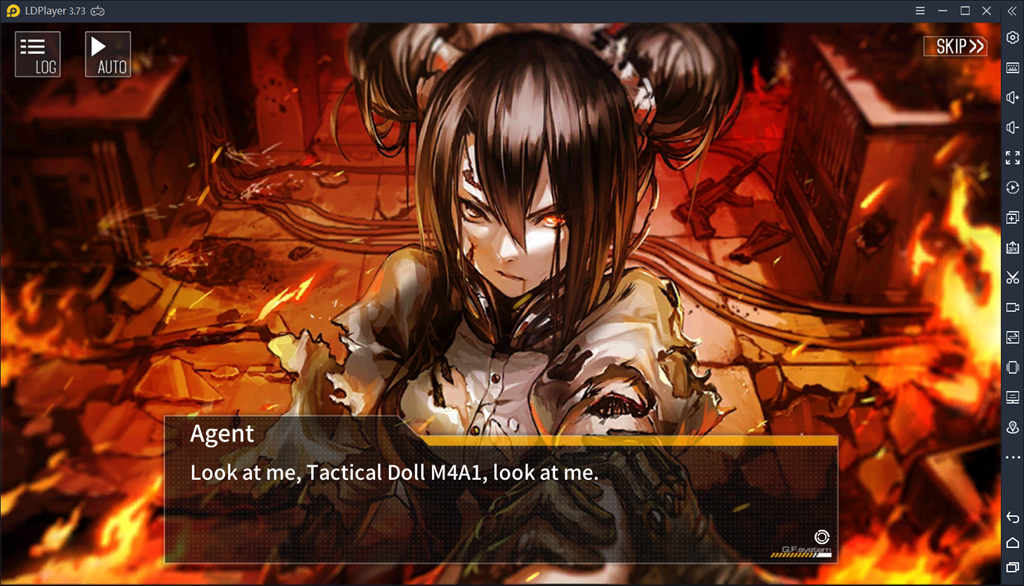 What's more, if you want to record and share those excellent battle scenes to others, you can always use the Video Recorder in LDPlayer to record the most important moments of your playthroughs. Want to know more about this powerful tool? Check this article: How to Use Video Recorder.
Log in Multiple Game Accounts Simultaneously
Just like other RPGs, Digimon ReArise requires a lot of luck to get powerful monsters. Never mind, upon completing the first few missions in Act 1, you'll be given 11 free rolls that usually cost rubies, the game's premium currency. That's one of the most important chances for you to freely obtain a strong digimon.
If you are afraid that you can't be lucky enough to get those powerful monsters at once, you can use the LDMultiplayer to log in multiple games simultaneously. Then, repeat the initial game play process and get the 11 free rolls. We strongly recommend you to log in as a guest and don't link it to Google or Facebook until you have obtained the high-tier digimon.
By the way, the synchronizer tool, one of the most useful tools on LDPlayer, can help you synchronize all your LDPlayer instances. This is a great convenient way to save your time on repeating the game process and rerolling. Check more details at these two articles:
① How to Use LDMultiplayer Tool
② How to Use Synchronizer Tool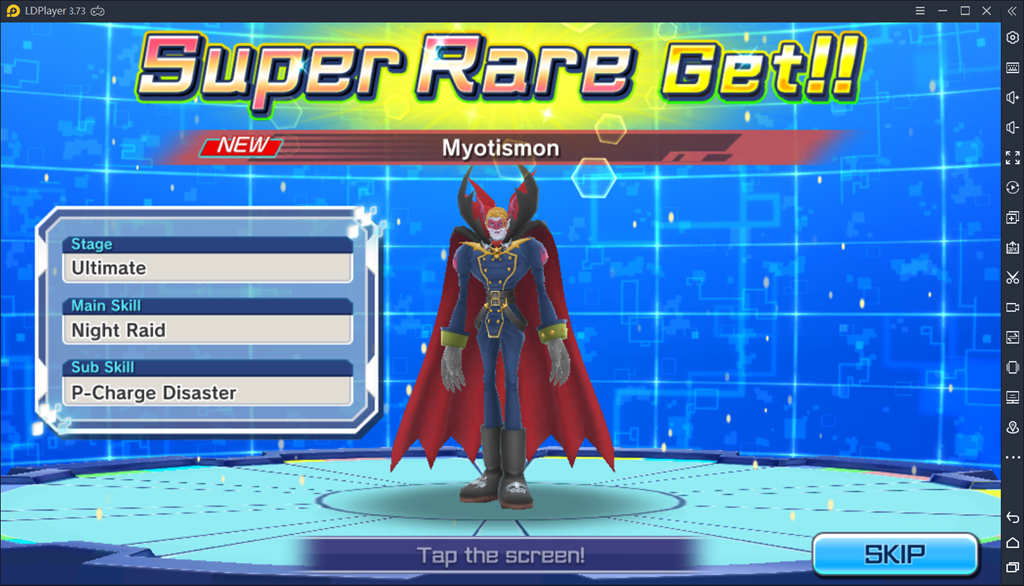 Three Valuable Tips for Playing Digimon ReArise on PC
Build a perfect team
In the game, you will play as a Digimon Tamer and build a team of 5 digimons to fight the foes in a wide range of game modes. To crush other opponents, you need to keep in mind that you have to build a strong team by collecting those digimons with different personalities. Usually, a team with 5 different personalities will be the best choice.
Read the personality information in the below guide:
Brave – Attackers with physical skills
Calm – Attackers with spell skills
Deft – Balanced attackers
Tenacious – Tank and high defense stats
Devoted – Healers or buffers with support and recovery skills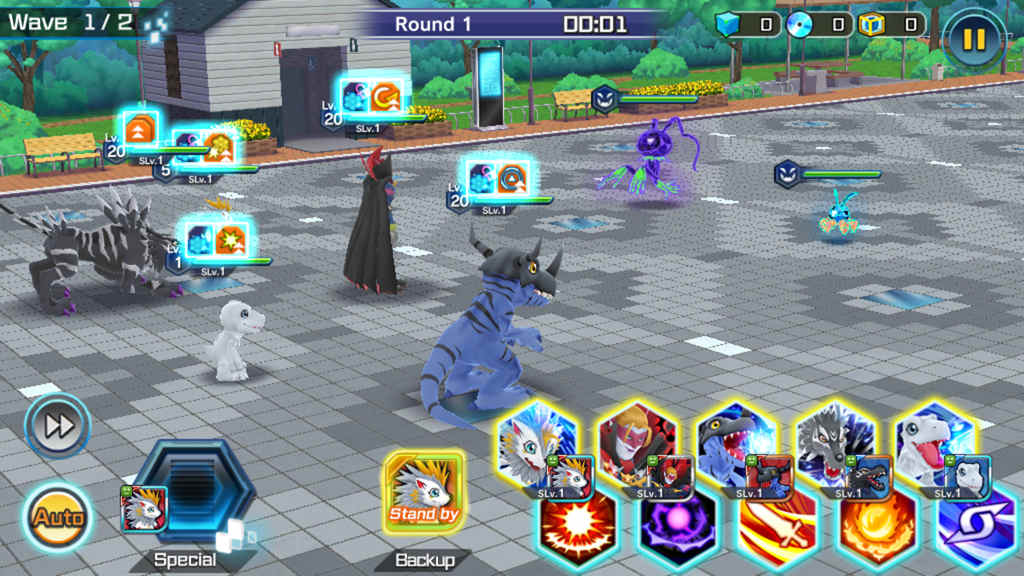 Upgrade Your Digimon
Digimon ReArise gives you plenty of options to make a digimon powerful. You can always upgrade your digimon through battle and story chapter. You need to devote considerable time and energy to finish those story chapters and missions. LDPlayer will help you make the process easier and more relaxed.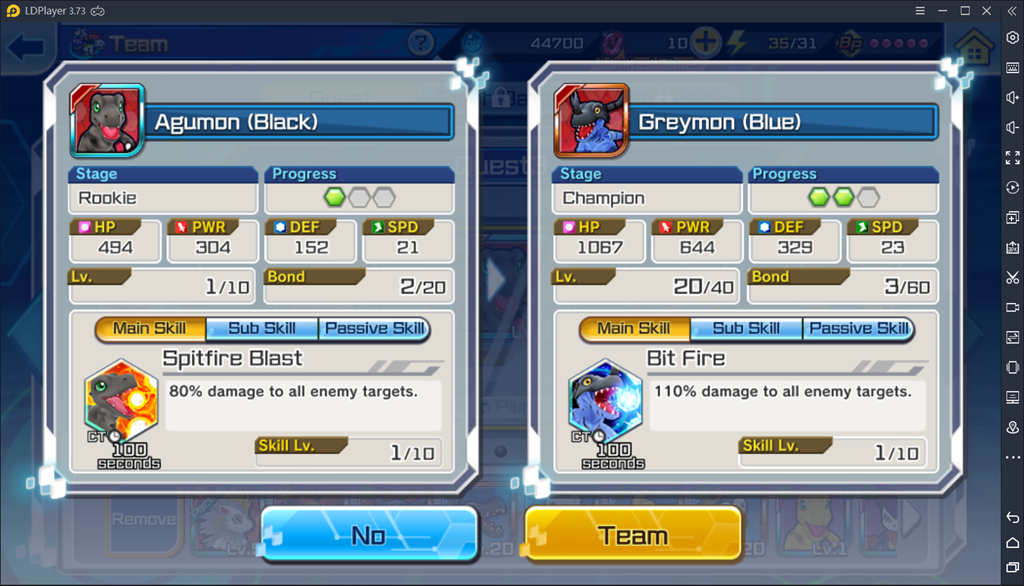 Get Familiar with Digimon Skills
In Digimon ReArise, each digimon has his own unique skills, main skills, sub-skills, and passive skills. You need to consider those skills when you are building a well-rounded team. Moreover, with unique skills, digimon can inflict status abnormalities to your foes. This is one of the keys that will help you win the battle.
Conclusion
Even though Digimon ReArise has only been available for a few days, the number of registered players has exceeded one million. So, what are you waiting for? Now, download Digimon ReArise on LDPlayer to start your Digimon trip on PC and get back your childhood memories! If you still have any concerns or questions, welcome to contact us at any time through Facebook and Reddit.