Hey, gamers. How is the gaming world going on? You may be tired of all these RPG and shooting games. So want to play a cute game with some cute characters? Here c0omes the Stumble Guys Multiplayer Royale. So come to the world of the knockout with 32 players on the whole gameplay to struggle on leveling up.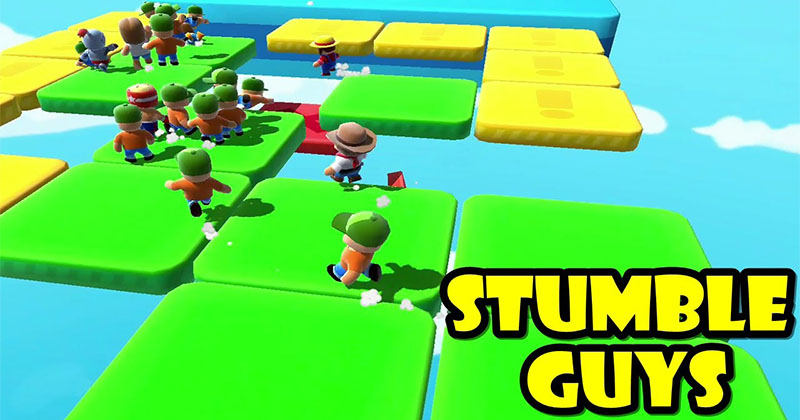 Stumble Guys Multiplayer Royale is a game by Kitka game that belongs to the action category. Throughout this gameplay, you are required to struggle to level up by escape chaos. You have to play until the game remains one player as a winner, and your intentions are related to not falling. If you fail, you become lost. So once you fall, you may have to start over and run again to the played levels.
There will be a series of challenges and obstacles to pass through his game, and your primary responsibility is to overcome every struggle you faced in the gameplay. You can download Stumble Guys Multiplayer Royale, on PC by using the best emulator for Android: LDPlayer. Enjoy the world of Stumble guys with its max with LDPlayer.
Noob, Pro and Hacker gameplay
Noob, Pro and the Hacker are the stumble guys available in the game, and their characteristics and methods they used in the gameplay are different. They have unique skills to gameplay, and each of them holds a variety of traits within them. So let's begin our character guide with the gameplay of Noob.
Noob
You should know that all these characters are similar in their appearances. So there is a customization process you can engage in to change your character look in different ways. Start your gameplay with Noob by selecting a level to play. Let's take the map Icy Heights for the gaming with Noob.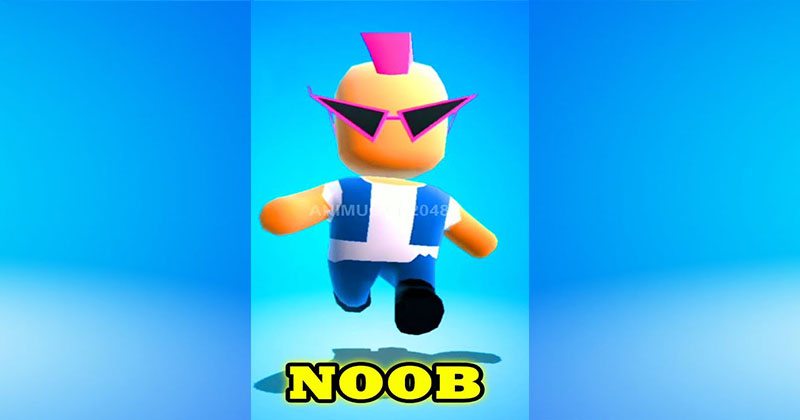 In the Icy Height, its main objective is related to racing. Players have to run from their best effort to the race earlier. When you begin the level, you can see that Noob is trying so hard for running, and he is maintaining a pretty good speed with himself in the race. But as you can, he is often falling while running. Compared to other players, Noob has an average amount of speed to run, and he can be passed by others very quickly.
So basically, Noob can pass the map of Icy Heights without having many efforts. Now let's take the Humble Stumble. In here, you also have to run to finish the game. You will see that Nob has no good controls within him, and while he runs, he seems to lose control every time. When he performs a jump, this case happens again, and it is disturbing to the flow of your gameplay.
Pro
Our next stumble guy is the Pro. Let's take Pro in the Humble Stumble. We mentioned earlier that this stage is created to finish the race. When we take got some impressive skills for jumping, and he is not so lagging.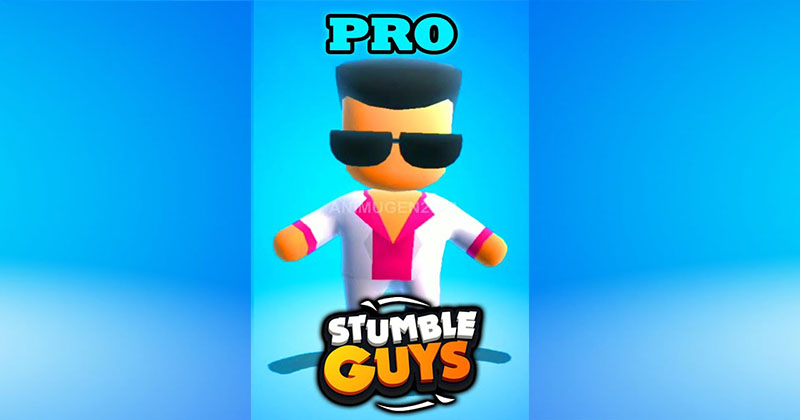 We saw that Noob is always trying to fall, and he has no good controls over him. But with Pro, it is not like that, and he has some fantastic flow and is responsible for breaking down his moving rhythm. He has some kind of control for his speed, and he will not interrupt easily with hi obstacles.
Pro's jumping towards obstacles is impressive. He has a good height with his jump, and they are happened in smoothly. If you play Humble Stumble, you will see that Pro can jump over obstacles with having a considerable height within it, and he does not go to fall in many instances because he has the controls for his jumping. Pro's jumping is distributed for a massive area, and it makes him have a good speed when he runs.
The jump is the best skill to have with Pro, which helps him pause the obstacles quickly.
Hacker
Now it is time for us to turn the heads over Hacker. Let's make him play in the Tile Fall. Here, your objective should be the same as the other maps because it tells you to run the race for a finish. In this map, tiles are continuously falling, and you have to select the tiles that remain constant. Otherwise, you are going to fall with those tiles to eliminate from the game.
Hacker is also consisted of a vast jump scale as Pro. But as we seem, he has good patience with him more than the other players. Controlling Hacker is not harder, and he is handled smoothly. You don't see any continuous falling like Noob, and Hacker is a stumbling guy who has smoothing controls within him. It is good to say that his speed is also like the Pro and if you intend to finish the game as a first, you have to choose the Hacker.
Although Hacker has a pretty good jumping skill with him, he will not use it through all the gameplay, and he uses it occasionally only. He is a pro master on passing the obstacles because Hacker can quickly go through the challenges he faces. His controls are smooth. So he can face any kind of obstruction he faced in his face.
Who to choose? Noob, Pro or the Hacker?
Selecting Noob, Pro, or the Hacker depending on the levels you are engaging. Remember that every player you see as a Pro is once a Noob. Noob is still a growing stumble guy, and one day, he will be a pro master in the game Stumble Guys Multiplayer Royale game. If you are struggling to win over some most accessible phases, it is okay to use Noob because he is a good player for average levels.
You have to remember that Noob does not have intelligent controls with him. So he can't be manageable easily. So use him only on the occasion where you face manageable phases. But if you intend to have a good speed, we don't recommend you to choose Noob. Recommendation for a good sped always goes with the Pro.
Pro is a stumbling guy who is a mastery in speed, and he can manage the rate until his phase finishes. So he is suitable for winning the races. If you want to pass obstacles by keeping a reasonable distance, our best selection goes to the Pro. He can finish a phase less than its estimated time by reducing it in half. So to complete a level quickly, Pro can be the ideal stumble guy.
If you want a stumbling guy who is manageable with every obstacle, then use the Hacker. Hacker is very clever in his speed as well as for passing the challenges. So phases, where you face so many obstacles ideal choice for you is the Hacker.
Is someone asks us to name a one stumble guy who is more good at his skills, we can indeed say that list goes with Hacker, Pro and last with the Noob. So colour your gameplay with Stumble Guys Multiplayer Royale by choosing the exact version of hero you want based on the phases.
Conclusion
Stumble Guys Multiplayer Royale is the game you face to pass obstacles, and you have to be without falling to earn a victory. This victory can only be gain through the appropriate hero, and Noob, Pro and the Hacker are designed for those. Choose a guy that you want to be based on the situations you face through the gameplay, and it will surely lead you to an exact winning.