As Marvel Lover, there are so many ways a gamer can start his game and farm the characters to get the best outcome. Although it is a superhero or a villain, you may get the harvest the way you like with the proper commitment. So here is the Marvel Strike Force guide for farming.
What matters when having the precious start and end of the game is a good understanding of the things you are going to do? This article will let you have the complete guide on farming the characters easily and get what you need, the win over the opponents. You can use LDPlayer to do farming more effectively with its easiest graphic controls and with the smoothest controls for gameplay. So using this Android emulator going to make things so much easier for any player.
Let's look at our framing guide.
Starting With The Right Team
You have to start a good beginning with the Marvel Strike Force right characters. The start is the most crucial thing that you have to consider at the very beginning. There are many paths to start. Symbiotes, Asgardian, Avengers, Marauders, and even the Sinister Six can be selected as the choice yours. Since all of them have got enough potential to be picked, the character qualities are not the things that you need to be looking which means being villains or heroes makes no impact in the end.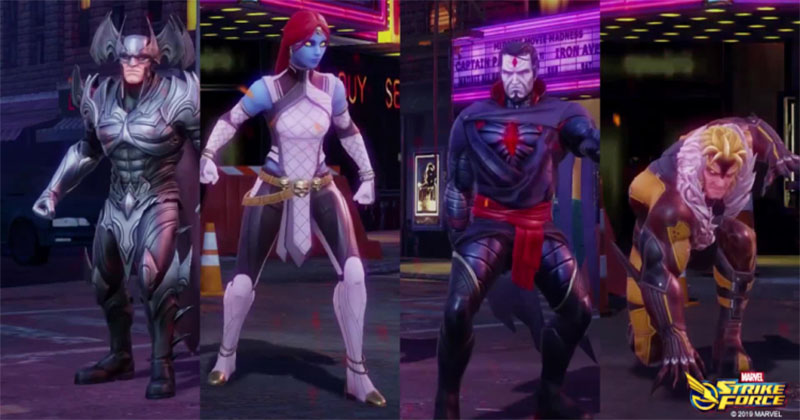 When it comes to your choice, it is important to note that each team has got its characteristics. For example, Symbiotes are coming with whaling options, and similar to that Asgardians have for raiding capabilities than any other campaigner on the game.
If you are new to the game or need something special at the very beginning, it will be better if the Avengers are chosen as the first choice. They can work together, win together, and do many things together. When it comes to combos, they have impressive unlocking features that can bring victories in no time. Since the beginning becomes much comprehensive with the Avengers, that will have to be the first choice.
Whatever the choice you are going to make on the mentioned teams, you must avoid choosing guardians or defenders. If you expect to go on farming with these two teams, it will not take much time to make you play.
For example, you will not make it on Ultimus 06 with either of these teams. When it comes to Guardians, there are so many reasons behind not having them for you. Bringing no use for the ISo campaign, inability to tolerate damages, relying on the star level of the player, and high damage stats are a few of them. If you are more focusing on them, you will have to use Guardians for Hero or cosmic campaigns.
Neither Asgardians Nor Defenders
Similar to Guardians, defenders also have to be kept off the grid as they have the same weaknesses the Guardians have. Falling off in U6 and not being used for ISO campaign-like reasons have made the defenders off the use.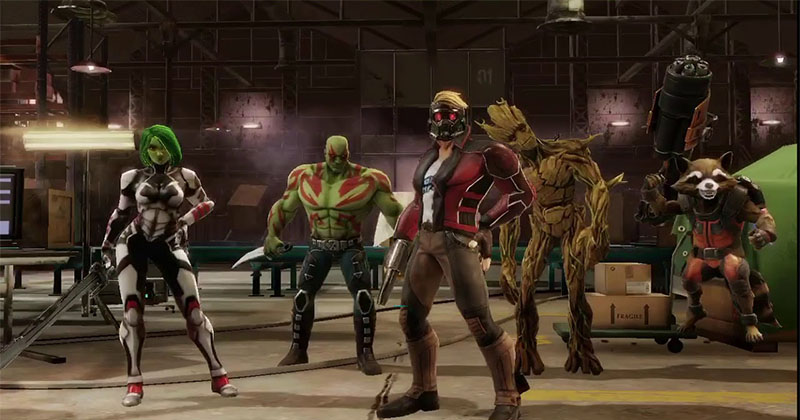 As a beginner for noting down the facts on "Marvel strike force how to farm easily: the best farming guide" you should think of a start with the characters bringing up a scary first impression. That is why the Avengers Plus have to be added and Defenders or Guardians need to be kept away.
Spending has to be committed according to a plan. There are offers to obtain at some levels. For example, the team shield offer appears at level 20 where you have to keep enough coins to add them to the team. Furthermore, Thor and Captain America bundles will appear sooner than the level-ups. Therefore keeping the expenditure for surprises have to be crucial.
A newbie player can enter phase 1 after farming avengers until six stars grow. Hulk and Captain America have to be the healer in the team. If there is any kind of difficulty at Phase 1, Asgardian will have to be a choice of yours. Along with farming your team, you may build the aim team as well. That will make the possible things that you have to commit in the gameplay.
However, it is vital to note that the aim team should be built a maximum of up to 140k which makes the graviton a possible target. As the outcome of getting Hella, this will be the best path to set in the first phase. Since hella is one of the legendary characters within the game, that will be a crucial move you get to choose.
Dark Dimension 2
Dark Dimension 02 is an important phase a gamer has to go past. When it comes to Hella, she is way capable of fulfilling the target. Symbiote spider is also a better option than any other character on the game. If you have him, he will pass on the Dark Dimension for sure. Gamers have to get Symbiote via Milestone orbs. Since Avengers plus is the recommend team to fight at this level, that will be the best combination for any kind of gamer.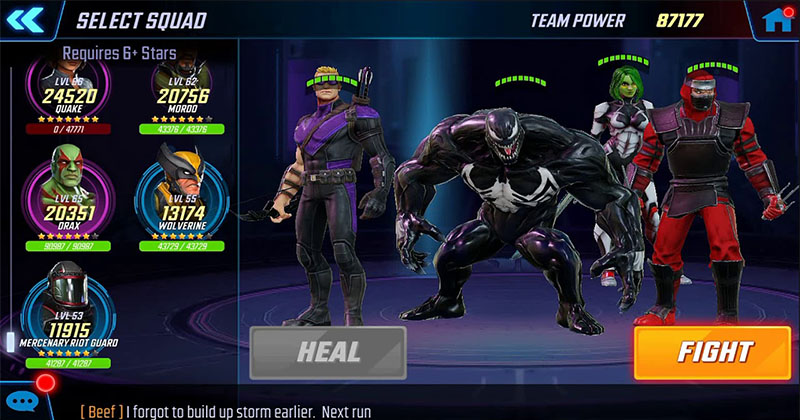 Even though a gamer is interested to complete the Dark Dimension Phase 1 before dark dimension Phase 2, that will be a possible thing. Ultron should be utilized to earn the goal. For this, the player should have 6 stars with that. If it is a moment without Ultron, you will be able to go through using any other character with 6 stars.
Phase 02 consists of several characters including Rhino, Goblin, Shocker, Vulture, Mysterio, Sif, Heimdall, Hela, and Loki. After unlocking these characters, gamers will get a load of characters at the next level. Asgardians with so many power upgrades, Unbeatable Hela, and Blackbolt are a few of the things gamers get to use.
Also, unlocking the Helas node will be a crucial thing to do in this phase. It will cost around 140k aimsquad and you have to make sure you have plans for getting reached to this. It can be used for Loki, juggernaut, and Ronan as the villains.
Sinister Six is ​​the strongest team for Blitz and War. When it comes to unlocking legendary characters known as Invisible Woman and Shuri, Sinister six is ​​the only way. Gamers have to use Sinister Six to win to reach those two. Similar to Sinister Six, Asgardians are recommended for the blitz and war. But, the players only get one legendary character known as the Black belt. However, he is considered as one of the characters that cannot be beaten during the gameplay as well.
After going through phase two, there are so many legendary characters left to unlock. Since red stars keep flowing at the moment, gamers will be able to keep the momentum towards the Dark Dimension phase 03 as well. Also, flash events and half paths will emerge at these pints where the gamers get to enjoy bonuses.
World Warrior
While battling so many wars against each other, there will be a milestone that a gamer can achieve. It is known as World Warrior. The stars and other consolations will be granted to you at the same point. As a tactical campaigner, you have to use them properly for targeting the upcoming flash events. The alliances will keep working to get rewards and they will include your independent collection too.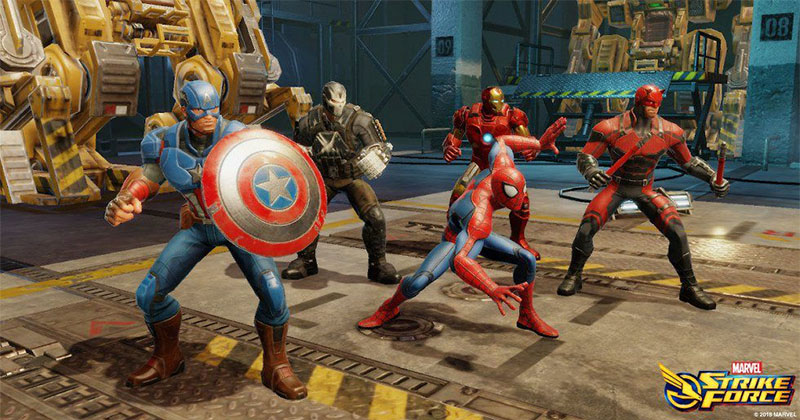 Marvel Strike Force with LDPlayer
Most of the RPG games will require a rerolling method to pick up the things you want. So that factor will have the same effect on this Marvel Strike Force as well. Since you can use the multi-instance sync feature, you will be required to synchronize your all instances at some points. So it will let you deal with several interfaces a one time.
The synchronizer will help players reroll fast and control their interfaces without switching to another. And also, you will gain access to control your all accounts continuously. Use LDPlayer to have all opportunities, and you can enable this synchronizer tool by following these steps.
• Start the gaming with LDPlayer
• You will see three dots in the player's sidebar. Click on it.
• Search for the synchronizer icon and enable it
• As a final step, click start and now begin your synchronizing.
Conclusion
Experience is everything for getting the full use of the Marvel strike force. Even if you get to follow some tips from the very beginning, it is you who is going to battle in the game. Therefore, you need to keep the experience you gather at the game.