Guardian Tales is an epic Action Role Playing Game. The game is developed by Kakao Games Corporation. It features epic Puzzle Solving Gameplay with intricate mechanics such as lifting heavy boulders, throwing bombs, and slinging yourself across obstacles that have you find hidden pathways for amazing treasures.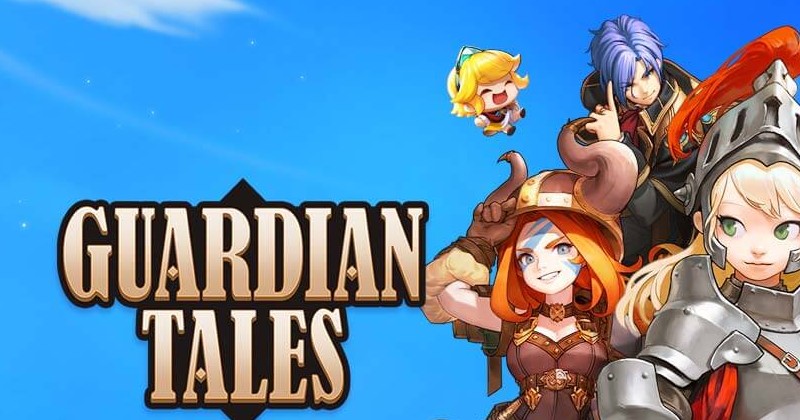 You can duck, dive and dip in a 2.5D platforming RPG. You can assemble a team of 3 heroes with proper synergies for real-time combat. Guardian Tales features a sophisticated system in terms of leveling up. With guild creation, weapon, and Hero collections, you can do tons of things to make the most out of the game.
Earning Hero Crystals:
Earning Hero Crystals is the most important way for you to level yourself up fast in Guardian Tales. There are a few mechanics you can take advantage of to earn them extremely fast.
The first method that is commonly used is by discarding Duplicate Hero Gachas. For a rundown, here are the exchange rates you should be expecting:
⦁ Duplicate 1 Star = 1 Hero Crystal.
⦁ Duplicate 2 Stars = 8 Hero Crystals.
⦁ Duplicate 3 Stars = 50 Hero Crystals.
Another important way to earn crystals, which you can focus on as soon as you start playing the game, is Event Rewards. In Guardian Tales, Events are quite lucrative, and completing them in a timely fashion rewards you with a much-needed amount of crystals.
You can also convert excess evolution stones that you get throughout the game to Hero Crystals. There are a few requirements you need to follow before you can convert them, however. Firstly, you need to evolve the Hero to 5 Stars maximum before the stone can be converted. The conversion rate itself can be combined from a large number of hero stones. A Normal hero stone can never be converted. You can access this feature from your Inventory to Consumable.
Earning Free Diamonds:
Diamonds are another primary currency you should start earning as soon as you make your account in Guardian Tales. They are the key to helping you level up as quickly as possible. There are a few ways to earn Diamonds for free in the game.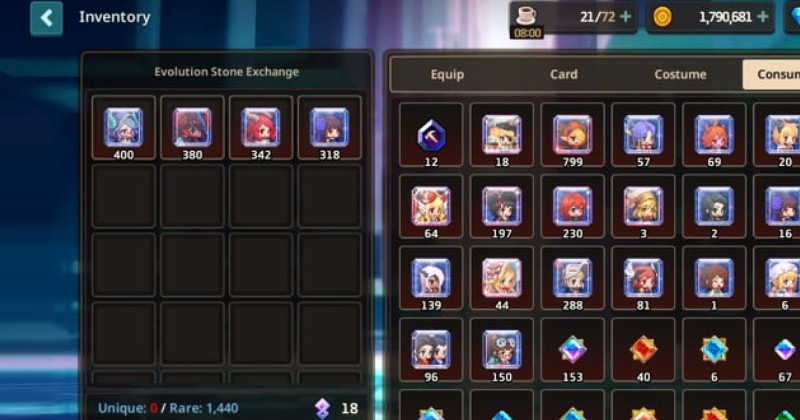 Firstly, we recommend that you always get your 100-200 gems a day from the Weekend and Weekday Daily Coffee events. They last for a few hours and also provide you with +50 and +70 coffee (for stamina,) respectively.
You also get Diamonds as soon as you complete the story map and the dungeon stages for the first time. Moreover, a daily guild login rewards you with 20 diamonds, while a 3x Daily Arena Run gives you 50. If you log in every day, you get 100 Diamonds.
Another lucrative way to get diamonds in Guardian Tales is by logging in for 14 and 28 days straight, completing events, evolving heroes, collecting weapons, and playing in the Arena and Colosseum.
Grinding Arena to Level Up Fast:
You get 20 Trophy points and 2 Medals whenever you win an Arena Match. If you lose, you still get 10 Trophy points and earn a medal. The Arena also has a rank safety net system that helps you level up fast in Guardian Tales. If you rank up and then lose on the next battle, you will not de-rank at all.
The Arena map changes every week and opens twice a day, once an hour in the session. You get ten tickets for Arena per day. The first five tickets will reward you with trophy points, and the last five will give trophy points. If you are at a party, the hero Buff will always get applied to that area while any taunts will not work.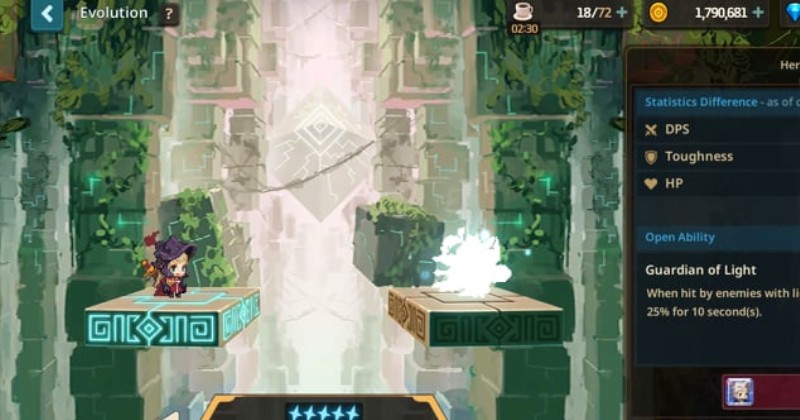 So, we recommend switching those particular roles up. If you want to level up faster, try joining a guild and being in a party when entering the Arena. The fact that you will control all the roles should provide you with a significant advantage.
Getting Better Equipment:
If you are an early user who wishes to level up fast, you will get many weapons. We recommend that you always save your high-level weapons for Evolution later on, even if you have duplicates. As there is a low chance of you getting the particular set of evolutions you want, it makes sense to have duplicates you can keep experimenting on. Getting the right enhancements greatly increases the chance of you getting more XP out of Arena, Duels, the Colosseum, and general Quests as well.
Suppose you want to get better equipment much quicker as they aid in leveling up. In that case, you should instantly start farming dungeon items as they give you many random evolution materials and hammers. If you have weapon Gacha, Yellow Grade weapons are relatively easy to get.
When grinding weapons, if you want to level up fast in Guardian Tales, your top priority should always be to get the Hero Exclusive. If that does not work, it is generally okay to use another weapon. However, your priority should always be to obtain the exclusive weapon for the Hero as they help with the Hero's potential by quite a large sum.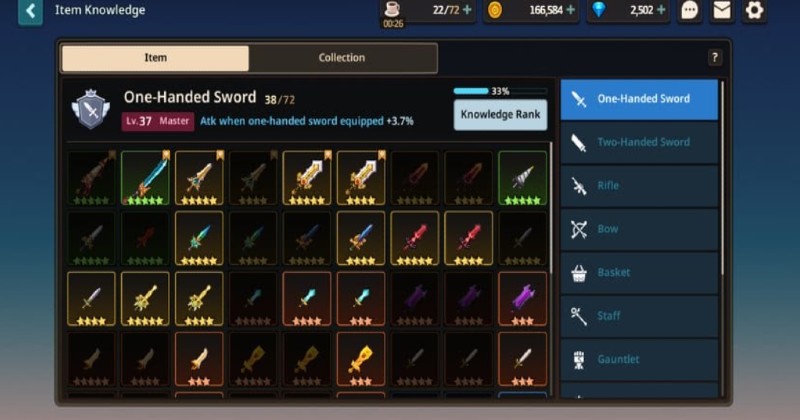 Try never to use weapons as an enhancement material as they can be quite valuable later on. However, you can use necessary weapons as enhancement material, but they do not provide you with many resources anyway. So, keeping them in your inventory or discarding them will not make a lot of difference in the long run.
Conclusion:
Guardian Tales is an entertaining Action RPG Game that dives deep into the world of Fantasy and Mysticism by introducing numerous heroes, each packed with unique skills and buffs that synergize the best with a variety of counterplay potential.
With Arena and Colosseum's inclusion, Guardian Tales has cemented itself as an incredibly intricate RPG with many mechanics that differentiate it from the rest. Unlike most Gacha games, this game combines luck with skill and allows players to level up fast. You can progress much more quickly if you follow these tips. Like any other ARPG, Guardian Tales requires hard work and dedication. You can level up a bit faster if you are with a good stack, though.