League of Pantheons is a brand new Mobile RPG developed by Hong Kong Game Studio Neocraft Limited that allows you to combat deities of various mythologies against each other. You will discover the masses of Ancient Immortals from diverse mythologies gathered in the game. The game offers you 100+ Legendary Heroes from 8 major mythologies, including Greek, Norse, Japanese, Egyptian, and many more.
Content
So here, we will review the overall game and give you a full outlook with its merits and downsides by its gameplay, features, concept, graphics & visuals, and much more. Let's get started without wasting your time.
The game starts interesting
---
The game begins with an assistant asking your name and helping you get equipped for the battle, like introducing you to the world around the game. First, you have to summon in the game & receive your character & then finally move to the battleground. Then, tapping on the boss lets you make a team of heroes and fight the deities.
The game as a whole; helps you get ready for the battle and lets you understand the features for equipping your characters and acquiring rewards. This is an interesting part of the game because whenever we open games like this, we don't usually understand where to start and what to do? So we need a tutorial to understand the game and its features. So here, the game helps players by pointing to where to select certain options and with the help of the character's voiceover.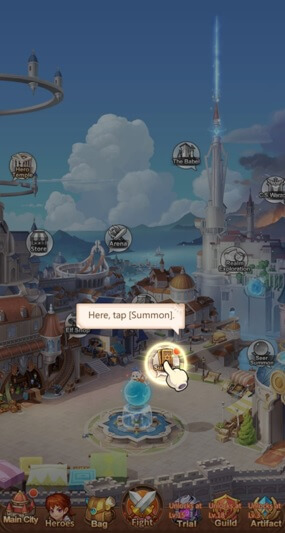 Graphics & Visuals
---
The graphics of the game are stunning and interactive. It starts with a graphical picture in front of you of the female character and all the background around her. The visuals are shiny, and we cannot take our eyes off them. The whole game is graphically best, whether it is gameplay or its features. The game's UI is fun when the fight happens between the characters. When we tap on the summons, the graphics look good, and a female character appears snapping her fingers.
However, the usability of the game is a bit difficult. It isn't clear when you have to find options as per your requirement. There are a bulk of options where you don't understand easily what a better option to select is? However, the game itself helps you initially; as we mentioned earlier, they point to where to tap the options for equipping yourself, getting your rewards, and starting the fight with deities. Still, the bottom line here is that it depends on the device you use for playing the game, will show you graphics in that way.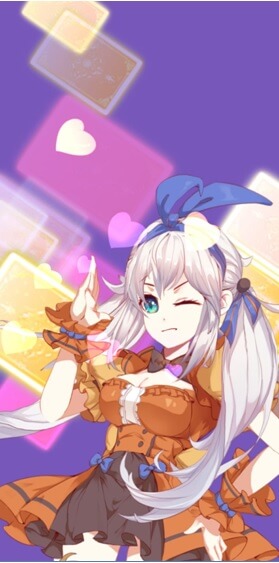 Gameplay
---
In the beginning, you will go for battle in Story Mode. The gameplay is set on the nature background where characters are running and defeating the enemies one by one and receiving gems for the same. It can be said that gameplay works like a movie happening, and we are watching it. You have to choose your battleground from the map and make a team of your characters by tapping on "Boss." The characters will do their job and get you gems & score high. You get your rewards instantly & daily.
In Arena, you can also watch the replay, and the characters do their job to score high. However, there are chances that you can also lose if the character's upgrades aren't strong or the characters lack strong weapons. Overall, then also, the gameplay is stunning and flexible for the faster progress of players.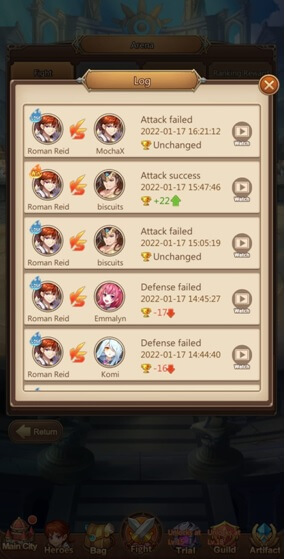 Ad-free Expereince
---
Normally while playing such games, Ads appear out of nowhere, and it's a major issue for the players. The Neocraft has done its best to give players a fully ad-free experience here. There are no ads at all in the game and not even the ad-free pack or anything like that. Here you do not need to watch Ads for doubling your rewards. Instead of that, here, you can have in-app purchases for more rewards. You do not encounter a single Ad in this game and can play nonstop without interruptions.
Game Modes
---
As you know, we had mentioned earlier at Trivia Crack Explorer Review that multiplayer mode should be available for the game as an option. So here in this game, there are many modes like single-player, multiplayer, cross-server, etc. This game does great here by providing modes and giving players more options for their gaming experience. This thing is beneficial for all players in a way that they can decide whether they like to play alone or in groups.
Conclusion
---
So here's our full review of League of Pantheons. The game offers you brand-new features and gameplay with full flexibility. The game is fun to play, as it allows you to discover new maps after defeating the deities of diverse mythologies. The game reminds us of Bloons Adventure Time TD, where characters do their job, and you do not need to combat at all. Same here too, you don't have to combat but focus on upgrading your characters with power-ups and win gems and earn rewards like blitz, weapons, clothing, and many more.
The game also reminds us of the Japanese Anime shows, where you will discover miscellaneous animated characters and their powers. Everything in the game is automated. But despite being automated, the game is the best in its gameplay, features, graphics, game modes, and many more. So far, this game completes every player's needs of what they need, like an ad-free gaming experience. So recently, we did not find any drawbacks related to this game, and the game is at its best right now and lets you have an exciting & thrilling experience ever. So overall, the game is great & replayable and worth your time to play nonstop.