Codigames are best known for bringing some of the best idle tycoon titles to the mobile platform, such as Idle Supermarket Tycoon, Prison Empire Tycoon, and Idle Police Tycoon. One of their most recent launches is Law Empire Tycoon, which we'll be reviewing in this article.
Law Empire Tycoon puts you in control of your very own law firm, where you will have to work hard in order to assemble the best lawyers at your firm. The game has a lot of interesting features such as studying a situation and hiring the suitable lawyer to handle the case, hiring interns, paralegals, or delivery workers, depending on your firm's necessity.
The game also sees you hiring receptionists that will direct clients to the correct lawyer to handle their case as well as speed up your firm's performance. You will have to hire the best staff and manage your team as a smart owner in order to grow your firm into a profitable and renowned business.
In this article, we'll be giving readers our thoughts on Law Empire Tycoon after taking the time to play the game through hours and hours of exciting gameplay. So let's get into the review.
THE GOOD
---
Gameplay is Casual and Strategic
The gameplay is very interesting as it offers a casual and strategic experience for both players familiar with idle simulation titles and those who aren't. The casual aspect provides similar controls and game settings like other Idle titles from Codigames.
However, the game's strategic aspect is a lot more interesting as it requires creative thinking in a lot of areas. You have to strategize how to upgrade a certain department and make it profitable. You have to strategize how to increase your firm's clients or upgrade your lawyers' office to bring in more clients and many other areas, which is one of the most interesting things about the game.
There's a ton of stuff to unlock and use
While many idle tycoon games often have lots of unlockable content, not many of them allow players actually to use these contents to their factory or company benefit. The idle tycoon has tons of departments, investigations, and research areas that can be unlocked and put to use to increase your firm's growth.
You can unlock offices, staff, and many more, which will spice up your firm and increase its overall growth and help you bring in more clients to the game.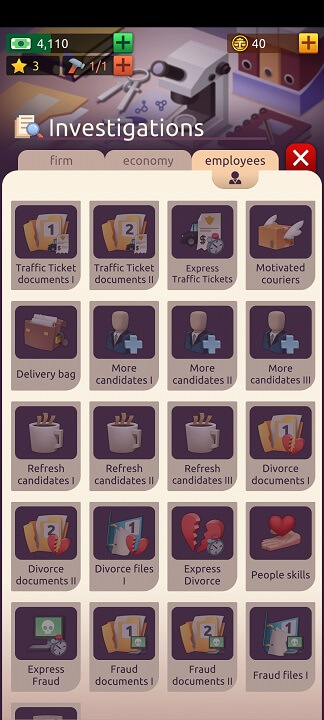 Graphics
Impressive 3D graphics and animation
Like many other graphics from Codigames' idle titles, the game's graphics have impressive animation and a comic feel to its 3D graphics. The firm is well set with the receptionist's office at the front door while lawyers and other staff have their very own respective offices or location well designed around the firm's premises. You can also see the vault where all your money is stored filled up with cash, and the brown-like feel of the firm's wall and furnishing adds a stylish finish to the game design.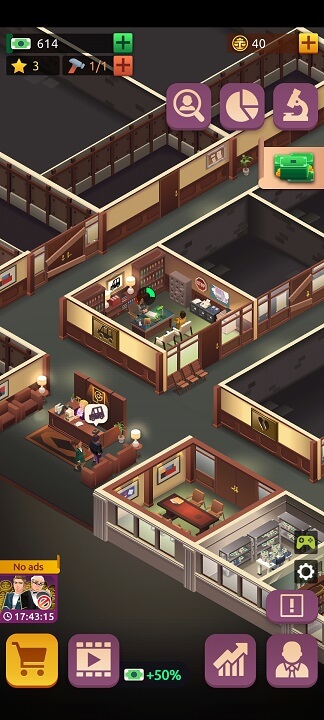 Lots of characters to hire and interact with
There are many different types of characters in this game that you can either hire to work for you or help with a legal case. There are so many lawyers with various attributes that you can hire to work at your firm. Some legal interns work closely with lawyers on cases to help them with whatever they need to win a case. You can also hire a detective to help you with investigations on a certain case.
Delivery workers deliver required documents to lawyers, and you can also experience client interaction with lawyers. If a client is happy, you'll know from the symbolic expression that'll pop up above them. The characters are so many that if you manage to fill in all the blocks in your firm after you've exponentially grown your business, you will start letting some staff go by either replacing them or firing them entirely.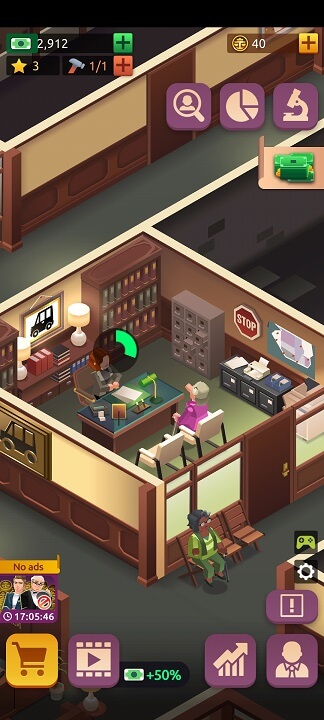 THE BAD
---
Too many IAPs
There are far too many IAPs in this game that, while it doesn't really take away anything from the overall experience, does cause a bit of letdown whenever you head to the store only to stumble upon the hips of IAPs that aren't exactly cheap.
The free goodies that are supposed to make the store a bit more visit-worthy are given every six hours and only give you a single random lawyer. That doesn't make the game fun in certain aspects because it's not easy to make money in this game, and your staff is paid hourly. If you calculate your staff remunerations plus the cost of upgrading various departments and offices in your firm, it would've been fair to add more free rewards in the shop instead of just one.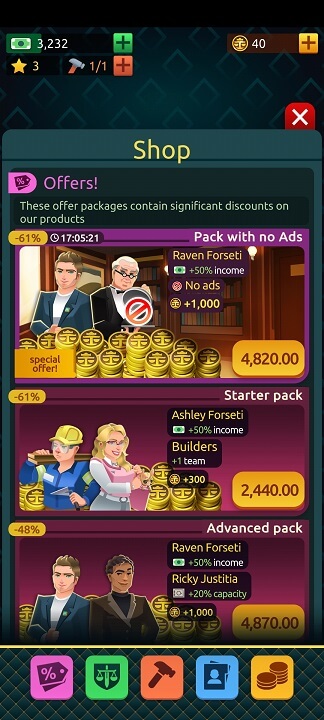 Little rewards for watching Ads
Watching Ads in games is one of the easiest ways to help the game developers generate more revenue and get exciting rewards for watching the ads. However, Law Empire Tycoon offers very few rewards after watching ads. This has a negative effect on the game, considering how it's an online game, and you have all these expensive items lying around in the shop but reward players with so little for watching ads.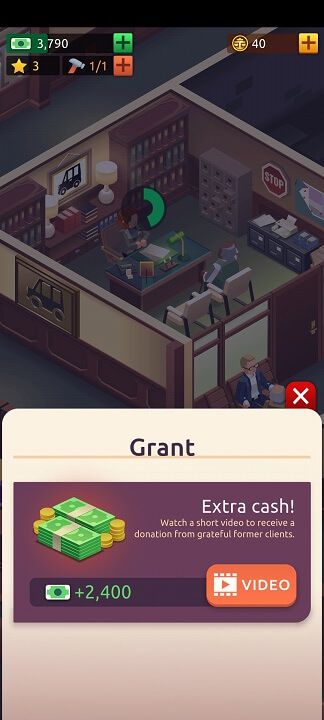 Conclusion
---
If you love idle tycoon games, you're going to love this one, especially those who have a thing for the law firm. This game offers a realistic experience of how a law firm works with its casual and strategic gameplay that allows you to make tough decisions and manage your firm like an actual firm owner.
If you're just starting out with the game, you'll have a long way to go before you can proudly call your firm a successful business and yourself a renowned attorney. If you're searching for an idle tycoon game that gives you an attorney experience, then look no further than Codigames' Law Empire Tycoon.