Kings Throne is a mobile game primarily suitable for gamers who wish to play differently. Kings Throne: Game of Lust is quite diverse from other games that give you a playful experience throughout the game. If you seek to get involved in some weird game setting, this is the one you have searched. And today, we are going to know about the King's Throne: how to get every maiden into the castle.
Content
When you can hold the crown, you have to avoid the traditional rules and principles and then work on the way to accomplish your maidens' wishes. Because in Kings Throne, the maidens are the basement subjects to create your kingdom even if they are not subject to your male conquerors.

In this guide, you will get an idea of the game Kings Throne, which will benefit you as a gamer. Here, you can understand how your maidens can acquire, how they would work for your success and their duty on behalf of you.

King's Throne How to Get Maidens to Come to the Castle
As Kings Throne is a novel experience for you all, you should identify the basic thing, King's Throne: how to get maidens into the castle. But it would be best if you remembered that you could not marry any of those maidens but get their support to build your king's house in an advanced manner. So you carry out the maidens to enhance your strength.

There are three main methods utilized in this game to provide you answers for King's Throne: How to get maidens as follows.
Intimacy – This is the first method as an answer for the King's Throne how to get every maiden, and it has a significant impact on the child of yours from the maiden and the stats.

EXP Points – EXP Points can also be utilized to get every maiden, and through that, every maiden is going to have a bond with the respective hero from the game. And then players can use the EXP boost points of this maiden to increase their own stats.

Suppose your king is capable of meeting these maidens for every 30 minutes you spend in the game; try to do it constantly as it can allow you to have some rewards. Maidens are many to be chosen, and everyone holds their own means for the game as well.

How to Get Maidens to the Castle?
You can generally go with six main methods to get these maidens towards your castle in this game. They can be listed as follows.

Complete Your Procession Events
So many maidens out of your game can be earned by completing these events. There is an option for you to press as the Procession, and it will allow you to check the Luck points you have. This can make a gamer see their chances of having a maiden by completing these events. The luck to have the maidens can be increased with grain, gold and gems.

There are some places in the game where we can meet our maidens, and to have a visit to such places, we must have some Goodwill points. The maximum number of Goodwill points a player can have is three, and they will also be automatically restored. If you want, you can also restore these points with a manual method, and it needs to use the Goodwill draught.

Log in to the Game
You can have a login to the game for seven days continuously, and that can provide the best solution for the King's Throne on how to get every maiden question as it can earn them for you.

Events
Suppose you have the Golden Spear coming from the Brunhilde package. Then know that you are eligible to recruit the Heroic maidens from the game. By spending 30$, you will be able to buy this pack, and you can tap on the package icon on your screen to proceed with the payment.

Campaign
Try to progress through the campaign by playing their chapters, as it can unlock more and more maidens with time.

VIP
Try to purchase the VIP with real money for the game, and it will allow you to have some of the premium maidens.

Reach onto Kingdom Power Milestones
Reaching into several milestones from the Kingdom power can let a player have an attraction from some specific maidens.

The Maidens Who Will be Unlocked
Marian

Isabella

Margarate

Carmilla

Vivienne

Titania

Theodora

Lady Godiva

Evanne

Morgan La Fay

Maeve

Yet, your responsibility is to convince them about your skills to join you. Some of the maidens will come with less effort; on the other hand, the rest will observe your performances and be your maiden in your castle.

For that, you have to do three principal processes to satisfy your maidens to get them into your castle. As the first method, you can use your powers to get the maidens. Secondly, you have to purchase VIP levels to get new maidens; and as the third method, you have to use Procession Events.

Three of the maidens will be yours before you complete your lessons when you are in gaming mode. They are Marian, Isabella, and Margarate. At first, Marian will join you to support you, and then Isabella and Margarate will join accordingly. However, they will not participate with you if you do not work for your victory, so the way you construct your kingdom step by step will consequently join you.

If you wish to get those maidens into your castle, you must persuade them to come. So, as the first method, you can use your power and strength to bring them to your kingdom. Here you can choose the options on your gaming screen to get them to accomplish your targets. When you complete those, you will get the other four maidens to you. Theodora, Carmilla, Titania, and Vivienne are the names of the maidens.

The second method to get your maidens is to buy VIP levels, as mentioned in the guide. Here, you will get Lady Godiva in the second VIP level, Evianne from the fourth VIP level, Morgan La Fray from the sixth VIP level, and lastly Maeve in the eighth VIP level. Even if they cost a lot, those maidens will assist you in building up your kingdom effectively. You will profit as a gamer on the King's Throne if you can buy them with money.

The final method to acquire the maidens is to obtain Procession Events on the King's Throne. They are unlocked in the early phase of your game and sometimes they can be accessed through the carriage you can see from your screen's left side.

You can build and keep up to four parades at the same time, with the results determined by your existing Fortune (between 0 and 100). The more fortunate you are, the more probable it is that you may meet a maiden, but this alone will not bring her to the castle. You have to meet the same lady multiple times until she agrees to join you.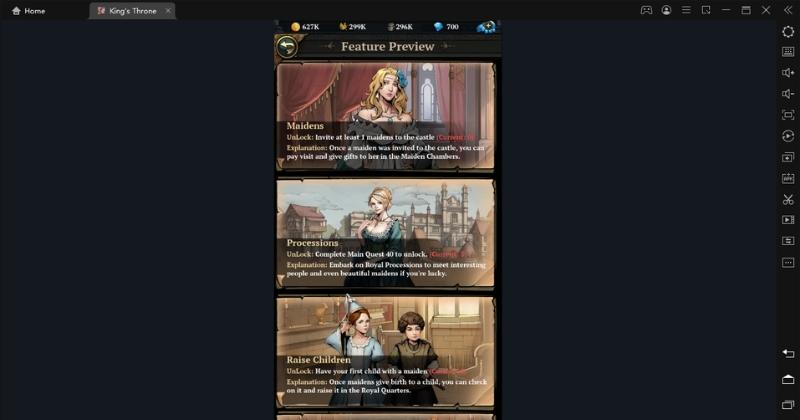 So be tactical to use those methods to get your maidens to complete your final goal as a remarkable gamer. Then you will be able to be stable in the game by showing your best performances. And most importantly, you will be able to find the best solution for the King's Throne on how to get every maiden question.
Hero Bonding Abilities
Except for Gerard, every one of your first heroes is automatically paired with one of the first three maidens who join you. Marcello is the male hero in charge of your finances. He has the ability to form a link with Isabella, whom you met at the start of the game Kings Throne. With their bond, you can utilize maiden Isabella's EXP to boost your male hero's talents.

The more your connection with Isabella, the more talents you may select to improve. Marcello will increase his financial prowess at ten closeness by 100 per level. At 200 intimacy, each class provides the hero with an additional 0.5 percentage Fortune. So this can significantly enhance the quantity of money and other things you get through Levies.

However, some heroes cannot find a maiden to make a bond with. For example, Rollo is not lucky enough to get a maiden because we don't see larger numbers of maidens available in the game. However, having one or more companions is the standard for pleasure and success for your kingdom.

When we consider the maidens, they are essential to King's Throne for more reasons than one. So as a gamer, your part is to enhance their stats and understand them effectively. And that is the only way to proceed with the question of the King's Throne: how to get every maiden towards the castle question.

You can use the Keyboard Mapping feature from LDPlayer 9 to get easy controls with these maidens throughout the Kings Throne gameplay, and it literally helps a player create their own specific controls for the game. So they are not going to be practised with the default key settings on the game, and they have the entire freedom to move with the easiest controls they created. That way, players can create their own unique gameplay to deal with maidens.



Conclusion
The game Kings Throne consists of the different maiden characters plus male heroes who enhance your power to create your kingdom. As this guide discusses all these maidens, their abilities, levels, and bonds will guide you to form your kingdom effectively. And through this King's Throne how to get every maiden guide, you will be able to have your best maiden within only just seconds.