Arcade shooters, we have a bunch of existing ones on the mobile platform already, but how many of those existing titles are classics? Not many. Developed by OneSoft Global PTE. LTD, Jackal Squad, is an arcade shooter inspired by the legendary 1988 Jackal Jeeprun'n gun-style shoot-'em-up video game.
Despite taking heavy inspiration from the previous version, the mobile version consists of a lot of features that players of the genre will appreciate and spend hours just having fun in this game. So in this article, we'll be reviewing Jackal Squad and detailing all its pros and cons to tell you what we think about the game.
The Good
---
Interesting story
Some people might find this a little bit unnecessary for an arcade shooter. Still, a storyline is a storyline, and not every game has you venturing out into the unknown or a battlefield in 3D or HD graphics. No, this is a classic arcade game with 2D graphics and a meaningful storyline with a meaningful purpose. To help you understand better, below is the game's story:
"World War II broke out; the Fascists attacked the Allies. Your brothers in arms are hostages behind enemy lines. The Jackal squad has been given a mission to drive an armed jeep into hostile territory to rescue and extract prisoners of war. As a soldier of an elite group that has undergone a harsh training regiment to survive in any environment, can you complete this mission and put an end to the war?"
This means you won't be meaninglessly shooting at enemies and blasting through their base, as we've seen in a couple of similar games. But in this game, you have a primary mission, a sole purpose, which is to control your armored jeep, invade enemy territory and rescue your comrades who are being held captive as prisoners of war.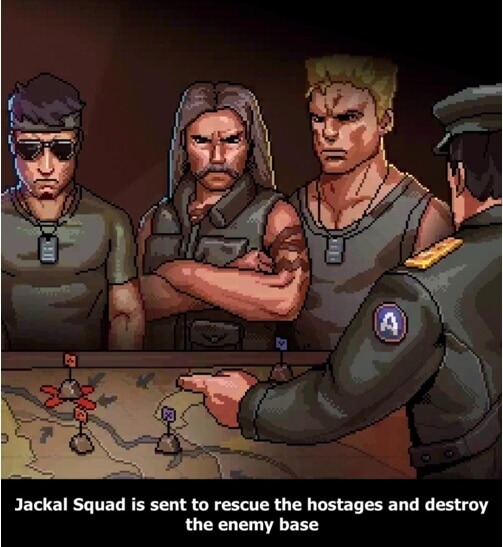 Impressive Pixel Graphics
The game's classic theme is mixed with an impressive Pixel graphic that brings back memories of classic old arcade games. The designs of the jeep, the weapons, the explosions, pistols, and the military bases will almost instantly bring back that old childhood vibe to your mobile device and let you have a feel of retro all over again.
Smooth & Modern Gameplay
The game's idle run and gun-style shooting style present modern gameplay that makes the game easy and playable for everyone with an auto-aim mechanism. It allows your jeep to automatically aim and shoot at enemies that are within its radar, a white circle around your jeep. Your car aims and shoots continuously until you no longer have enemies within your radar.
Your mission is simple:
Rescue your comrades.

Destroy the enemy base.

Collect resource items and coins.

Rescue any imprisoned soldier.

Don't get killed.
There are many more than a hundred levels to complete and other interesting game modes that you can enjoy, such as Survival and Boss Mode.
The game also allows you to play offline, which means you can enjoy this game wherever as a guest or play online and save your progress. Note: there are several benefits to playing the game online, such as watching ads, saving progress, and accessing the leaderboard, which is unavailable since the game is in early access.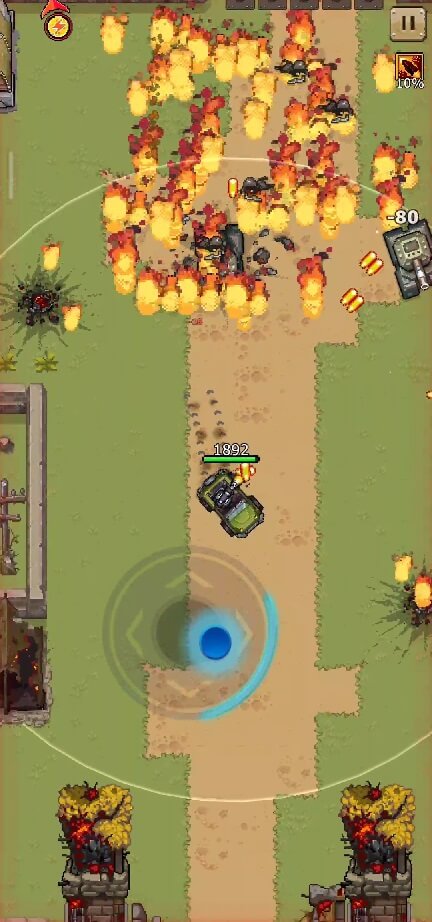 Near-perfect Controls
There are no complications with the game's controls. All you have to do is control your jeep using the movement button that's set at the lower part of the screen with a sky blue color attached to it. The controls are very basic, and just about anyone can control the jeep and try to survive as long as they can.
However, players will need to be fast when controlling their jeep as there will be situations whereby you will have to evade a lot of bullets coming at you from all angles, and you may be fast, but you're not faster than hundreds of bullets. So you might get hit by a few, but you have to be fast enough, so you don't get killed by all of them. Anyhow, the controls make everything easy, but in the end, it's up to you to control your jeep and keep it from blowing up.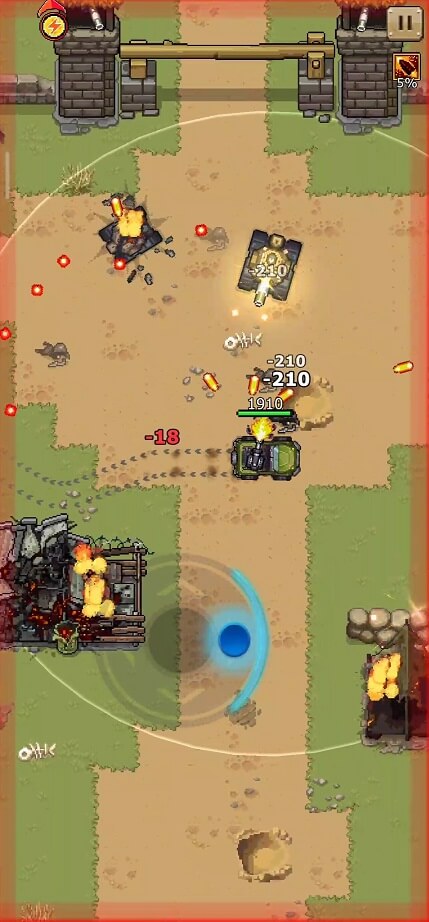 The Bad
---
Too many IAPs in the shop
Jackal Squad offers players a ton of ways to get more coins but offers very little to no way of getting cash. Coins are easy to get either from killing enemies, watching ads, collecting daily rewards, and so on. On the other hand, cash is the main currency in the game, so they're very hard to come by. If you need cash to buy Resource Boxes or new vehicles immediately, you'll have to spend real money to get it.
There are too many IAPs in the shop with few opportunities to get cash by either watching ads or using a different currency to buy them. Coins, for instance, can be bought with cash, but you can only buy more cash by using real money. So assuming the game developers implement some online multiplayer in the game's full launch, then players who spend money in the shop will get the upper hand against those who don't.
While this doesn't seem necessary to carry enough negative weight to take away anything from the game, players who prefer to play single-player modes won't mind. Still, those who become obsessed with their leaderboard position will not be happy about the game's Pay-To-Win element. So we hope the developers will look into this and try fixing it by adding more methods with which players can earn more in-game cash without pulling out their MasterCards.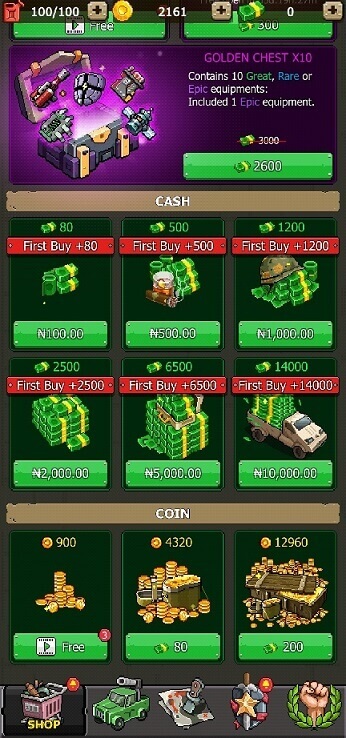 Conclusion
Jackal Squad brings back the good old arcade classic to your mobile device, and if you want to take a ride back to the good ol' times, then this game is for you. There are really not many cons to this game, and the IAPs don't really take anything from the whole gameplay experience, so it's definitely worth giving a shot.