Injustice: Gods Among Us is a popular action game from the Injustice franchise developed by NetherRealm Studios and published by World's Most Popular American Entertainment Agency, Warner Bros. The game has over 10,000,000+ downloads worldwide & also available for Online and Offline (for PC only) Downloads. Warner Bros is known for producing popular game series like MORTAL KOMBAT, Lego, Injustice, Middle-earth, Batman: Arkham, etc.
Content
Injustice: Gods Among Us is the first game of the Injustice Series officially released on 16th April 2013 and had recently updated a year ago on 25th March 2021, with brand new features. So today, we will give you a detailed review and our views on its features, gameplay, game modes, graphics & visuals, etc. So let's start right away.
THE GOOD
---
Graphic & Visuals
The graphics are made in 3D with characters models and backgrounds, while the game is set in a 2.5D environment. The graphics and visuals of the game are fantastic, with custom animations for every single player, superhero, and villain. The graphics appear at the beginning of the game, where characters speak in the background and appear in front of us. The real fun-to-experience graphics are when you use damage to quickly make a character's power drop or use special powers to defeat while fighting them.
As said earlier, the graphics are in 3D, so here, graphics appear near to the screen where a player can feel himself inside the game. And the graphics constantly appear in the game, and probably it can be said that the whole game is designed to focus more on captivating animation. Also, because the game is exaggerated with high-quality animation and graphics, it will solely depend on your device and its capabilities. So make sure your device has the best capabilities and an advanced model for the gaming experience.
If we talk about usability, it would feel a bit difficult initially, but then you will understand it quickly by playing the game often and looking at different options. Overall, the graphics are best-in-class and interactive to keep you engaged in the game.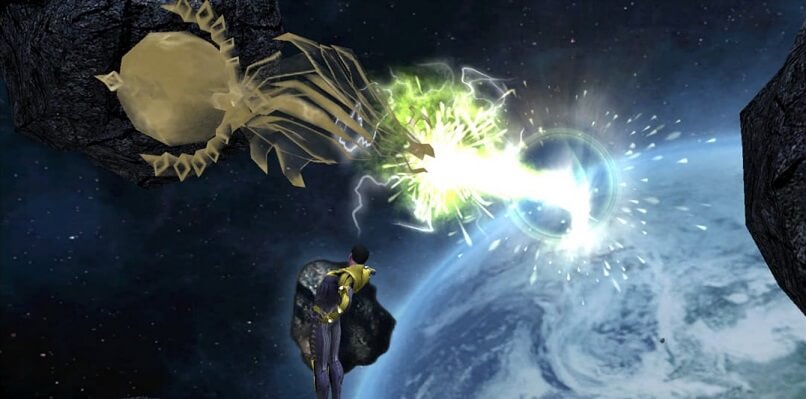 Gameplay
The gameplay is easy enough for everyone. The gameplay does not complicate players with exaggerated gaming controls or features. In the gameplay, to fight other characters, you have to swipe your fingers as the tips appear for each move and tap on damage when it fills up. You are also allowed to shift your characters if you think your life is in jeopardy.
It can be said that the game is helping its players to win the battles flexibly and quickly without any complications or confusion. Unlike other typical fighting games, Injustice gives you straightforward gameplay for your gaming experience and fast progress. Here, you can win as many battles as you can and get many cards and characters. However, the real fun of the gameplay will be experienced when you play it on an advanced level.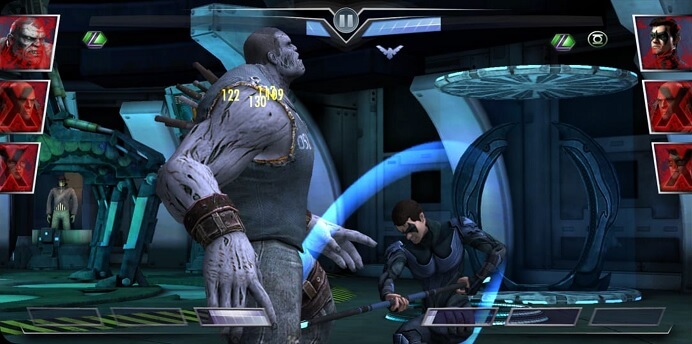 Ad-free Experience
This game gives you a fully ad-free experience. You won't encounter any Ads in-between the game or anywhere. However, you will have Ads as optional if you want to increase your credit or free recharge. To increase your credit or get free recharge, watch Ads. The game's Ad-free experience helps you play nonstop without interruptions (except for some technical glitches depending on your device).
THE BAD
---
Not for all devices
The game is mind-blowing, but the irony is it's not for all devices. As said earlier, that graphical presentation varies as per the device. Same way, the game also works as per your device and depending on the game's graphics and size. The game probably has large size and exaggerated graphics, which leads to technical glitches and improper graphic presentation. The game works only in the advanced version of smartphones.
The game lags in performance when the device is old or due to the lack of gaming accessibility. These issues are more in Android than iOS. This issue needs to get the developer's attention and make the game user-friendly for every user, especially Android ones. We understand that due to high-quality graphics and the large size of the game, developers can't make the game user-friendly for old devices, but we think they can make this game android-friendly. Making game android-friendly is possible to some extent, and that should be done.
Conclusion
---
So here's our comprehensive review of Injustice: Gods Among Us for you. The game offers advanced features and flexible gameplay for the best gaming experience and faster progress. The game is fun for playing and allows you to upgrade your characters and win as many battles as you can. Also, we had let you know all the upsides and downsides of the game for the better.
Overall, the game is best, but the only drawback they have is accessibility for all devices. We hope the game developers will look forward to these issues and improve players' gaming experience in the future. Despite a couple of issues, we believe that this game is the best choice as they had made drastic changes in their gameplay and made it super-easy for beginner players.
Injustice: Gods Among Us PC Requirements
---
Minimum
OS: 32-bit Windows 7 / Windows 8 / Vista

Processor: Intel® Core™ 2 Duo 2.4 GHz or AMD Athlon X2 2.8 GHz

Memory: 2 GB RAM

Graphics: NVIDIA® GeForce™ 8800 GTS or AMD® Radeon™ HD 3850

DirectX: Version 10

Network: Broadband Internet connection

Storage: 21 GB available space

Additional Notes: Windows XP and DirectX® 9.0b and below are not supported
Recommended
OS: 64-bit Windows 7 / Windows 8 / Vista

Processor: Intel Core i5-750, 2.67 GHz or AMD Phenom II X4 965, 3.4 GHz or better

Memory: 4 GB RAM

Graphics: NVIDIA® GeForce™ GTX 560 or AMD® Radeon™ HD 6950

DirectX: Version 11

Network: Broadband Internet connection

Storage: 22 GB available space

Additional Notes: Windows XP and DirectX® 9.0b and below are not supported