What is Tik Tok? Tik Tok is a musically mobile app, presenting a new and exciting way for users to create and share their short music videos. Also, Tik Tok provides users with different BGMs and useful tools, such as visual stickers, face change, and speed control, to personalize their videos.
Though it's a newcomer in the area of social networks, Tik Tok has attracted more than one billion downloads on mobile devices in a short time. With the rising popularity of the Tik Tok app, however, a growing number of users expect that their Windows PC can stream Tik Tok videos too. Now downloading an Android emulator becomes the way to run the Tik Tok mobile app on your computer.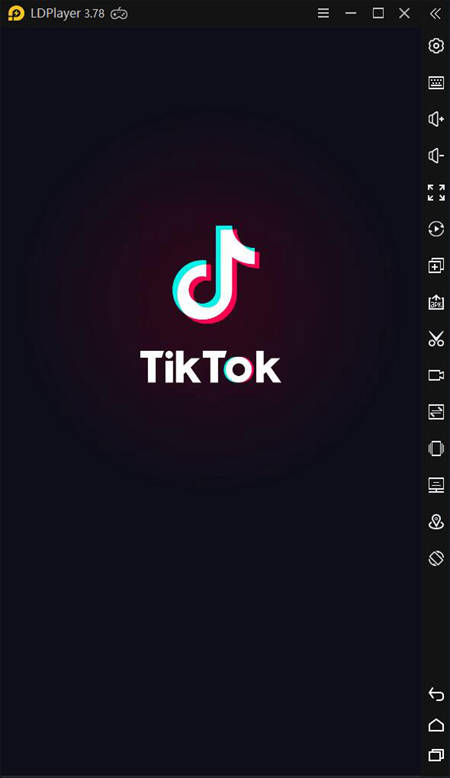 How to Download Tik Tok on PC
Download an Android Emulator
LDPlayer is the recommended emulator that you can choose to download for your computer. You can click "Download" to install LDPlayer, and then run the installer according to the instruction. Just waiting a few seconds, you can launch LDPlayer on your computer.
Install Tik Tok on PC with Emulator
Now open LDPlayer and sigh in your Gmail account if you have one. The next you can head to the search bar and search for Tik Tok. Once you find it, you are able to install it from Google Play or choose "Local Install" that will save you time. The installation of Tik Tok is as simple as you install any app on your phone.
Launch Tik Tok on Emulator
When you launch Tik Tok on LDPlayer, it's recommended that you should adjust the emulator resolution to Mobile (1080×1920) and disable the Lock Landscape setting. After that, you will display high graphic Tik Tok in vertical mode. You may not be able to create a video if your PC does not have a camera, but you can enjoy watching exciting videos as well.
What's LDPlayer
LDPlayer is one of the remarkable Android emulators in the current market. Based on Android 5.0 and 7.0, it provides high compatibility to run multiple Android apps and games. Maybe you ever have launched Tik Tok on your mobile device, while now LDPlayer allows you to run Tik Tok by using the mouse on a larger screen so that you can get a new experience.
The Guide for Using Tik Tok PC
Sign up with Your Phone or Email
In fact, you can run the Tik Tok app on LDPlayer whether you sign in an account or not. That means you can display Tik Tok without signing in if you just install it for fun. While if you want to leave comments, like and share videos that you are interested in, you should make sure to sign in with your account or create a new account.
Enjoy the Recommended Video
When you play Tik Tok on your Windows with LDPlayer, you will find that the recommended video is displaying on the homepage. If you like this video, you can share it with any social platforms. Maybe you show interest in the video creator, you can follow him by clicking his portrait, and then you can tap on "Following" to see more his videos.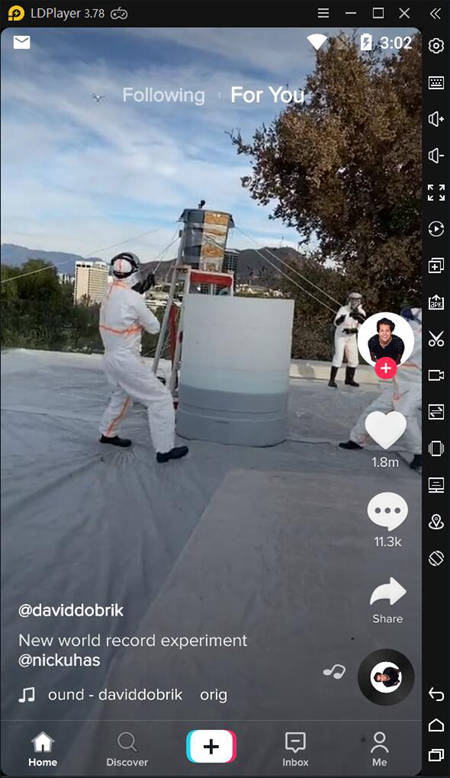 Discover More Videos from Your City
Tik Tok offers one feature that you can see videos from the same city as you by clicking "Discover" on the below page of Tik Tok. There shows you multiple interesting and different topic videos that you can choose to enjoy, which makes you get great joy. At the top of the page, it's also available to search for videos or video creators that attract you.
Create Your Own Video
If you want to create your video in Tik Tok, you can tap the "+" below the homepage. It's allowable to create 15s or 60s personalized video, which can be done by adding a sound from your playlist and using some tools (virtual stickers, effects, filters, mixer). At last, you can save your final video and post your video on Tik Tok.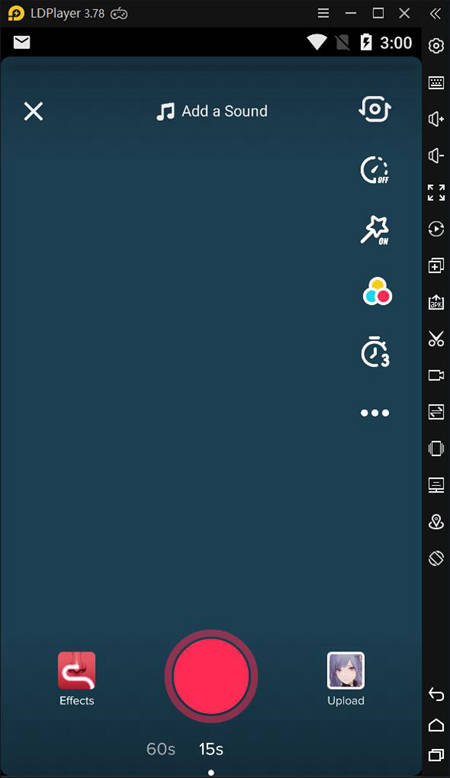 Conclusion
All in all, you can rely on LDPlayer to display Tik Tok if you don't have a mobile with you or you just want to use your computer to stream Tik Tok videos. You will get a different experience when playing the Tik Tok app on a computer! Now you feel free to download LDPlayer and use Tik Tok on your computer freely.