As Genshin Impact Version 2.3 draws to a close, players eagerly anticipate the forthcoming update, including all-new characters. The return of the iconic Latern Rite event comes the rerun of some old characters from Liyue, such as Zhongli, Xiao, and Ganyu. But today, we're not going to focus on them; instead, we will look at how to build the new character, Shenhe, and how she will be viable in your team.
Content
About Shenhe
---
Shenhe is the new 5-star character being added to the game. She is a Cryo Vision holder who uses Polearm as the weapon of her choice. Shenhe is descended from an exorcist clan's branch family. Cloud Retainer accepted her as a disciple for a variety of reasons. Cloud Retainer is a knowledgeable and chatty master to Shenhe.
Shenhe stands out among the mortals who Cloud Retainer has trained. Living among adepti as a human is difficult. Still, Shenhe possesses a unique constitution, a very strong will, and a tremendous skill for adepti arts, all of which have earned her the adepti's respect.
Long years of practice, combined with a habit of eating heavenly herbs and drinking mountain dew, have distanced her from worldly life to the point where she is now recognized as a strange white-haired Adeptus. Shenhe has deemed a supporting character similar to Gorou, supporting mono elemental teams in terms of gameplay.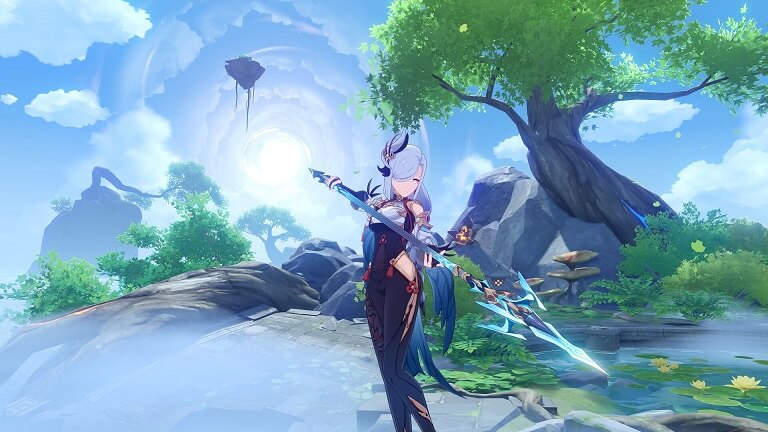 Shenhe Level Ascension Material
---
As for the Ascension Materials, you'll need these set of items:
1 Sliver, 9 Fragments, 9 Chunks, 6 Gemstones- Shivada Jade

46 Dragonheir's False Fin (from the new BathysmalVishap boss)

168 Qingxin
Shenhe Talent Ascension Material
---
As for the Talent Materials, you'll need these set of items:
3 Teachings, 21 Guides, 38 Philosophies- Prosperity Series Talent Books

6 Whopperflower Nectar, 22 Energy Nectar, 31 Shimmering Nectar

6 Hellfire Butterflies
Shenhe Skills and Abilities
---
Normal Attack - Dawnstar Piercer
Normal Attack: Performs up to five spear strikes in a row.
Charged Attack: To lunge forward and do damage to opponents, a specific amount of Stamina is consumed.
Plunge: Plunges from mid-air to the ground below, inflicting damage on all enemies in its route and dealing AoE DMG on hit.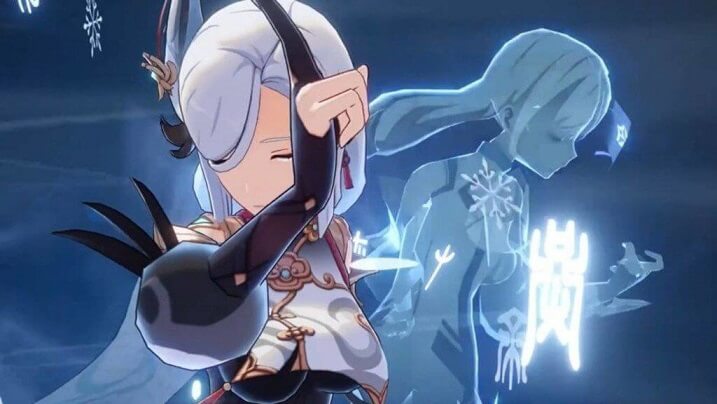 Elemental Skill- Spring Spirit Summoning
All demons will be exorcised by the frosted dew, which is silvery and dense. The Icy Quill effect is applied to all nearby party members, and it deals with Cryo DMG in varied ways depending on whether it is pressed or held.
Press: Rushes ahead with a Talisman Spirit, inflicting Cryo DMG on all enemies in his path.
Hold: Talisman Spirit is summoned to deal with AoECryo DMG.
Icy Quill: The DMG dealt with opponents is boosted dependent on Shenhe ATK when your team deals Cryo DMG to them. Once the Icy Quill effect has expired or a specified number of Stacks have been eaten, the effect will be erased.
Elemental Burst - Divine Maiden's Deliverance
The Talisman Spirit's power is released, letting it travel freely on this plane to deal AoECryo DMG. The Talisman Spirit then constructs a field around itself that reduces opponents' Cryo RES and Physical RES. It also deals Cryo DMG to opponents on the field regularly.
Passive Talents
Precise Comings and Goings- When dispatched on a Liyue Expedition for 20 hours, gain 25% greater rewards.

Deific Embrace- Cryo DMG Bonus is granted to active characters within the field generated by Divine Maiden's Deliverance.

Spirit Communion Seal- Shenhe will grant the following effects to all adjacent party members after using her Elemental Skill, depending on whether it is held or tapped: When tapped, the Elemental Skill and Elemental Burst DMG will be enhanced by 15% for 10 seconds. Normal, charged, and plunging attack DMG will be boosted by 15% for 15 seconds when held.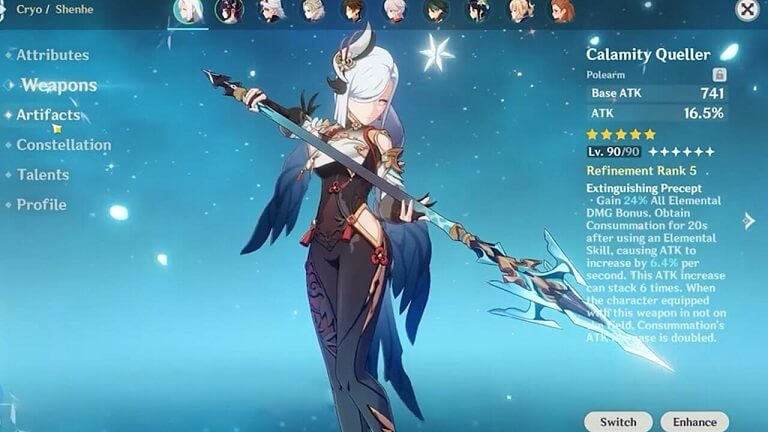 Constellations
Clarity of Heart- Spring Spirit Summoning can be used one more time.

Centered Spirit- Deliverance of the Divine Maiden lasts six seconds longer. Cryo Critical Hit Damage is enhanced by 15% for active characters in the skill's field.

Seclusion- The level of Spring Spirit Summoning is increased by 3. The maximum level of upgrade is 15.

Insight- Shenhe will gain a Skyfrost Mantra stack when characters under the effect of Icy Quill trigger its damage bonus effects. - Shene will waste all stacks of Skyfrost Mantra when she uses Spring Spirit Summoning, increasing the damage by 5% for each stack consumed. - There is a limit of 50 stacks. - Each stack lasts 60 seconds.

Divine Attainment- The level of Divine Maiden's Deliverance is increased by 3. The maximum level of upgrade is 15.
Shenhe Build Guide
---
Best Weapon
Her Bis Weapon, "Calamity Queller," will be available for players to obtain through the standard banner running alongside Shenhe's banner. It has a base attack of 49 with an attack% sub-stat of 3.6%. Its passive will help a lot with building a cryo-support Shenhe. The other 5-star weapons you can go for are "Engulfing Lightning" and "Skyward Spine."
As for the 4-star weapons, there are a few that you can use: "The Catch," "Favonius Lance," and "Lithic Spear" would be very effective for her.
Best Artifact Set
Shenhe didn't have any specific artifacts for her, unlike Itto, but there are several sets in the game that you may use for her. One of the sets includes a 2-piece Blizzard Strayer and a 2-piece Noblesse Oblige.
Blizzard Strayer -
Noblesse Oblige -
The other set that you can go for is 2-piece Gladiator's Finale and 2-piece Shimenawa's Reminiscence.
Gladiator's Finale -
Shimenawa's Reminiscence -
In terms of team composition, she's ideal for a mono-cryo team, but if you don't have many Cryo characters, you can always go with one or two, along with a healer or a sub-DPS.
Conclusion
---
Shenhe has one of the more elegant animations I have seen in the game and looks pretty. Apart from the looks, she will be viable in your team. If you saved up for her and plan to summon, may the Gacha Gods be with you!