The developers Square Enix have announced that Final Fantasy VII: The First Soldier will be releasing worldwide on November 17, 2021.
Final Fantasy VII: The First Soldier will be playable on iOS and Android platforms and was announced back in February. Pre-registration for the game is already available on the App Store and Google Play for the respective devices.
Information about the game
---
The game is a "high-octane" battle royale game with RPG aesthetics from the original Final Fantasy series. The game takes place in Midgar, which is 30 years before the original 1997 Final Fantasy VII. The mobile game will be similar to the fictional industrial enterprise Shinra and its Soldier experiments.
The players will be capable of participating in online multiplayer battles while exploiting spells, weapons, and special abilities to defeat enemies in a fight to become the first soldier. The game will also contain various famous locations from Final Fantasy VII.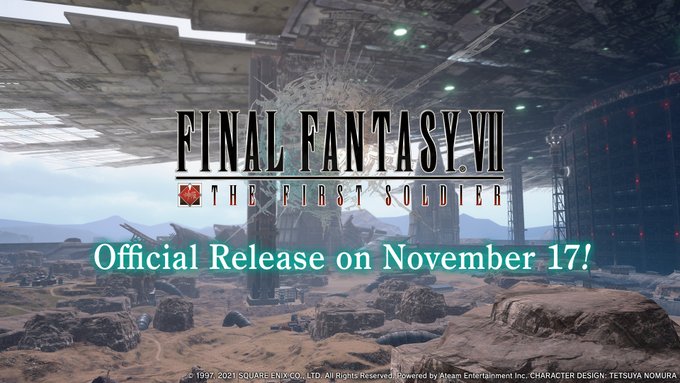 Insights from the developers
---
During the latest Final Fantasy XIV Letter from the Producer broadcast, director and producer Naoki Yoshida said that Final Fantasy XIV: Endwalker has been postponed by two weeks. The expansion, which had a possible launch date of November 23, will now be released on December 7, and early access will be available on December 3.
Yoshida said that they will require a bit more time until the expansion pack's launch, but rest assured that they will keep on investing every bit of their skills into development and operations to achieve an immersive adventure experience for the players.
Parallel to the announcement of the postponed launch date, Yoshida and his development team also announced new details about Endwalker's post-launch content, along with the expansion's Pandaemonium raid series launch.
Overall information on the pre-registration and downloads for the game
---
Players will have time until November 11 to pre-register on their preferred device, either iOS or Android, and will have to spare around 2GB of space on their respective device to download and install the game. Players with iOS devices need to have iOS 13.0 or later and should have an iPhone 6s or higher for optimum gameplay experience.
The tweet by the developers also revealed that players should "stay tuned for more info". To rejoice, a milestone of 770,000 pre-registrations devs declared that all players will be rewarded with a Shinra Bike skin when the game is launched. We also got to watch the opening movie in all its goodness.
Conclusion
---
Players will be disappointed regarding the delay in the launch date as everyone was very eager to experience the game in all its glory. But there is no need to worry as the new launch date is set to December 7; hence players will have to wait a tad bit more before getting their hands on the game. Judging from the apologetic response of Yoshida, there probably won't be any further delay in the launch date.