Battle Balls Royale is an Action, Strategy game developed and published by Yodo1 Games. This game was released in November 2019 for the Android and iOS platforms. Battle Balls Royale has more than 1L+ downloads on the Play Store and mostly has encouraging ratings. This is an online competitive multiplayer game where you choose your desired character and fight other online players to top the Rankings Table.
Content
Today's article will help beginners get started with the Battle Balls Royale. We will discuss the essential parts of the game like - features of the game, gameplay, rewards, etc. So, let's get started.
About the Game
---
Battle Balls Royale is an online action multiplayer game where you battle with other online players to dominate the ranking table. In this action-packed game, conquer the arena by defeating your opponents.
Choose your desired character and customize it by using different costumes available. Jump into the arena to participate in the battle. Remember, size is everything in Battle Balls Royale. So, collect as many beans as possible and fight the enemy blobs to level up. Collect beans and defeat the enemy to get bigger and get Stronger. The battle will have a time limit, so rise to the top of the ranks before time runs out.
Become the ultimate brawler champion in this action-packed PVP jelly clash. Feel the ultimate battle experience and be the last man standing in this awesome battle royale. Now, we will be looking at the features of the game.
Features
---
Customizable Blobs - customize the blob by choosing from Hundreds of combinations of the skins, weapons, and accessories. Change the color of your battle blob too.

Daily rewards - the game features daily rewards where you have to log in each day to earn your rewards in terms of in-game items, including character customizations and coins.

Level up to unlock, mix and match abilities to suit your style of dominance, from fireballs to devastating spin attacks.

Grab various in-game items, including bombs, to increase your chances of defeating the opposition faster.
Gameplay
---
Battle Balls Royale has easy gameplay where you have to customize your blob and get battle-ready. Crush the enemies by getting bigger and stronger. Also, collect beans and enemy blobs to level up and get to the ranks.
After installing and opening the game on your device, the first thing you will find is the Tutorial part of the game, where you will understand the essential game mechanics. You will learn how to collect beans, attack enemies, dodge their attacks, use weapons, and control options.
After the tutorials, you will be redirected to the main game screen. Here you will find all the menu options. You can customize your blob from the options and check for rewards and other things. You also get the name of your character.
Using the Start Game option, at the right-bottom corner, you will enter the battle arena where you have to collect beans and fight other online players. The more you collect the beans and the enemy blobs by defeating them, the more you level up. To defeat the enemy, you can use your weapon and throw bombs at them. But to increase your chances of winning, you have to increase your size; the bigger, the better.
Other players are playing to win, too, so you will be attacked. Dodge their attacks as much as you can and try to attack back. Now, if your opponent kills you, you have the option to revive yourself. You can also collect various in-game items, like bombs, to flatten the opponents during the battle.
The battle will last for several minutes, so you have to keep fighting, collecting, reviving until the time runs out. Level up to be at the top of the leaderboard when the time runs out.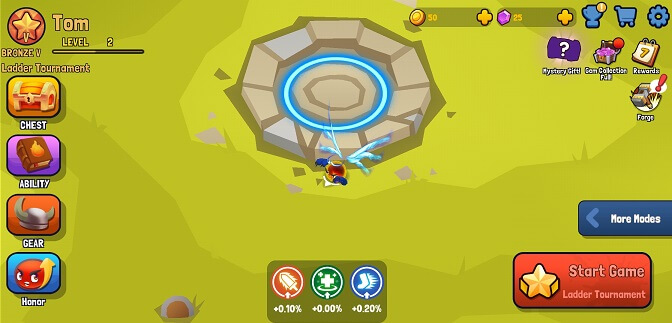 Currency
---
The primary currency of Battle Balls Royale is the Gold coins and Gems. With these coins, you can buy new Rare Chests, upgrade health, attack power, or increase speed, and you can also exchange these coins for Gems. With Gems, you can buy Epic and Legendary Chests. You will receive coins and Gems by leveling up during the battle and defeating enemies.
Chests
---
The game contains three chests which will give you more character, gear, and other rewards. The gears will make your battle Blob more powerful. The Chests have three categories – Rare, Epic, and Legendary. You can buy these chests using coins or Gems. You can also obtain chests by watching ads in the Mystery Gift and Daily Rewards options.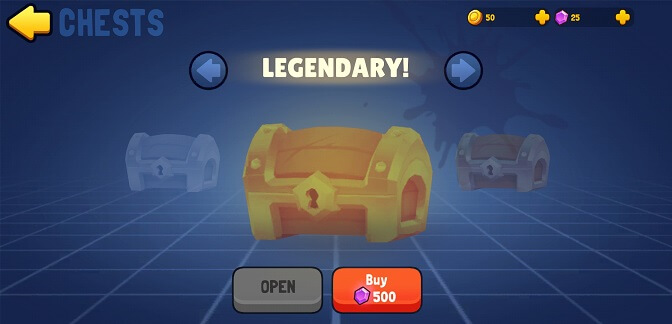 Daily Rewards
---
The daily rewards will be given to you when you log in every day to the game. For the first day, you will receive 5 Rare chests, and for subsequent days you will get Scuba Steve (game character's skin), 9999 coins, Evangelion, 5 Epic Chests, Stormrage, and finally 5 Legendary Chest.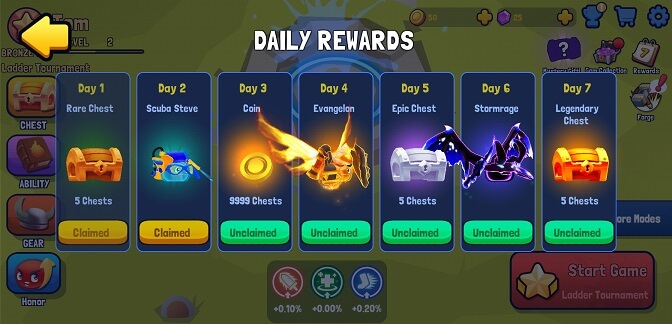 Ability, Gear, and Honor Level of your Battle Blob
---
Your battle blob has two abilities – either to Dash through a short distance and avoid the enemy's attacks or shoot a powerful fireball that will deal massive damage to the enemy. It's up to you whether you want to be offensive or defensive.
The Gear option will help you to customize your character. Every character Skin you unlock can be found here; you can also see the unlock weapons and change your blob's color. There are 70 skins, 48 weapons, 24 colors waiting to be unlocked.
Honor level can be increased by Improving Health, Enhancing Attacks, and Increasing speed by using Coins and Gems. You can also watch Ads to increase your Capability Value.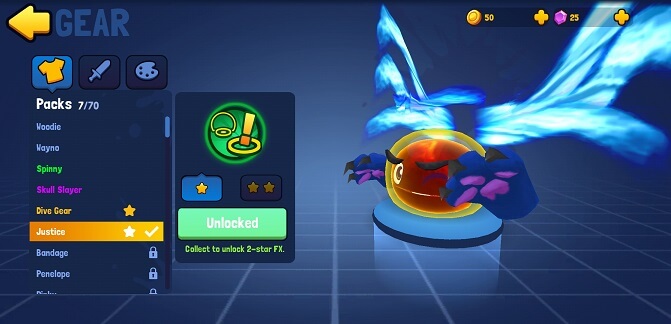 Modes
---
The game has three modes. These are – Ladder Tournament, Infiniti, For the Holy Treasure. The Ladder Tournament is unlocked from the start. You will battle and level up here to move to Level 5 and unlock Infiniti mode. The Holy Treasure mode will be unlocked at level 9 to engage in a 5v5 battle.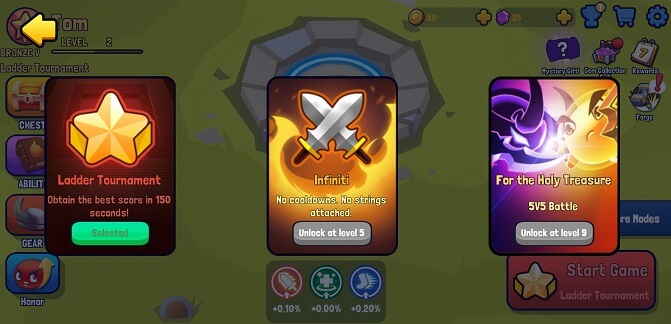 So, this will be all for now on Battle Balls Royale beginner's guide. We will return with more on your favorite games so, stay tuned with us.