Baseball Superstars 2020 is a dream come true for baseball lovers. Baseball Superstars 2020 is an RPG game available on Android and iOS platforms and developed by GAMEVIL.
In the game, you can control your team and players. You can build your own perfect team with customization. The game has good graphics, which helps your performance. There are multiple options to play matches in different modes.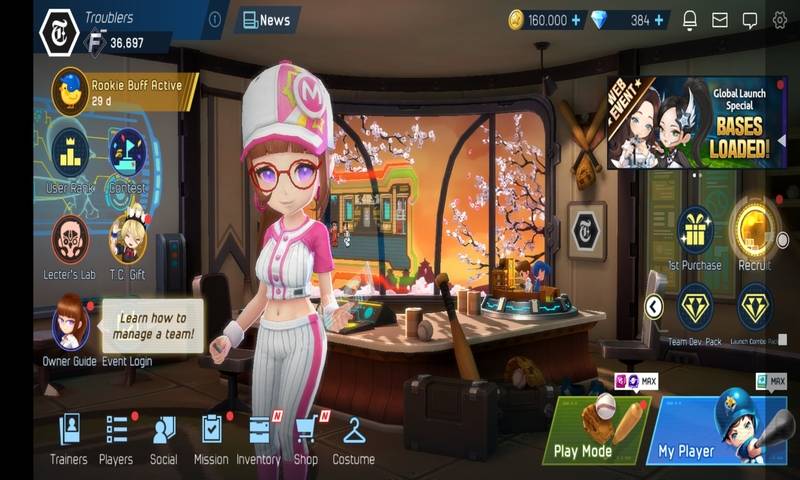 As GAMEVIL said, "The EPIC baseball RPG is back with more style, modes, and customization." In Baseball Superstars 2020, you can collect and upgrade cool and unique trainers to help you to develop the best baseball team in the Galaxy.
In Baseball Superstars 2020, at first, you will have to Create a Team, pick Customizations like Emblem, Uniform, etc.
Basically, you are the team leader, and you will have to train players by recruiting trainers, build a perfect team to participate in all game modes. You can recruit more than 100+ unique out of this world trainers to help you build a dream team.
Players:
Players with good stats can deliver good performance in the matches. At the start of Baseball Superstars 2020, you will have a team of players with low stats, and you aim to develop your players and higher trainers to raise their stats.
How to develop Players in Baseball Superstars 2020?
At a beginner level, you will only have access to the GAMEVIL Superstars. You will see other options like Shining Angels, Curel Pumas, Mechanic Steamboys, and coming soon (which will come later in Baseball Superstars 2020), but you will unlock those at a certain level. It's merely straightforward, follow the given instructions to develop players in Baseball Superstars 2020:
⦁ In the right corner of your game's Home Screen, you will see the "My Player" button. Please tap on the button; it will take you to another screen.
⦁ Go to GAMEVIL Superstars; you will see a lot of options to develop a player of your liking.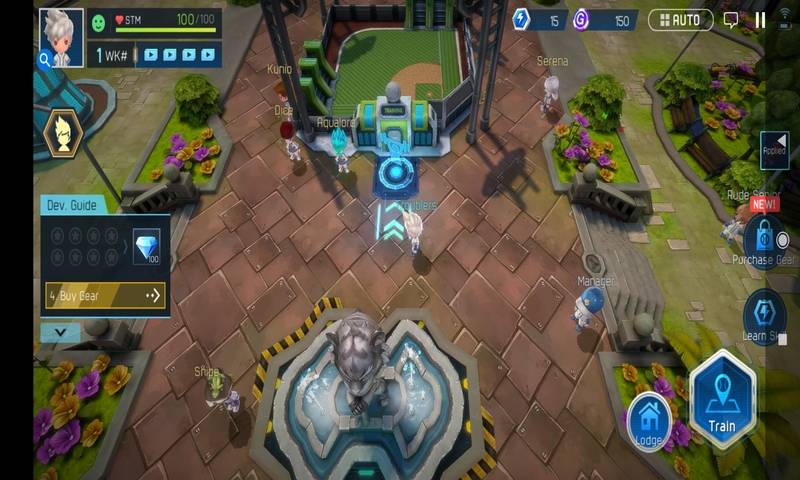 You can select any Position of player, Appearance of player, and Player Info. Every time you will develop a player, develop points will be used. They will recover 1 per 3min. So, only create a player you want not duplicate or random.
Positions:
There are two types of positions to select from:
Fielder:
⦁ Power hitters often play 1B; First Baseman.
⦁ Proficient batters often play 2B; Second Baseman.
⦁ 3B; Third Baseman, this position requires excellent defensive play and good batting ability.
⦁ C; Catcher, requires exceptional defensive skills.
⦁ SS; Shortstop, this position requires a player who can cover a large distance quickly.
⦁ LF; Left Fielder, LF usually requires proficient players.
⦁ CF; Center Fielder, CF, requires a player who can throw the ball accurately.
⦁ RF; Right Fielder, RF requires a player with accuracy over a long distance.
Pitcher:
SP; Starting Pitcher, need good stamina for this position.
RP; Middle Relief Pitcher, it comes after starting pitcher to deal with various game circumstances.
CP; Closing Pitcher, A player who can close the game at full strength when the team is winning.
Appearance:
You can change Hairstyle, Hair Color, Skin Tone, Eye Color, Accessories, and Facial Hair.
Player Info:
You can give numbers to your players randomly, or manually. You can also choose the Batting Style of your player.
Once you have developed your player, press "Next." A new screen will show on your screen, and you will be able to select the trainer for your player. You can choose buffs for your trainers too.
There are multiple buffs for your trainers, but as a beginner, you will only have three buffs available. Then, you will be able to train by trainers, meet friends, other players, your agent, and other agents who want to hire you.
Trainers:
Trainers are sort of main characters in the game that help you train your players at a professional level. So, it's better to set a deck of trainers, only develop trainers of SSR and UR tier. Don't waste your time and resources on lower ones.
⦁ If you are going to develop a 1B positioned player, you must select the 1B position trainer and so on.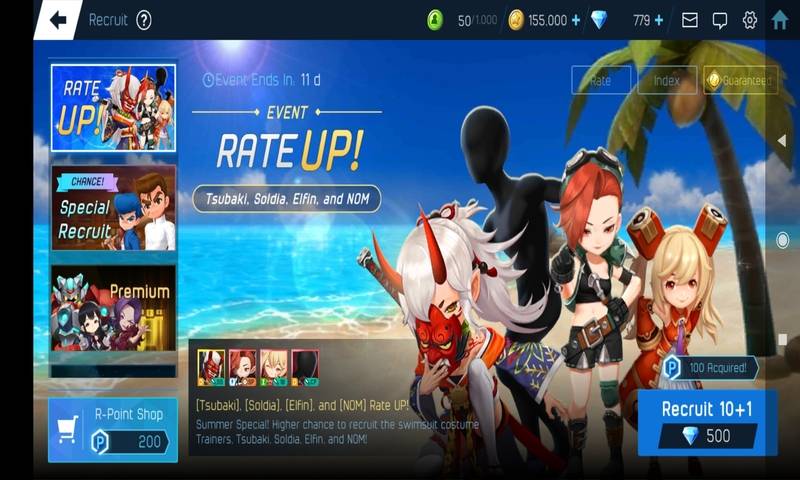 How to get Trainers in Baseball Superstars 2020?
You will see a "Recruit" button on your home screen. Click on the button to recruit trainers. You will see four types of options available on the left side; Rate Up, Special Recruit, Premium, and Friend Recruit.
⦁ Rate Up:
Rate Up is an event, which lasts for some days. In the event, you will have to spend Premium Currency/Diamonds on recruiting Trainers. In 500 Premium Currency/Diamonds, you will recruit 10+1 Trainers. The highest trainer you can get from Rate Up is a UR tier trainer.
⦁ Special Recruit:
Special Recruit also charges 500 Premium Currency/Diamonds to recruit 10+1 Trainers. This event is also time-limited. The highest trainers you can get from it can be UR and SR tier trainers.
⦁ Premium:
In Premium, you can get trainers from the R-UR tier. Premium also costs 500 Premium Currency/Diamonds for 10+1 Recruit or 50 Diamonds for 1 Recruit. So, it's better to recruit ten trainers to get one free trainer.
⦁ Friend Recruit: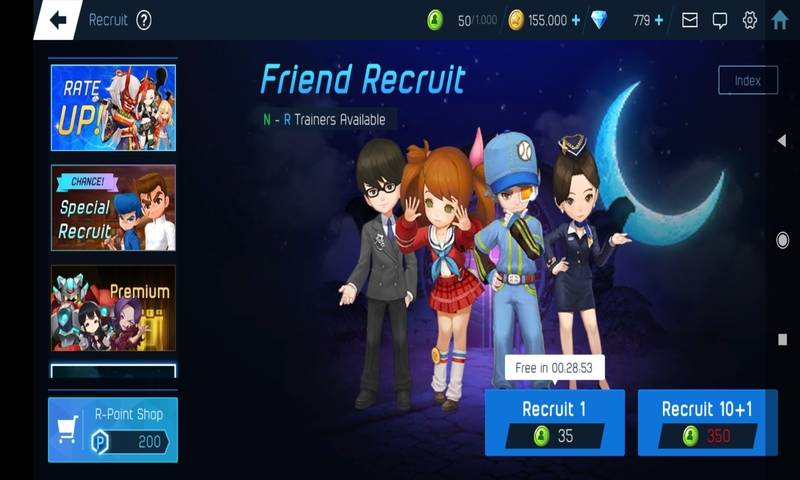 In Friend Recruit, you can hire one trainer or ten trainers. Upon hiring ten trainers, you will get one free trainer. In Friend Recruit you will have to spend points earned by friend activities. In 350 points, you can get ten trainers and one free trainer. Those will be between N-R tier trainers.
Conclusion:
The above-given guide will help you understand the game in a better way. All the details regarding Players and Trainers are in this article. You can make players of your choice, their hairstyle, color, skin tone, etc. which means you can change anything and everything about your player. To know more about Trainers and what you can do with the players you develop and training, click here to read our article.
You can play Baseball Superstars 2020 and many other games on Pc using an Android Emulator.
LDPlayer is one of the most rated and downloaded emulators with higher reviews. LDPlayer provides higher graphics and a bigger screen for all the games. It also provides a special and unique boost for some specific games like Free Fire, PUBG Mobile, Mobile Legend, etc.