Azur Lane is the first and ever game to having girls and ships with its combo, and now it has been one of the most anticipated games worldwide. This is a real-world battleship game, and ship girls are the charging officers of those ships. Players begin the game as the beautiful ship owner, and everything revolves around the ship and the ship girls.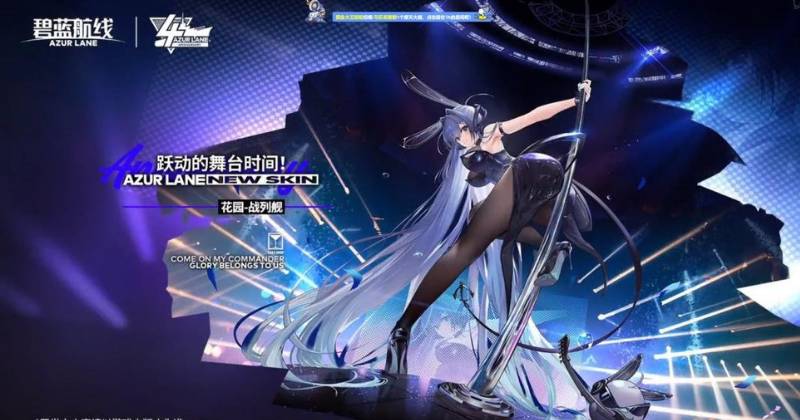 It is Azur Lane's 4th anniversary. So now it has been revealed through the game to have new events prior to the 4th anniversary of the game itself, and it comes with different limited-time events, characters, skins, outfits and items. So let's identify these set of updates one by one through this guide. So first, download your Azur Lane on PC and let's begin the journey.
New Contents
There will be two different limited-time events as follows.
Mirror Involution
This is a limited-time event that holds from 27th May to 9th June, and you need to play the stages of the event to collect PT, which will help you earn some special rewards. Exchange those PT to rewards, and it can be used to purchase the limited-time character called Ticonderoga. The Maps of A and B will reward the players with triple PT who are clearing the stages on each day. After you finish the SP stage, the EX stage is going to be unlocked.
During the time of this event, you need to accumulate these PT to earn some rewards. Rewards may include another limited character called Morrison as well.
Characters from the Mirror Involution
You can construct the characters from 27th May to 9th June. The character Ticonderoga will only be available through the event shop, and Morrison can be earned through the Point Accumulation rewards until its 16th June.
These are the characters available in the event.
Archerfish

New Jersey

Ticonderoga

San Francisco

Morrison

Boise
UR Pity System: Each of the 200 limited builds will give you a New Jersey.
Soar Fledgling Wings
This is also a limited-time event and will be commenced from 27th May - 9th June. Therefore, you need to clear the normal stages after chapter three in here or the stages from the event to earn the trust.
EX stage is not going to be included here. Instead, players can earn double trust along with the Little Enterprise Sortie, and unlocking daily missions can be done by earning enough trust. By completing all the missions, you will earn the limited-time character called Little Enterprise by completing every mission in this event.
Characters from Soar Fledgling Wings
The only character in this game is the Little Enterprise.
The third event is the Call to Arms Eagle Union Phase II, and you can know everything about it by clicking here.
Manjuu Creamery
This is the 4th limited event we are going to talk about, and this is going to start on 27th May and will end on 16th June. You need to clear the normal stages here right after the 3rd chapter. Or you can clear the stages from the event for collecting PT. Players need to earn enough PT here to get the limited outfit of Saratoga, and it is called the Sweetest Picnic. Along with this, you will get a limited amount of furniture as well.
Manjuuland
Manjuuland, the limited-time event, will be held from 27th May to 16th June, and there are mini-games to play here. You need to upgrade the buildings to earn some buffs with rewards.
Cake Defender
Cake Defender, the limited-time event, will be held from 27th May to 16th June. A mini-game will be unlocked every day to perform a one attempt in here. Players can play this mini-game for over seven days, and it will let them earn the early Summer Invitation of 2021.
Souvenir Soup
This is another limited-time event which will be held from 27th May to 16th June. Each day there will be one mission to unlock until it turns to 3rd June. You need to complete these all missions to earn the tickets of Manjuuuland exchange, and they can be exchanged for rewards.
Headquarters Mobilization Request
This is another event of limited that comes from 27th May to 16th June, and players will need to enter for UID to call back the commander. It is done to activate the duty and earn rewards included with the Gear skin box and the vouchers of Rental Outfit.
Wishing Well Construction
This limited-time event will be held from 27th May to 16th June. Players have to select two characters to add for the permanent build pool before it is 25th March to make a rate for them. The ship's rarity will go to determine the chances of the build.
Double EXP
This is going to start from 27th May to 30th June. When you are in the event, they will earn the double commander if a player is under level 60. And the EXP ship from all the sorties.
Newly Added Skins
These are the new skins available through these events, and they will be available for the players from 27th May to 16th June. So basically, these are the limited tome skins.
Exhilarating Steps for New Jersey

Sheepish Sapphire for Boise

Charming Rabbit for Allen M. Sumner

Blossoming Bunny for I-19

Coquettish Bunny for Archerfish

Funny Bunny for San Francisco

Token and Ghost for Kinu

Show Stopper for Ticonderoga

Sleeping Bunny for Morrison

Chilaxation Chamber for Stephen Potter

The Sweetest Picnic for Saratoga

Icy Sweet Storytime for Unicorn

Monochromatic Marvel for Acasta
Rerunning Skins
These skins will be available for the game permanently
Eternal Night's Carola for Duke of York

Guardian of the Ball for Ark Royal

Beacon of the Iron Blood for Bismarck

Summer Sucre for Dunkerque

Cote d'Azur for Emile Bertin

South Town Pearl for Georgia

Rose's Regalia for King George V

Monochromatic Interlude for Kawakaze

Sleepy Sunday for Le Malin

Great Fox's Respite for Nagato

Wild Huntress Schoolgirl for Minneapolis

White Rose for Sirius

Sovereign of the Swing for Yukikaze

The Goddess day Off for Victorious

A Novel Anniversary for Admiral Graf Spee

Glorious School Life for Glorious

Afternoon Venus for Dunkerque

Free Time Before Class for Haruna

The Beauties of Nature for Kongou

Bubbly Anniversary for Hornet

May I Have This Dance for Helena

Warring States Warship for Mutsu

Beachside Magician for L'Opiniatre

Cloak and Dagger for Sheffield

Sports Festival Preparations for Yoizuki

The Ballroom's Lucky Star for Shigure

The evening I Can't Remember for Yorktown

Fashionable Outing for Acasta

The Transfer Student Underneath the Dancing Petals for Asashio

Fleur Blanche for Forbin

Sleepy fairy for Fumizuki

Ecole de Chavalier for Forbin

Fluer Blanche for Forbin

Dark Bolt for Jamaica

Little Idol Schoolgirl for Hobby

Snow Fairy Schoolgirl for Kalk

EcoliereHeureuse for Le Mars

The banquet's Honor Student for Z23
You can check out our Tips and Strategies Guide for Azur Lane if you need to know more about gameplay development.
Newest Retrofit
There is a new retrofit called independence that will be included with these events for Azur Lane.
Rental Outfit System
This will be available from 27th May to 16th June, and you need to log in to the event for earning two vouchers for Rental Outfit. These vouchers can be used to rent out the following skins for 48 hours.
Exhilarating Steps for New Jersey

Sheepish Sapphire for Boise

Show Stopper for Ticonderoga
New Items to the Akashi's Shop
These newly added items will be available in the shop from 27th May, ending on 9th June.
Limited Strategic Supplies for limited five purchases

Limited Build Supplies for limited one purchase

Décor Tokens Pack for limited two purchases
In addition to these, an all-new set of furniture is coming to the game as an ad. These furniture sets for Bunny Girl Bar will be starting on 27th May and will end the period on 9th June. Additionally, the Nelson Untamable Nobility, called the newest character story, will include in the game, and for June, there will be a monthly log in reward for the players.
Azur Lane with LDPlayer
Use the Multi-Instance Sync Feature to earn the heroes by rerolling in the game rather than doing the usual reroll steps. This feature of LDPlayer will allow you to have more than one rerolls at the same time to earn your favourite hero. So you will gain the best chance to obtain your most liked hero in the game Azur Lane.
Conclusion
Come on and enjoy this new set of events, skins and a lot of added content in the game as a gift for the 4th anniversary of Azur Lane. It is now your time to engage with this precious chance to earn your improvements before the time ends and add spice to the gameplay.