AVATARA is the new play-to-earn game in that you have to beat many bosses by playing through different levels with different characters. You will be trying your best to become the strongest here, and there will be many things to go with as well as to deal with. But apart from these all, this is a game with a P2E system, and this means, while playing, you are going to make yourself rewarded, and we are here with this guide to give you a clear understanding of this play-to-earn system and to teach you how you will earn from it.
Table of Contents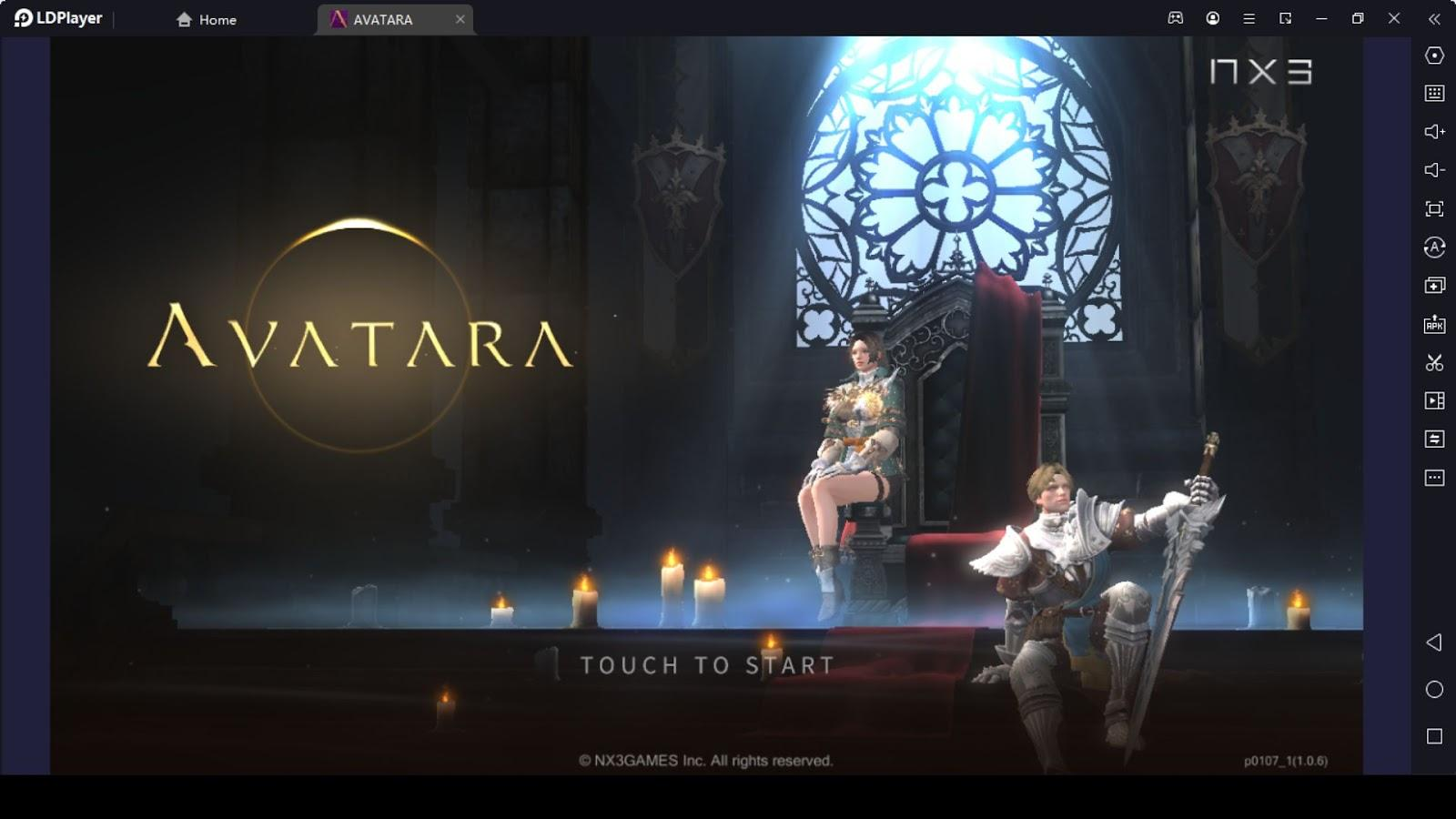 Download AVATARA on PC
To be clear with the facts, you need to know that AVATARA is also coming with a free-to-play aspect, and it will be done by growing yourself through many items from your gameplay. And while you are doing this, you can also compete with other players in this F2P system. Your earned items can be exchanged, and those will be offered in the form of TARA tokens for your profit. But this is to know what you will have to do in the AVATARA P2E system, and what you will have to deal with several other things there.
So, let's get clear about the economy of this game as an AVATARA beginner because it can allow you to profit from the gameplay, and we also invite you to play AVATARA on PC with LDPlayer 9 as well to sharpen your gaming experience. Let's start with the guide.
Understanding the AVATARA Play to Earn System
Let's get to know about the P2E system first. This is the economic system we have for this game, and it happens from the in-game and with the web app cycles. You can use the Avatars here to earn TARA tokens, which will then be transferred for your gameplay activities. So you can use it the way you find it the most useful.
Although there is this TARA token system, there is also another token used here named NOX. So you will have to deal with a multi-token economic system, and let's get to know about each token as follows.
TARA Token
This is one of the primary utilities as well as the farming tokens that we have from this game, and like we already mentioned, it will be used for your item productions, growth of the character and many other usual in-game activities. You can also trade your NFTs by using this TARA token as a currency, and there are two methods to take TARA. One is from the web app, and the other method is from the gameplay.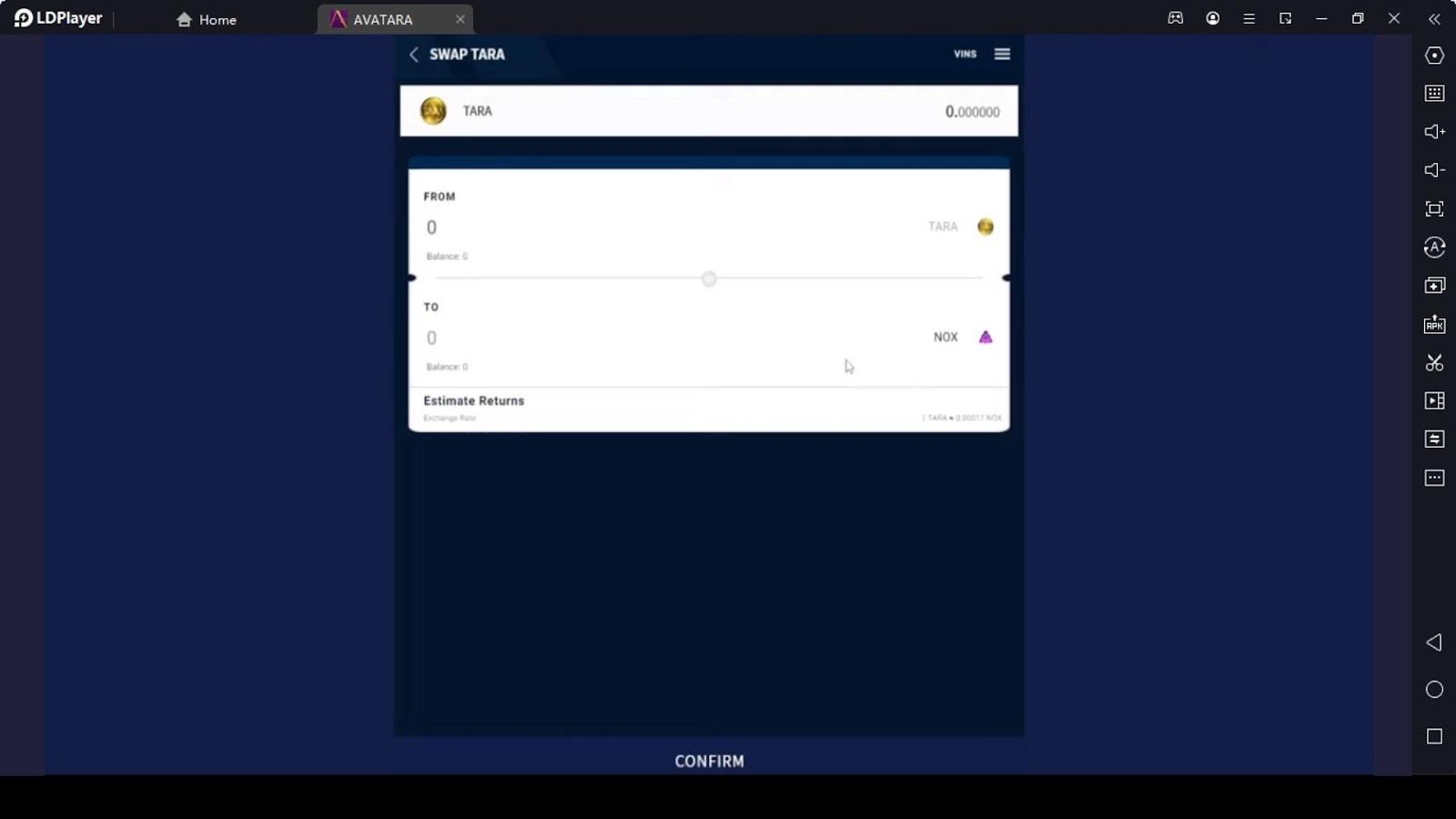 NOX Token
NOX token is the governance token of this game, and you can use it to mint your NFTs. You can either take part in several game contents or buy these tokens from Dex, as those are the major ways to earn your NOX tokens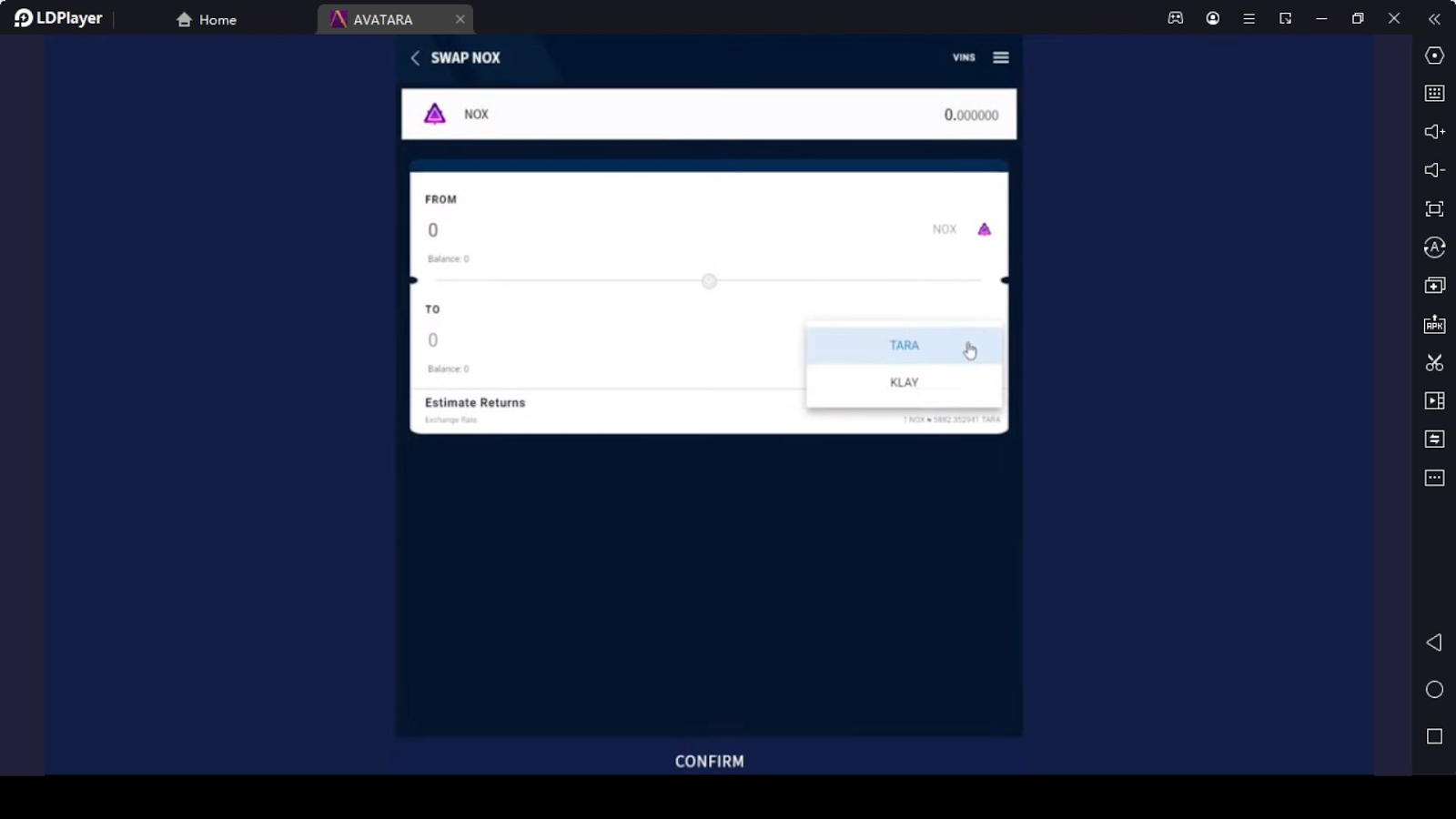 Both of these tokens will be collected as a reward from your gameplay and the web app. The reward you will be gaining from the utility tokens will directly influence the price of the NOX.
How to Trade and Transfer?
Mainly in AVATARA, your trading, as well as the transferring, will be done in-game as well as with the web app. Based on how you play the game, you will be able to trade freely. Since this happens from all sides, you have to know how these two methods work.
From Web App to In-Game – when you have taken NFTs from your web app, they don't have a restriction for the transfer because it can be done at any time. You can decide if you want these NFTs to be equipped with characters or to mine with the web app. It is up to you.

From In-Game to the Web App – there is no restriction to transfer your used NFTs to the web app at any time you want here. In this method, you will have in-game farming, and if you feel like you no longer have time to play through the game, then these NFTs can be transferred to your web app.

From In-Game to In-Game – here, you have a TARA trade market to exchange items as well as NFTs, among others. For each and every market, we will have to use TARA or Ruby for trading our goods.
What is this NFT?
With all the above explanations, now we know that you have another question, and it is about NFT. What is this NFT, then? They are the Avatars, and the main way to obtain them is the minting which you can access from the Web App page. It is recommended to make your avatar better because it can give you more value. Please note that this minting is related to an Oracle system, and even if you have decreased or increased your NOX, it will give you a fixed amount for the minting. Here, there will be $12 for one Mint, and 1000 will be the maximum holdings for the NFT.
Moreover, you have to know that there is a grade with every normal minting ticket in this game, and each of these grades has a probability as well as follows.
In addition to all these grades, there is another grade as well named Myth, and you can have it by making it through the minting. You can have them from the synthesis made with the legendary grades only. Although we have a price given for one Mint, it can be changed later because that will be the only way to make a balanced ecosystem from the AVATARA.
We do have stats associated with these NFTs, and they will be coming in three forms: stamina, speed and power. Their method of affecting the game will be varied from one NFT to another.
Stamina – stamina will be affected by the paid taxes within the system, and if you have higher stamina, it means the tax will also be lowered.

Speed – speed is the affecting factor for the EXP points and mining reward item quality.

Power – this will affect the amount of mining and, based on the set mining points on your server, it will decide the amount you will have per minute. The rewards you gain from this mining will come with both items and with TARA.
How to Make a Withdrawal?
And now the next AVATARA tip is about how you are making a withdrawal. All the TARA points that you have earned from the game can be transformed into TARA tokens. This has a specified rate, and they will be stored at a NOX Waller in this game. And if you ever want to make a withdrawal, you can do it anytime you want. But there are a few steps that you need to follow up on here as follows.
Link the NOX wallet first with the used social media account in the web app as well as from in-game. This is the first thing that you need to withdraw all your TARA tokens.

There are three social accounts allowed here for linking Facebook, Google, and Apple.

You can also sign into the Waller by the NOX wallet mobile application.
But please do notice that users worldwide will not be able to use the service because some countries are restricted from this service.
Tokenomics of AVATARA
And finally, let's have a look into the Tokenomics of this AVATARA. As we have already talked about how you will earn it, there is no need to talk about it again here, but you need to know here about the supply of NOX tokens. You will be given 1,000,000,000 NOX tokens in total, which will be divided into several sections as follows.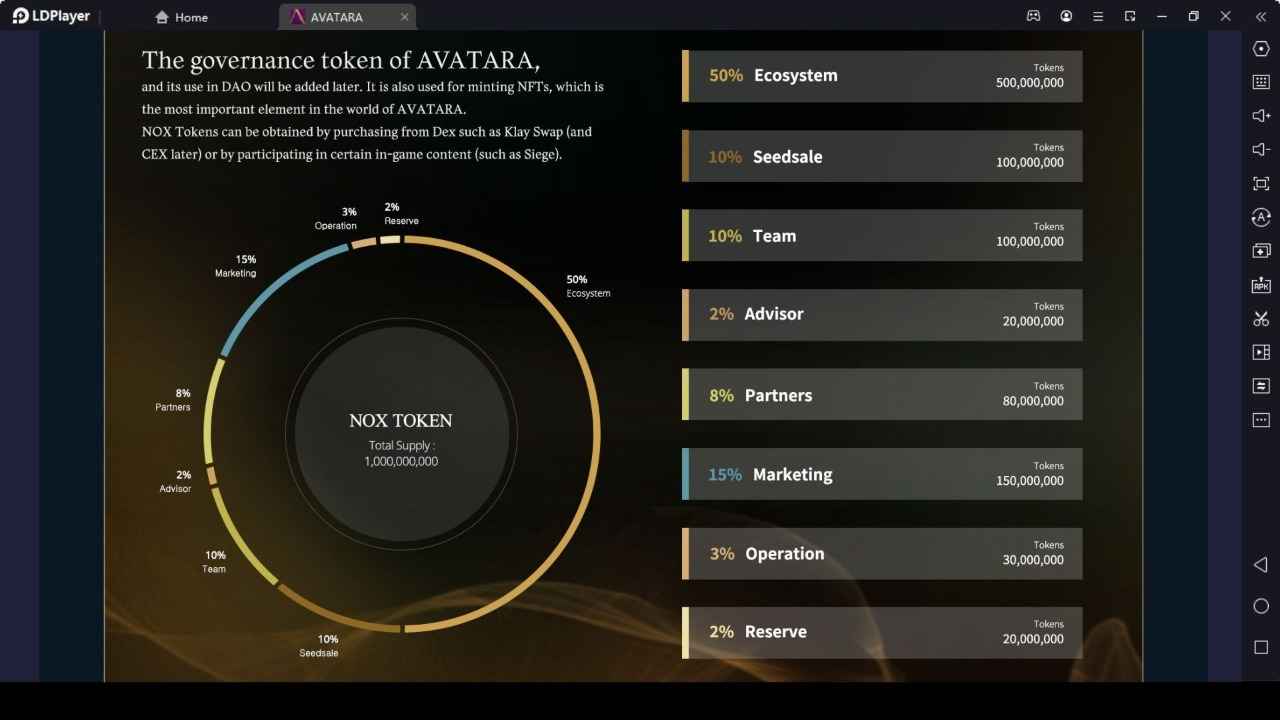 500,000,000 for the Ecosystem, and this is exactly a 50% amount of tokens

100,000,000 tokens for the Seedsale, and this will be, on average, 10%

100,000,000 as another 10% will be given to a Team

20,000,000 will be there for the Advisor, and this is a 2%

80,000,000 is there for partners, and it will be 8% on average

150,000,000 is going to be there for the marketing, and it will be an average amount of 15%

30,000,000 is there for the Operation, and this is, on average, 3%

20,000,000 is there for the Reserve, and it will be 2% on average
Conclusion
So these are all the details that we have to talk about under the economics or the P2E system of AVATARA to talk about, and we know that you can now confidently face the game's economic system with this information. It is always good to have a chance to earn something from the game you play, and now, AVATARA is giving you a chance for it.