Fate Grand Order is a mobile game which has originated in Japan and was published by Aniplex. The developer of this free-to-play game is known as the Delightworks, and this is a franchise. This unique mobile game is based on the Type Moon's Fate / Stay night franchise series, and so far, it has never failed a single player from its fantastic gameplay.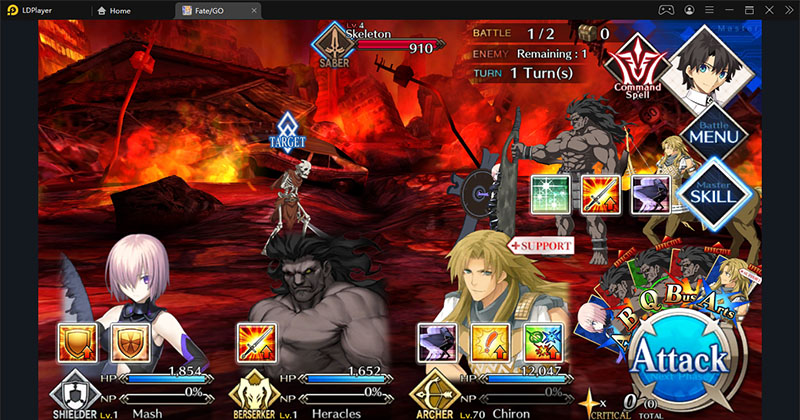 This game is free of complex strategies, and it generally uses a simple structured way to its gameplay. It has some easy controls within it. If you are a first-time player for this Fate Grand Order game, you will not see this game as easy to play because of the lack of your knowledge. But don't keep any worries about yourself. We are providing a complete guide for the gameplay here, and it will help you quickly progress on your basic systems.
So let's begin our guide for the gameplay.
Main Menu of the Fate Grand Order
First, we will look at the main menu of the game. You have to touch on the title screen to see fate grand order's main menu. By entering it, you will gain the ability to participate in the story and the events in the game. And also, there will be a summons, servants and enhancing the servants, and many more. So let's get into these terminals one by one.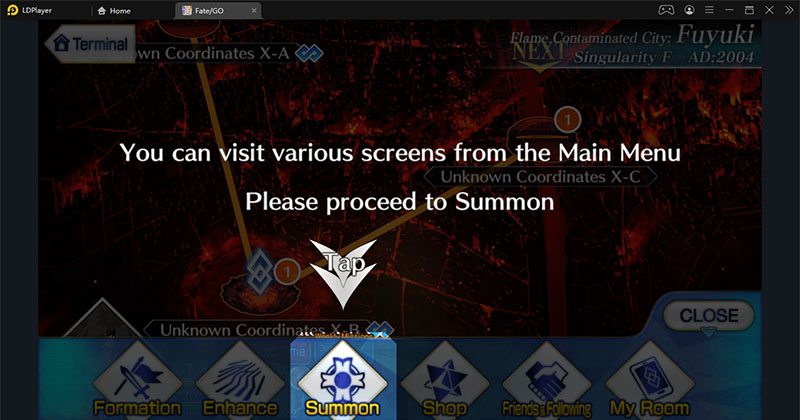 Story and the events
In the main menu, players can gain access to the game's story and the events. There are three events as Chaldea Gate, Orleans, and Fuyuki. These all events are providing quests respectively, and Fuyuki is providing access to the main story. Remember that events are letting you the chance to earn some items as well as the enhancements. So it would be better for you to progress through the game.
In this screen, you will see a level indicator, and those are your master levels and the Action points you hold in the current time. You can level up your current levels by gaining EXP from the battles. Action points are gradually increasing through time, and it happens automatically. But also, you can progress those action points by using items as well.
There are six options for you to deal with the gameplay as follows.
Formation
This section lets players from parties and support for their respective setup. So, as a result of this process, it enables you to create a servant selection, and your friends can use them.
Enhance
As you see in the word, enhance is for character level-ups. It enhances the levels of servants and the essences in crafts as well.
Summon
Summon is for selecting the servants. You can summon your servants as well as the crafts essences. So you will need to use saint quartz and the friend points to do so. Summoning for the friend's point will happen ten times every day, and it is going to be free.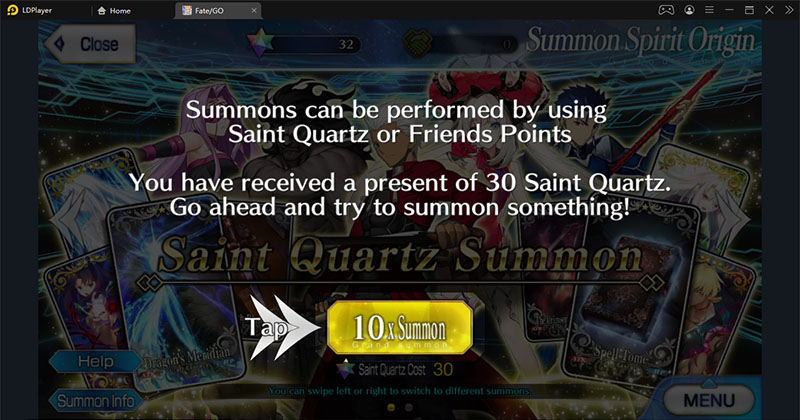 Shop
The shop is for exchanging your items as well as for purchasing. It let you purchase all saint quartz and more of the things.
Friends
You can manage your list of friends here, and this section lets you search for new ones as well.
My Room
My Room section is for checking all kinds of information. You will be free to adjust all sorts of settings to select servants, story experiencing, and more.
Battling system
Fate Grand Order is a game that has a turn-based battling system. It uses command cards to deal with a battle. You have to use your servants by selecting the command cards to perform an attack. Generally, this game's battling system is something easy to learn, and at the same time, it becomes difficult to master.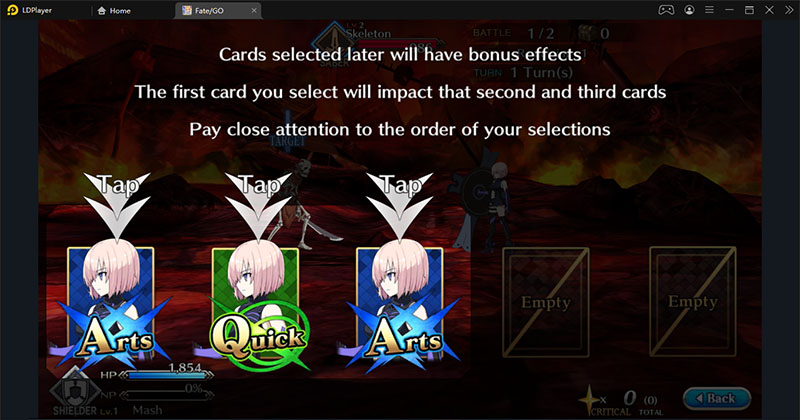 You have to think very carefully about what type of attack you should use and how you can arrange your opponents to benefit you.
When you are engaging in a battle, use these techniques to master your gameplay.
Watch and pay attention to your enemy.
When an attack is happening, your enemies' charge gauge will go to increase in every combat round. When they are full with that gauge, they can perform a powerful attack to make you big damage. So you have to be with concern. Make sure to watch enemies charging gauge and make your full concern on your enemies' information as well.
You have to keep your concern on the HP and NP values of your servant. Make sure to use the correct type of skills at the right time. You will see the hit points and the NP gauge of your servant, and it let the players use noble phantasm to fill up. So you are going to know which type of skills your servant can uses.
Using master skills and the commander spells
Master skills and the commander spells are for the times you face challenging situations. When the things around you are going to be turned into worse, you have to use these skills, and those will help your servants. When you are a master, you can use code skills and command spells to gain high power skills. When you face more complex situations, remember to take chances of these items in advance.
Standard battle gameplay
You have to deal with your battles following will be the standard progression of your battle. Remember that this is the way any regular battle is playing out.
Tactical phase – Here, players have to select the skills they are using for the buff ally servants. Otherwise, it can be used to rebuff enemies as well.
Command phase – when performing an attack, you have to select these command cards. Select those to finalize your all attacks.
Ally turns, and the enemy turns – when you are finished selecting command cards, it is time for your allies to take their turns. When the turns of your enemy are completed, you are going to return to the tactical phase.
In the situations where your party is losing the game, it doesn't matter. You can select the continuing process and give it a try again. Sometimes in this phase, every servant has to lose the game may be. But you will be granted for using command spells to continue on your battle. So once you are continuing the game, both HP and NP of your servant will automatically be restored into total amounts.
Using skills
Skills have to be used in these ways.
Use them for a buff ally, the servants, and use them to debuff all the enemies.

When the right time has come, use the master skills. It will help and support your other servants.

Make use of multiple skills, and they will lead you to gain more powerful effects.

When you have to give up your hopes, you can use commander spells.
Conclusion
Fate Grand Order will be something new to all the gamers but yet unique with its gameplay. As we said, these game tactics will be easy to learn. But mastering them will be somewhat more challenging. So make use of the right tactics in the right way to deal with this all gameplay, and you can gain a definite victory for the day.