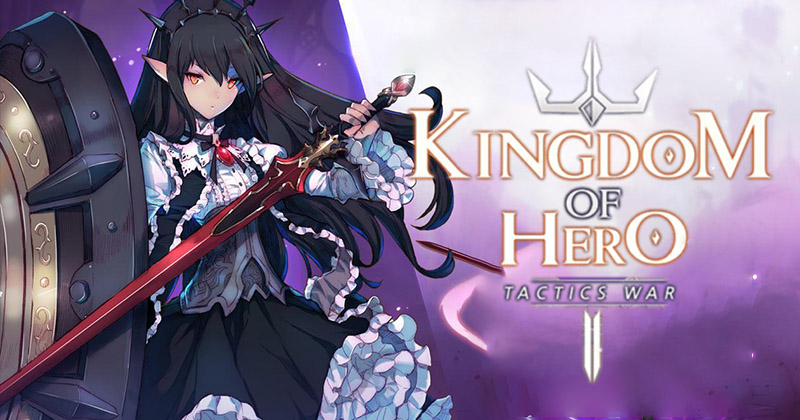 "Kingdom of Heroes Tactics War" is NEOWIZ's strategy RPG, has proven reasonably popular by having a 4+ score on Google Play. It is easy to pick up but challenging to master with turn-based combat that prioritizes positioning and expert party-building over button-mashing to win the day. It features incredible anime-styled graphics combined with stylish characters and stunning visual effects.
In the Kingdom of Heroes: Tactics War, Each Hero has its Elements and equip able Runes to deploy, with each fight being a test of your skill to defeat the opponent. To protect the Kingdom of Avalon, you have to help Arthur and his Round table's Knights in their quest. Lead your friends into combat and rise victoriously.
Spend More Action Points on Farming:
While the Kingdom of Heroes Tactics War requires Action Points to delimit your ventures in the game, you will have a plethora of it in the game's initial stages. Moreover, you will get more Action Points as you reach new account levels and as rewards from several quests and events, which means that you have more than sufficient Action Points than what you regularly have.
You can continually regenerate Action Points when they are maximum. If you can't clear a stage, then you can spend Action Points on idle farming on the previously finished levels.
To get extinguishing Action Points, you can also repeat the world map's battle stages to farm runes and summon scrolls. Once you finish it with three-stars, you can set it on repeat mode. You can repeat until the number of repetitions turns red.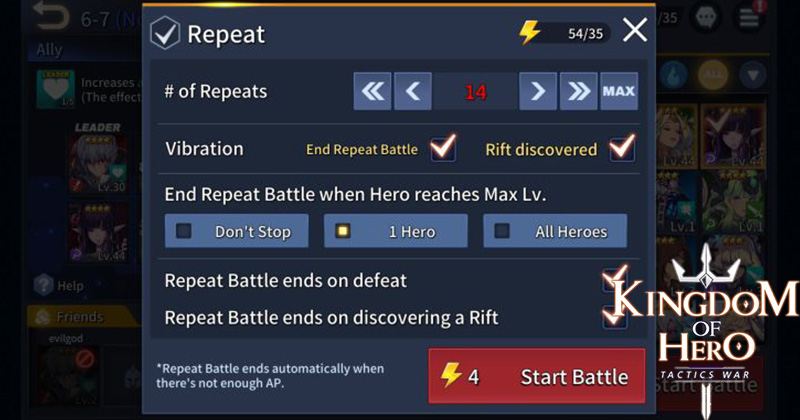 A Quick Tip to farming that will help you gain more:
⦁ The Rift: play event and standard stages to farm food heroes (which you can use to improve the main heroes), silver, EXP fairy, etc.
Equip runes wisely for the heroes:
Heroes in "Kingdom of Heroes: Tactics War" do not have equipment or gears you can add to them, but the game's rune system serves the purpose of strengthening every hero as well as customizing them more to your liking and tactics.
No orders stop you from attaching any rune to any hero, so you can very much create any hero however you like. However, the performance suggests either making up for their weaknesses or banking more on every hero's physique.
Every hero can equip six runes. Equipping two runes of the same type opens a set bonus, which is an extra stat boost for the hero using the rune. Few runes, however, require four of the related kind to unlock the set bonus results.
Take note that two-set runes provide heroes with an additional set bonus per set completed. In this regard, you can equip each hero with either a two-set rune and a four-set rune or have them equip three-set and two-set runes. There are no additional charges for equipping each rune, but you will have to pay silver coins to remove them from the hero, except if it is okay for you to drop them.
There are eleven types of runes, and each one focuses on boosting a specific stat or provide a unique ability.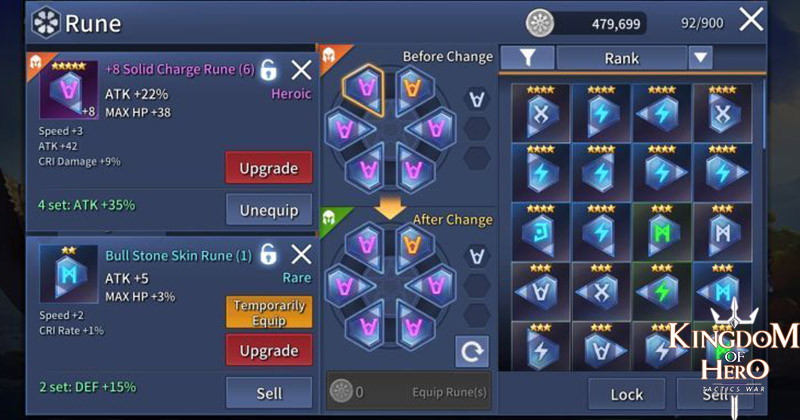 Types of runes are as follows:
Life Runes (2 sets) raises the hero's Max HP by 20%.
Charge Runes (4 sets) expands the hero's attack by 35%.
Havoc Runes (2 sets) improves the hero's critical rate by 12%.
Swift Runes (4 sets) raise the hero's speed by 25%.
Prophet Runes (2 sets) enhances the hero's accuracy by 20%.
Stone Skin Runes (2 sets) increases the hero's protection by 15%.
Resistance Runes (2 sets) expand the hero's resistance by 20%.
Vampire Runes (4 sets) recover several HP for the hero when they beat a target.
Revenge Runes (2 sets) develops the counterattack chance by 15%.
Earthquake Runes (4 sets) allows the hero to stun an enemy with a 25% chance per attack.
Explosion Runes (4 sets) raises critical damage by 45%.
If you check your group of runes, you will see that they are classified based on their quality and star grade. Higher star grade runes have higher numbers of stat boosts provided while the rune's quality dictates the number of stat boosts they give.
All runes provide the same stat boosts given that they relate to the same slot. Regular quality runes grant no extra sub stats. Magical runes, however, come with a chance sub stat and rare ones come with two. Heroic quality runes come with three random sub stats, and legendary quality ones will provide four maximum sub stats.
Perform the Challenging Battles Manually:
"Kingdom of Heroes Tactics War" provides an auto-battle mode that makes farming and grinding a lot more comfortable. As you will enjoy this trait early on in your adventure, you may start to depend on it too much that you will no longer be able to use strategic plays that can enhance your team's performance in battle.
For starters, heroes in the auto mode will not be very selective in using personal heroes' skills. They will use any that becomes available for their turn. One more disadvantage is the placement, which is critical for AoE (Area of Effect) skills and the survivability of heroes who are weak on defensive stats.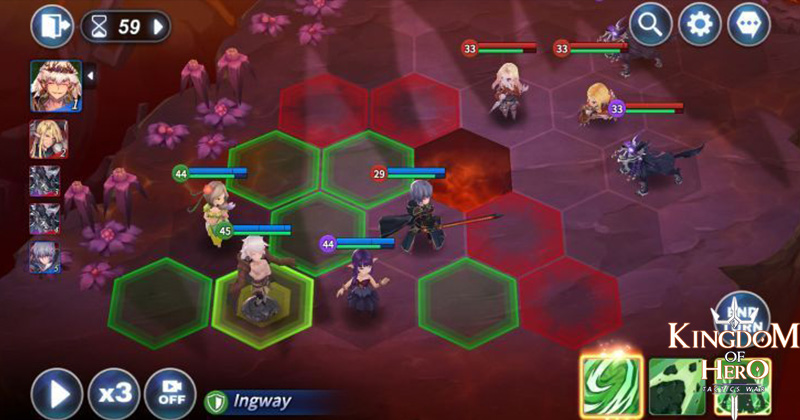 Manually managing your heroes will demonstrate to be the more suitable option at concentrating on eliminating targets one by one, mainly if you are very particular with the distribution of turns in battle.
Conclusion:
Do not update low-star runes in the initial game. As you open more stages on the world map, you will start receiving more star runes/high-grade. Also, once you have opened the rune dungeon, you can farm the high-quality runes there. The higher the star level of the rune, the more stats it gives to the player.
Auto battle is helpful, but even if you are a total newcomer in turn-based strategy RPGs, you should still be able to do better in action if you want to play your heroes manually.
And that is all we have for you. As we continue to dive deeper into the game, we hope that these tips and strategies will help you raise your team's power and dominate every battle you fight.